Cette année, de mai à octobre, nous allons visiter la partie est de la Scandinavie.
Après un passage à travers l'Allemagne, visite de la famille de Sylke et quelques amis, nous ferons un arrêt sur l'île danoise de Bornholm avant de rejoindre la Suède, puis la Finlande.
Un passage à St-Pétersbourg ensuite, avant de redescendre vers le sud à travers les trois pays baltes, Estonie, Lettonie et Lituanie.
Ce sera ensuite le tour de la Pologne et nous finirons probablement par l'Autriche avant de revenir à la maison fin octobre.
Mid May 2017 and we are on the road again!
This yeas trip will be the eastern part of our Baltic sea round tour.
After last years trip through Danmark, Norway and Iceland, we are so looking forward to get to know more of Denmark and then Sweden, Finland, St. Petersburg, Estonia, Latvia, Lithuania, Poland and maybe a few more eastern Europe countries and Austria on our way back to CH in October. J J J
In this first article we will slowly go up from CH to Sweden in a more or less straight line. We will stop over at the Bodensee, visit our family and Friends on the way in various areas of Germany and then cross over to Bornholm, a Danish Island that las in the Baltic sea between Germany and Sweden, were we will also visit friends J (the more we travel the more friends we have to visit abroad J)
Départ de Montagny le lundi 15 mai 2017
Nous quittons notre domicile un peu avant 14 heures, après avoir fait nos adieux à nos voisins directs.
Nous prenons la direction de Schaffhouse car nous avons envie, durant ces premiers jours, de visiter les rivages allemands du lac Inférieur ainsi que du lac de Constance.
Departure from Montagny on May 15.
Weather forecast is sunny and 27°C for the whole week!
In the afternoon, Lake Konstanz welcomes us with a wonderful summer atmosphere. Plenty of Lovely green areas right at the lake, charming villages and beer gardens convince us to stay for 3 days and we regret that we cannot stay longer. We both love Lake Geneva and Lake de Neuchâtel, but this one is even better with much more public access to the lake, plenty of beer gardens and a great cycling track right around the lake.  
Notre premier bivouac aura pour lieu un magnifique parc au port de Wangen, petite bourgade lacustre allemande pleine de charme.
First stop at the Untersee at Wangen. Doesn't this look like holidays?
Petit déjeuner sur un banc au bord du lac avant de continuer notre parcours riverain.
Notre prochaine halte sera pour la ville de Radolfzell que nous parcourons à pied tout en privilégiant le bord du lac et ses « Biergarten » qui nous tendent les bras et nous invitent à y déguster une fraîche bière blanche et un bon bretzel.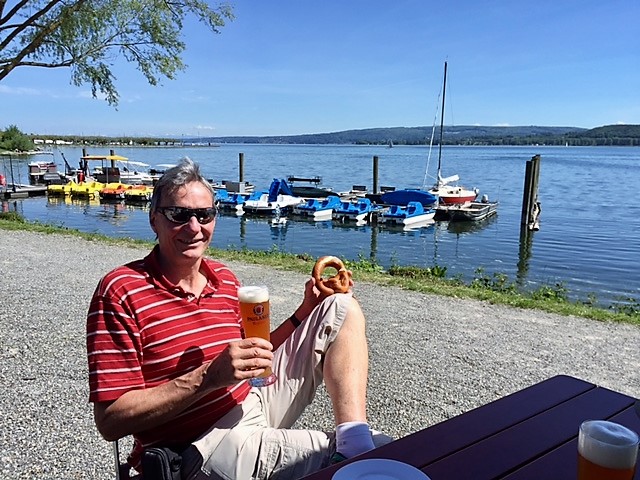 C'est à la sortie de la ville, à côté d'un petit port que nous passons une nuit fort agréable.
Beergarden and night at Radolfzell.
Nous continuons de suivre la rive du Lac Inférieur et arrivés à son extrémité, nous nous rendons sur la Presqu'île de Reichenau. L'endroit est connu pour son agriculture qui grâce à un climat particulier permet de faire 4 récoltes par an. La météo est idéale pour faire un demi-tour de l'île à pied et découvrir cet endroit privilégié.
A walk around the island Reichenau, known for its mild climate and vegetables.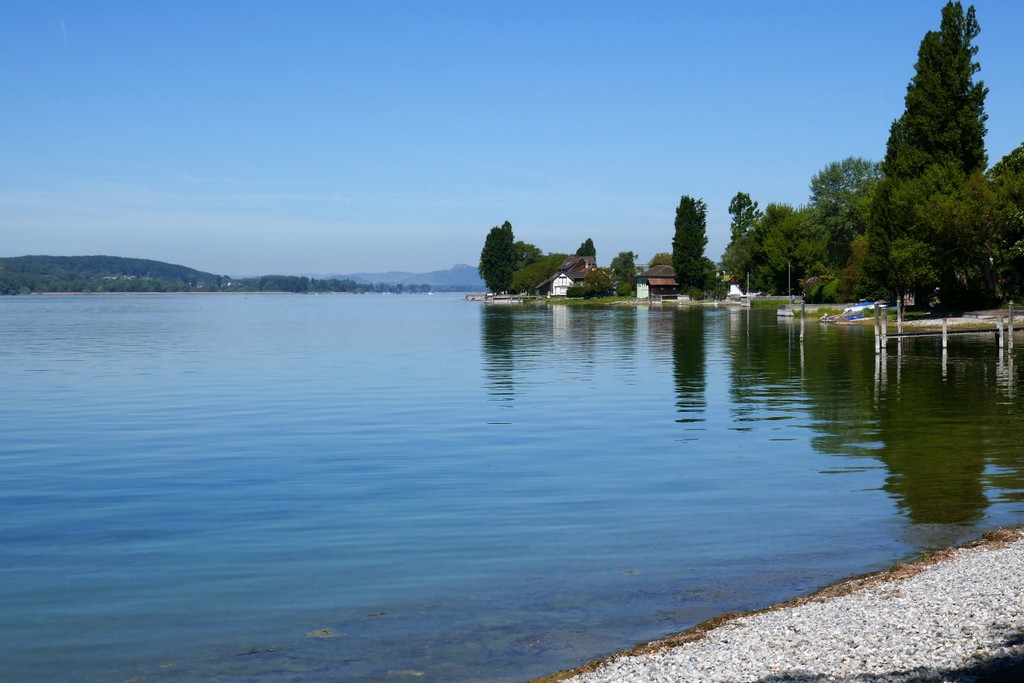 Nous longeons maintenant la côte nord du lac de Constance  jusqu'à Überlingen. Jolie cité de 21'000 habitants que nous passons le reste de la matinée à visiter.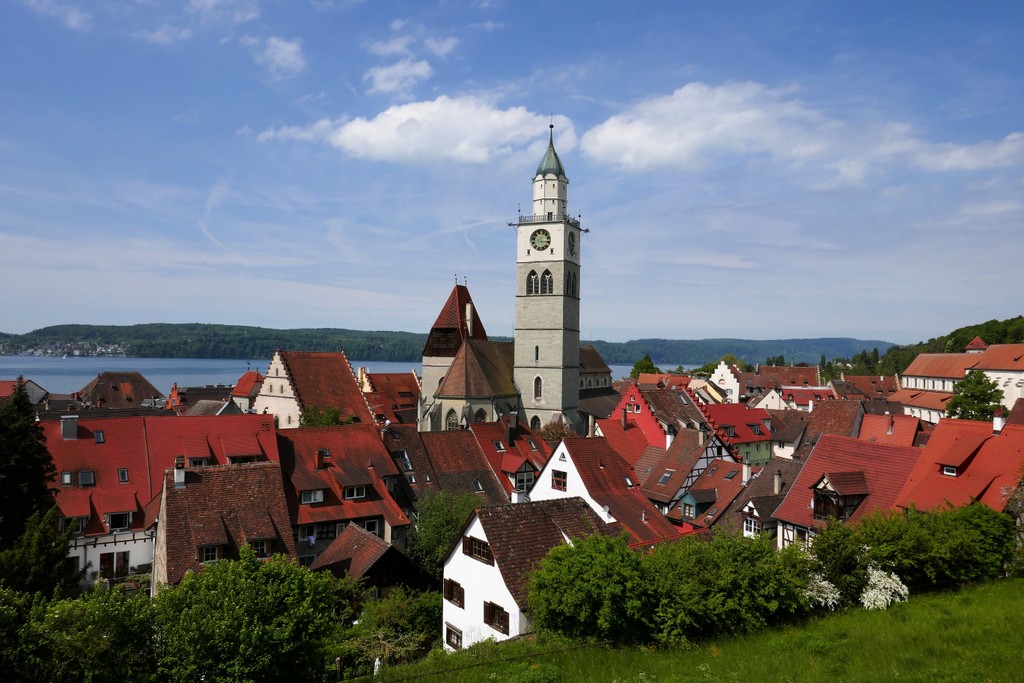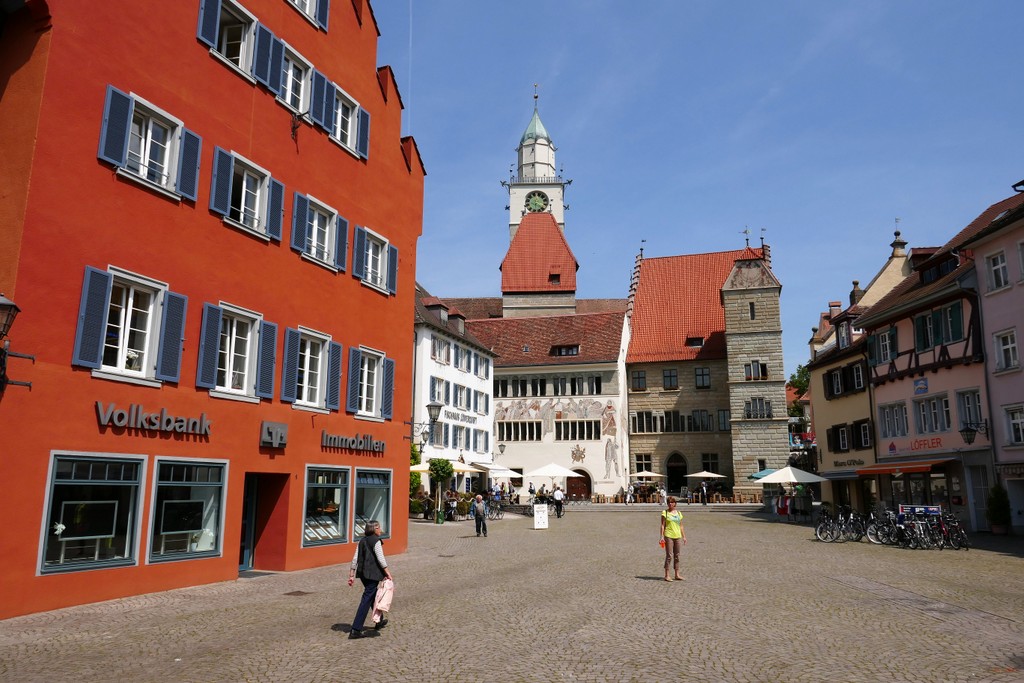 Nous mettons maintenant le cap sur Nuremberg, où nous allons passer les prochains 7 jours à visiter les différents membres de la famille de Sylke.
Next stop is in Bavaria with my family in Neuburg, Nürnberg and Erlangen. Happy getting togethers mostly outside with hikes and beer gardens, thanks to the great weather!


Jeudi 25 mai
La journée commence par la visite de Bayreuth.
C'est la journée des pères et ce jour là il est difficile d'en rencontrer un sans sa bière à la main.
Thursday May 25.
A little further nort-east of Nürnberg we stop in Bayreuth and Kulmbach.
Ascension (Pfingsten) is also father's day in Germany. So fathers meet up for a hike or a pub stole. Those that go for a hike make sure they have enough beer with them (watch the little trolley!). Definitely not the same thing as mother's day J
Cette courte visite terminée, nous allons retrouver Andrea et Simon à la brasserie de Kulmbach.
Simon, directeur technique de la brasserie nous fait visiter les lieux avec force explications des différents stades de la production de bière.
Nous passons le reste de la journée chez eux et Simon nous prépare de succulentes grillades pour le repas du soir. Nous veillons assez tard à papoter et sommes invités à passer la nuit chez eux.
Simon and Andrea welcome us in the brewery Kulmbacher, where Simon is technical director and we follow a detailed explanation of the brewing process (you may remember that we had a tour of the bottling and packaging area last year). Followed by excellent beer and BBQ in their garden.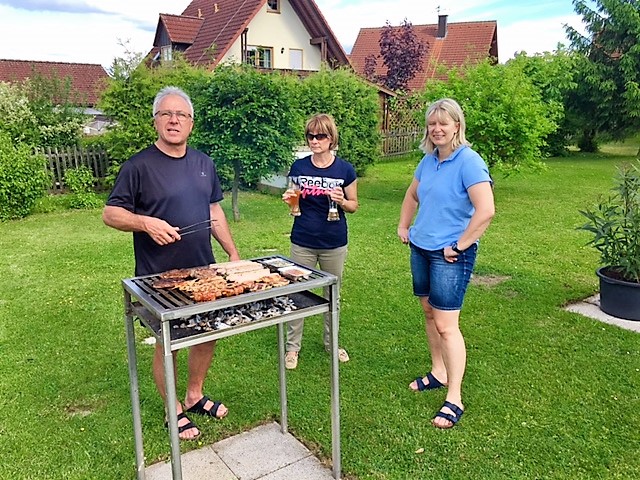 Vendredi 26 mai
Petit déjeuner sur la terrasse ensoleillée de nos amis que nous quittons en fin de matinée.

Next day after a sunny breakfast we continue direction North with 10l of wheat beer loaded into the Azalaï J
Thank you Simon!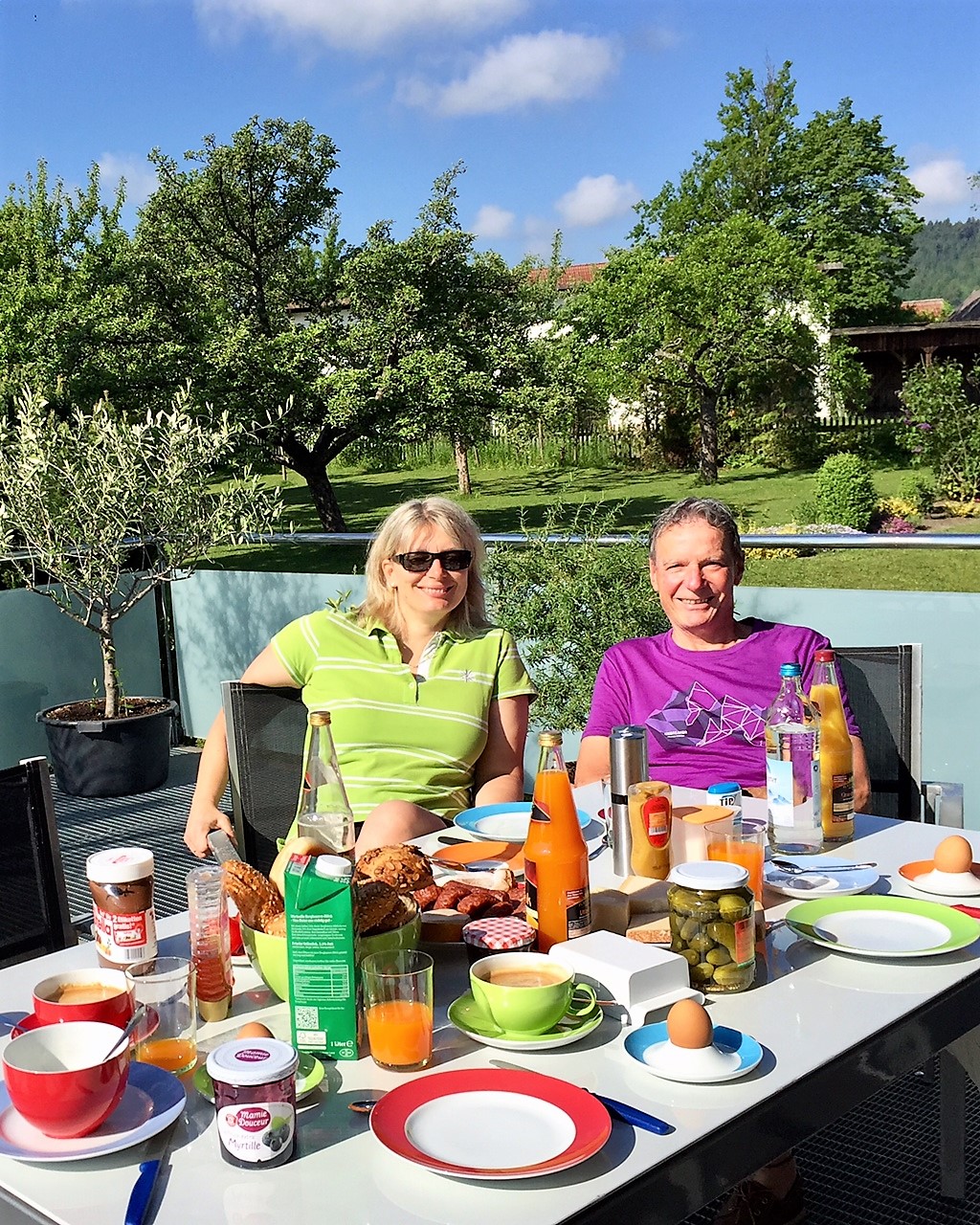 Nous roulons jusqu'à Dessau.
Cette ancienne cité de l'Allemagne de l'est comptant 90'000 habitants, située à la confluence des rivières Mulde et Elbe été presque totalement détruite durant la seconde guerre mondiale car elle abritait une usine de production d'armes de la Luftwaffe.
Reconstruite sous le régime communiste de la RDA elle devient un centre industriel important. Après la réunification allemande, la plupart des monuments historiques furent reconstruits.
Le centre-ville piétonnier est très bien mis en valeur et la place du marché est parsemée de sièges souples et hamacs permettant au chaland de se vautrer pour faire la lecture ou écouter les artistes musiciens se produisant sur la scène de la place.
We continue further north until Dessau at the river Elbe in the Bundesland Sachsen-Anhalt. The city was almost completely destroyed during WW ll since a factory for weapons was situated here. Today this city has 90'000 inhabitants. The town centre is well restored and we enjoy a sunny afternoon at the Central place.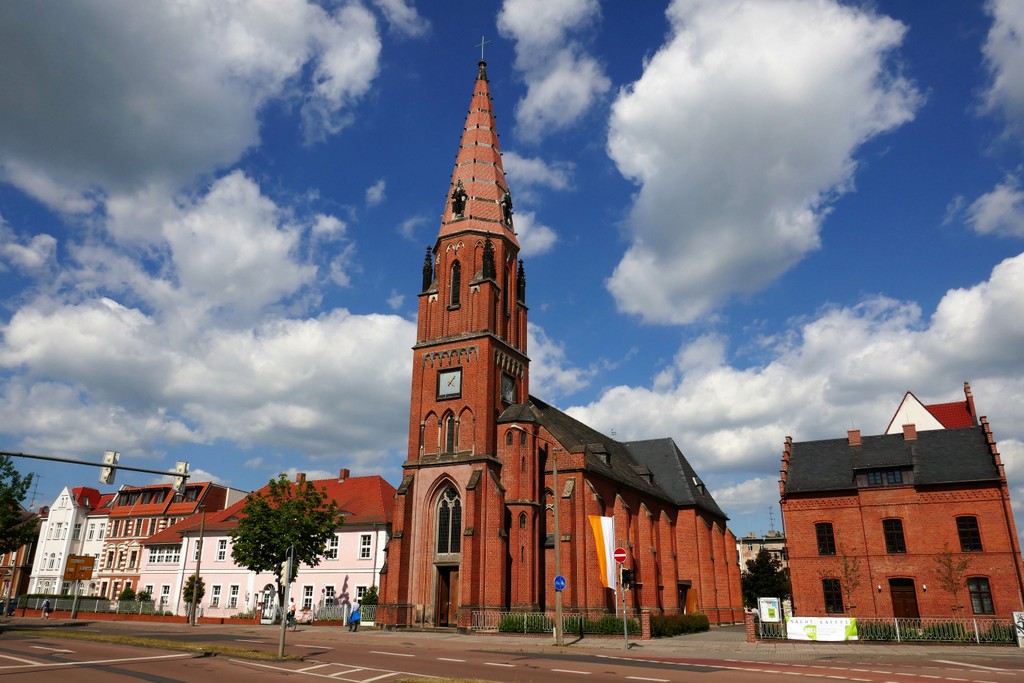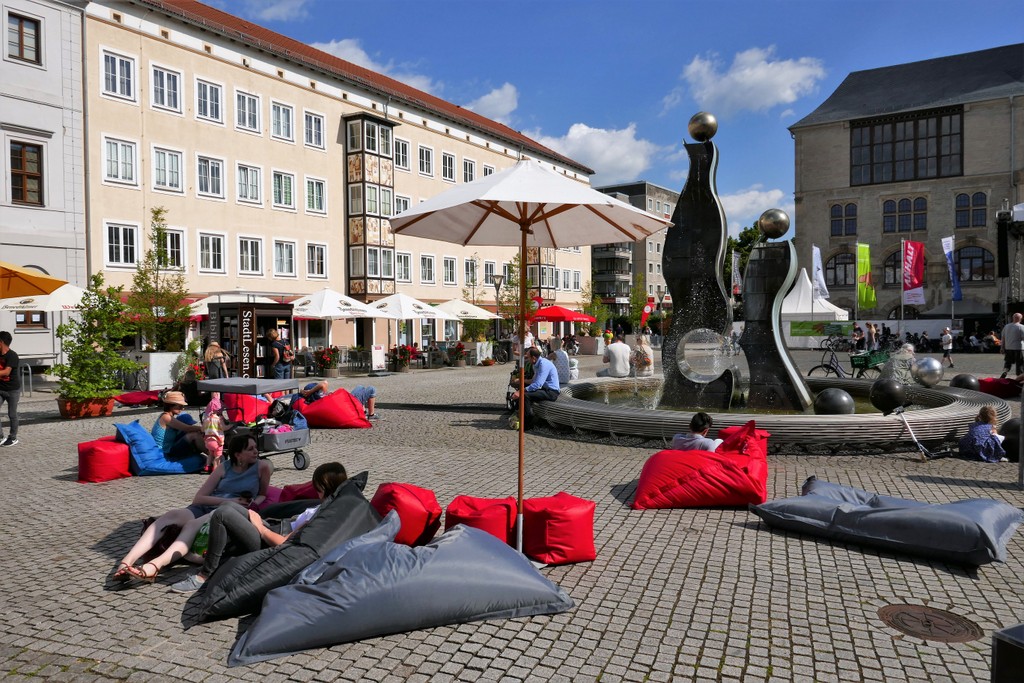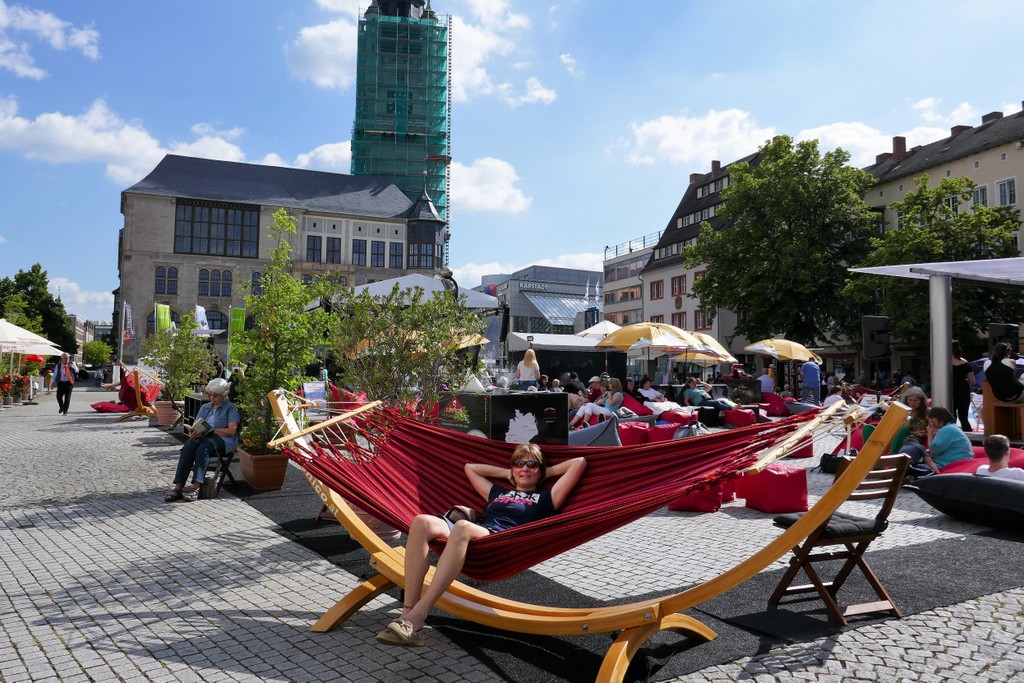 Après y avoir passé l'après-midi, nous sortons de la ville et longeons l'Elbe, au bord de laquelle nous trouvons un champ à l'abri des regards pour passer une nuit tranquille et avons la bonne surprise de voir une cigogne venir nous faire une petite visite.
We spend the night close to the Elbe with lots of songbirds and in the morning even a stork!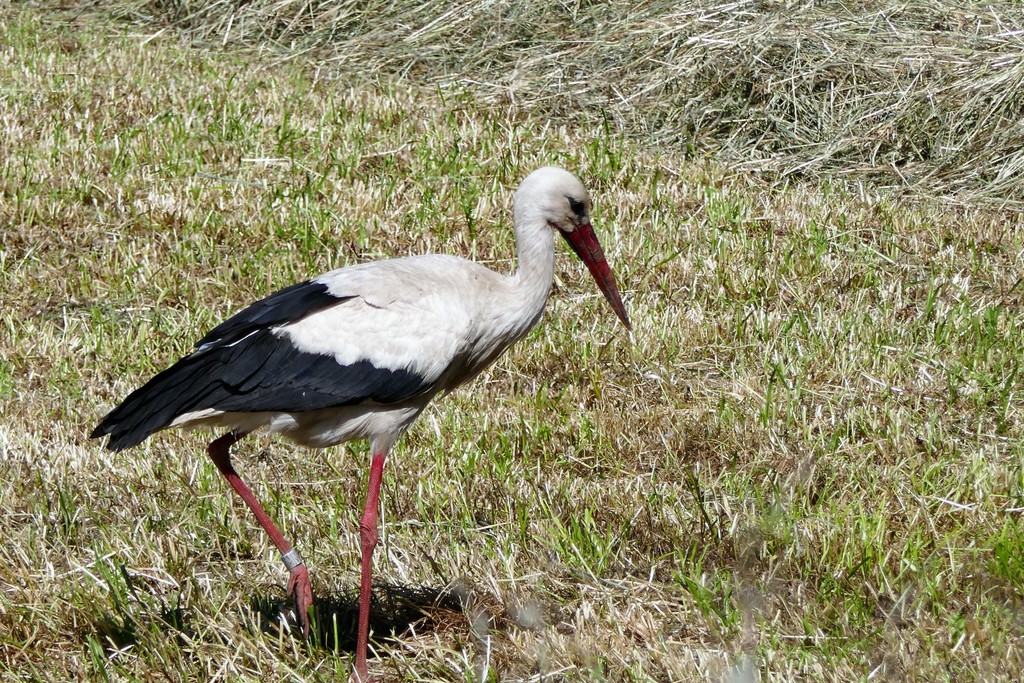 Samedi 27 mai Réveillé par le chant des oiseaux et le cri rauque des faisans dès l'aurore, nous déjeunons au soleil.
C'est la région des mille lacs du Mecklembourg que nous élisons comme but de la journée. Nous parcourons les 200 km en direction du nord et toujours dans l'ex Allemagne de l'est en un peu moins de 3 heures et faisons notre première halte dans la cité de Röbel/Müritz au bord du lac éponyme. Nous sommes étonnés de voir la qualité de rénovation de l'ensemble des maisons de la ville et ne pouvons qu'admirer la beauté de celle-ci.
Saturday May 27.
As recommended by Simon and Andrea, our next destination is the lake district in the Bundesland Mecklenburg Vorpommern roughly 200km further north.
We are totally charmed by the many small, super well restored medieval villages and the many lakes with lovely little harbors. It is a perfect area for walking and biking and we would love to come back one day to see more of the uncountable smaller and bigger lakes.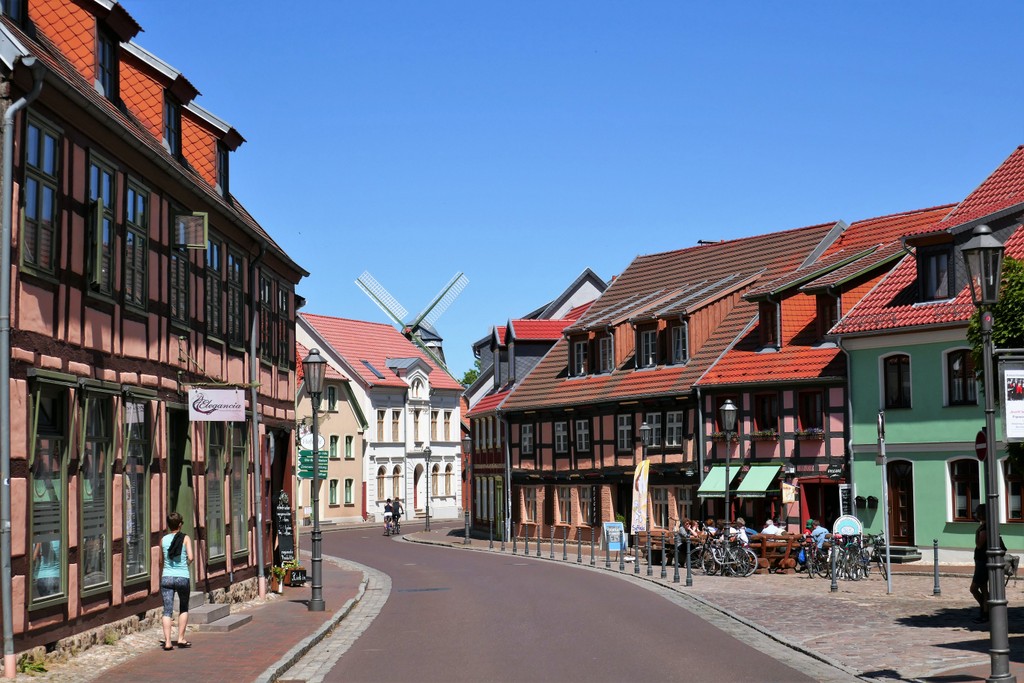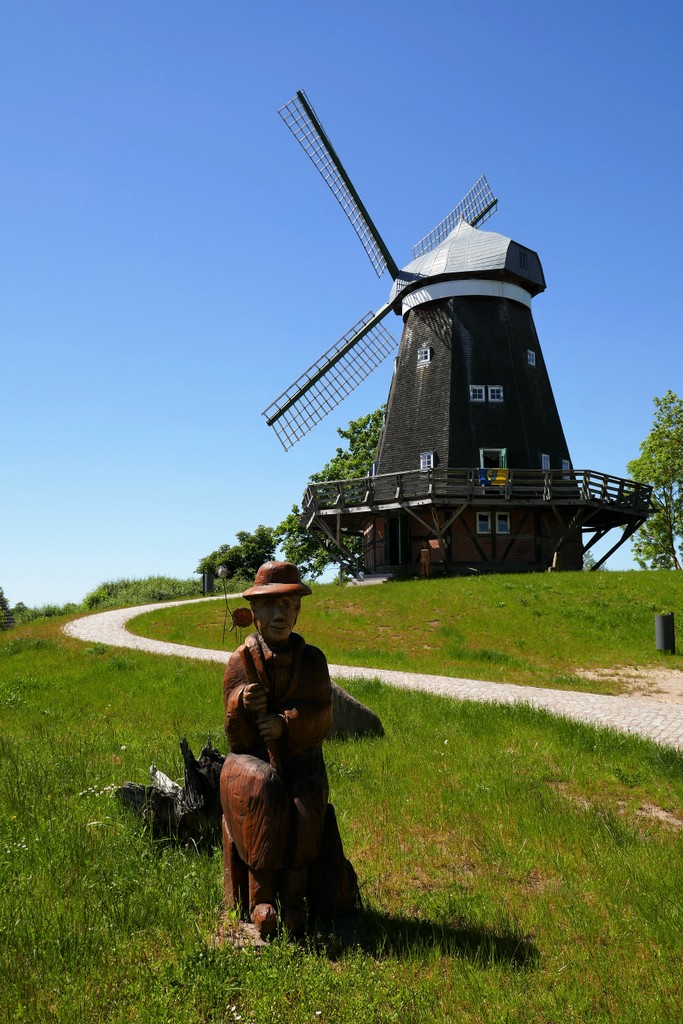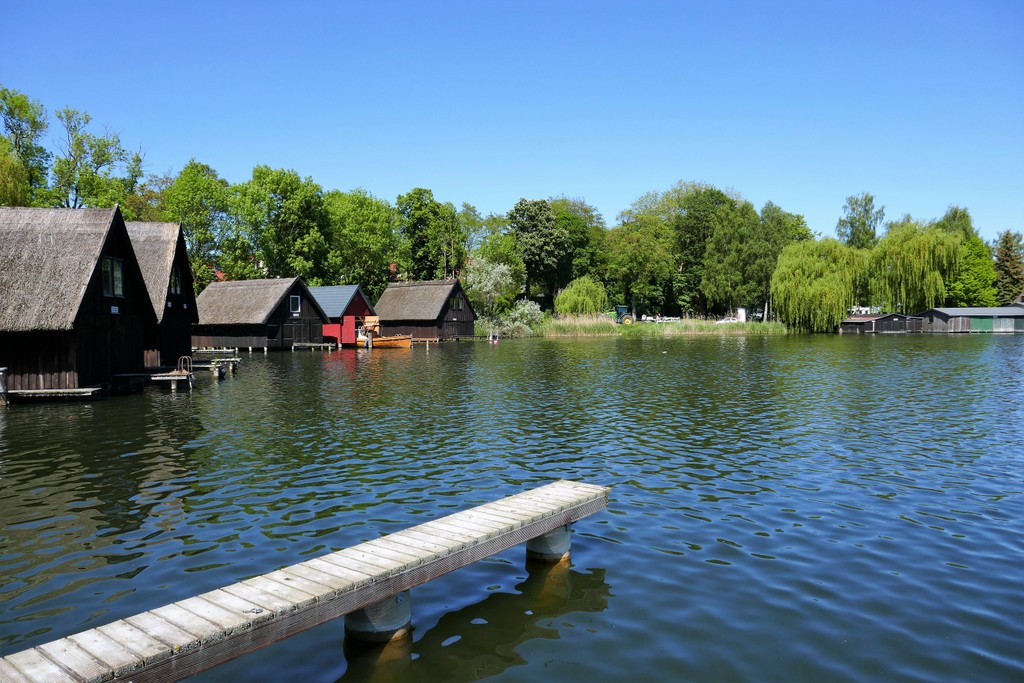 Pour la deuxième étape de la journée, nous parcourons quelques kilomètres pour nous rendre à Malchow, au bord du lac « Fleesensee ».
La journée est belle et chaude et nous en profitons pour prendre un bain dans une eau à 19°C.
The weather is still super sunny and in Malchow at the lake Fleesensee we even go for a swim! (not to mention the daily ice cream 😊).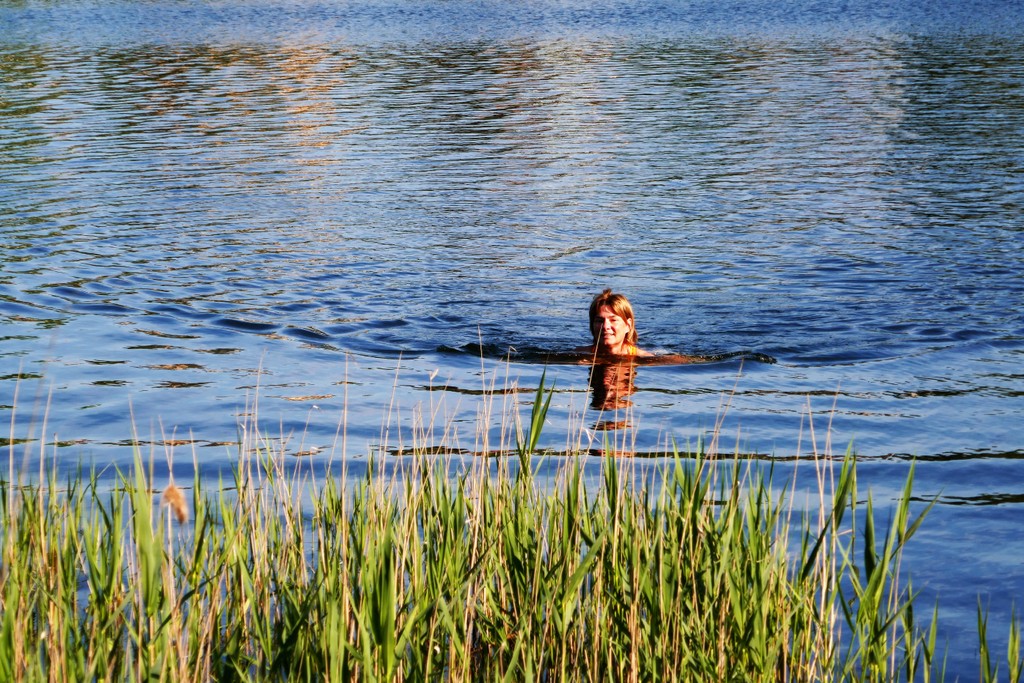 Dimanche 28 mai
Aujourd'hui, nous rejoignons la ville de Barth, au bord de la mer Baltique en Poméranie occidentale.
Sunday May 28.
With our next destination we already reach the Baltic coast.
Barth is a lovely little town where Nany and Jörg, close friends from Sylke's family live. We spend a lovely afternoon and next morning together and leave with a big pack of Nanie's home made potato herring salad. Yummy!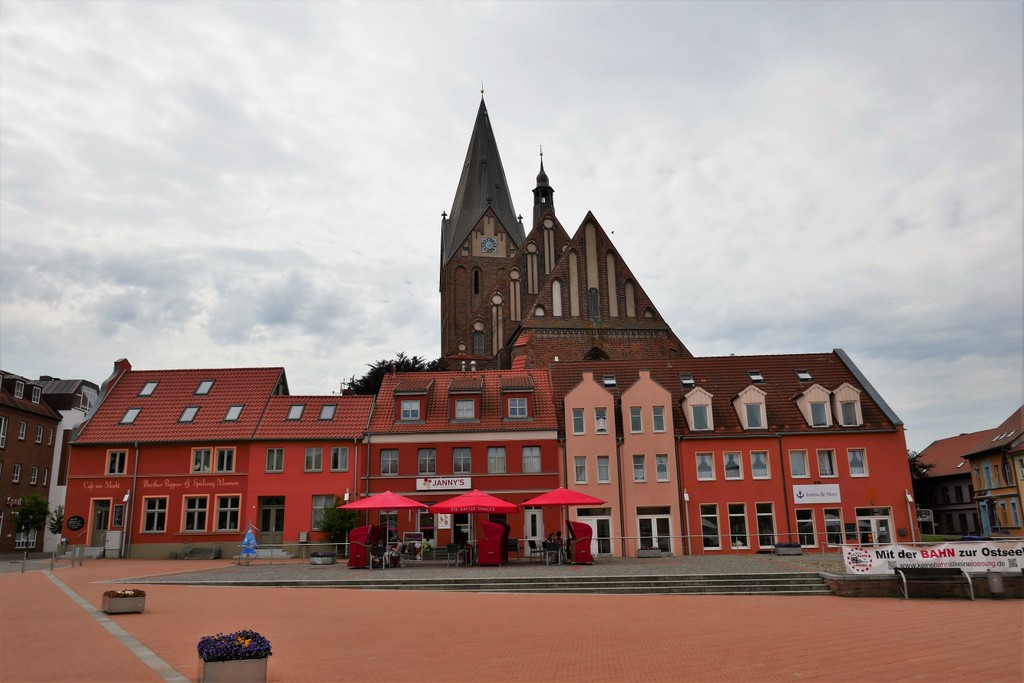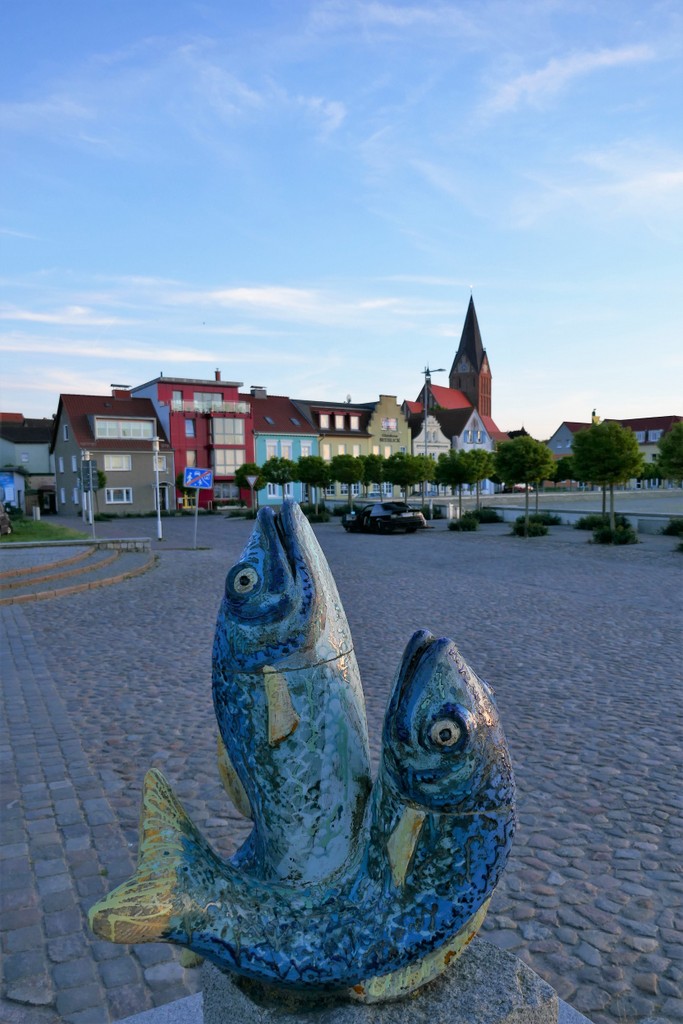 C'est là que nous visitons Nany et Jörg, des amis de la maman de Sylke où nous sommes invités pour le café et aussi pour le petit-déjeuner du lendemain.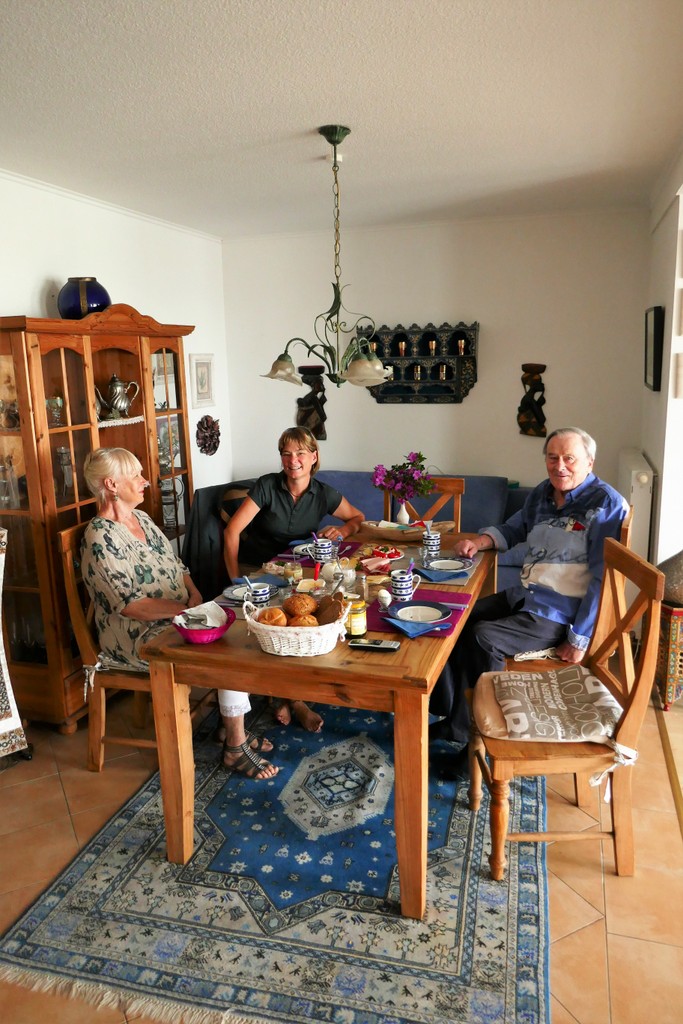 Nous faisons un petit passage devant leur maison avec l'Azalaï avant de les quitter.
Their house is right at the sea side with view onto the marina!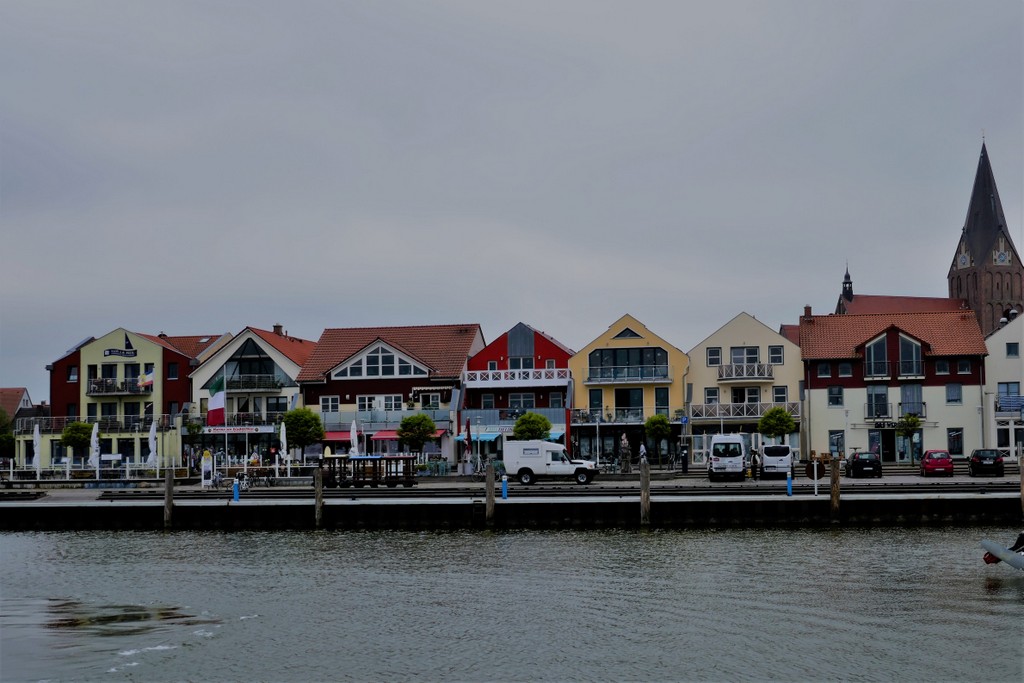 Lundi 29 mai
De Barth nous nous rendons à Stralsund, également pour une visite de la ville…..
Monday May 29.
Only a little further east lays Stralsund.
Stralsund was founded in 1234and was one of the most prospering members of the medieval Hanseatic League. Since 2002, it's old town with its rich heritage is a UNESCO world Hertitage.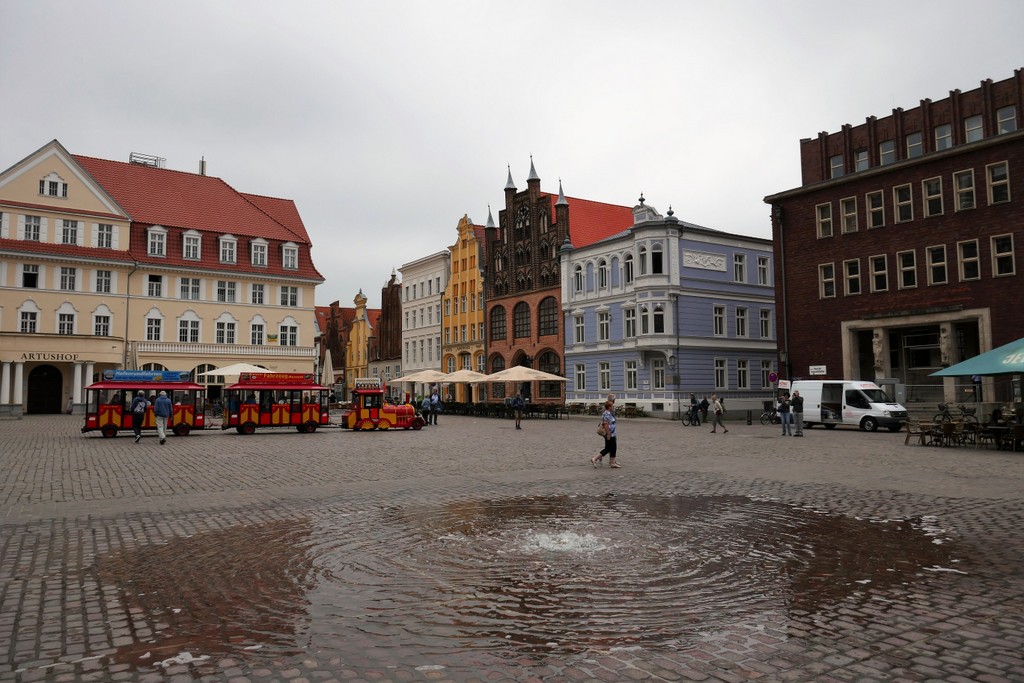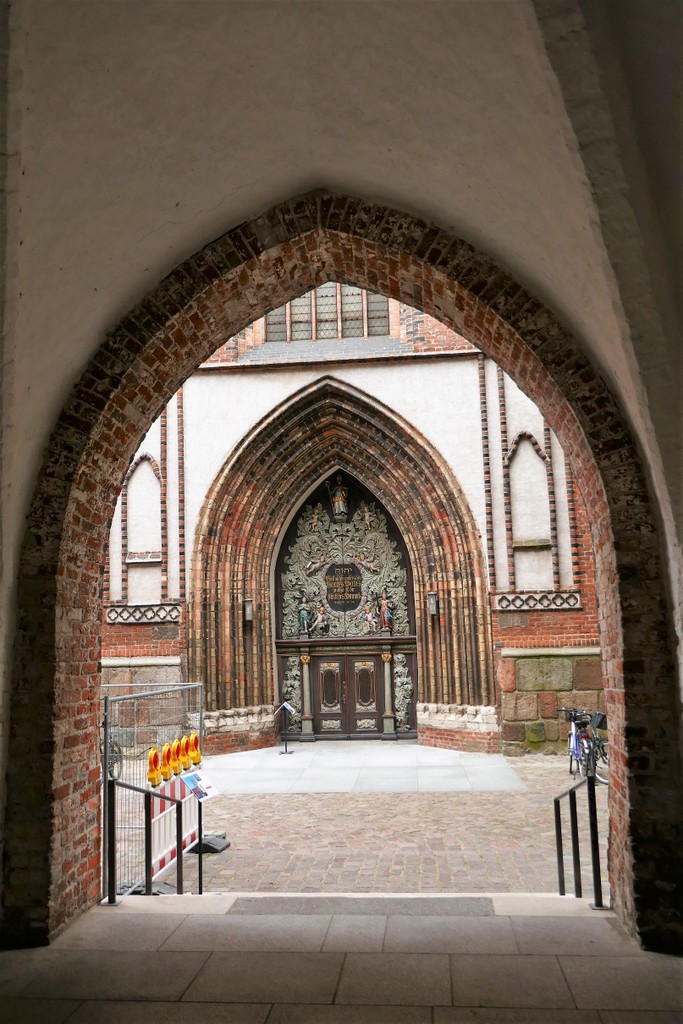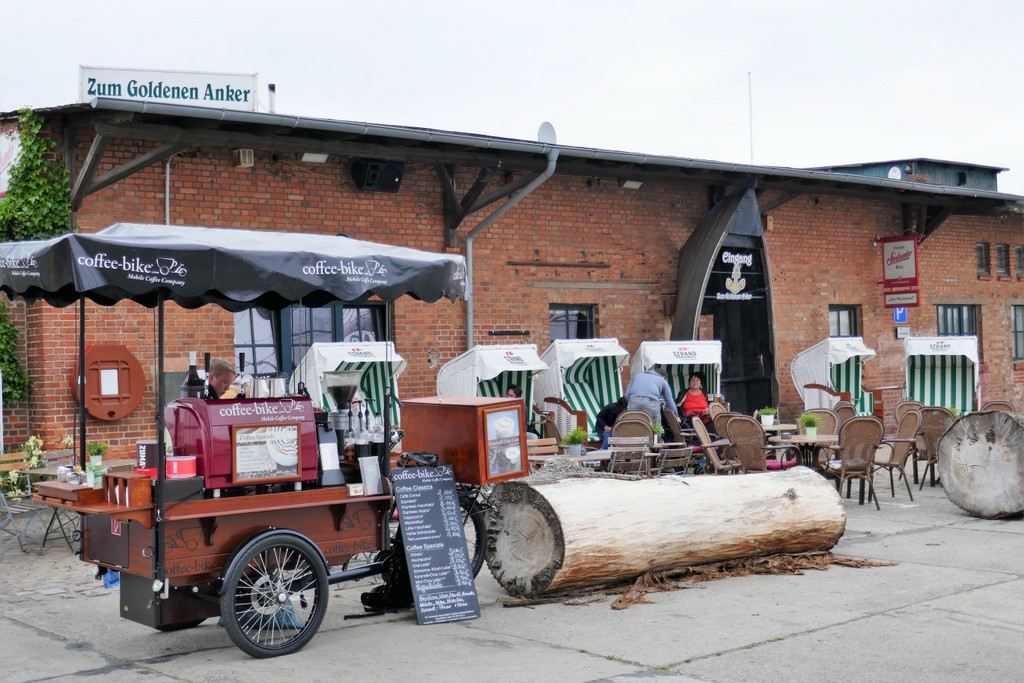 ….et du port où trône le Gorch Fock II, 3 mâts barque école construit en 1958.
The Gorch Fock II. A famous german school ship.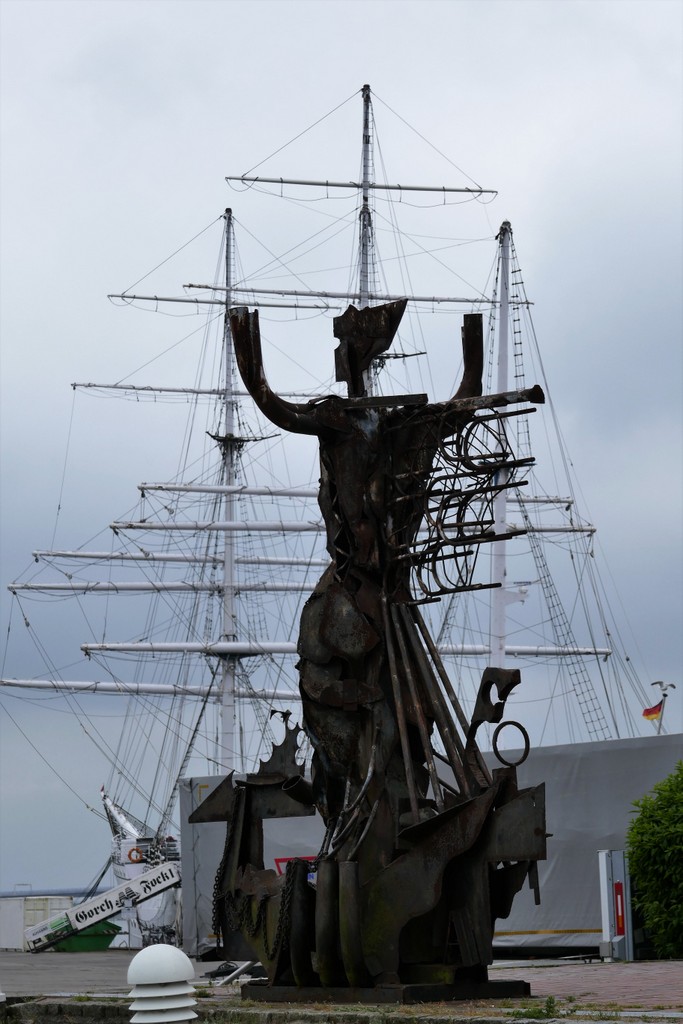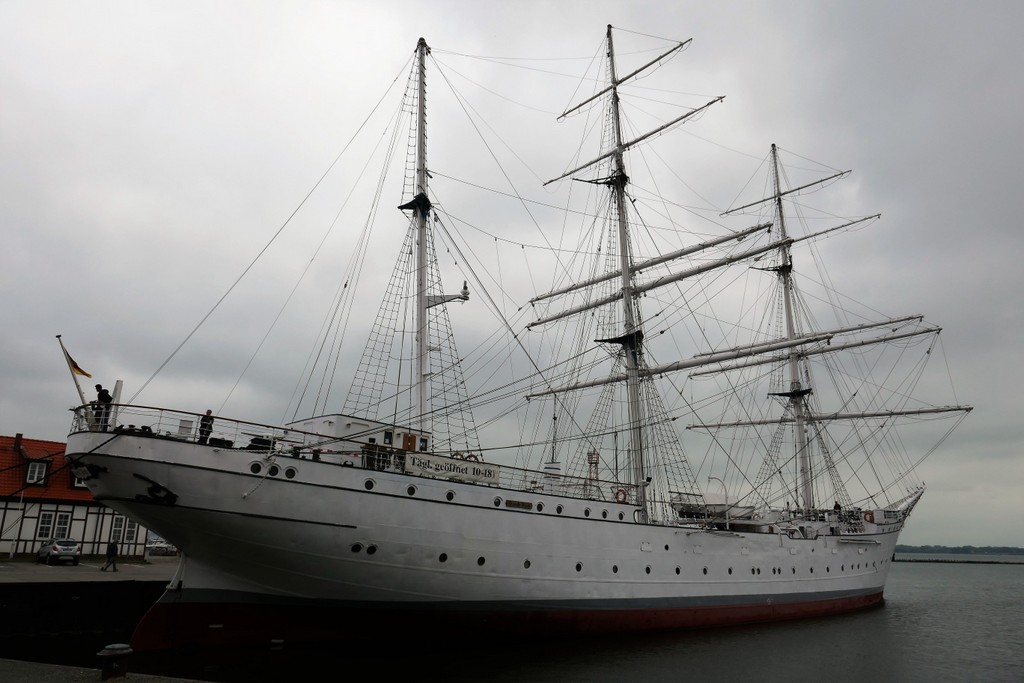 Nous visitons ensuite Marliz, Doris et Christian, des cousins à Sylke.
We are again warmly welcomed. This time by Sylke's family members Marlis, Doris and Christian. We have plenty of things to exchange and discuss during a pleasant afternoon with delicious cake and even Champlain 😊. Christian then guides us to their jot club where we visit their great sailing boat and then spend the night in our Azalaï with view on the marina.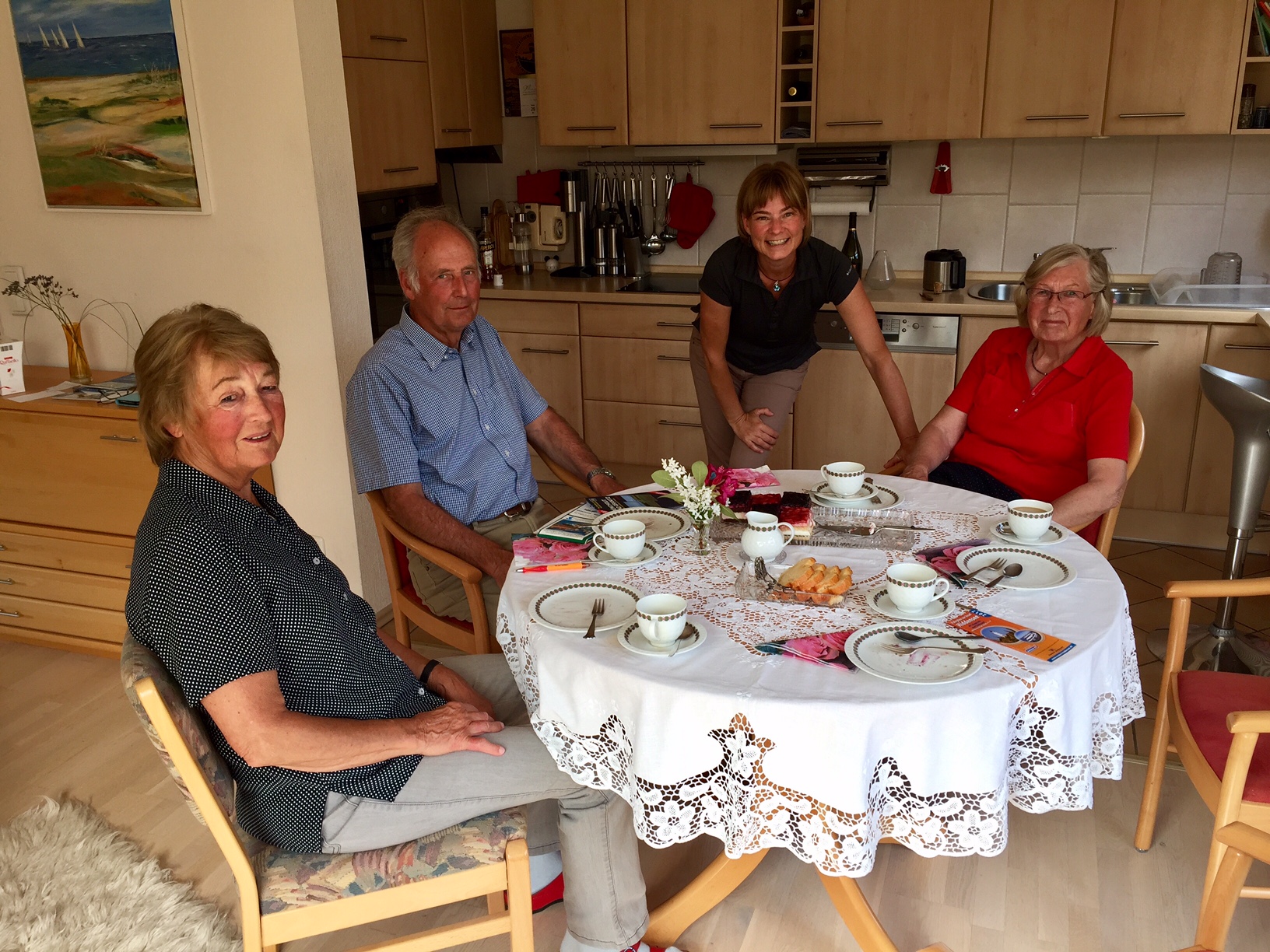 Mardi 30 mai
De Stralsund, nous nous rendons sur l'île de Rügen et passons un moment dans la ville de Bergen.
Sa mairie présentant 2 architectures distinctes attire l'attention.
The next day, loaded with recommendations of what to visit, we cross over the bridge to the island of Rügen.
Rügen is Germany's largest island (51km long, 43km wide). It is very popular as a tourist destination because of its resort architecture, the diverse landscape and its long sandy beaches. 
We start our visit with the central city of Bergen where the town hall stands out with its two distinct architectural styles.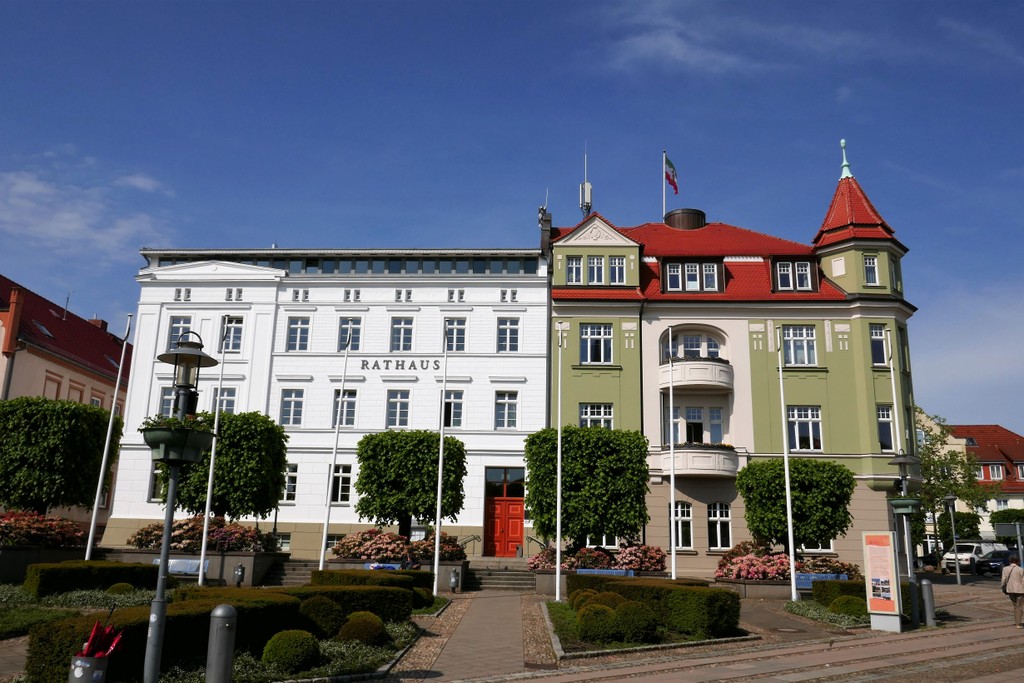 Une montée à la tour Rugard, haute de 30 mètres et construite sur le point culminant de l'île qui se situe à une altitude de 91 mètres vaut le détour, car de là, la vue s'étend sur l'ensemble de l'île.
We also climb up the 30m high Rugard tower that was build on the highest point of the island (stunning 91m). We enjoy the view of almost the whole island.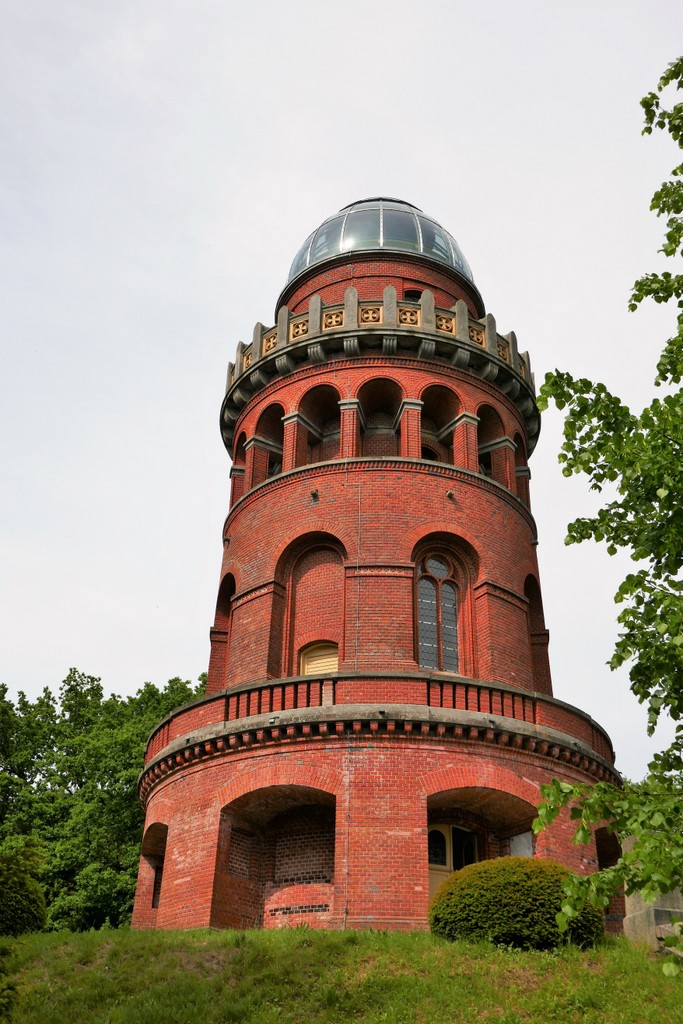 Mercredi 31 mai
Visite de Prora et ses environs. Nous commençons par  un centre nature au sein duquel a été construit un sentier en bois s'élevant à 17 mètres au-dessus du sol, parcourant la cime des arbres sur un parcours de 1250 mètres. Le point d'attraction en est une tour spirale de 40 mètres de hauteur, édifiée autour d'un hêtre vieux de 80 ans et haut de 27 mètres.
From there we go to Binz which is the most popular place on the island with a long promenade along the east coast of Rügen with plenty of beautiful posh white hotels from the early 19hundreds and a long Wooden pier. Unfortunately we have no picture 🙁.
A bit further lays Prona with two unusual attractions: the Treetop Nature Track and the KDF complex a megalomaniac holiday Centre from the Nazis.
The first one is a 1.2 km long wooden track that winds at 17m height through the forest and culminates in a 40m high spiral tower far above the trees. We went up on a really windy day!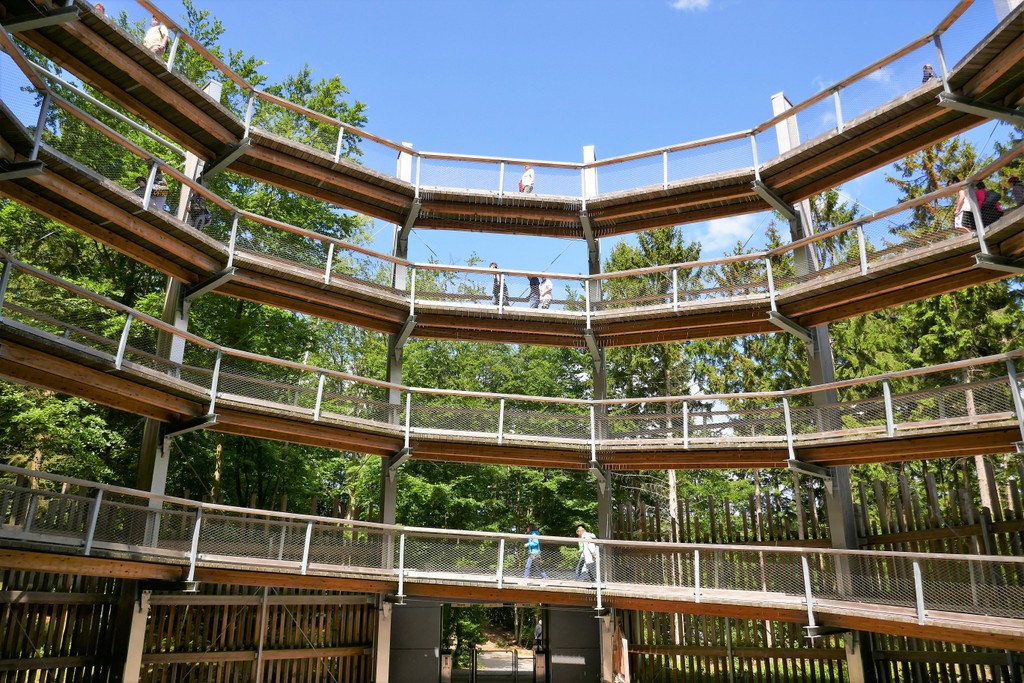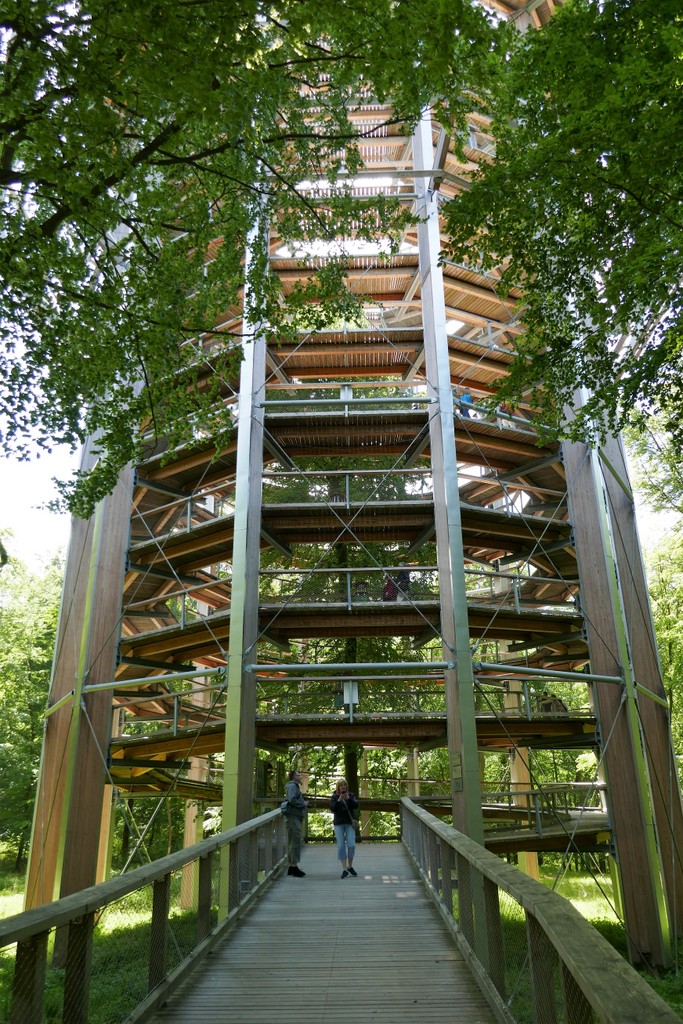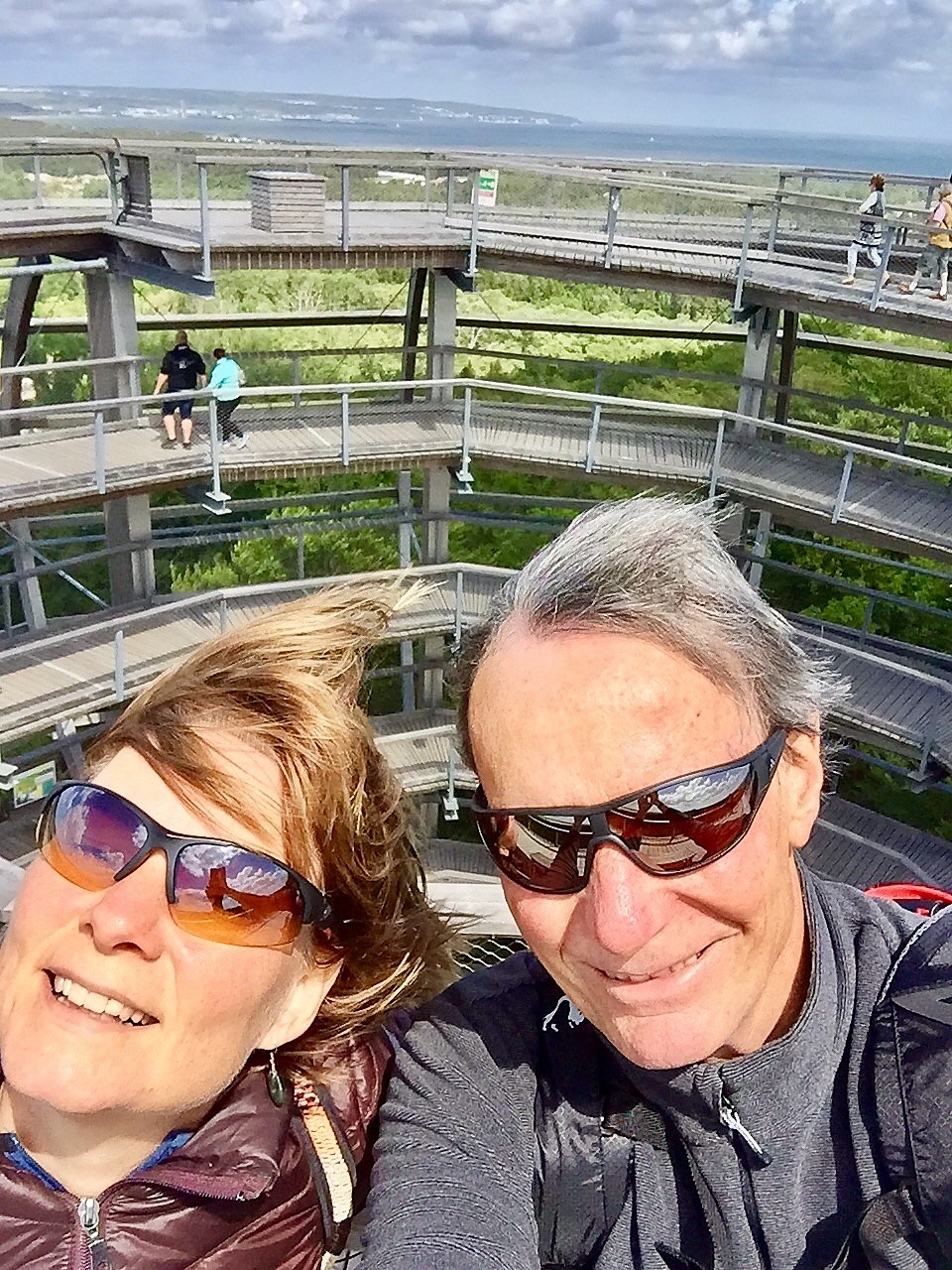 C'est ensuite au tour du complexe « KdF » (Kraft duch Freude) (La joie amène la force) que nous mènent nos pas.
Enorme complexe de vacances long de 5 km dont la construction a débuté en 1935, suite à une décision des dirigeants de l'Allemagne nazie.
L'idée était de permettre à simultanément 20'000 personnes de profiter d'un séjour balnéaire pour une durée de 2 semaines et ainsi se refaire un moral pour mieux affronter ensuite les difficultés de la crise.
Les travaux se sont arrêtés en 1939 et la structure n'a jamais profité au peuple.
Aujourd'hui, 5 blocs de 500 mètres de long ont été rénovés et transformés en appartements de luxe et vendus souvent comme résidences secondaires.
KDF stands for Kraft Durch Freude = Force Through Joy. The idea was to provide a holiday Centre for the German working class which through the holidays should recover force and then could work harder for the country. Somewhat an early concept of work life balance? 
Typical to the Nazi megalomania the centre was planned for 20'000 people. Picture 7.5 km of 5 level building blocks along the beach! Construction started in 1935 but was never completed.
After war the finished blocks were used first for the army, then part of the unfinished buildings were dismantled and the rest was left to itself since destruction was too expensive. Only recently an effort was started to revive the remaining 2.5 km of buildings (5 blocks of each 500m).
Several blocks have now already been turned into partly luxury holiday homes and one block was turned into a youth hostel.
Overall still an impressive historical monument!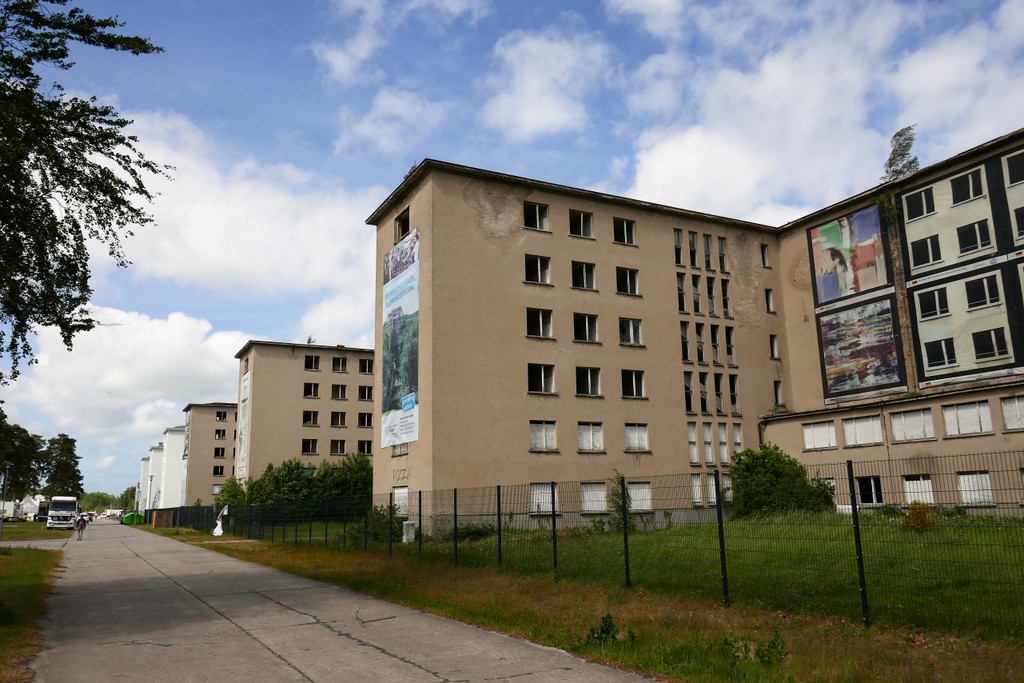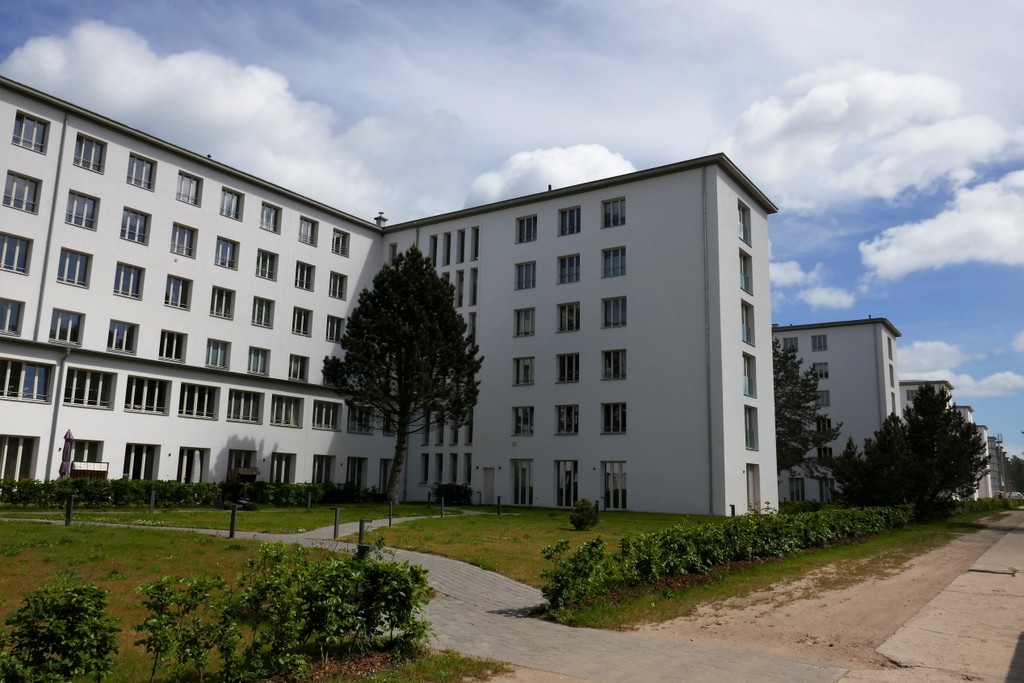 Jeudi 1er juin
Avant d'aller prendre le ferry pour Bornholm, nous visitons le festival des châteaux de sable à Binz.
Des artistes principalement des pays de l'est ont façonné selon le thème de la musique une vingtaine de figures taillées dans un sable compacté importé de Hollande.
Pour que ces œuvres perdurent sans s'affaisser, il est nécessaire d'avoir un sable de structure triangulaire qui, pour cette partie de l'Europe, se trouve seulement dans ce pays.
Thursday June 1st.
 Before taking the ferry to the Danish island Bornholm, we visit a « Sandcastle » festival. Mainly eastern and northern European artists have cut sculptures into compacted sand. To make them sustain a « virgin », square sand (not yet rounded by the movement in water) is needed. The sand used here was all imported from Holland. It is compacted through shaking while wet. There is nothing else added and the artist seem to carve it easily.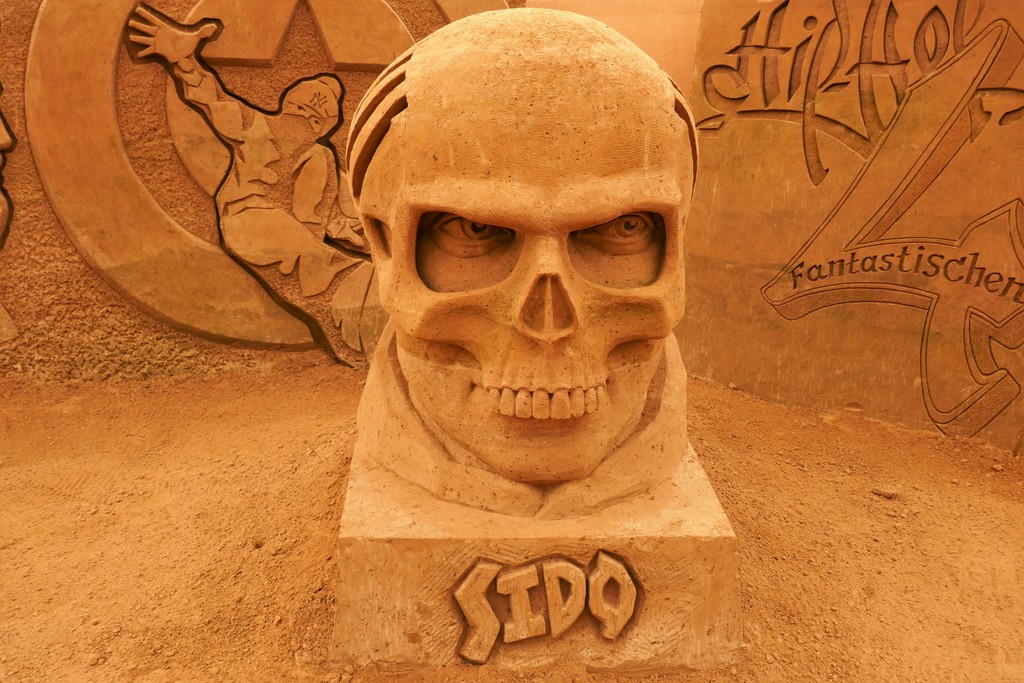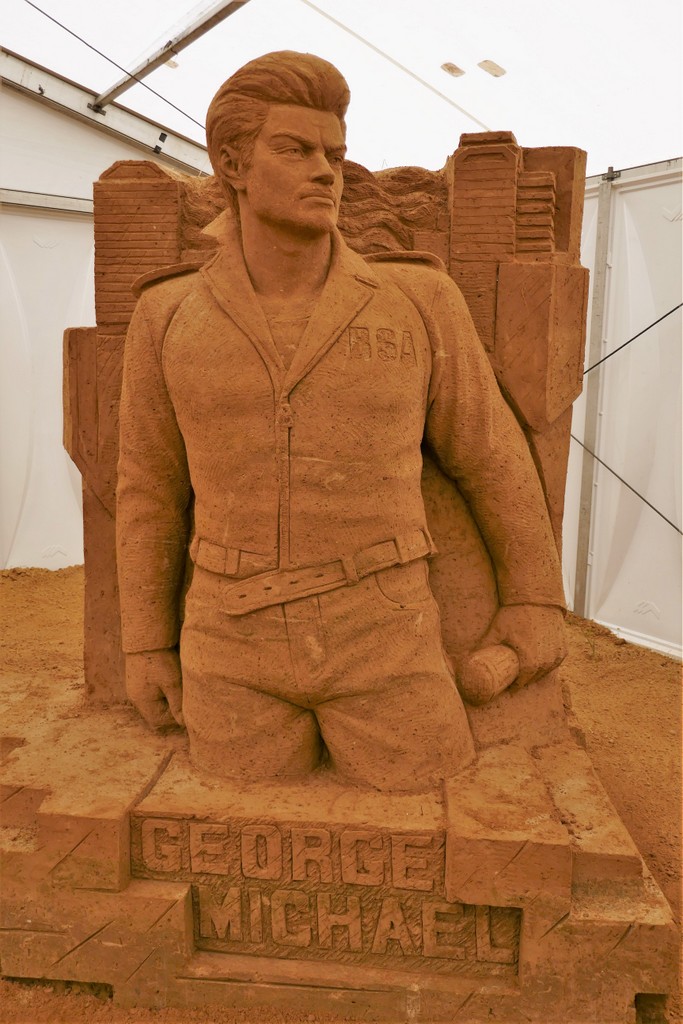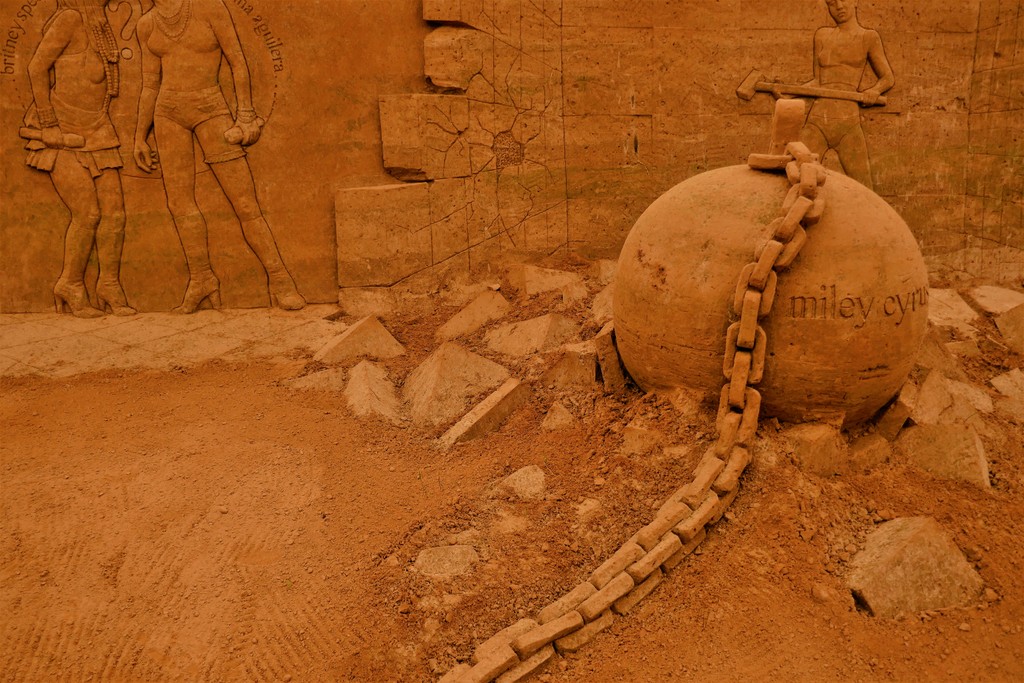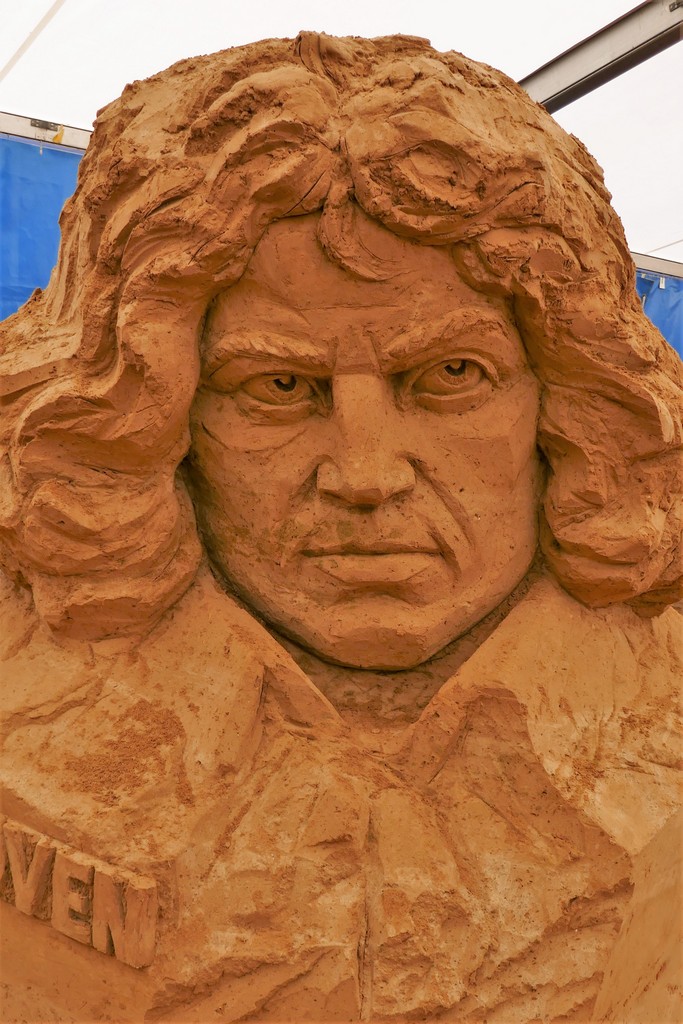 A l'extérieur, un énorme château est en construction avec pour objectif d'atteindre la hauteur de 16 mètres et ainsi battre le record de hauteur inscrit dans le Guinness book qui est actuellement de 14,5 mètres.
The centre piece is a 16m high sandcastle which was still under production when we visited. The aim is to beat the curent Guinness book record of 14.5m.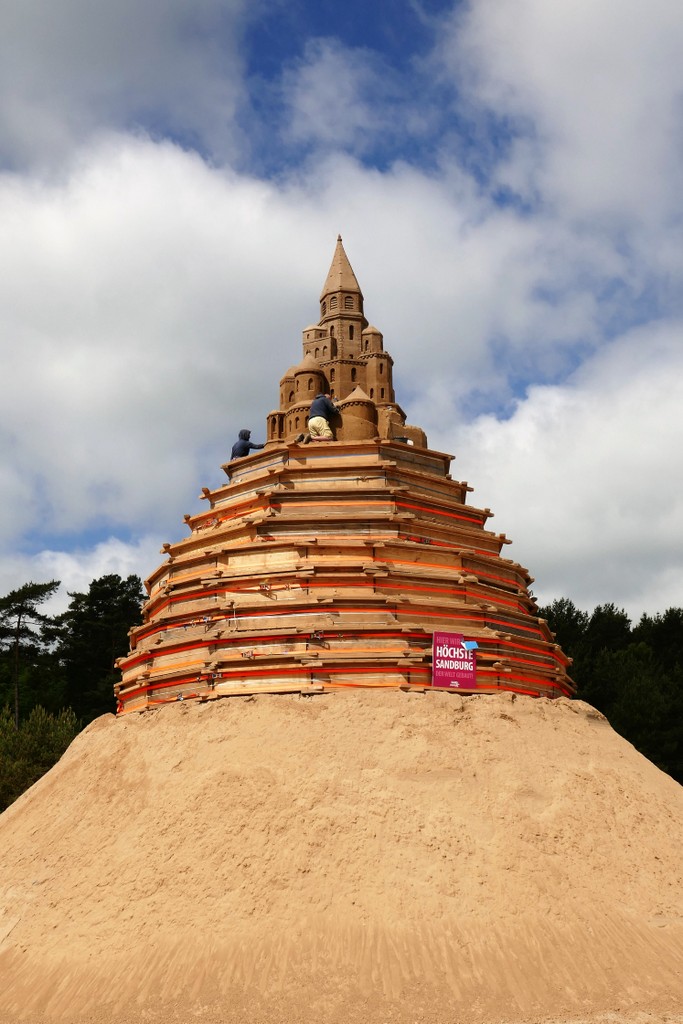 Quelques chevaliers en cours de sculptage vont agrémenter les alentours du château.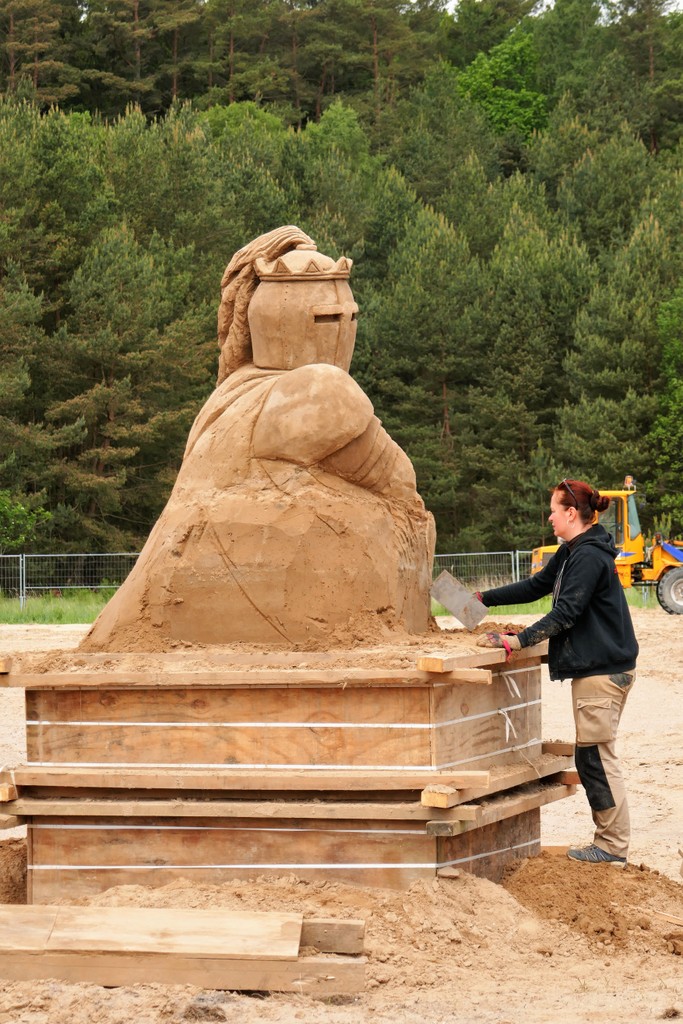 So amazing to watch the artists progress!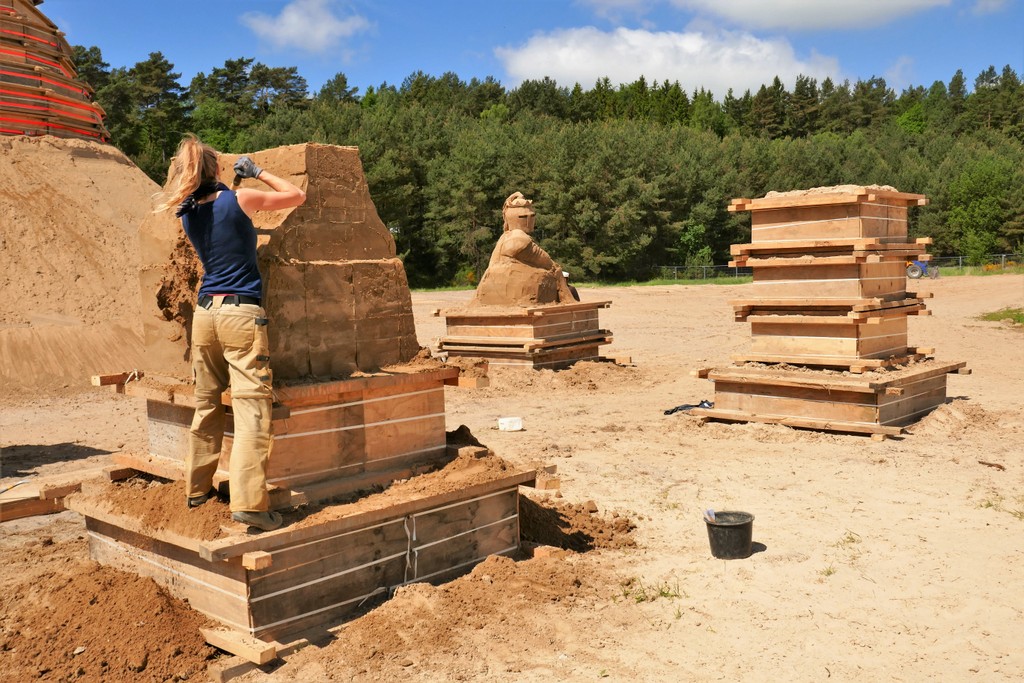 Tout cela peut s'observer bien à l'abri du soleil et du vent en buvant son café.
Even better with a coffee and a hot apple cake 🙂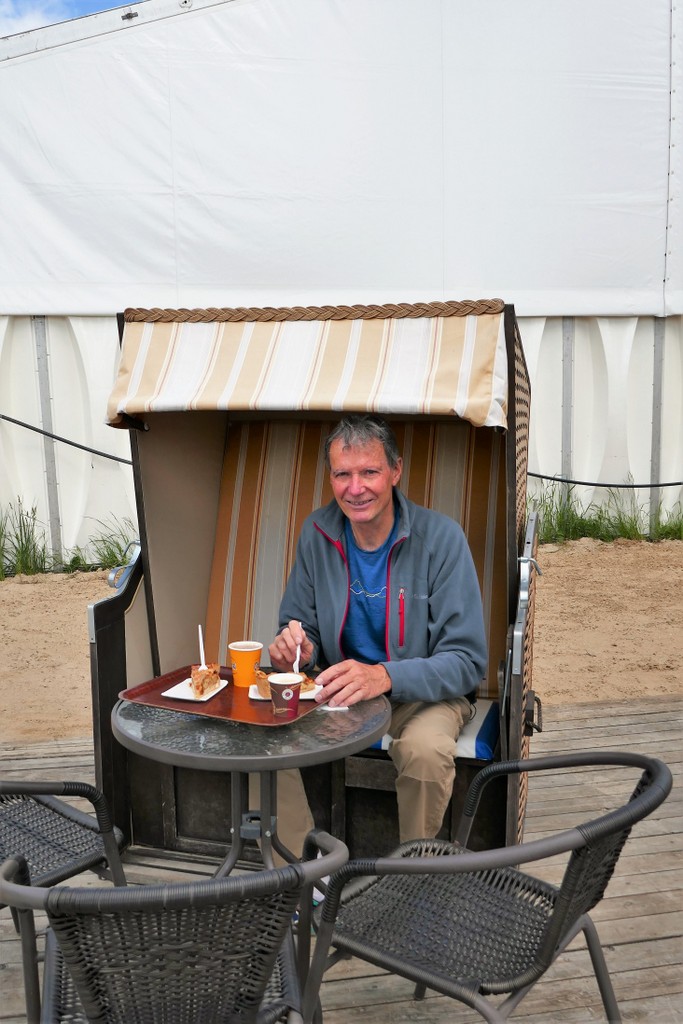 Il est temps maintenant de nous rendre à Sassnitz, au terminal des Ferrys pour effectuer la traversée vers l'île danoise de Bornholm qui nécessite 4 heures de navigation.
Nous passons à côté d'un site d'assemblage d'éoliennes dont les dimensions, vues ainsi de près, impressionnent
Les pales dont le diamètre à l'emplanture atteint 2,50m seront fixées par 80 vis, Elles atteignent une longueur de 60 mètres.
An hour later on the way to the ferry we see an assembly place for enormous windmills. Each wing has a base diameter of 2.5m and a length of 60m and will be placed into a new offshore park next to Rügen. We calculated a resulting speed of roughly 300km/h for the wing tips.
To enable its commitment to shut down all nuclear power stations Germany is heavily investing in wind and solar energy technology. Today about13% of Germany's energy comes from wind energy with roughly 130'000 installed windmills. (Note: Denmark produces already 98% of their energy by windmills for a population of 5.7mio. Germany has 80mio people…).
In an exhibition we read that birds and bats are killed fairly regularly hit by the high speed rotating wings or through the created pressure change which can severely damage their lungs. It'll be interesting to see how scientists will solve this new issue!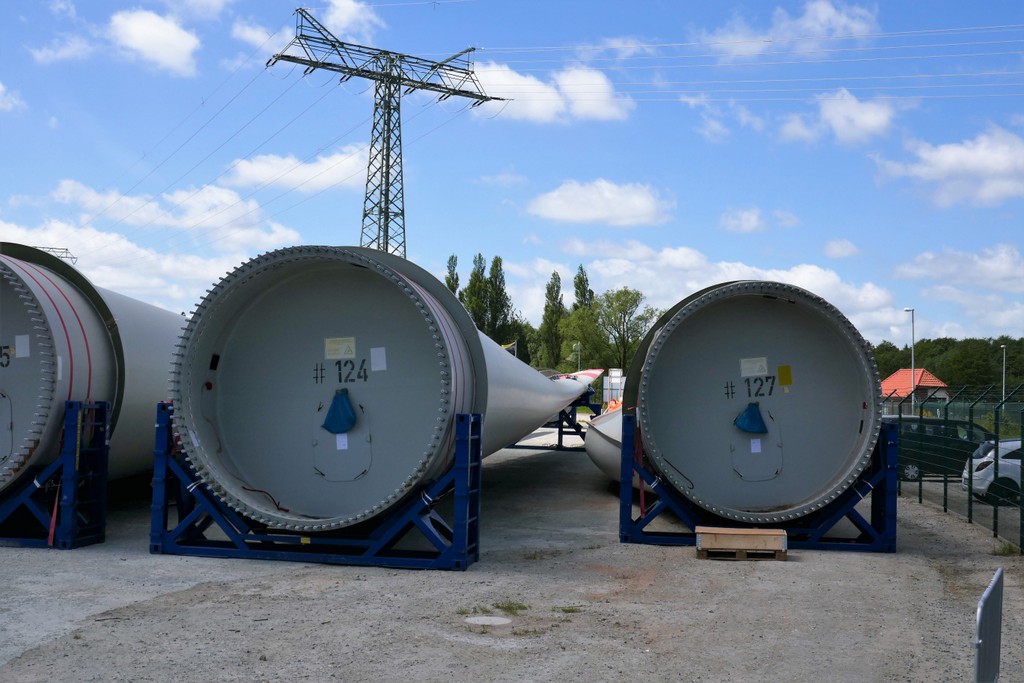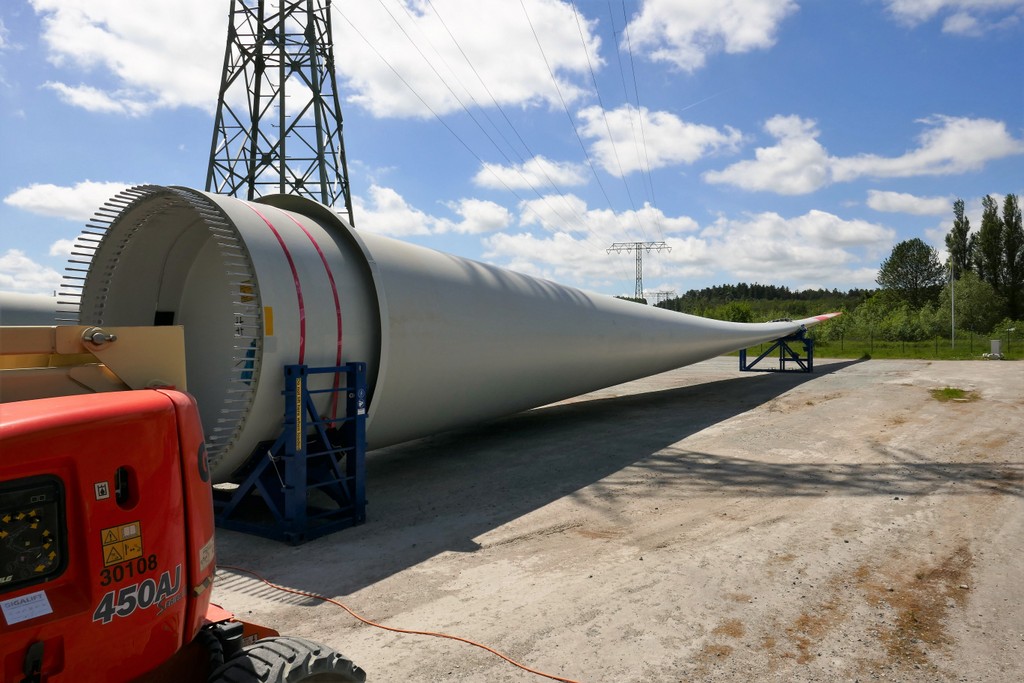 BORNHOLM
est une île du Danemark située dans la mer Baltique à 36 km au sud-est de la province suédoise de Scanie et à 150 km à l'est des premières côtes danoises. D'une superficie de 589 km2, soit un peu moins qu'un cinquième de celle du canton de Vaud.
Elle est  peuplée par environ 40 000 habitants,
Arrival at Bornholm island which is said to be the most sunny place in Danemark 😊.
Bornholm lays in the Baltic sea only 36km south of Sweden. It has roughly 40'000 inhabitants and is very popular for holidays mainly for Germans, Swedish and Polish people. The island is the only non sandy location in Denmark. Its Granit cliffs are therefore remarkable and its quarries build an important resource for the country. The fishing industry played an important roll for Bornholm's economy over the last two centuries but is nowadays in big parts replaced by tourism.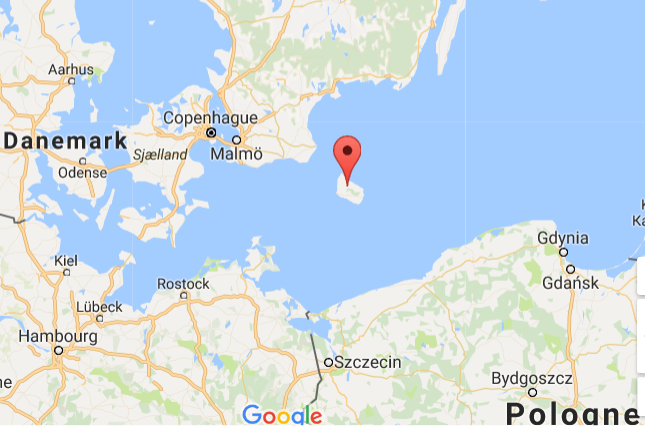 Arrivée à Rønne, capitale de l'île et jolie ville de 14'000 habitants.
The ferry arrives at the capital Rønne (14'000 inhabitants).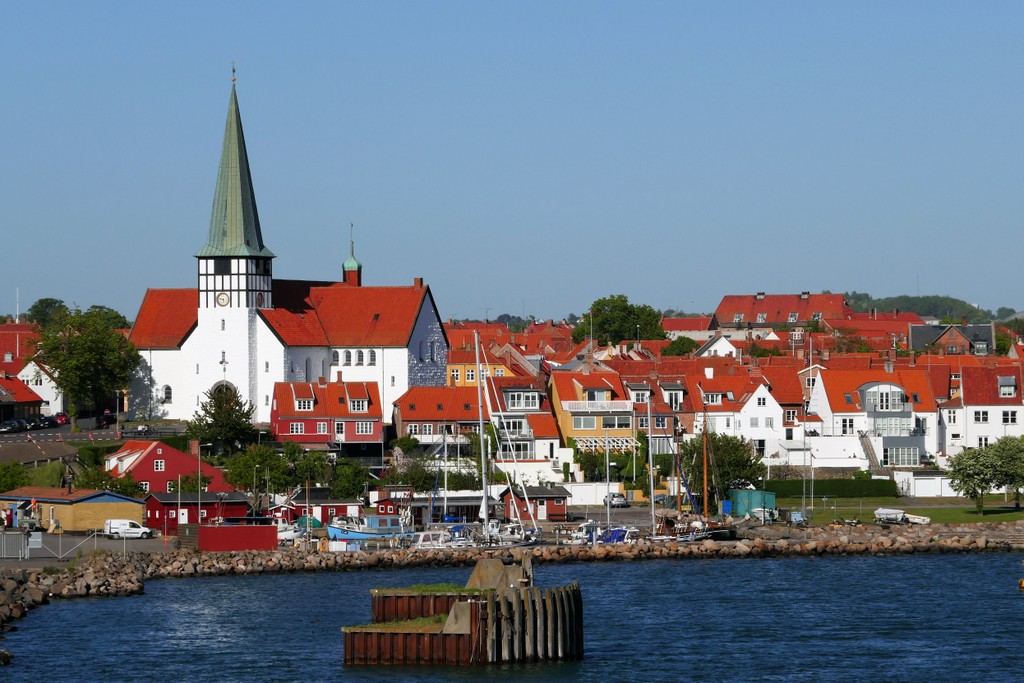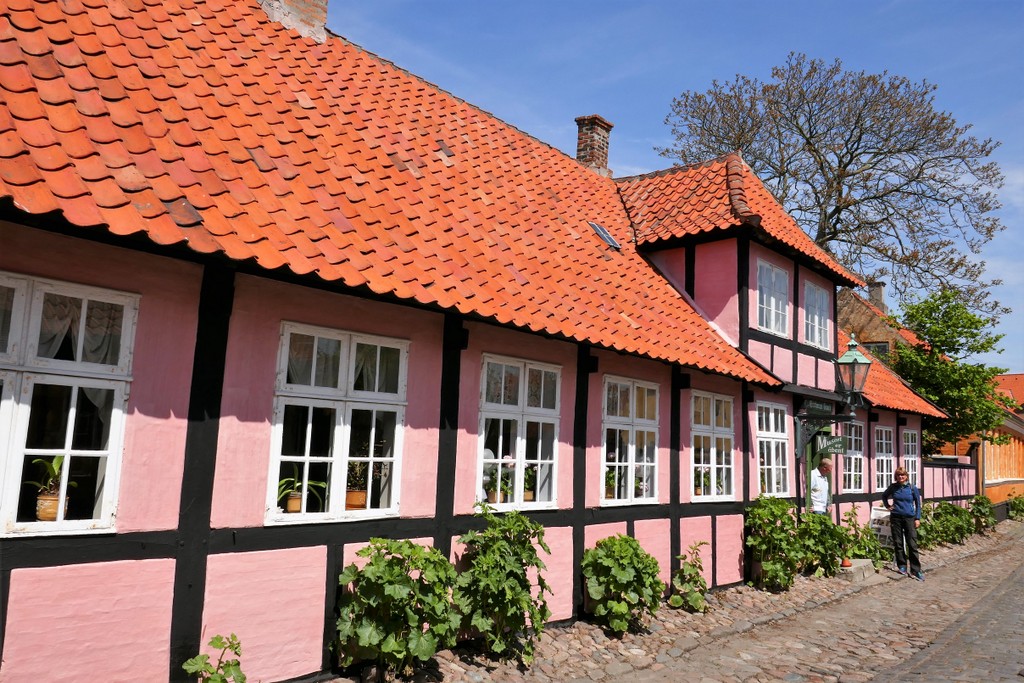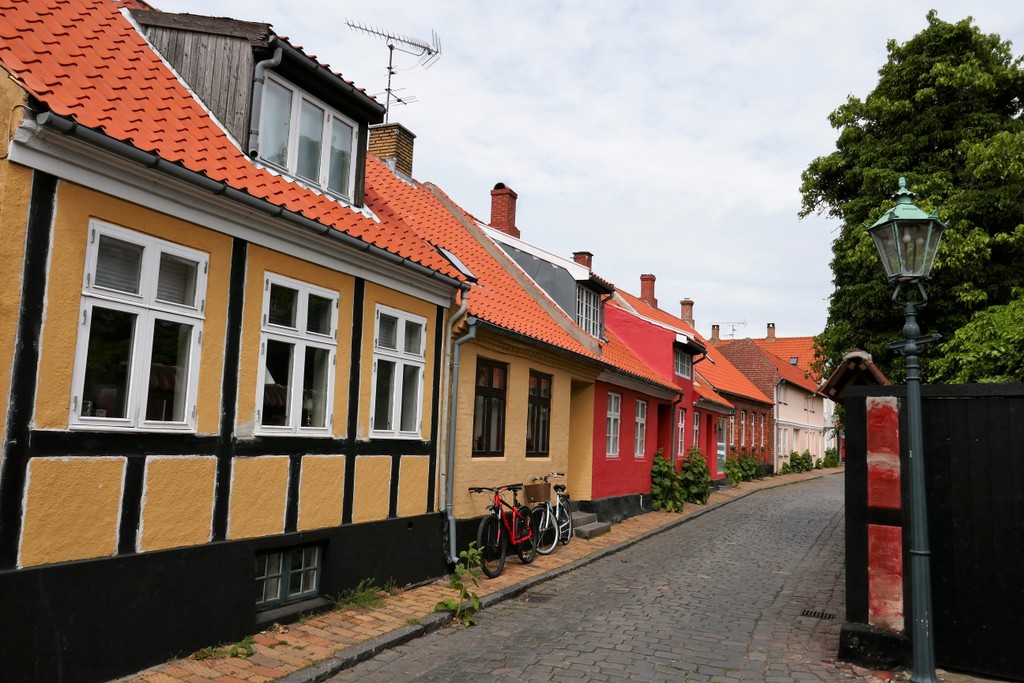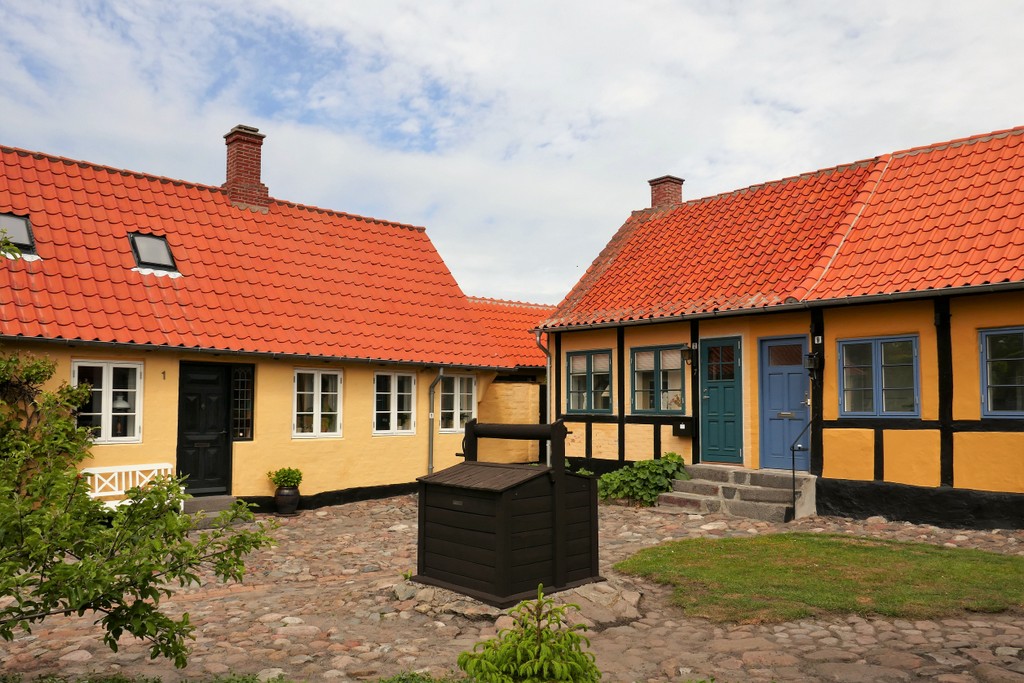 Dès notre arrivée, nous nous rendons chez nos amis Niels et Annett que nous avions rencontrés en Antarctique en 2014.
C'est avec une bonne bière blanche, offerte par Simon lors de notre visite à Kulmbach que nous renouons nos contacts.
We go straight to our friends Annette and Niels that we had met on our 2014 Antarctica expedition. They live in a charming typical Danish style house surrounded by a lovely garden full of flowers, vegetables and fruit trees. 
We celebrate our get together with a delicious, spicy pull appart roast prepared by Annette and one of the 5ltr cans of wheat beer from Simon (from our stop in Kulmbach).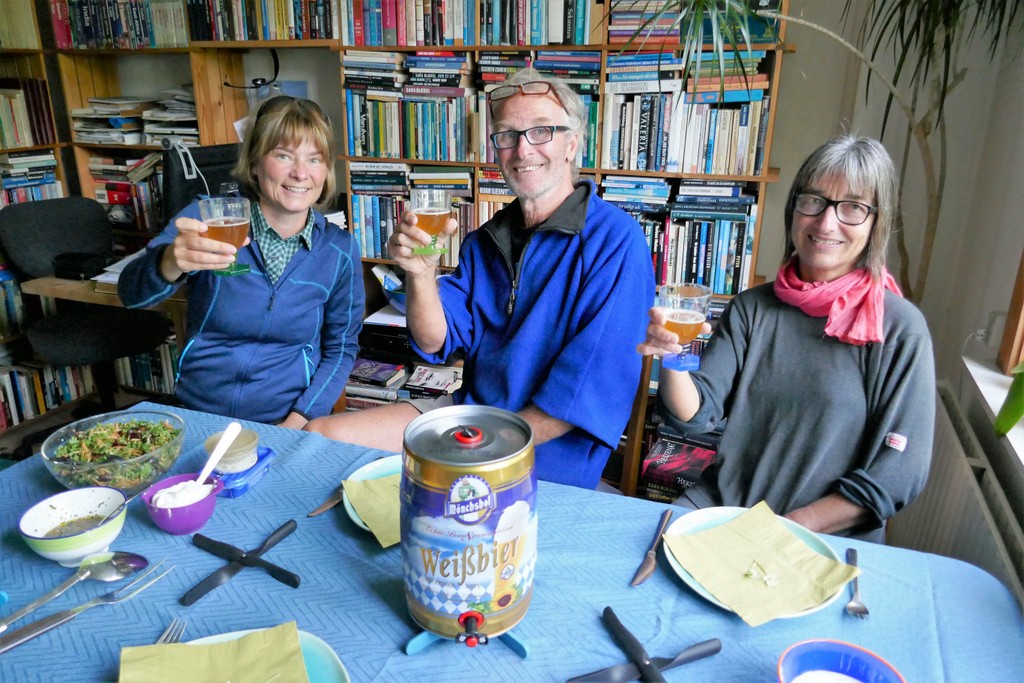 Le lendemain, c'est en leur compagnie que nous visitons leur île de Bornholm qu'ils connaissent comme leur poche.
The next day we start our visit guided by Annette and Niels who are both born here. In addition Neals is a teacher and knows all the important facts by heart!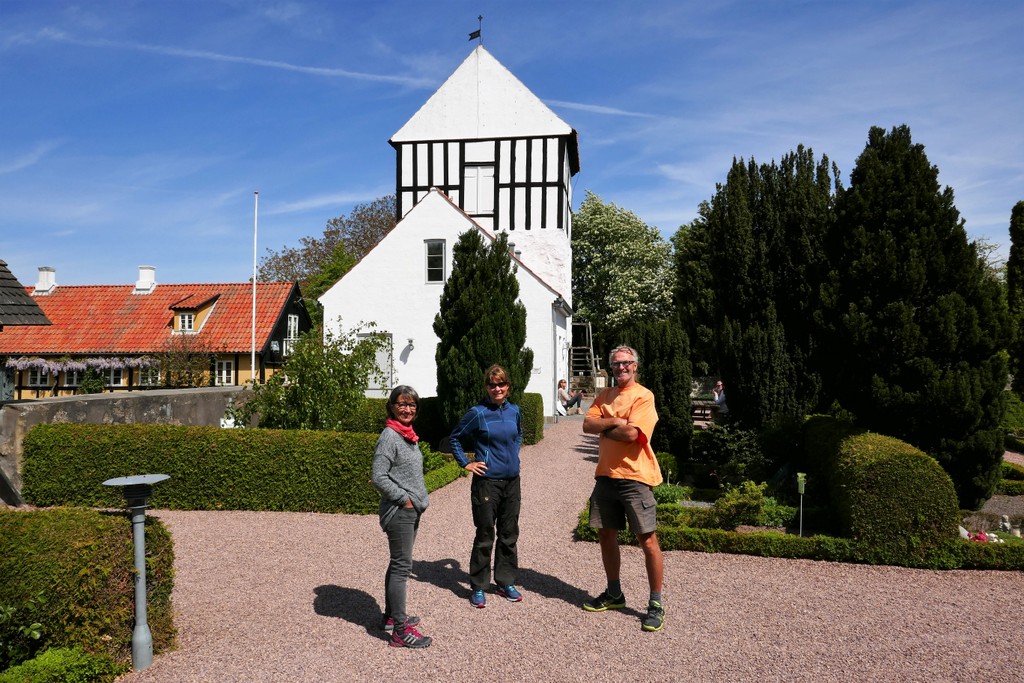 Nous commençons par l'une des 4 églises rondes, typiques de cet endroit, datant du 18ème siècle.
First we visit the smallest of the 4 round Churches unique to the island. This one was build in the 18th century.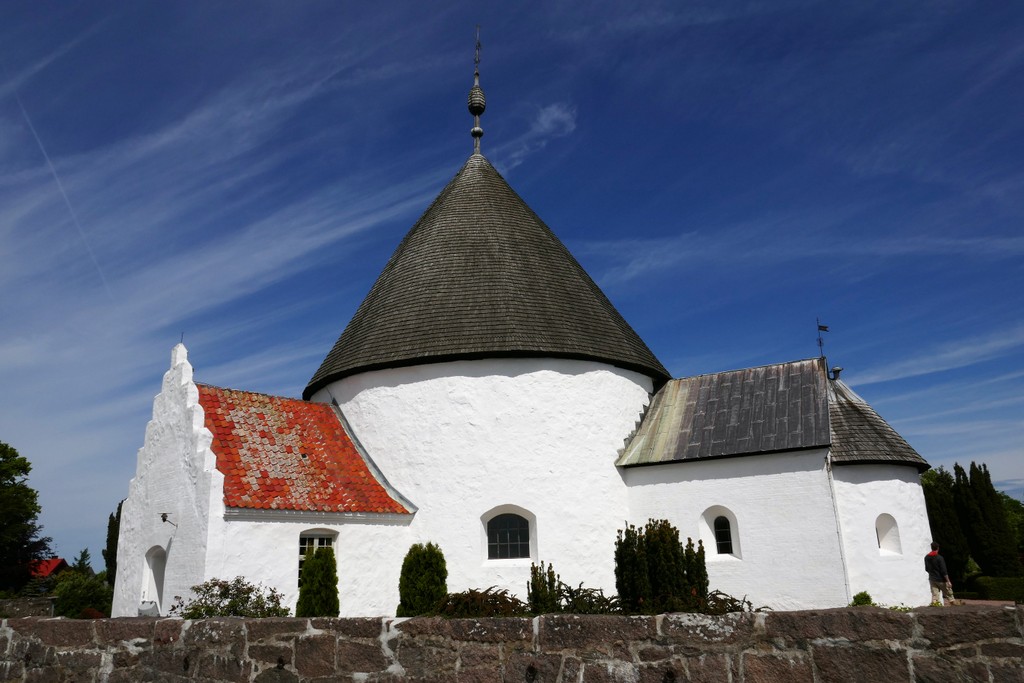 Nous montons ensuite vers la côte Nord près de Salene pour admirer les plus grandes falaises du Danemark.
From here we go north to Salene to explore the highest cliffs of whole Denmark (remember, the rest of Denmark is only made of sand).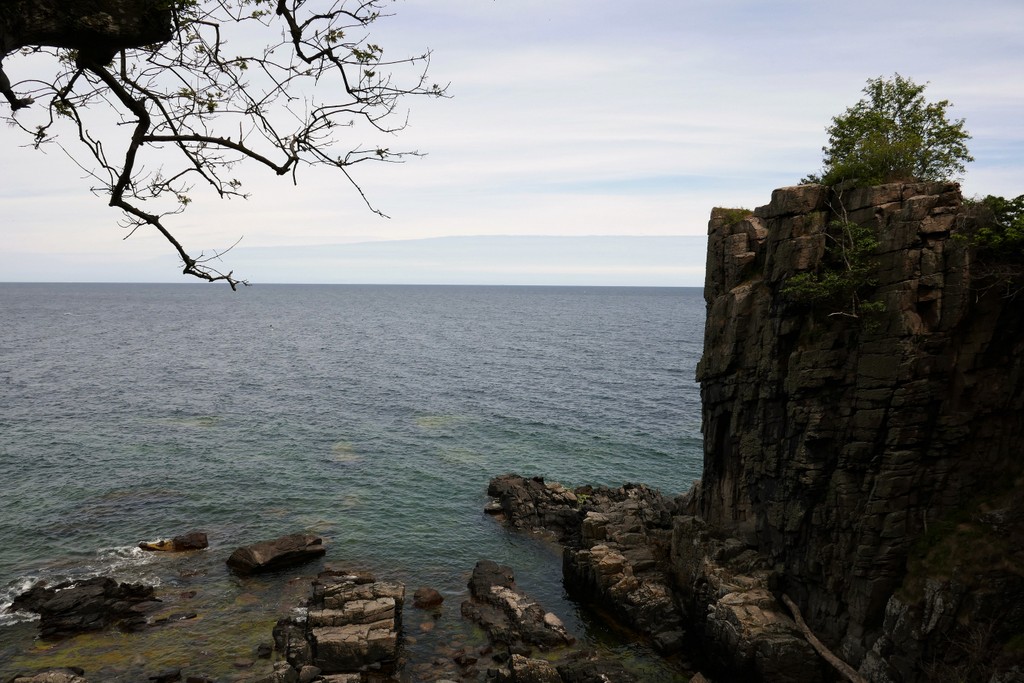 En descendant au bord de la mer, nous accédons à une faille qui s'enfonce dans la falaise sur une cinquantaine de mètres……
We climb down to the sea and enter a narrow, 50m long cavern, where you can see spiders from the tarantula family! (Sylke is a little claustrophobic and doesn't likes spiders too much so she does not make it to the far end…).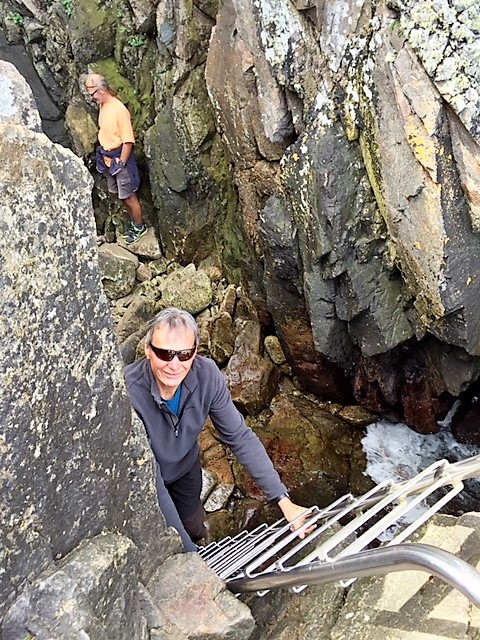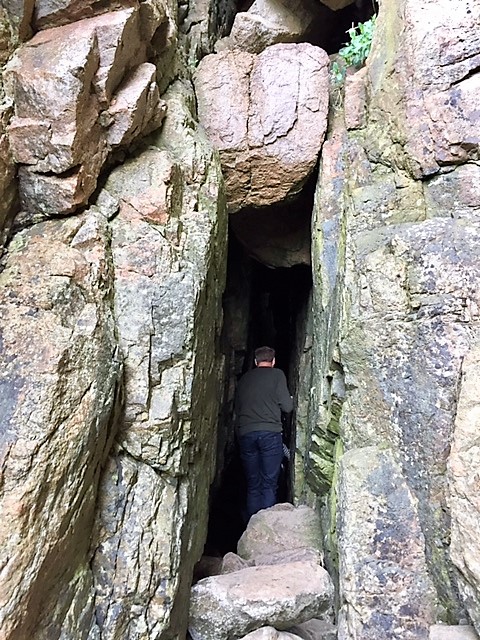 …..et au fond de laquelle on peut y trouver des araignées de la famille des tarentules mais beaucoup plus petites.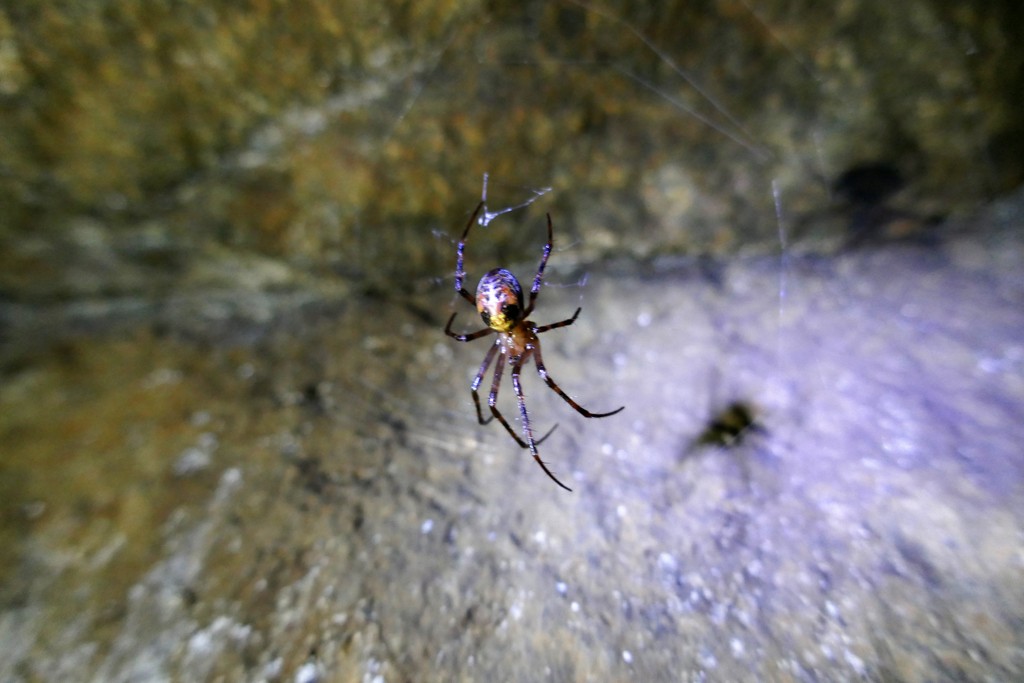 C'est en traversant une dense forêt dont le sol est tapissé d'ail d'ours et de champignons…..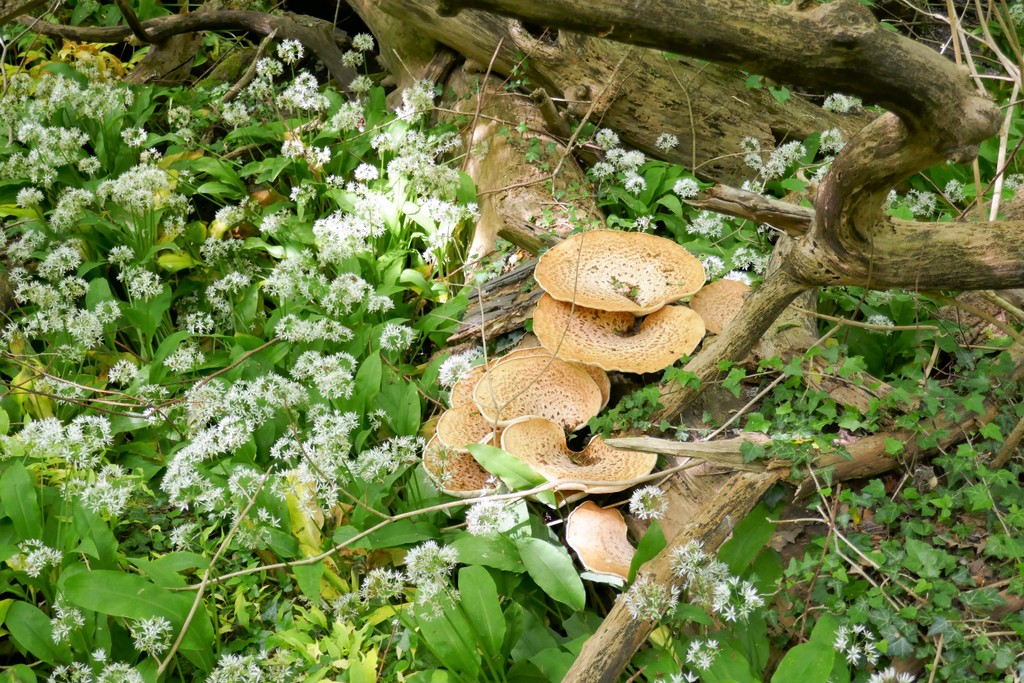 …..que nous arrivons ensuite vers la plus grande cascade de Bornholm, 7 à 8 mètres, un exploit pour ce pays plat !
Back up on the cliff we enter a dense forest where the ground is covered with millions of wild garlic flowers and the smell is unmistakable! From here we reach one of Denmark's highest waterfalls (8m! Remarkable for this rather flat land😉).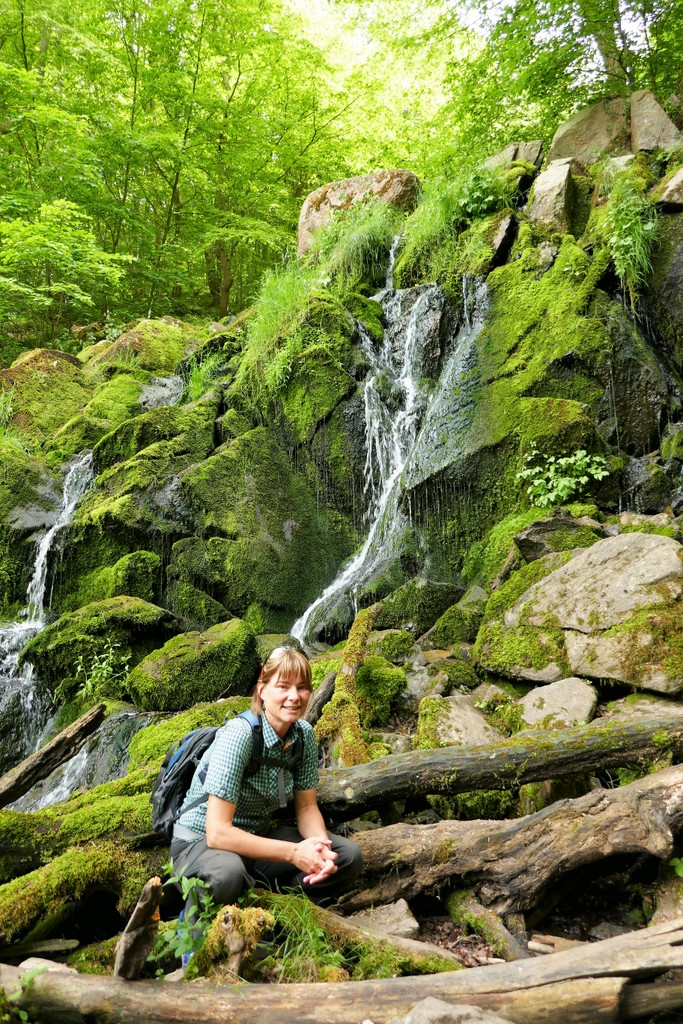 L'endroit ayant la réputation de faire les meilleures Soft Ice (glaces à la crème) de l'île se trouve dans le pittoresque village de Gudhjem sur la côte nord.
C'est là que nous nous rendons pour déguster ce délice très convoité par les mouettes et goélands du coin.
After this active morning we are ready for a snack and decide to visit Gudhjem with the reputation for the island's best ice cream.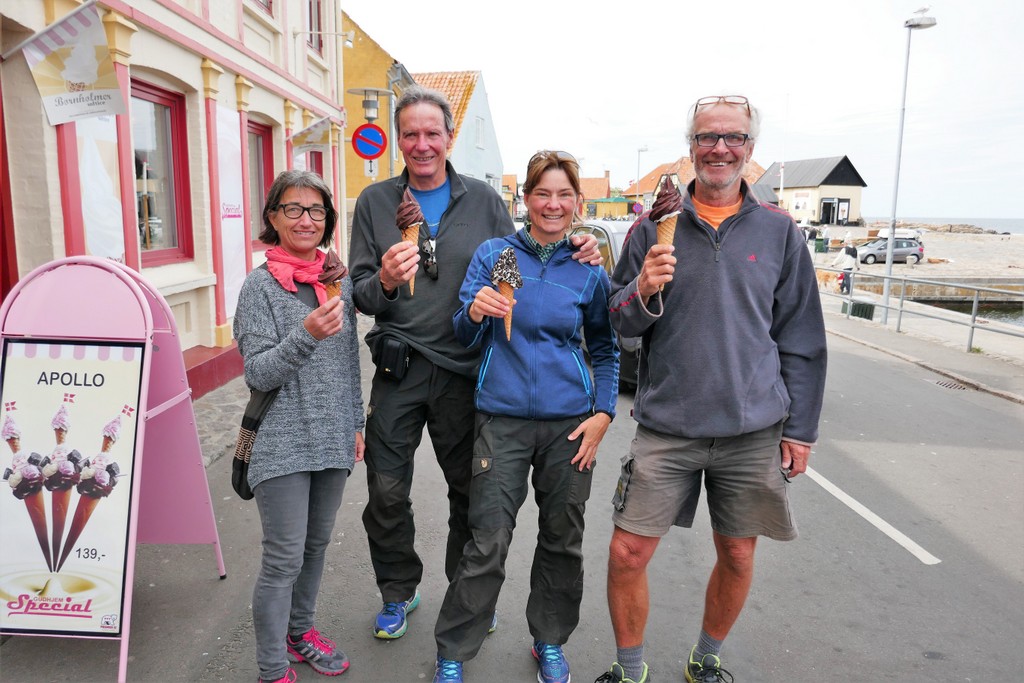 Nous montons sur un petit promontoire au dessus du port pour profiter de la vue sur la ville.
We enjoy the rather generous portions with view to the little harbour.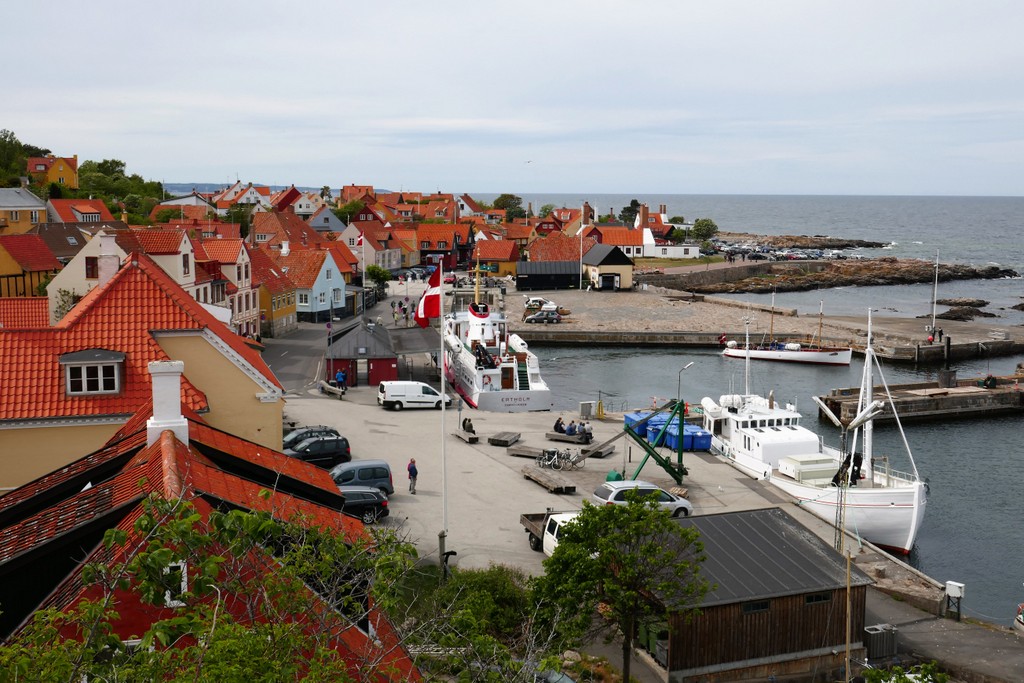 Lundi 5 juin
Petit déjeuner chez nos amis après quoi nous nous rendons en bord de mer juste à côté de Rønne afin d'assister à une course à pied de 5km à laquelle participe Annette. 300 participants environ s'alignent pour le départ qui est donné toutes classes confondues. Le vainqueur terminera avec un excellent temps de 16 minutes et Annette qui manque un peu d'entraînement effectuera le parcours en 24 minutes.
Monday June 5th.
After a delicious breakfast at our friends house with homemade jam and breakfast « boller » we assist a 5k run where Annette is participating. Running is a popular sport on Bornholm and roughly 300 people participate. The winner runs it at an impressive 16min and Annette is half happy with her 24min since she knows she can run it much faster, but for the very little training she did it is an ok timing.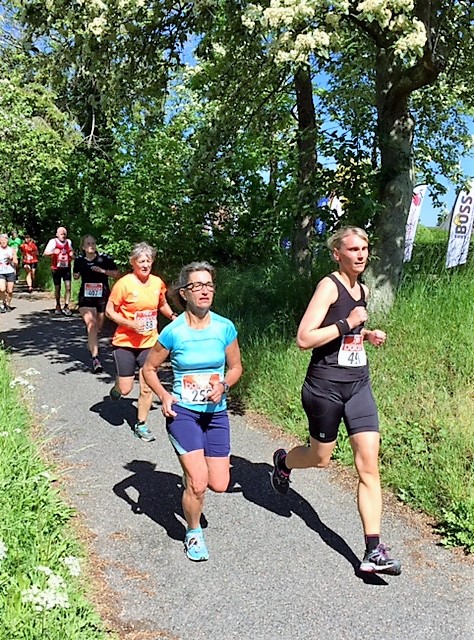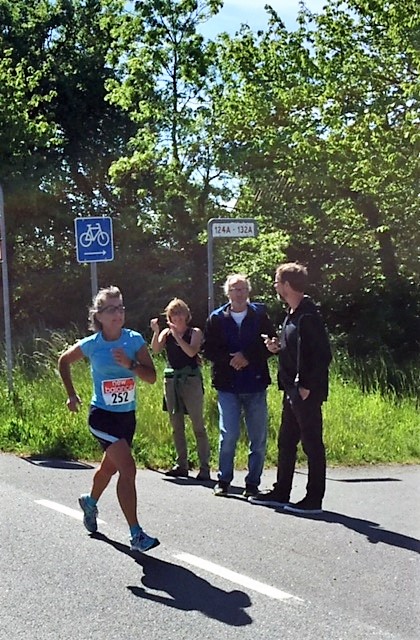 Après la course, nous longeons une très jolie plage pour retourner à l'Azalaï et nous nous rendons ensuite au départ d'une randonnée qui se trouve à l'est de l'île et qui porte le joli nom de « Colline du Paradis ».
Le long du parcours, une « Roche oscillante » mérite que l'on s'y arrête. Il s'agit d'une roche de 35 tonnes, mesurant 4 x 3 mètres pour 2 mètres de haut, déposée là pendant l'aire glacière et qui se trouve en équilibre sur une proéminence du sol, de telle manière que l'on peut la faire bouger en lui imprimant des petites saccades.
The afternoon is filled with a lovely hike in an area that is called « paradise hill ».
The path leads first to a rocking stone. The 35t heavy stone sits in a stable in-stable  position and can thus be rocked by hand without making it fall over. It makes you feel really strong when you feel that you can really make this heavy stone move!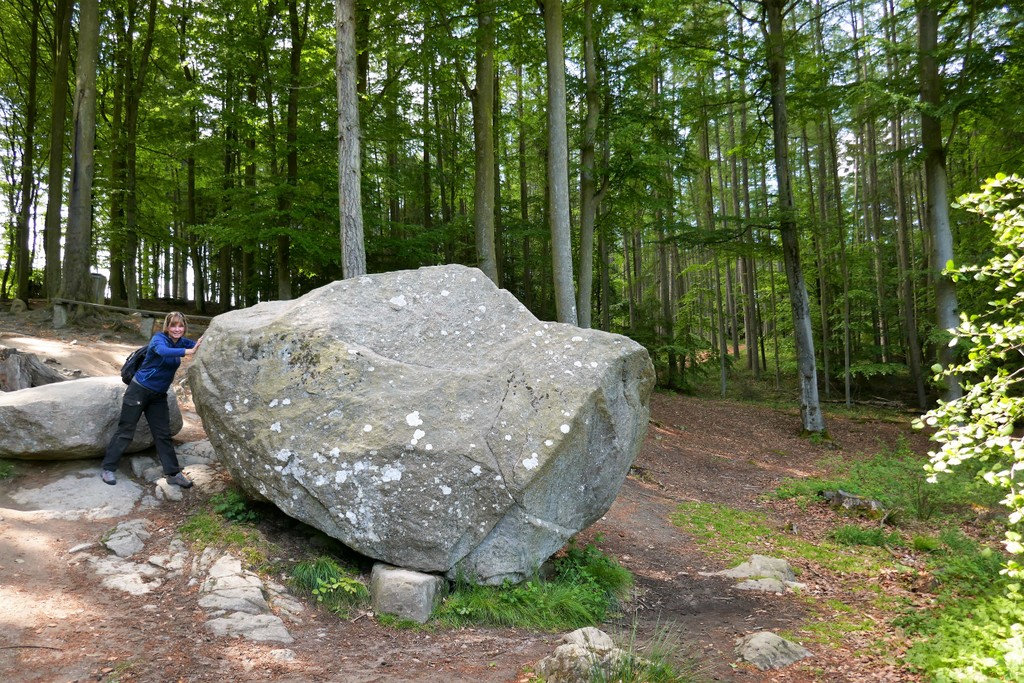 Tout au long du chemin, nous découvrons de très jolis endroits avec une alternance de jolis étangs et de vallées étroites bordées de falaises.
The hike continues pleasantly through woods, along lakes and open areas.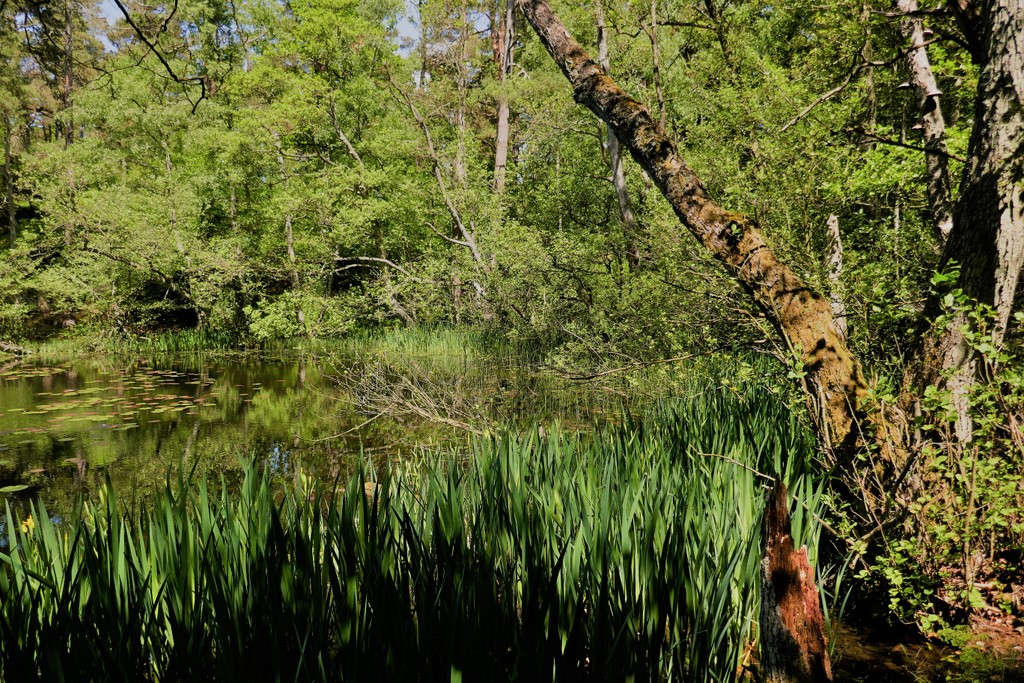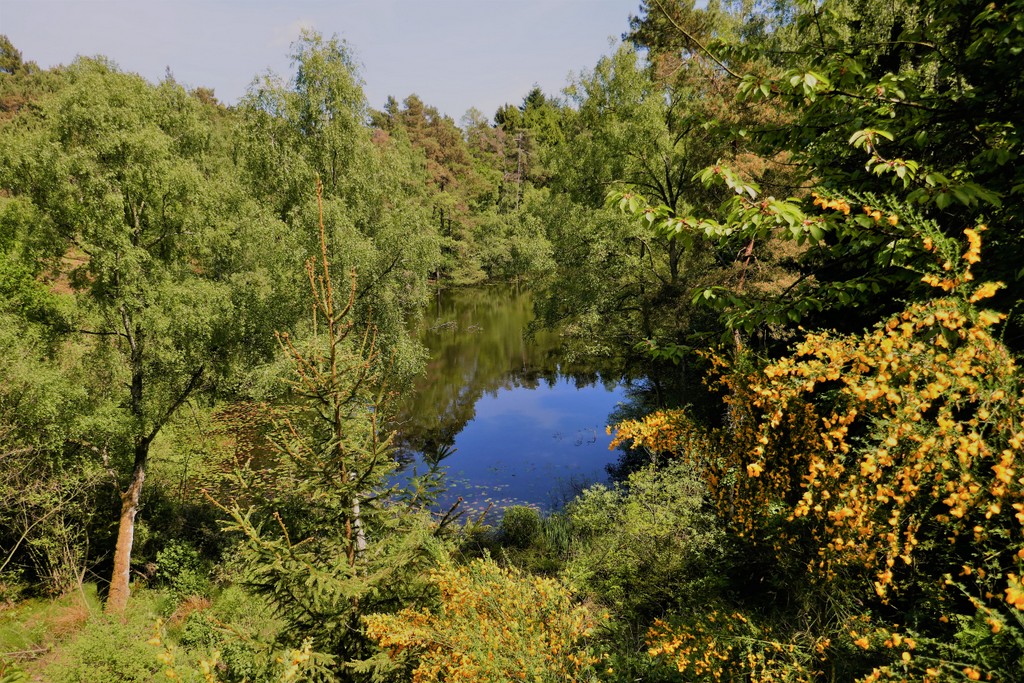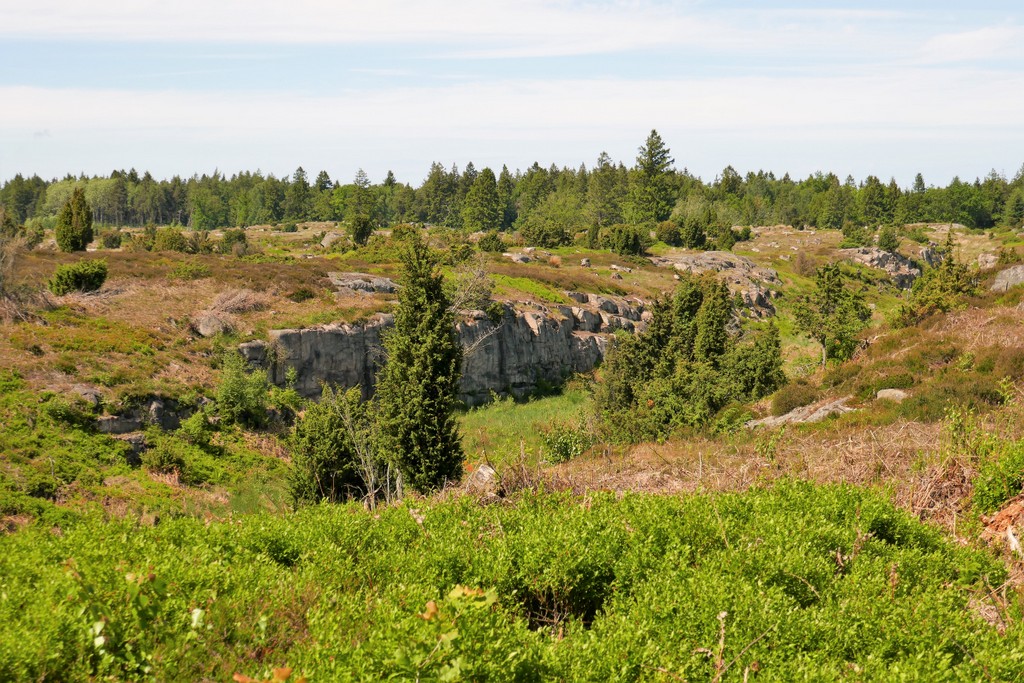 Mardi 6 juin
 Ce matin, nous allons essayer de voir des bisons, introduits dans un grand parc en prévision d'une extinction de la race sur le continent. Il serait alors possible de recréer de nouveaux troupeaux en se servant des bisons de Bornholm.
17 bisons vivent ici.
Après 2 heures à marcher à travers forêts et clairières, à suivre des traces de sabots et de bouses fraîches, nous devons malheureusement nous rendre à l'évidence que ce n'est pas aujourd'hui que nous verrons ces animaux.
Tuesday June 6th.
We visit a Bison park and try to find the actual bisons during several hours.
7 European Bison were introduced here a number of years ago and have by now turned into 17 the brochure tells us. Unfortunately below is all we see of them today…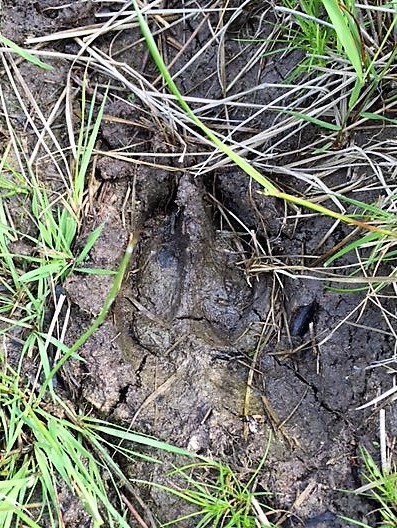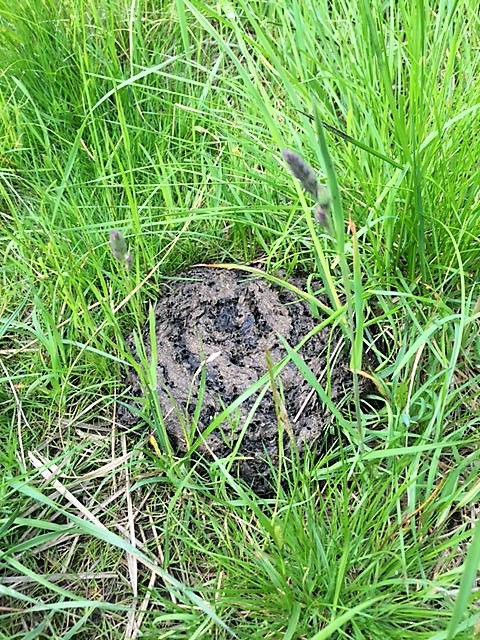 Niels et Annette nous ont parlé d'un très joli café, créé dans un ancien bâtiment scolaire, pas très loin d'où nous nous trouvons. Nous y passons un très agréable moment dans un cadre très cosy.
Following our friend recommendation we go to « Fru Petersen's coffee Hus ».
An old schoolhouse that has furniture from 18hundred and serves homemade Danish cakes. Lovely place, fantastic cakes!
And if you don't want to chose, you take the « buffet » option so you can try them all 😊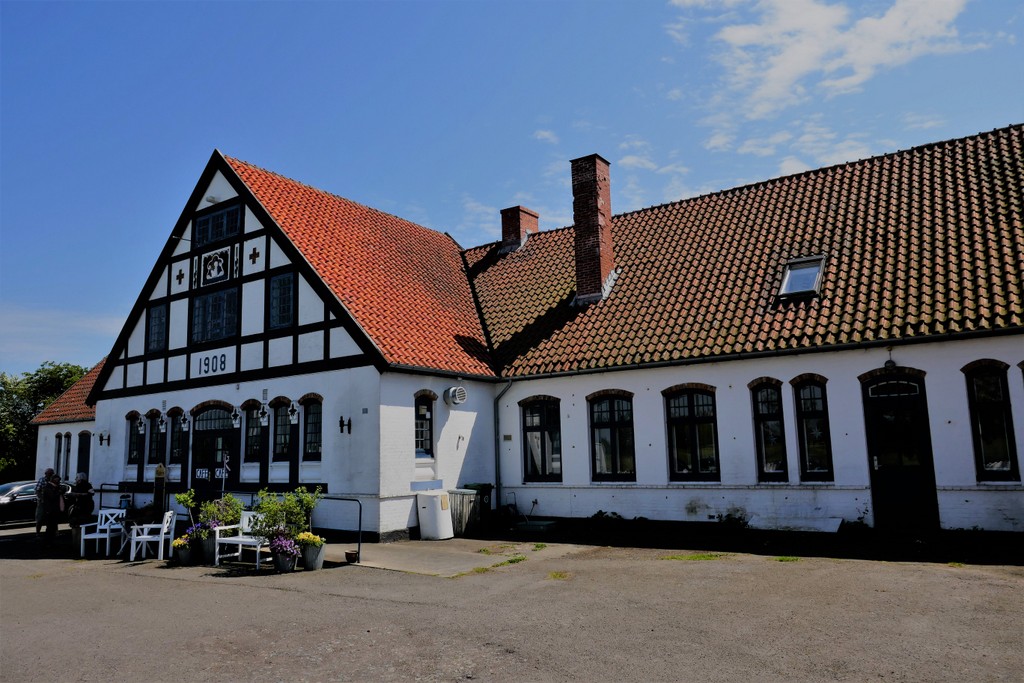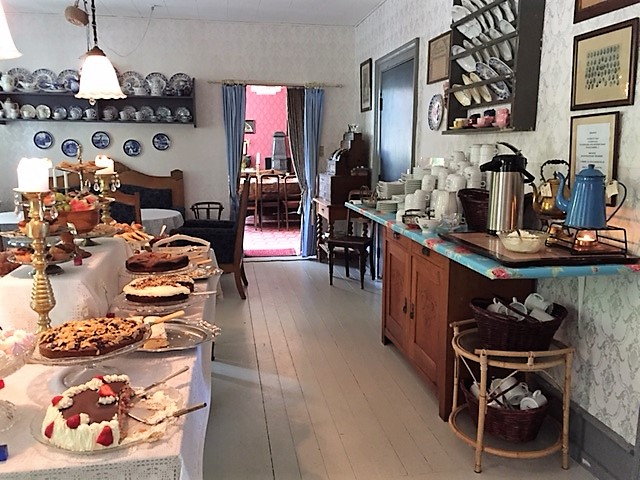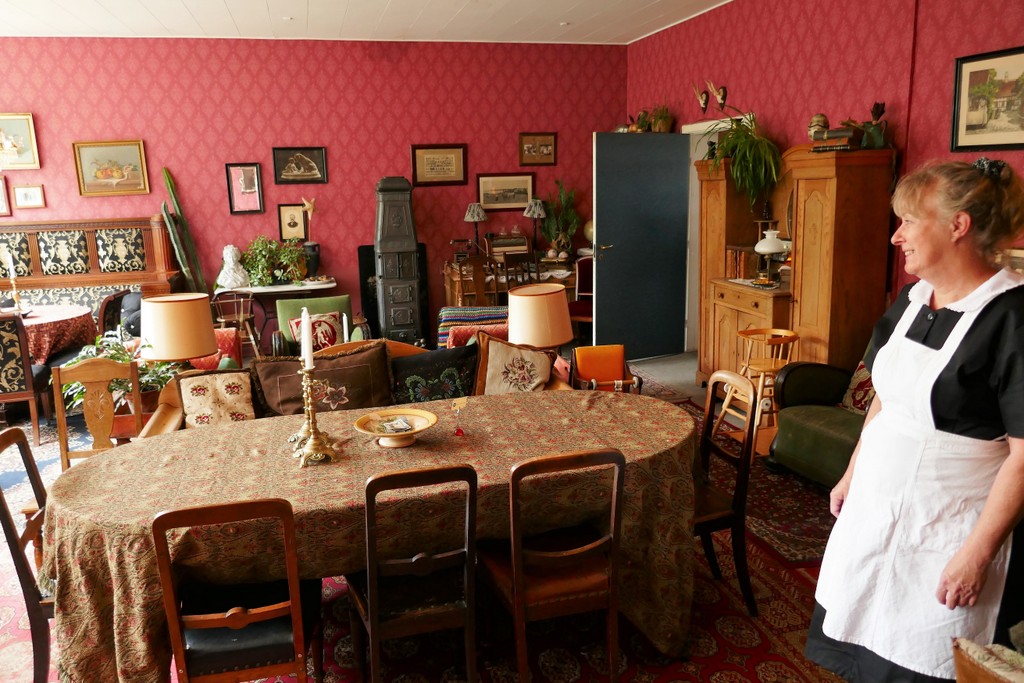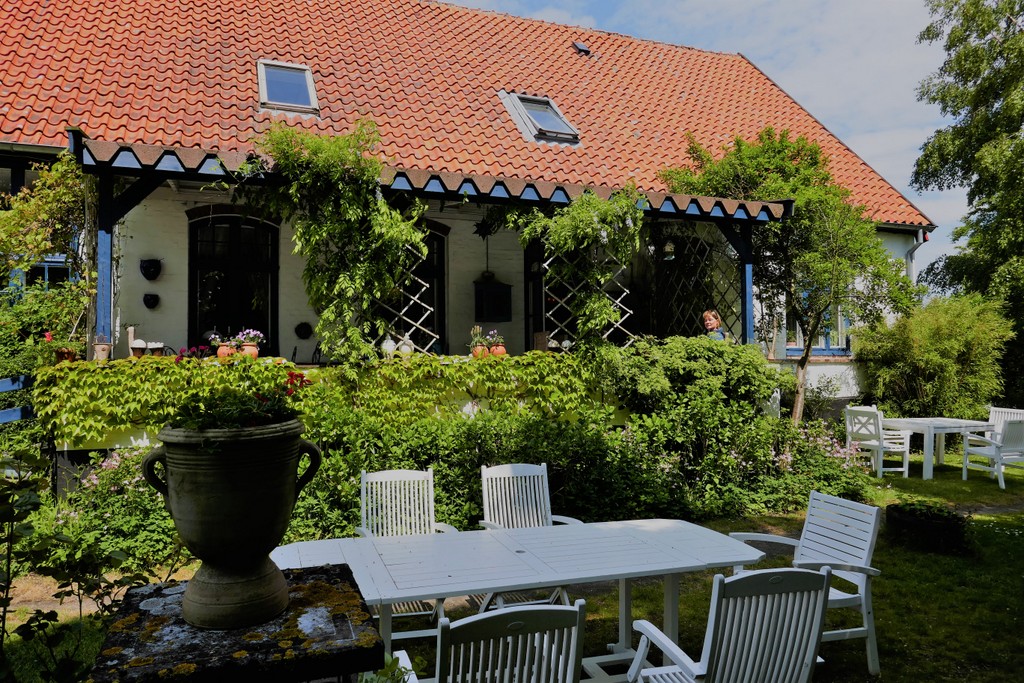 Nous allons maintenant retrouver Annette à Svaneke, dans la boutique-verrerie dans laquelle elle travaille. Trois souffleuses de verre sont en pleine action et c'est avec beaucoup d'intérêt que nous assistons à la naissance de jolis verres à pied.
From here we go and visit Annette in Svaneke in the Glas shop she works.
Great plus the workshop is actually in the same room and we can see the pieces been made!
Unfortunately glas is not ideal for traveling 😟 but we still decide to buy a lovely apple shaped glas bowl which Anette packs in and oversized carton and we put it into a « safe » place inside the Azalaï. Keep fingers crossed!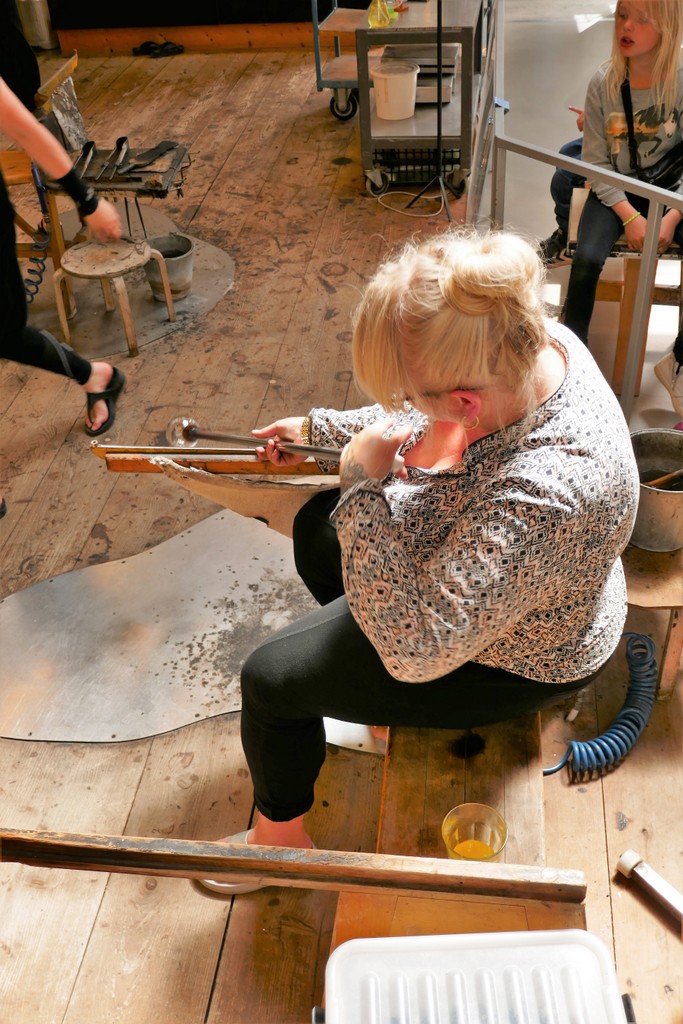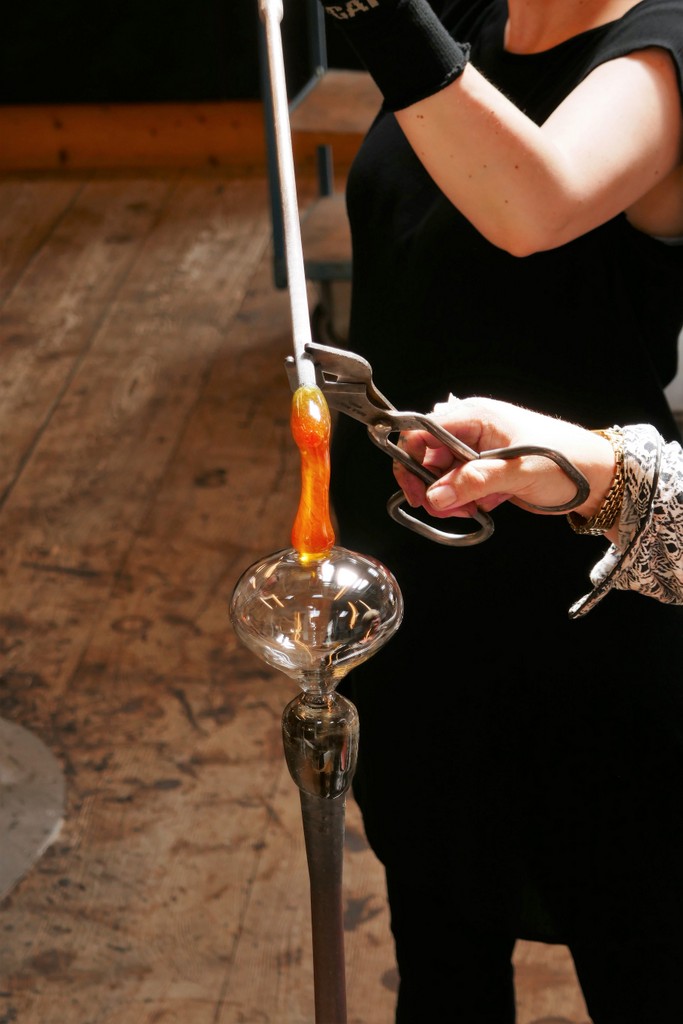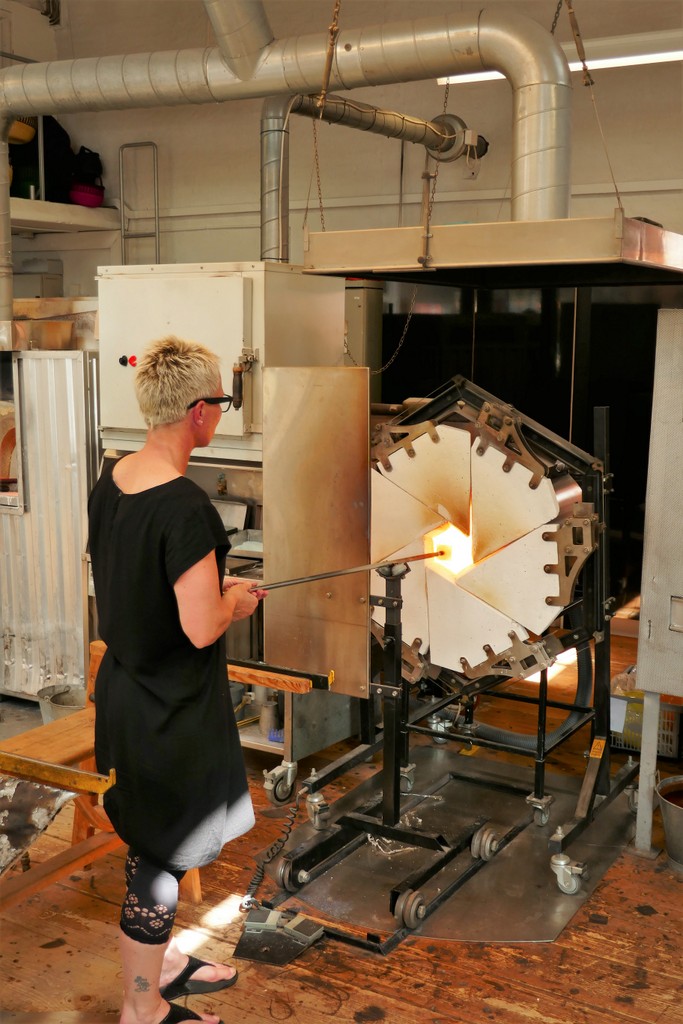 Et voici le produit fini!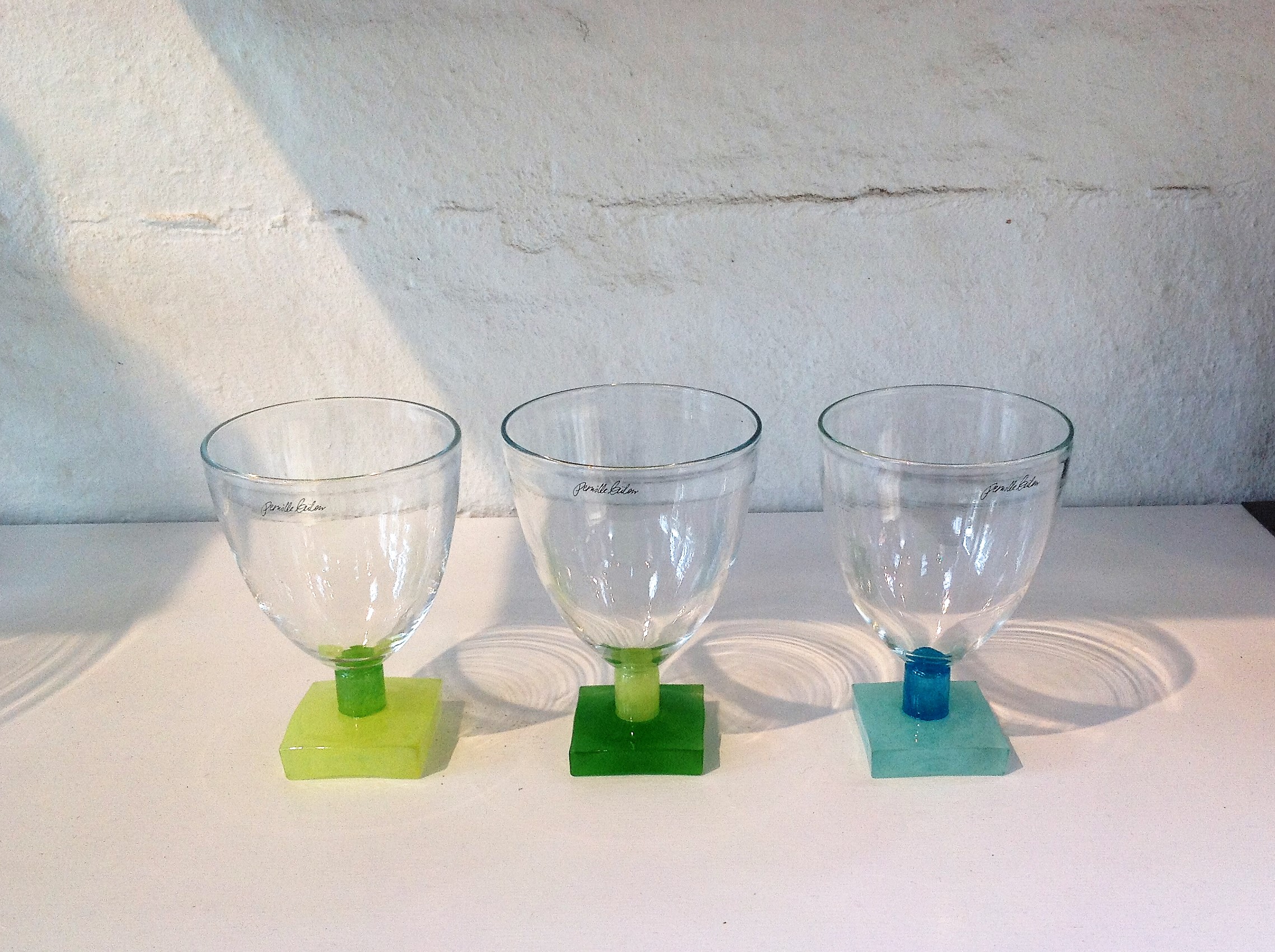 Nous assistons aussi à la fabrication d'une autre spécialité de ce lieu, les caramels.
We also watch (and taste 🙂 ) sweets being made. Still impressive how crystal sugar can be turned into something so plastic!
C'est du côté ouest de l'ile que nous nous rendons ensuite, avec un arrêt à Østerlars pour y visiter la plus grande et la plus ancienne des 4 églises circulaires de l'île. Construite aux environ de 1150, alors que Bornholm vivait une période perturbée par un conflit entre le roi et l'évêque. L'église, construite avec des murs de 2 mètres d'épaisseur servait autant de forteresse que de lieu saint.
On our way over to the west coast we stop at Østerlars to see the biggest and oldest of the round churches from Bornholm. The fortified church was build around 1150 in times of conflict between the church and the Danish king. The exterior wall is more than 2m thick and the building served as fortress and church at the same time.
The church is also famous for its medieval chalk paintings.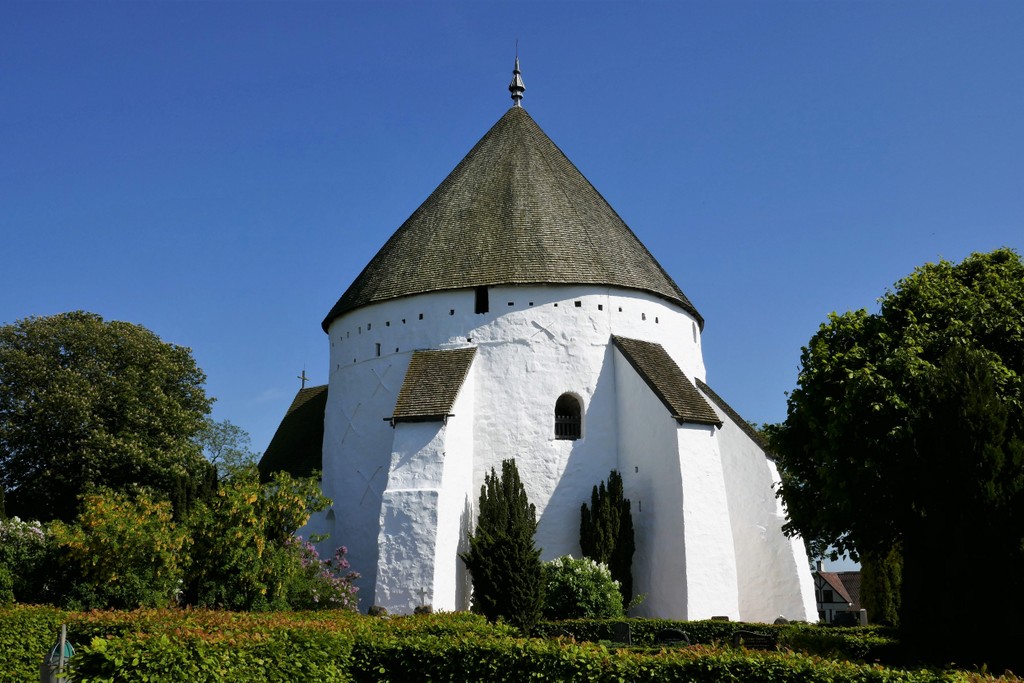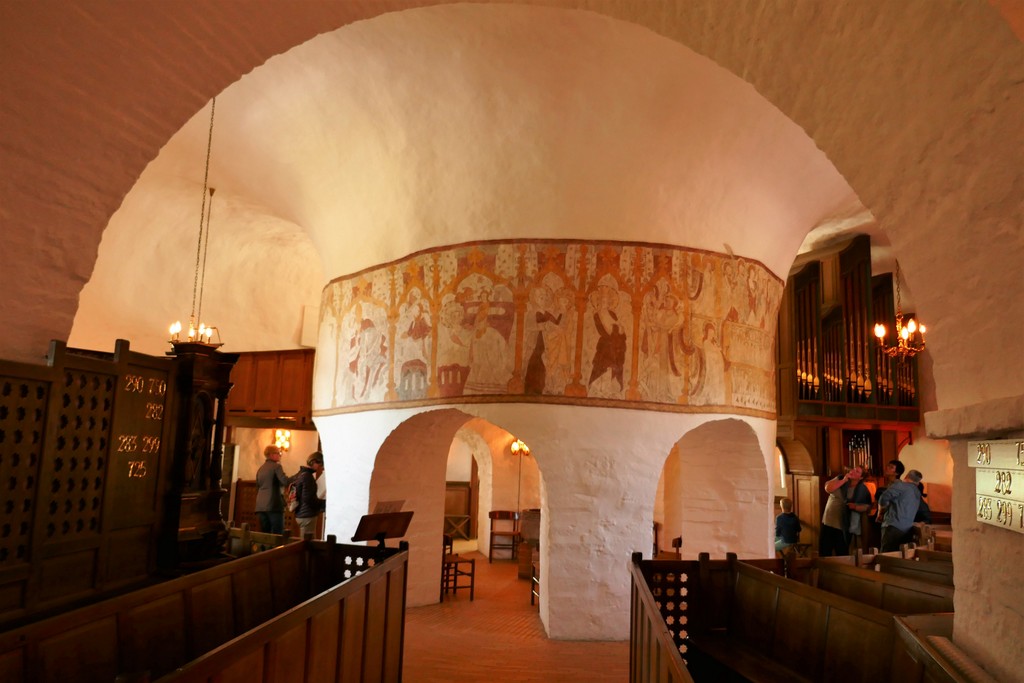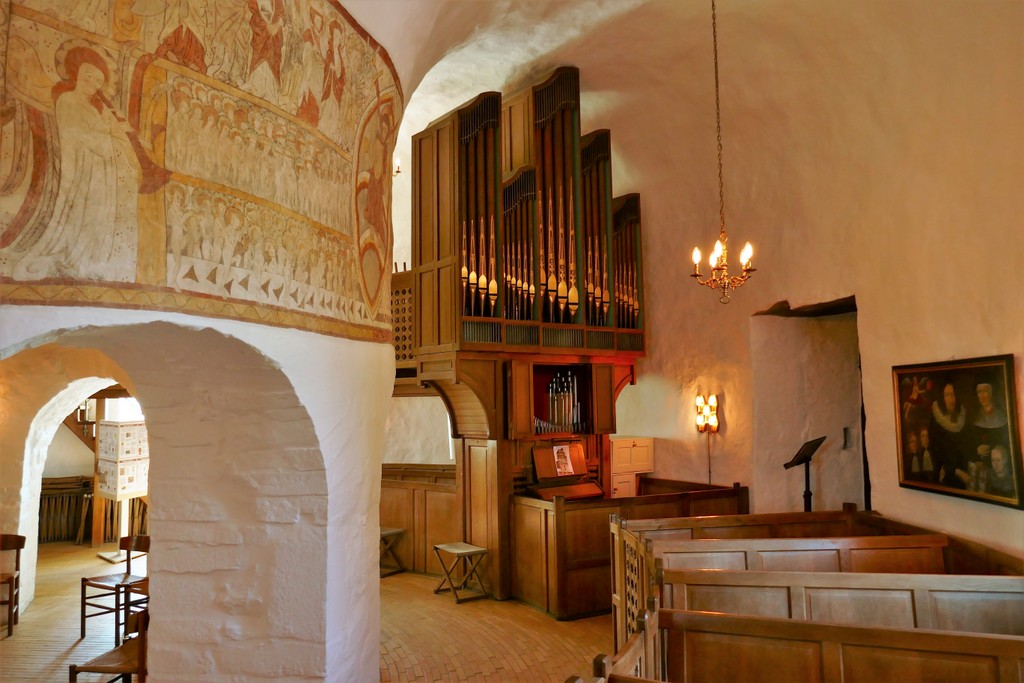 Nous allons retrouver maintenant la côte ouest de Bornholm pour rejoindre le village de Hasle.
En chemin, un beau moulin nous force à le fixer sur la pellicule.
A little further a lovely restored windmill.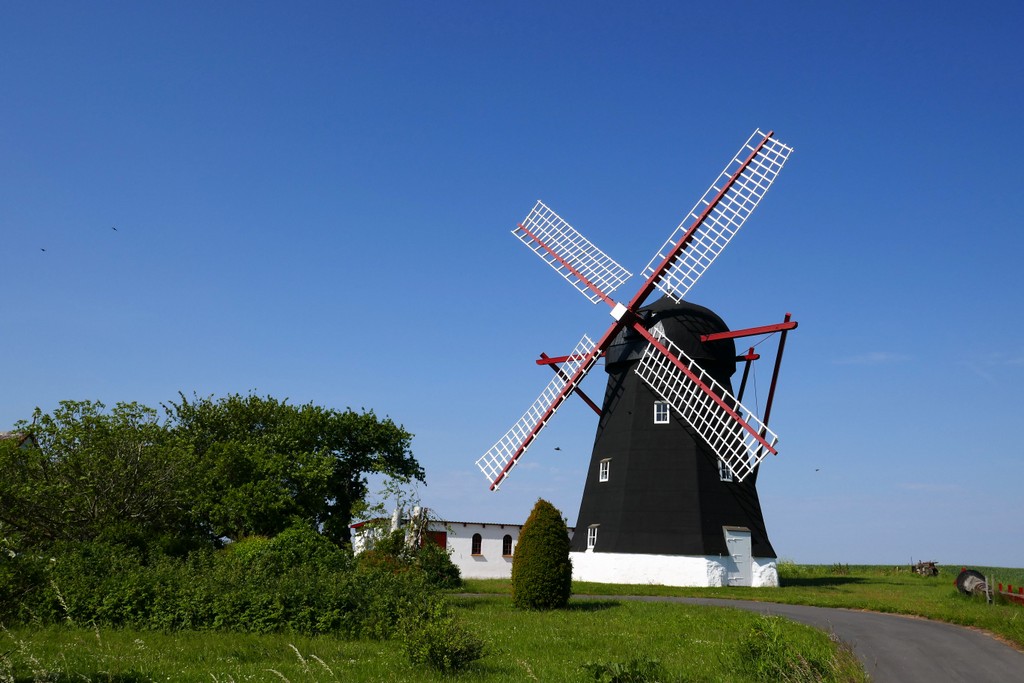 Hasle, cette cité de pêcheurs offre la possibilité d'assister au fumage du hareng, pour autant que l'on ne fasse pas trop la grasse matinée. C'est au programme pour demain matin. Nous trouvons un joli endroit, au nord de la ville, juste en bord de mer pour passer la nuit.
Mercredi 7 juin
Comme prévu, la première visite de ce matin est pour la visite le fumoir de hareng de Hasle.
Wedbesday June 7th.
In the fishing town Hasle we watch traditional fish smoking.
With the inventions of steam boats smoked herring grew into an important business for Bornholm over the first half of the last century. Many smoking chimneys can still be seen on the island but most of them are only used for local business now.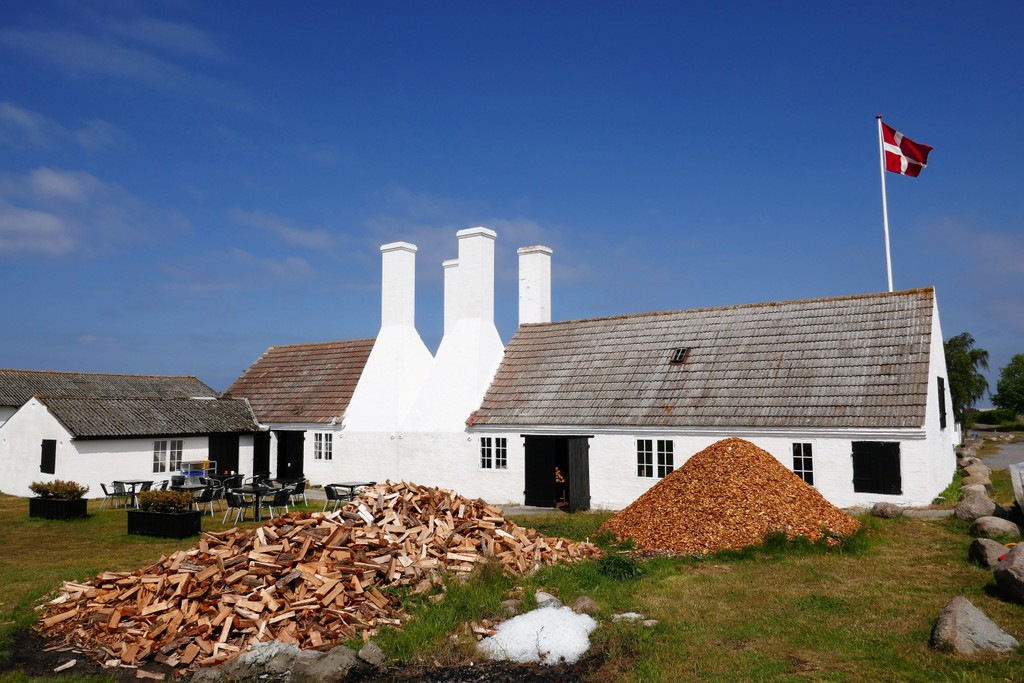 4 à 5 heures sont nécessaires pour mener à bien cette opération qui commence chaque jour à 6 heures du matin.
The process takes 4 to 5 hours and the poor guy must look forward to a shower!


Provisions faites de poisson fumé, nous remontons la côte vers le nord en direction de Vang.
Nous effectuons là un circuit randonnée de 3 heures pendant lesquelles nous découvrons une ancienne carrière de marbregranit et aussi une falaise dans laquelle nichent de nombreux goélands.
With our fridge loaded with various types of smoked fish we continue along the west coast direction north to Vang where we do a 3 hours coastal walk that also leads through a Granit quarry. The weather is great and the views are stunning.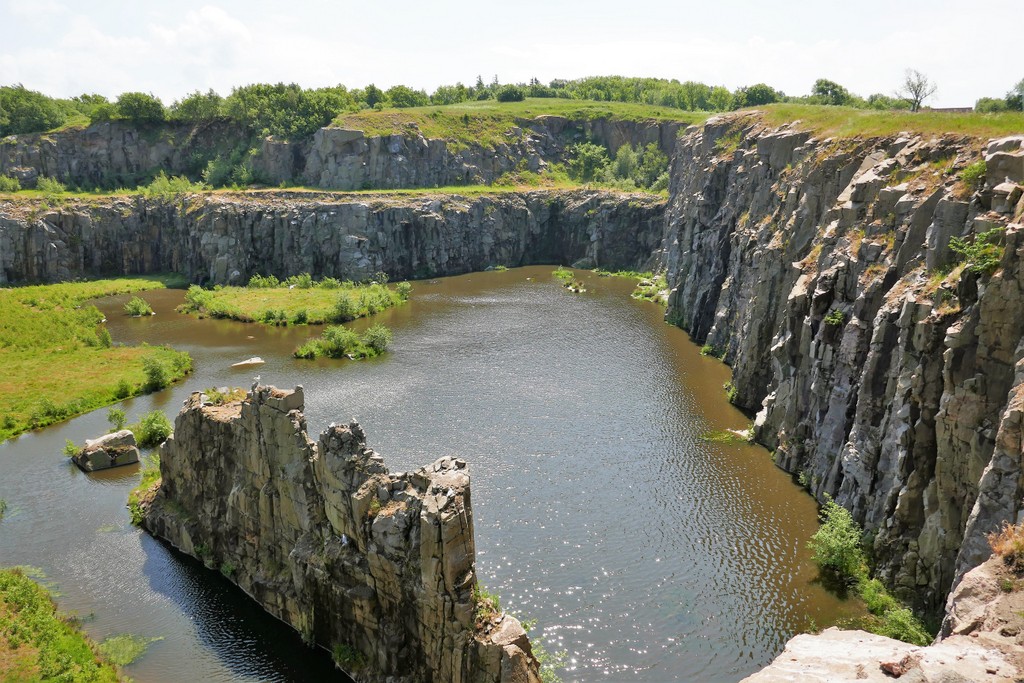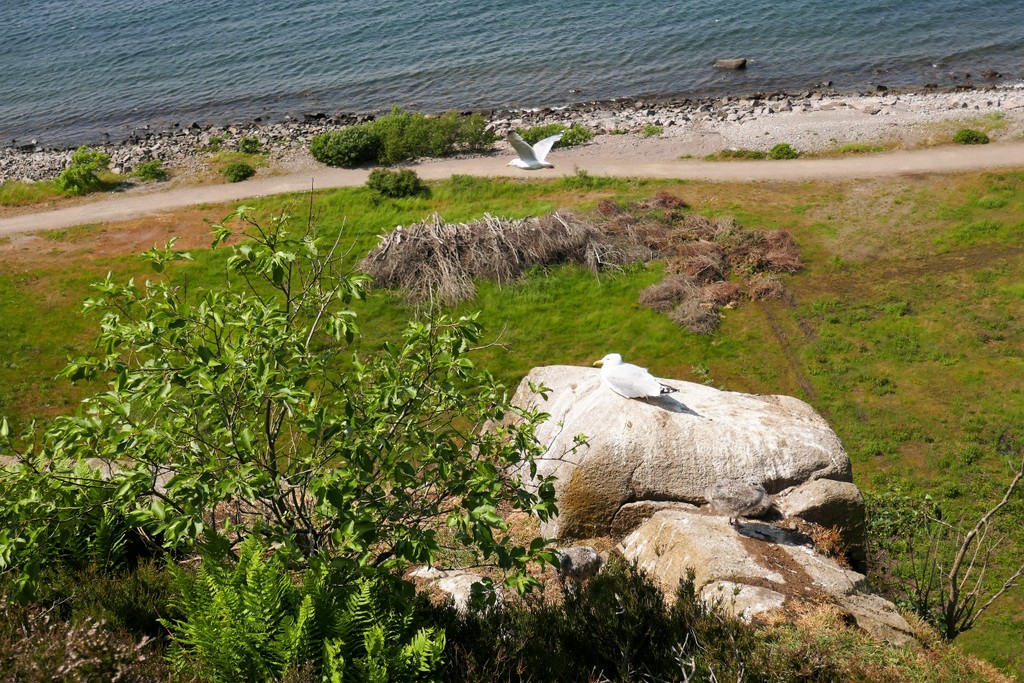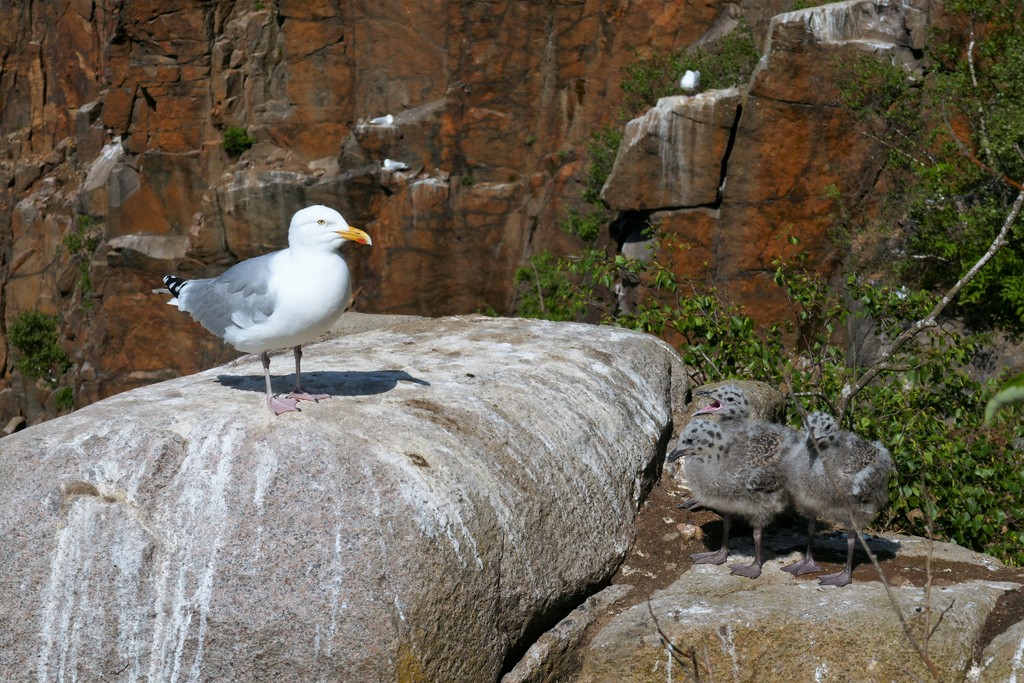 Nous poursuivons par la visite de John's Kapel.
C'est une grotte dans la falaise, accessible à marée basse, dans laquelle vécut pendant deux ans, un missionnaire prénommé John, chargé de fidéliser les Bornholmois au christianisme.
We continue to John Kapel, via uncountable (!!!!) steep wooden stairs. John is said to have preached from the top of this cliff to the fishermen gathered below, with the aim to convert them to Christianity.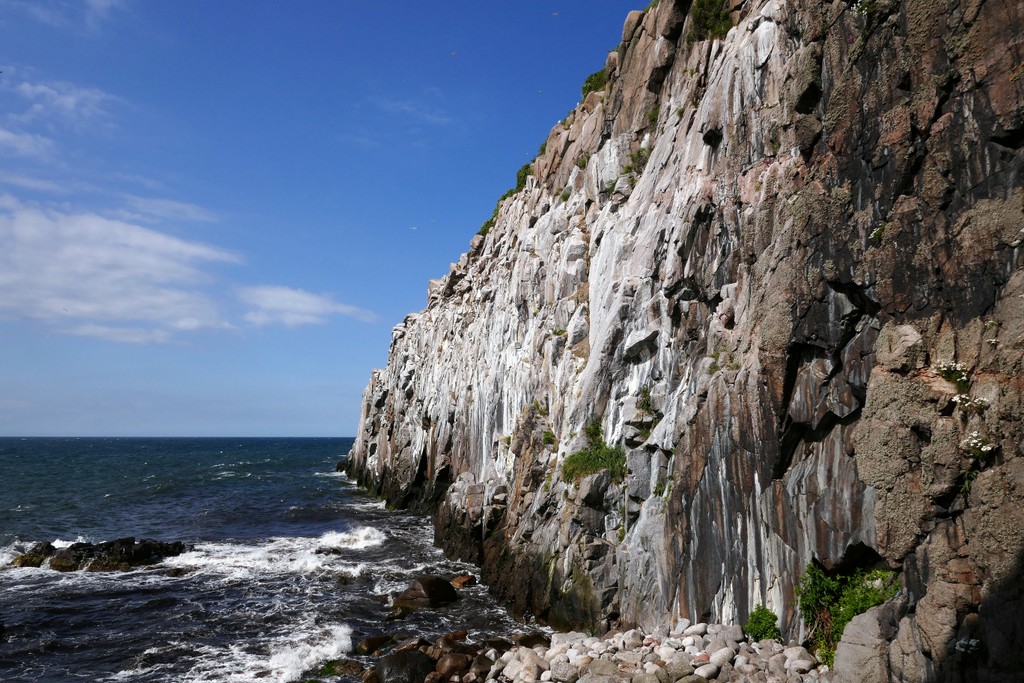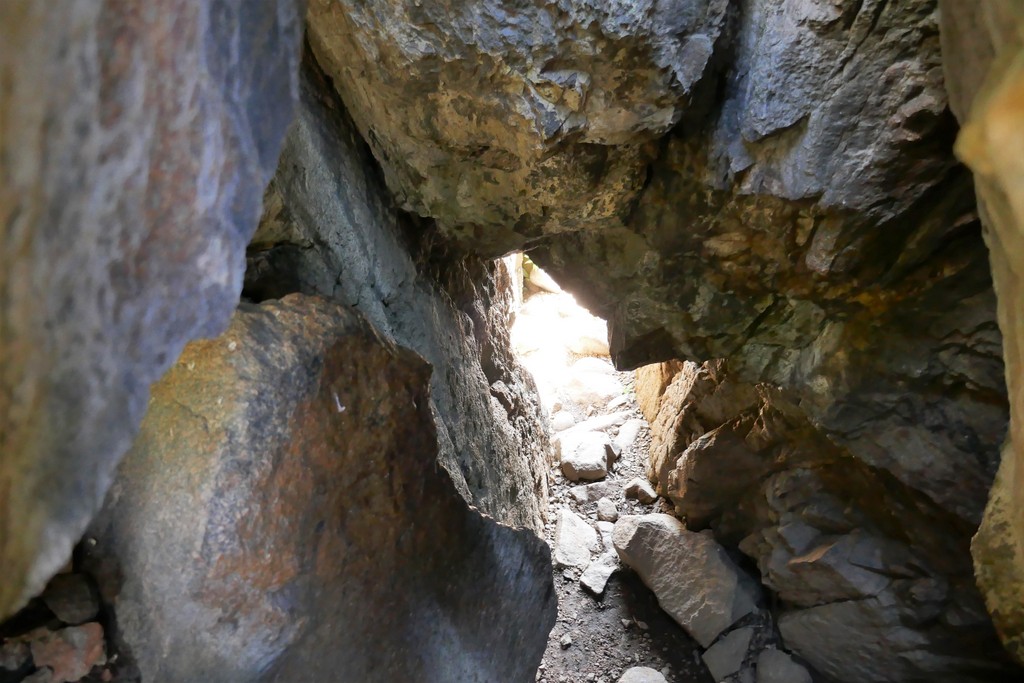 On y accède par un long escalier de bois.
Retour chez Neils et Annette pour la soirée car nous leur avons proposé de leur faire des röstis avec œufs au plat pour le repas du soir, arrosé d'un excellent Amarone offert par les ex-collègues de Michel.
Back at Annette's and Niels house where we cook rösti with fried eggs and an excellent Bottle of Amarone from Michel's ex colleagues (thank you guys!).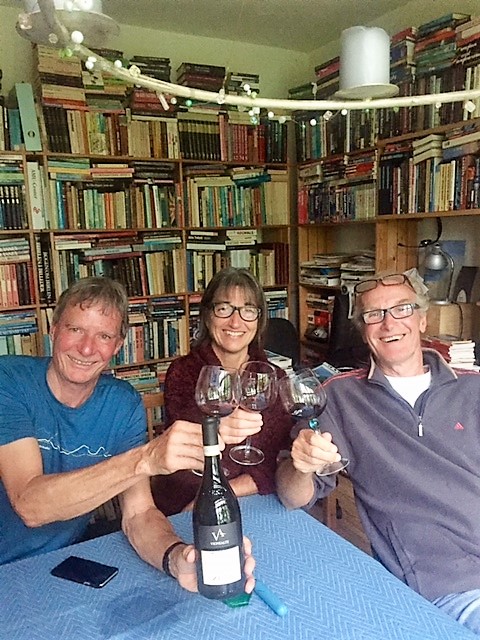 Vendredi 9 juin
Randonnée autour de la pointe nord-ouest de Bornholm, nommée Hammerknuden.
Paysage côtier magnifique.
Friday June 9th. 
Last beautiful hike on the island. This time around the northern tip of Bornholm named Hammerknude and on to Hammerhus the biggest castle ruin of northern Europe.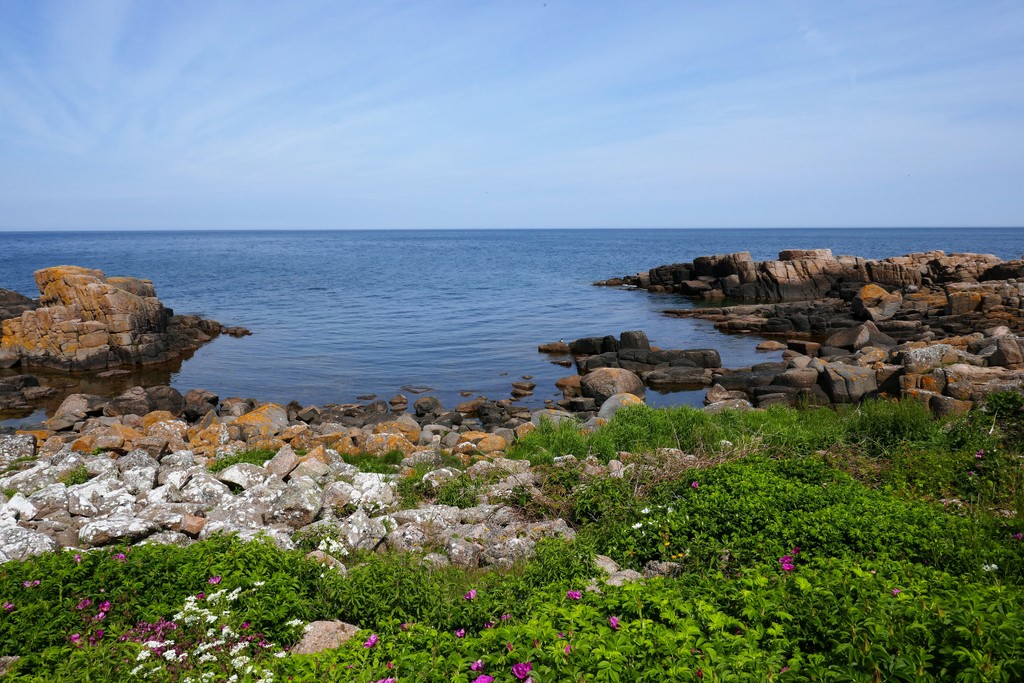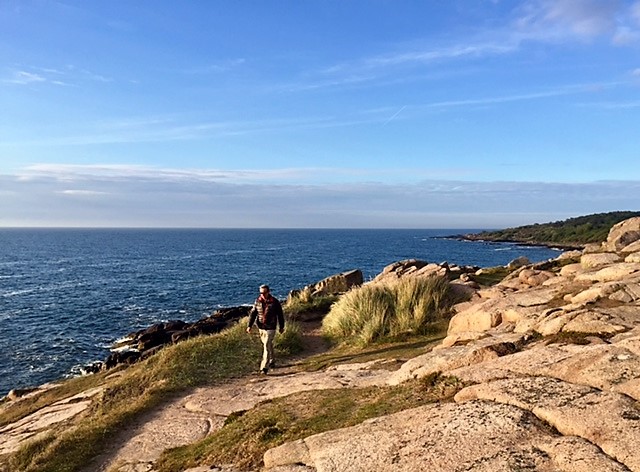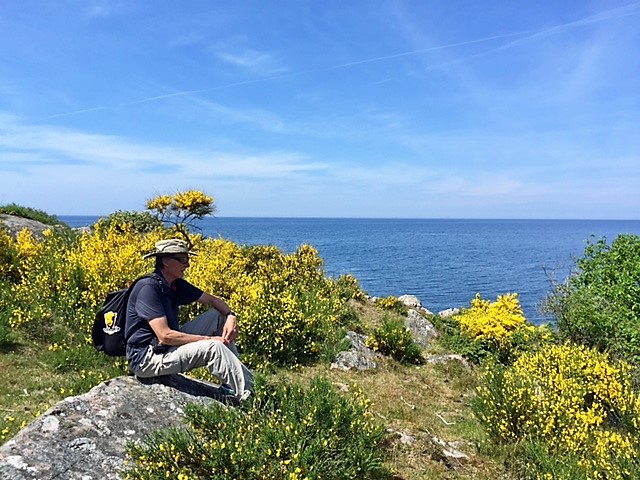 Caché dans son trou, il croyait passer inaperçu. Raté!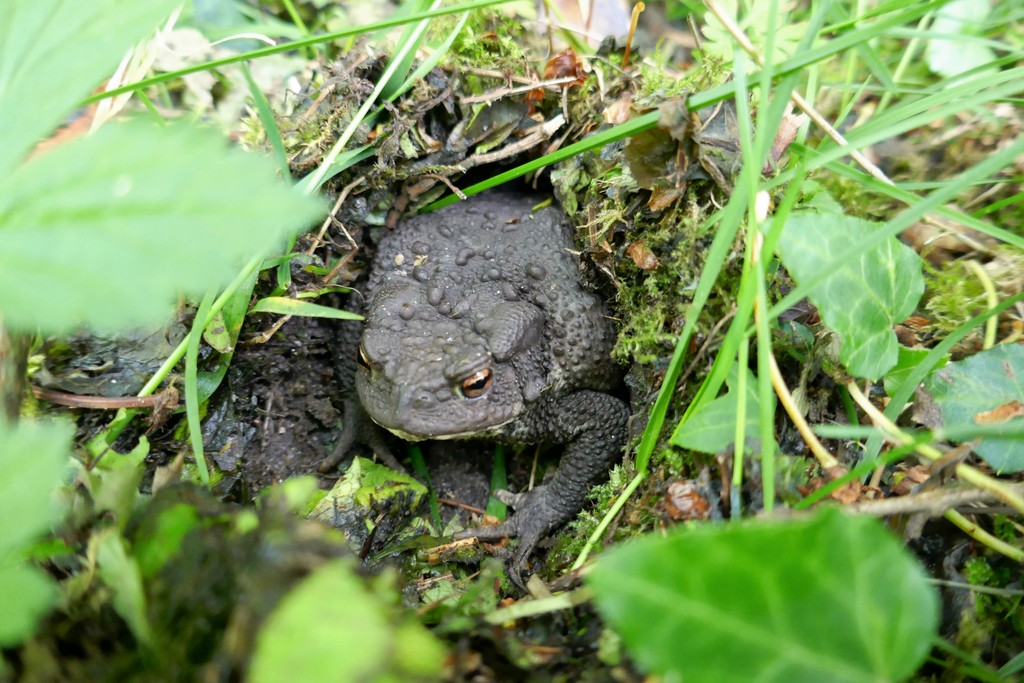 Le sentier passe également près des 2 phares de l'endroit.
Le château de Hammershus.
C'est l'un des plus importants monument historique du Danemark.
Construit au début du 13ème siècle, il domine la côte du haut d'une falaise de 74 mètres, ce qui lui donna la réputation d'être imprenable.
Les suédois réussirent toutefois à forcer les défenses en creusant un trou dans la muraille.
Le château a changé plusieurs fois de propriétaire et a été définitivement abandonné en 1743.
Hammerhus castle is one of Denmark's most important historical monuments. Built in the early 13th century it lays isolated and majestic on a cliff of 74m above the sea. Due to its ideal location the castle was used for many years. Ownership of Hammerhus has changed several times from the Archbishop of Lund to the Hanseatic city of Lübeck and the king of Denmark. It was finally abandoned in 1743.
Samedi 10 juin
09h30, c'est l'heure des adieux.
Nous quittons Annette et Niels, rejoignons le terminal du ferry et quittons Bornholm pour rallier Ystad, au sud de la Suède.
C'est là que se termine ce premier article que nous espérons, vous aurez eu du plaisir à suivre.
Nous allons maintenantconsacrer les prochaines semaines à la visite de la Suède avec un petit crochet par Copenhague.
Saturday June 10th.
Time to say goodbye to Annette, Niels and Denmark!!
Next destination: Kopenhagen.
We thoroughly enjoyed this first part of our travel. In particular due to friends and family which provided for each stop a wealth of local insights and a very warm welcome which made all the difference! Thank you all so much for this !
Passez toutes et tous un bel été et de bonnes vacances.
Milke