Jeudi 25 juillet
Après un passage de frontières servies par des employés souriants et sympathiques, nous  faisons directement route vers Pretoria, la capitale administrative d'Afrique du Sud.
Dès notre arrivée, nous nous rendons à l'agence Toyota afin de prendre rendez-vous pour faire un service à notre fidèle Azalaï.
La personne de la réception nous accueille avec grande sympathie et obtient d'un rapide coup de fil un rendez-vous pour demain matin 07h00 à l'agence qui s'occupe des véhicules étrangers.
A quelques kilomètres de là, Twana Lodge représente l'endroit idéal pour passer la nuit.
After a quick and easy boarder crossing from Botswana to South Africa, we will cut through the north-east of South Africa to get to Mozambique (for a change no animals but beach holidays 🏖☀️😎).
On the way we will to get the Azalaï serviced, visit friends in Nelspruit and do a bit of sight seeing.
It is a pleasure to be back in beautiful South Africa, where traveling is easy, people are friendly, food is great and everything you may need (like spare parts, outdoor cloth, whole-wheat bread flour, etc) is readily available. 
Vendredi 26 juillet
Comme convenu, nous arrivons au garage Toyota à l'heure prévue et dès l'Azalaï pris en main, nous nous rendons au « Mall » (centre commercial géant) situé juste en face pour y attendre le coup de fil de Julia, personne en charge du véhicule, qui va nous appeler à 11h00 pour nous signifier que nous pouvons venir récupérer notre Azalaï.
C'est un véhicule rutilant de propreté, extérieure et intérieure que nous retrouvons et avons l'impression de repartir avec un Azalaï tout neuf pour la suite de notre périple.
Après un bon repas en ville, nous retournons à Twana Lodge pour la fin de la journée.
Pretoria, South Africa's Capital is on our way. The ideal place for the car service and for some sight seeing!
The huge Toyota Garage provides us with an appointment for 7am right the next day (!).
for the waiting time we are told there is a customer corner with free coffee, tee, water and muffins!; and next door is a big mal where we can have breakfast and spend the time with shopping (the latter is not really an options since we have no space to stock any shopping items 😬).
For the night we find a friendly Lodge with campground only 10km away.
The next morning everything works to plan (except the shopping) and to Michels delight not only the service is done very professionally but the Azalaï is also cleaned inside and outside 🤩.
We spend the rest of the day with some food shopping and spare part hunting followed by a delicious seafood dinner 😋. 
Samedi 27 juillet
Avant de continuer notre route en direction du Mozambique et de la côte de l'Océan Indien, nous faisons une visite du centre de Pretoria.
Cette grande agglomération de 750'000 habitants a été crée en 1855 par Marthinus Pretorius, chef des Boers et vainqueur de la bataille de Blood River contre les Zoulous en 1838.
La ville ne comptait que 300 habitants à son origine.
Pretoria est considérée comme ville blanche, car à 53% peuplée de Blancs, par opposition à Johannesburg qui est à majorité noire pour 73%.
Cette majorité blanche fait aussi que la ville est plus sûre que sa grande soeur et qu'il n'y a pas de danger particulier à la parcourir, au moins durant la journée.
La Place de l'Union représente l'attrait principal de la cité car c'est là que se trouve le parlement et que Nelson Mandela a vu sa consécration en 1994 en tant que premier président Noir d'Afrique du Sud.
Most of the next morning is dedicated to sight seeing in Pretoria. 
Excellent timing. It is Saturday and we avoid the usually very bad traffic. 😅
Pretoria has 750'000 inhabitants and is considered as a "white town" with 50% white people. This is remarkable since not even 10% of the population are white. In comparison in Johannesburg 73% of the population are black. To us the city feels like a normal busy place but does not have a particular dangerous ambience. At least during the day.
It is not a surprise to us that Nelson Mandela is everywhere in SA. Streets and squares are named after him, statues, citations and memorials are numerous. Here at the Union Place in front to the parliament building we see the probably biggest existing Mandela statue greeting Pretoria and its people. 
It is here that he entered history as the first black president of SA in 1994.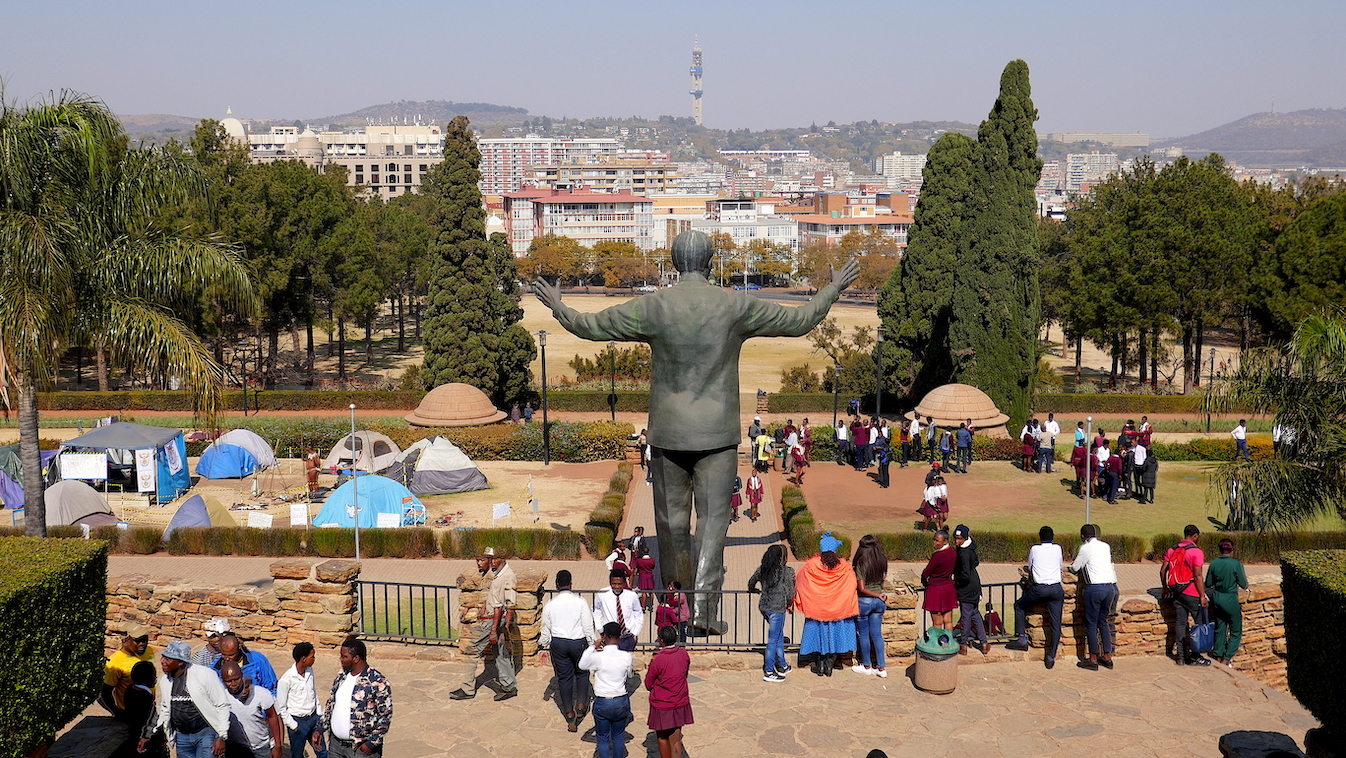 Les Bâtiments de l'Union, de style Néo-classique constituent depuis 1910 le siège du gouvernement d'Afrique du Sud.
La conception faite par des architectes italiens se remarque dès le premier coup d'oeil, donnant l'impression d'être en Toscane.
The parliament building is Neo-classic with Italian influence. Built beginning of 19 hundred it is home to South Africa's government since 1910.
And indeed, first sight you think you are in Tuscany.
It is quite an impressive building overlooking the Mandela statue and the city, and surrounded by embassies that are located in beautiful, fenced in mansions.
14h30, nous quittons Pretoria avec comme prochaine étape, la visite du « Blyde River Canyon ».
Après avoir parcouru une centaine de kilomètres nous décidons de faire une étape intermédiaire au « Witbank Dam Leisure Resort «, lieux de détente au bord du lac de barrage Witbank, alimenté par la rivière Olifant.
Nous sommes les seuls clients et avons ainsi tout loisir de choisir notre emplacement.
After an excellent cappuccino we leave Pretoria direction Blyde River Canyon where we hope to find a place for hiking.
We are now in the area of the big mines and while we drive on the motor way we see enormous mountains of soil and several huge power stations in the distance. Sometimes the air is hazy and smells sulfur. Not a great sight but this is what South Africa gains a lot of money from and where a lot of employment is provided.

We spend the night at the Witbank Dam Leisure Resort. It is a recreation area, but we are out of season and it is quite cold. So we are on our own and camp right at the big lake. It is a beautiful site but unfortunately the air is a little smoky and we see a 4 towered power station at the horizon.
Not sure we would like to come here for a weekend 🤨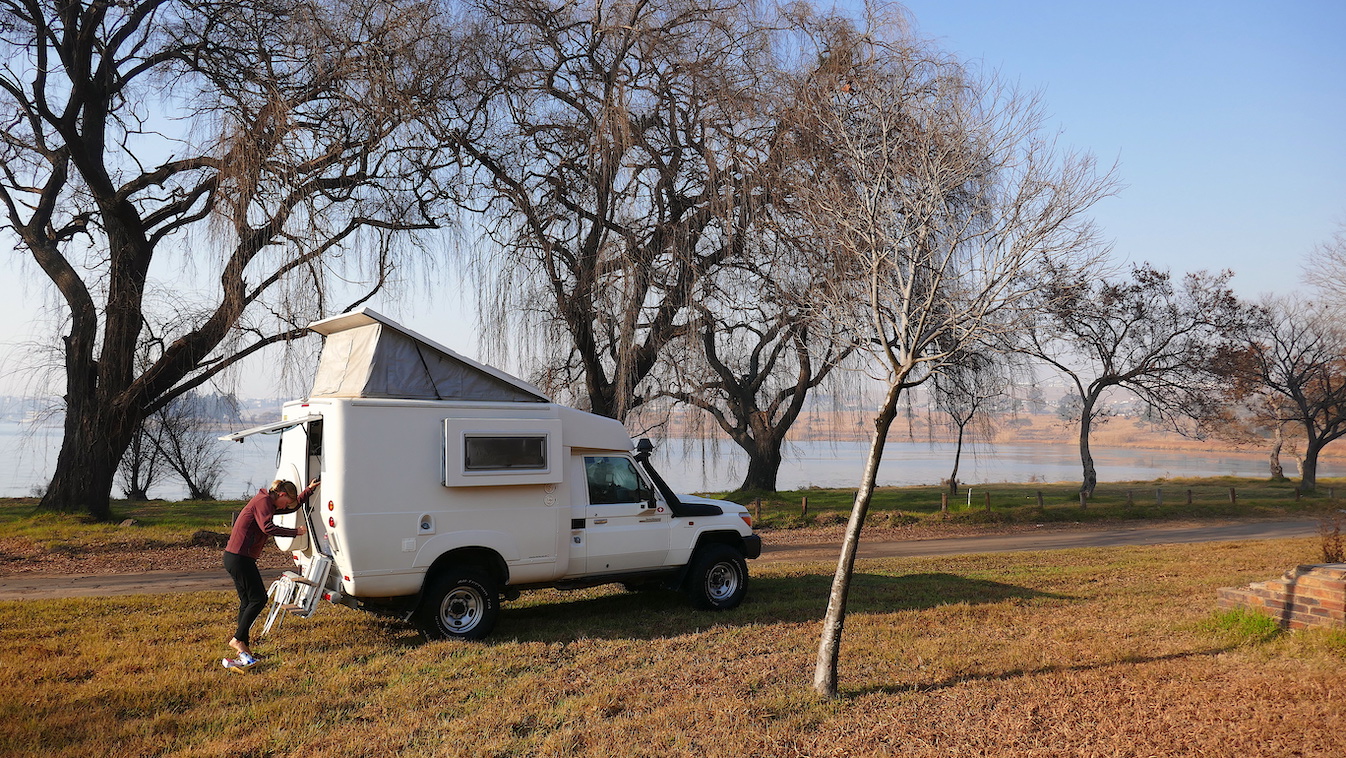 Dimanche 28 juillet
Journée de transition qui nous amène à Sabie, petite ville située au Sud du Blyde River Canyon.
Soirée restaurant au Wild Fig Tree qui s'avère être une excellente table.
Juste en périphérie de la ville, directement au bord de la rivière, nous trouvons à nous héberger au  camping « Sabie River Camp » .
Late afternoon the next day we get to Sabie a charming little town close to the Blyde River Canyons.
En fin d'après-midi, nous retournons au même restaurant et sommes à nouveau enchantés de la qualité des plats.
In the afternoon the next day we get to Sabie a charming little town close to the Blyde River Canyons.
We go straight for dinner and have very tasty chicken liver Perri Perri and absolutely delicious springbok filets 😋 (thank you Tripadvisor!). We then check into the Sabie River Camp.
Lundi 29 juillet
Le Sabie River Camp disposant d'un wifi de bonne qualité, nous décidons d'y rester pour la journée et de tranquillement finir le nouvel article de notre blog « Zambie & Botswana 1 ».
The camp is lovely. It is nestled in the banks of the river Sabie and has good internet. So we decide to stay here for two days to finalize and post our latest blog article (I think yesterday's restaurant has strongly influenced Michels desire to stay here for another night 😉).
During the full day we work along on the blog, nicely installed with view onto the river.  In the evening (of cause) we return to the Wild Fig Tree restaurant and have another exceptional dinner: grilled ostrich and crocodile fillet cubes with various tasty chutneys 😋.

Mardi 30 juillet
Nous entamons notre visite de cette partie de la chaîne de montagne des Drakensberg qui est la région d'Afrique du Sud offrant le plus grand nombre de cascades.
Nous remontons le cours de la rivière Mac Mac  justement par la route dite des cascades et très rapidement atteignons le premier point d'intérêt, les « Mac Mac Pools ».
Au fil du temps, la rivière à creusé à cet endroit des bassins naturels très prisés en période estivale par les habitants de Johannesburg et Pretoria.
Next day we start our tour through this part of the country known for its numerous waterfalls and canyons.
First the Mac Mac pools (named by Scottish settlers). Certainly a great place for a swim but it is just a little too cold.
Un peu plus loins, la cascade du même nom se jette dans la rivière d'une hauteur de 65 mètres.
and the Mac Mac waterfall. 65 meters high!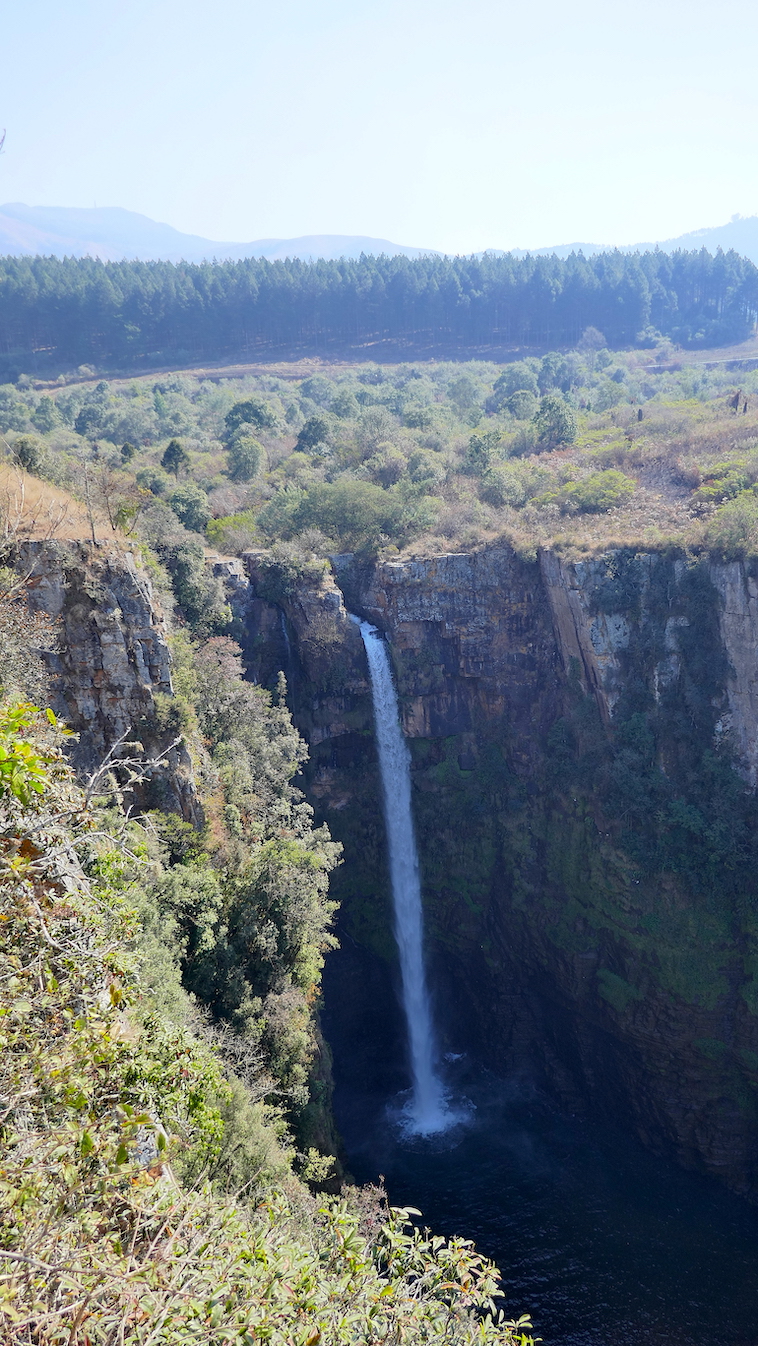 Nous visitons en milieu d'après-midi à la petite ville de Pilgrim's rest, littéralement « Le repos du pèlerin »
De l'or y fut découvert en 1873 et sa population atteint rapidement 1500 personnes vivant de la prospection d'or.
Aujourd'hui déclarée monument national, la ville a été restaurée à l'identique.
Nous profitons du charme du Vine Restaurant pour une petite pause culinaire.
In the afternoon we visit Pilgrims Rest, an old miners village dating from the gold rush in this area at the end 18 hundred. Today the village is a national monument and many of the houses have been restored. Just like the cosy Vine restaurant where we have an early dinner with local trouts.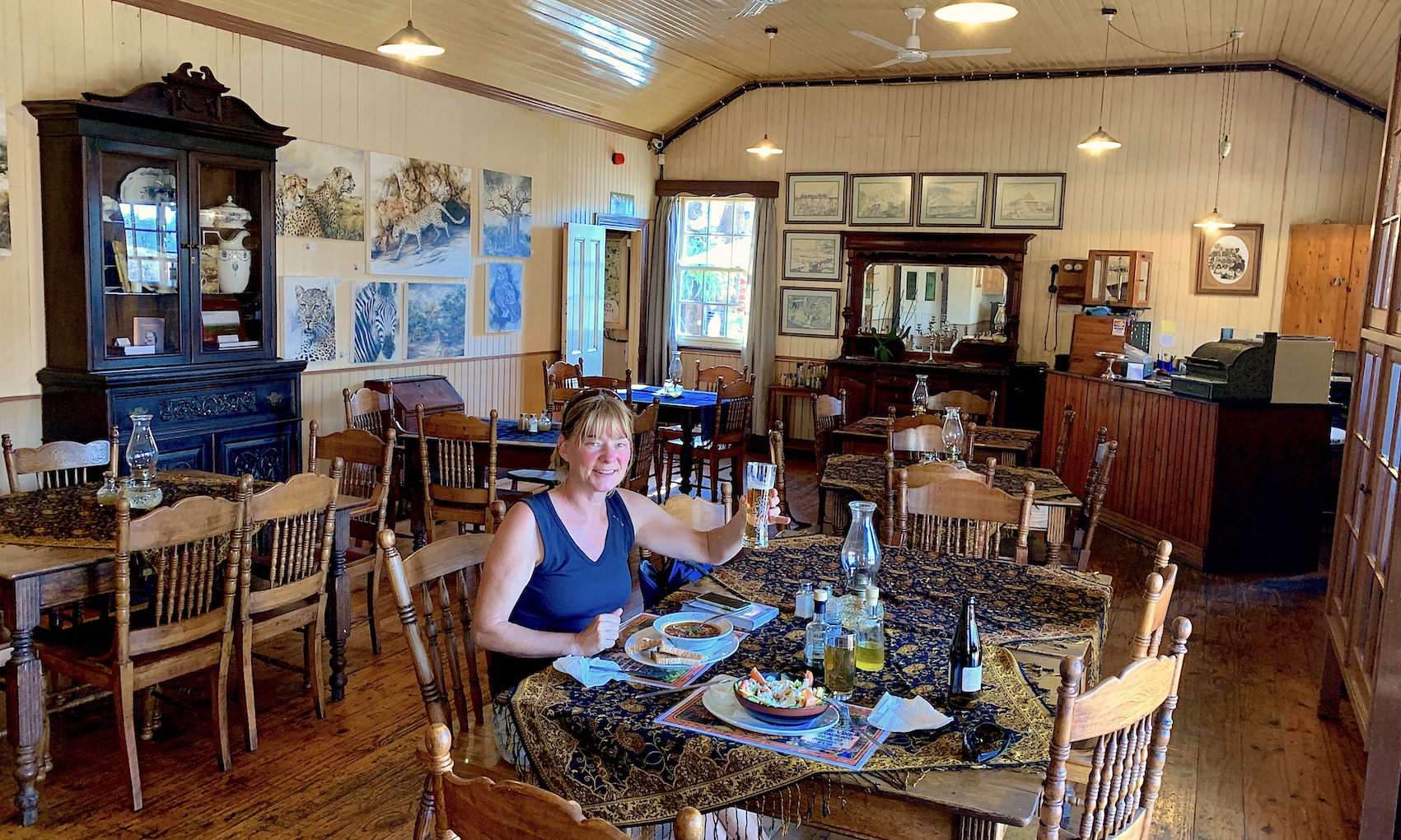 Graskop, ( colline herbeuse en afrikaans ) fut établie dans les années 1880 comme base pour les chercheurs d'or mais est désormais essentiellement active pour l'exploitation forestière.
C'est là que, au Panorama Rest Camp que nous terminons notre journée admirant la vue de la piscine surplombant la gorge.
The little town Graskop (grassy hill in Afrikaans). Used to be the base for the supply of the gold diggers. Today surrounded by a vast forests it is mainly active in the wood industry.
We spend the night at the Panorama Rest Camp with splendid views over the cliffs – from our camp site as well as from the swimming pool built around the rocks already in the 1950s. 😲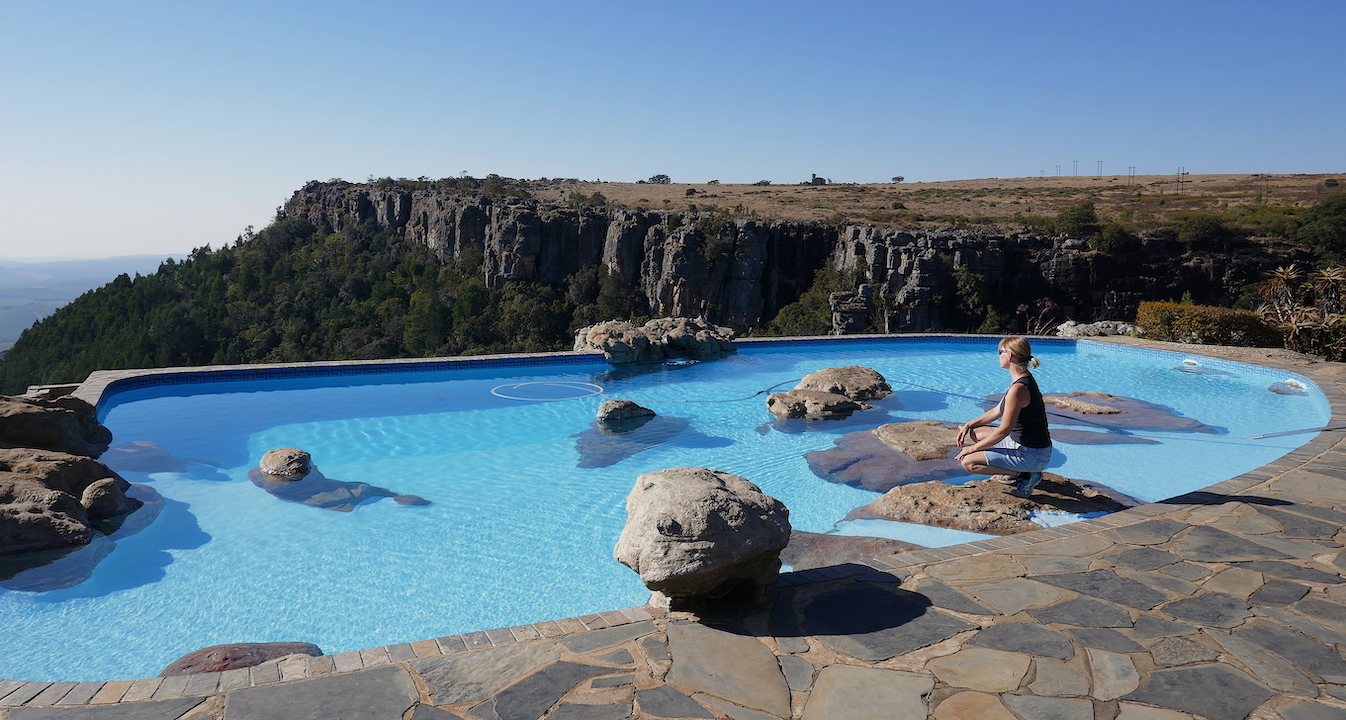 Mercredi 31 juillet
Avant de remonter la route panoramique qui mène à Blyde river canyon nous faisons encore une visite de Graskop.
En plus des tomates, c'est aussi la saison des oranges qui se vendent souvent en filets de 10 kg.
Along the road all seasonal fruits and veggies can be bought fresh and at very low price. As often as possible we fill up on avocados, tomatoes and oranges. 😋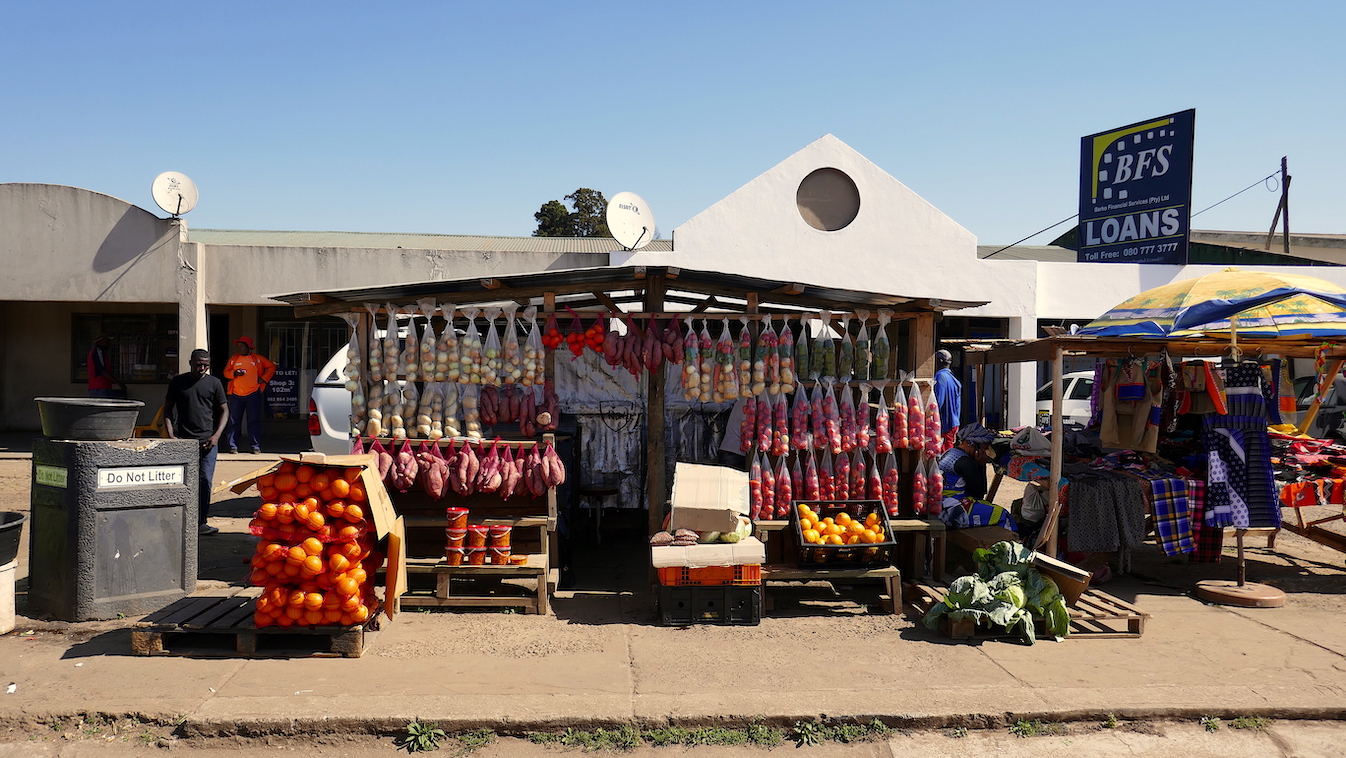 La ville profite de l'opportunité d'être au bord de la gorge au fond de laquelle coule la rivière Mac-Mac pour organiser des sauts à l'élastique ou une traversée en tyrolienne.
Next to the town a new complex offers an educational board walk on the bottom of the Mac Mac river gorge. It is possible to go down and up-again with an impressive external glass elevator. 
We decide to do the 254 steps ourselves. There is also a platform for bungee jumping and sip lining heavily occupied by several school classes.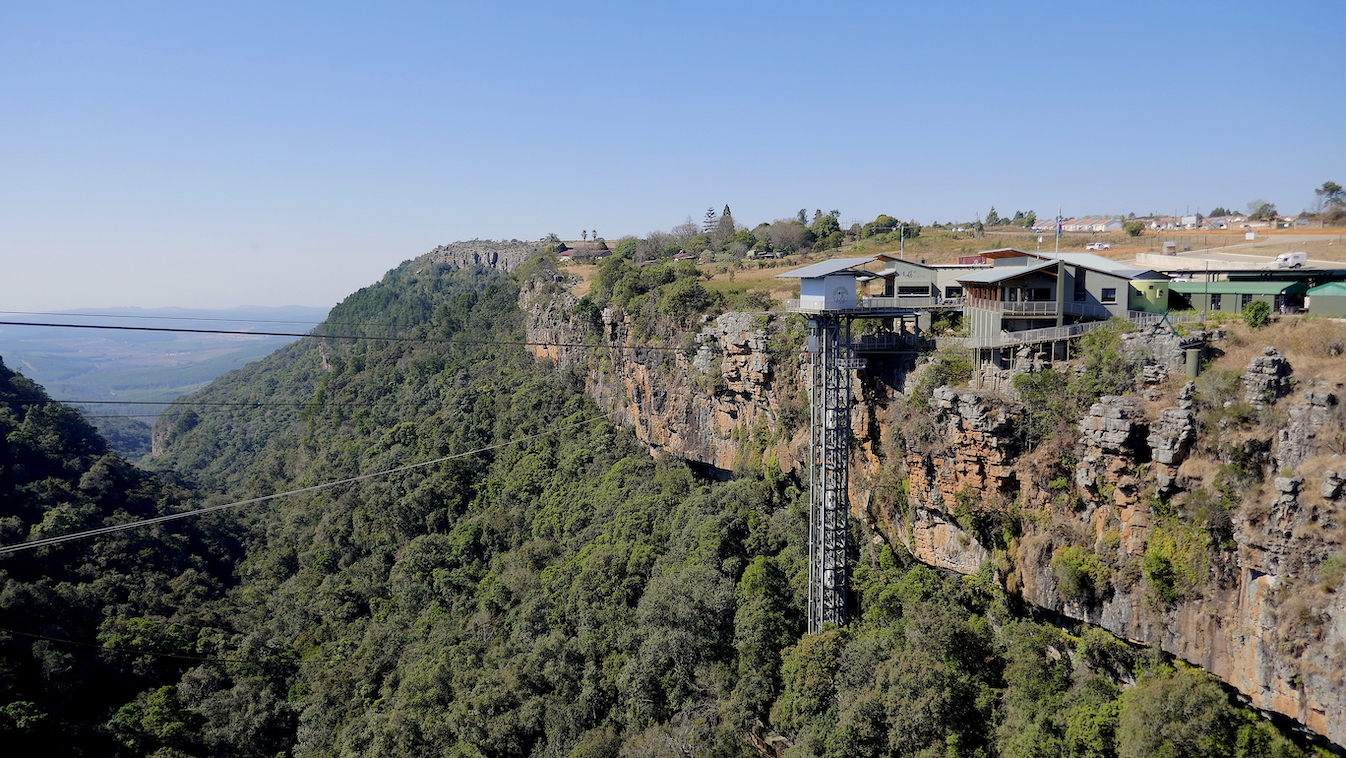 Nous avons préféré descendre à pied pour parcourir un circuit au fond de la gorge et pour ceux qui ne veulent pas grimper les 254 marches (Sylke les à comptées) pour remonter, un ascenseur à même été construit.
Après cette mise en jambes, il est temps de nous mettre en route le long de cette route panoramique faisant un circuit de 300 kilomètres le long de la rivière Treur (rivière des pleurs) d'abord et de la Blyde (rivière de la joie) ensuite.
Le nom de ces deux rivières tient de l'histoire d'épouses de voortrekkers (ceux qui vont de l'avant en néerlandais) Boers qui ont participé au Grand Trek entre 1835 et 1852.
Ces femmes attendaient donc leurs maris, partis à la recherche d'une route vers la baie de Delagoa.
Ne les voyant pas revenir, et les croyant morts, elles donnèrent le nom de Treur à la rivière au bord de laquelle le groupe avait son campement.
Elles partirent néanmoins à la recherche de rescapés et par bonheur les retrouvèrent tous en bonne santé au bord d'une autre rivière qu'elles appelèrent Blyde.
La première partie du parcours conduit d'abord  vers le rocher du « Pinnacle ».
Cette roche de quartzite très dure a résisté à l'érosion et pointe fièrement ses trente mètres vers le ciel. 
We start the 300 km panorama route along the Blyde River Canyon with the 30m high Pinnacle. Thanks to the particularly hard quartzite it resists to erosion.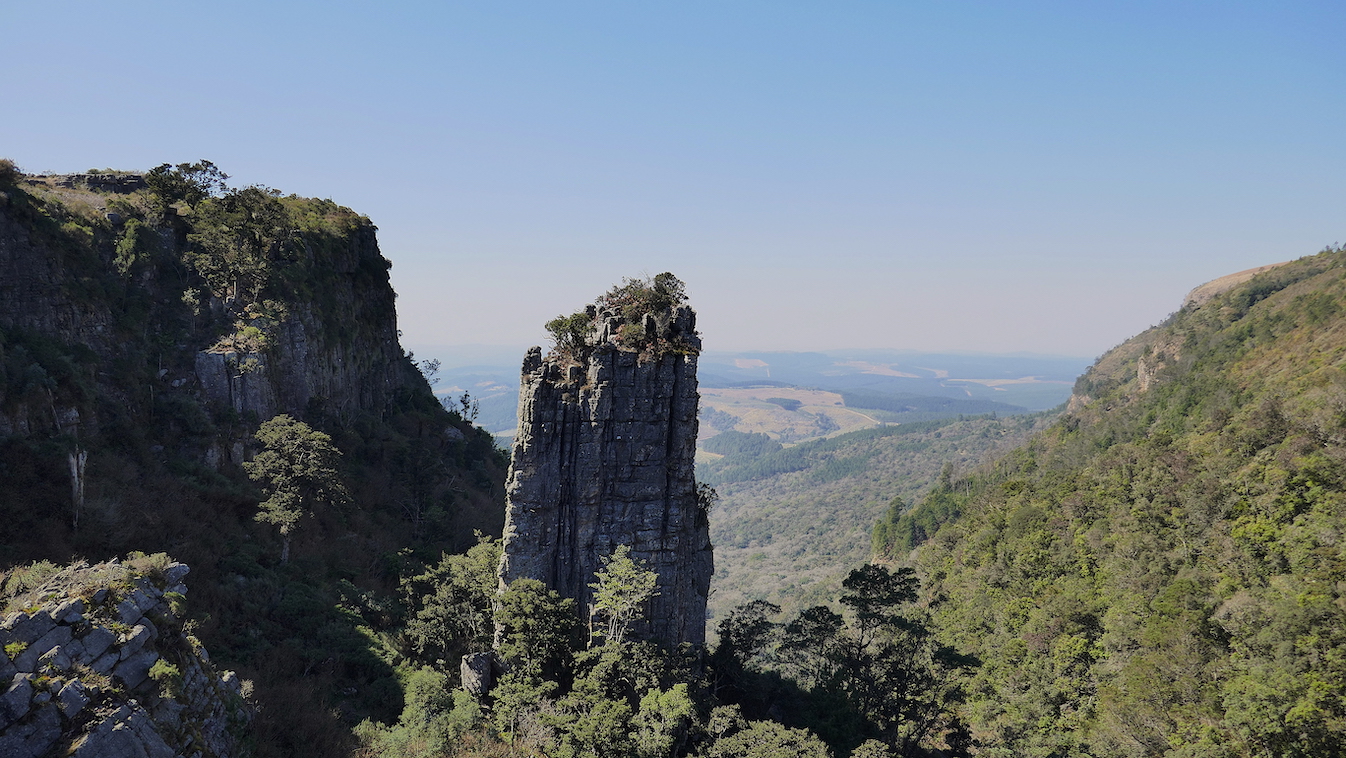 Le « Gods Window » est le prochain sur le parcours.
Cette « fenêtre de Dieu », magnifique point de vue ouvrant sur des falaises plongeant de leurs 700 mètres de hauteur dans le Lowveld.
Goods window opens a wide view onto the Lowveld 700m lower.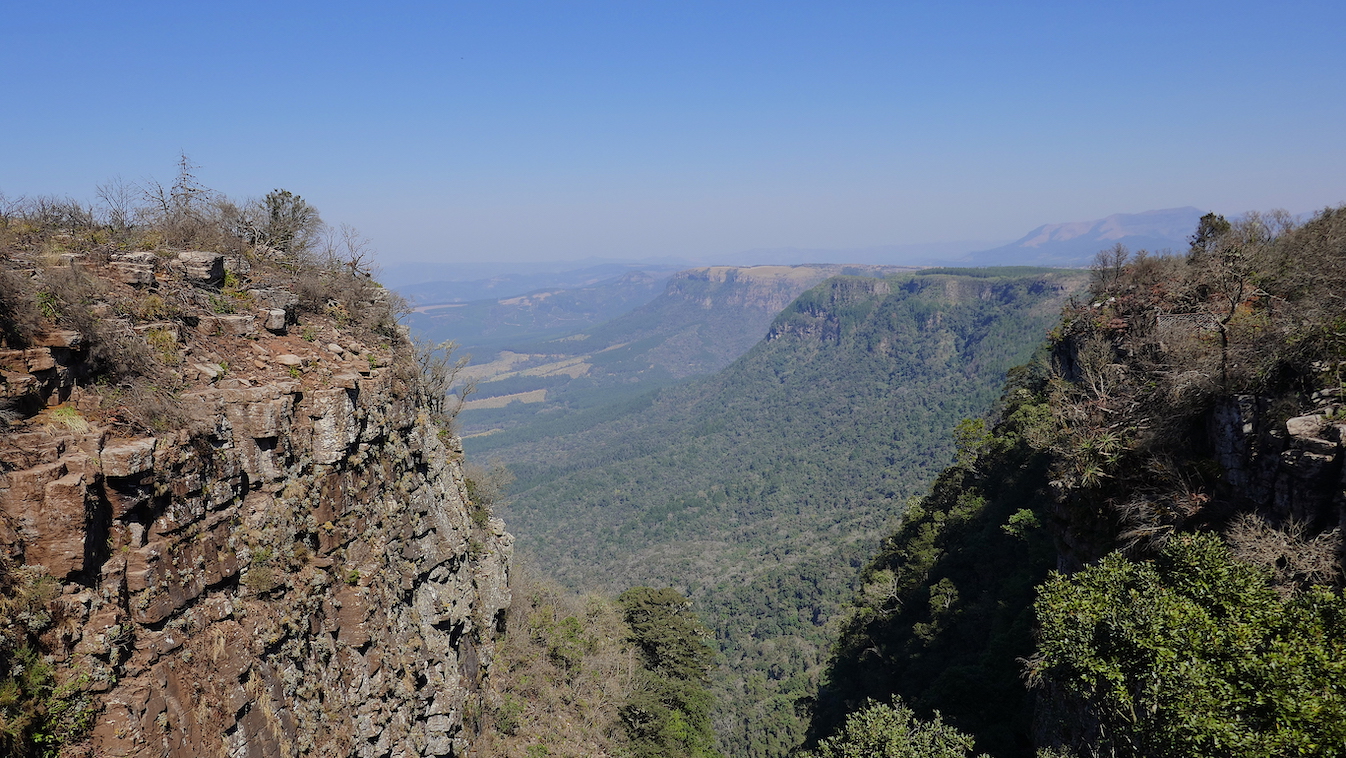 C'est ensuite le tour de deux cascades:
Les « Lisbon Falls » d'abord, la plus haute, avec leurs 94 mètres de chute.
The Lisbon falls. 94m! (named by Portuguese settlers)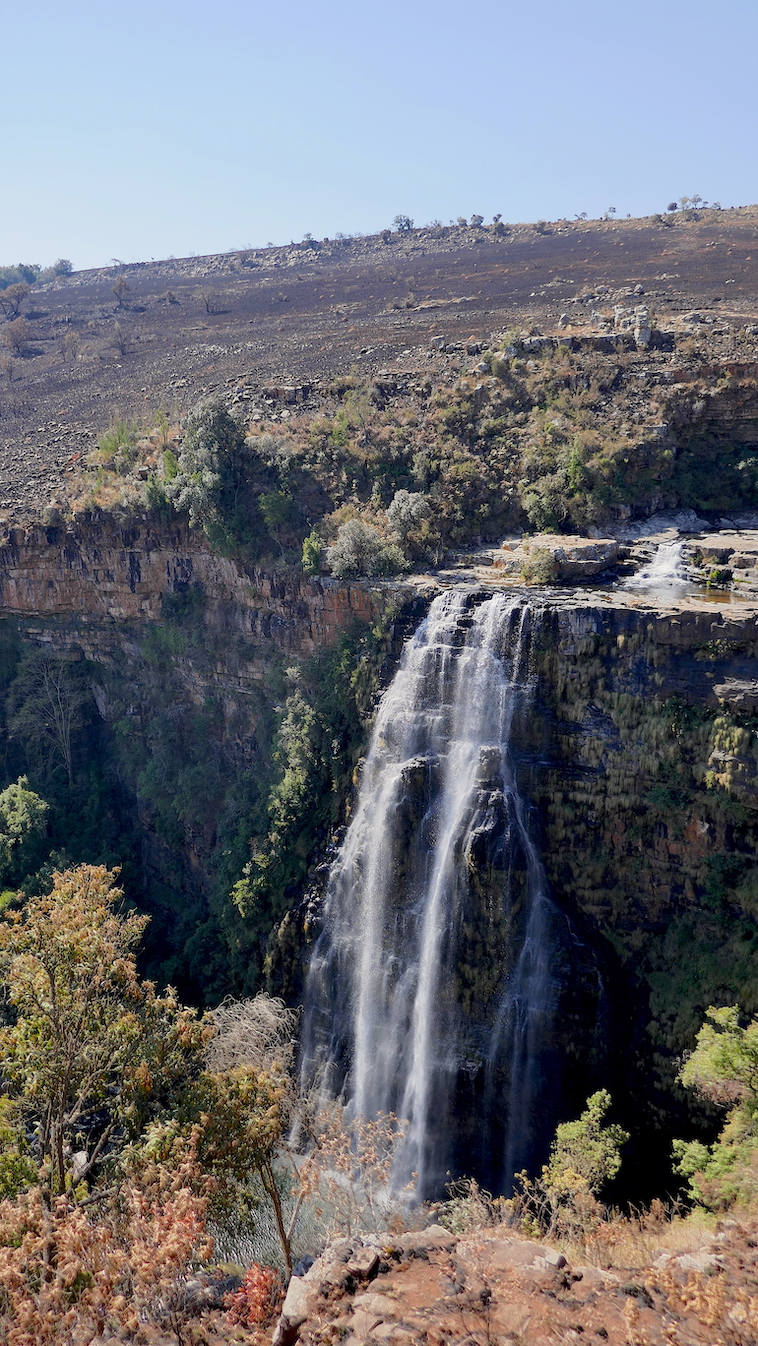 Et les « Berlin Falls » ensuite avec 80 mètres.
The Berlin falls. 80m! (named by German settlers)
26 kilomètres plus au nord, la rivière Treur et la Blyde se rencontrent et forment un tableau spectaculaire de chutes et de marmites patiemment taillées par érosion au fil des siècles.
Ce sont les « Bourke's Luck Potholes »
The Bourke's Luck potholes with hundreds of picturesque rock formations ground by the joining river Blyde and Treue.
Nous allons nous arrêter là pour aujourd'hui et prendre une fin de journée et une nuit de repos mérités au magnifique « Forever Resorts Blyde Canyon »
We stop at the Forever Resorts Blyde Canyon. A big family holiday resort with camp ground. Not really where we usually go but our hike for tomorrow with apparently great views over the Canyon  starts right here.
Jeudi 1er août
Directement depuis notre place de camping il est possible d'accéder à divers parcours de randonnées offrant des points de vue sur le canyon.
Le Blyde RIver Canyon, étend ses 50 kilomètres le long de la cassure du continent africain.
C'est là que le supercontinent du Gondwana à commencé à se fracturer il y a 160 millions d'années pour donner naissance à l''île de Madagascar et à l'Antarctique,
C'est sur le parcours « Léopard » que nous allons passer 3 heures à admirer ces falaises, dont celles en arrière plan sont enveloppées d'une brume marine donnant un aspect mythique à l'ensemble.
The 50km long Blyde River Canyon apparently runs along the ridge where the original Gondwana continent broke apart 160 million years ago. From here Madagascar and Antarctica drifted away to where they are today. Amazing, no?
We thoroughly enjoy our 3 hours morning hike (better to be home before lunch time. It gets really hot around these rocky cliffs).
The morning light enhances the colors of the stones. The humid air from the east (Indian Ocean) softens the lines of the mountains in the distance and builds up big clouds already. The atmosphere is magic!
Nous suivons maintenant la route panoramique qui nous ramène en fin d'après-midi à Sabie.
Pour la troisième fois, nous retournons au Wild Fig Tree, satisfaire nos estomacs affamés et sommes à nouveau enchantés de la qualité du repas.
We close the panorama road loop in the afternoon and arrive in Sabie just in time to go one more time… yes to the same restaurant (thanks to Michel's sporty driving 😉).
Michel has a fillet with cream cheese and avocado topping and I go for a delicious lamb curry 😍.
Vendredi 2 août
En 2006, Jane Goodall, célèbre éthologue et anthropologue britannique, spécialiste des chimpanzés, a créé le « Chimp Eden » (Le paradis des chimpanzés), au sud de la ville de Nelspruit.
Nous nous y rendons en fin de matinée afin de faire le tour guidé de 12h00
Jana, notre guide pour la circonstance, connait chacun des 33 chimpanzés hébergés ici.
Elle nous explique par le détail, durant plus d'une heure, l'histoire de ces animaux rescapés de cirques, de laboratoires ou de foires, au passé souvent très malheureux, bénéficiant maintenant, grâce à Jane Goodall, d'une vie très proche de celle liée à leur espèce.
In 2006 Jane Goodall, famous British ethologist and anthropologist specialized in chimpanzees, created "Chimp Eden" close to Nelspruit. 
We enroll for a midday tour and are surprised that you can not walk on your own between the enclosures let alone get into any of them. Michel and I have the "Daktari" image of chimpanzees (remember Judy?), but are very quickly enlightened that these apes are extremely dangerous and would as a group kill any human that enters their space. Even any of the guards that bring their food and that they know since years.
After this introduction we follow our guide around the enclosures and listen to the story of each of the 33 animals. Rescued from all sorts of sad destinies (laboratories, fun fares, as attraction in a bar or raised in a family until they became to big an dangerous) they are now save.
Sadly, most of them still have socially difficult behaviors, or other damage. Never the less, all of them were finally, and sometimes only after years, able to integrate into one of the 3 groups in the sanctuary.
We also learn that the natural habitat for chimpanzees is disappearing rapidly and that the are endangered. 
Very sad all of this. 😢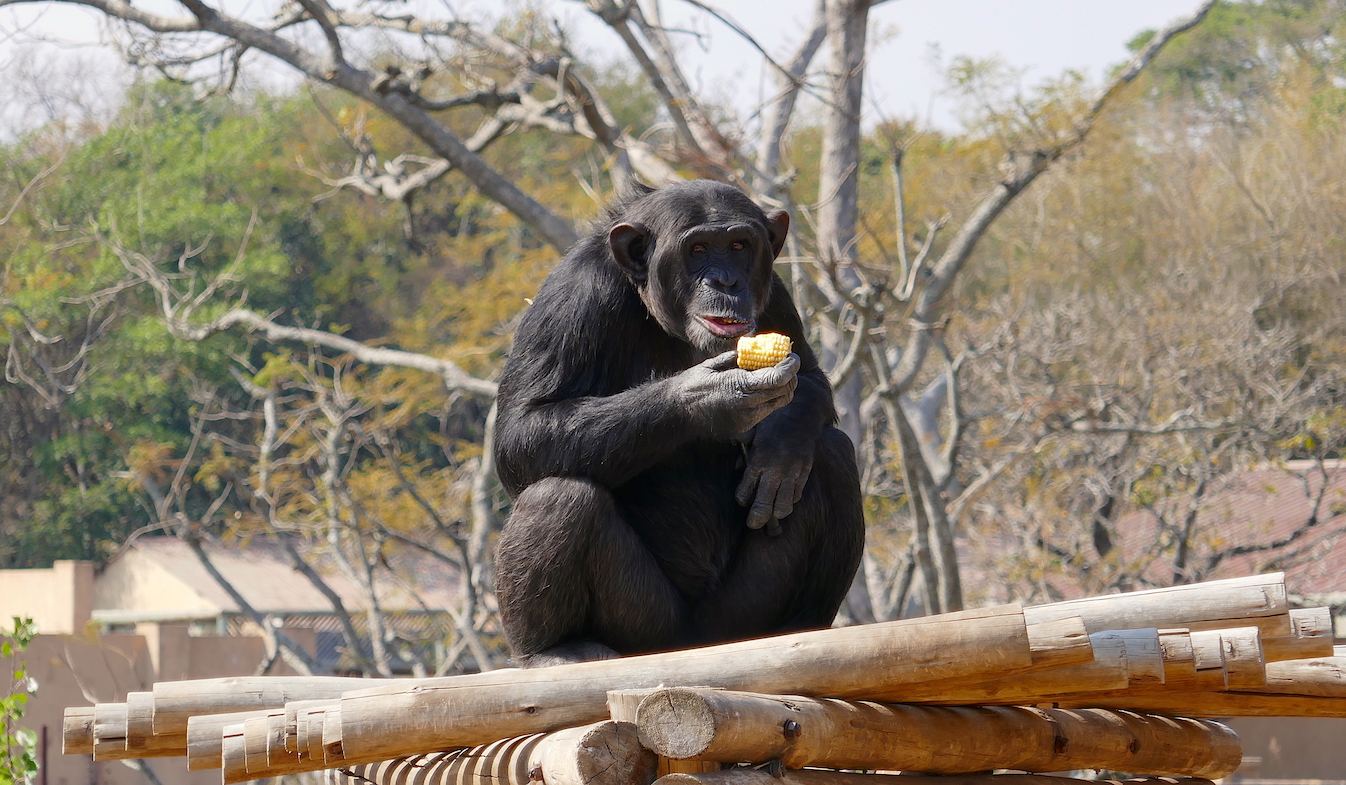 Ce soir, nous avons rendez-vous avec André et Nicole, rencontrés l'année dernière dans les Drakensberg et vivant à Nelspruit.
Retrouvailles chaleureuses que nous passons au Friend's café,  à échanger avec passion nos dernières aventures.
In the evening we meet our friends Nicole and André who live in Nelspruit and who we had met last year during our Xmas stay in the Drakensberg.
We spent such a lovely evening together in the garden of the "Friends Caffe" that we don't even think to take a photo. To bad we only have one evening 😟
Samedi 3 août
Hier soir, Nicole nous a suggéré de faire une jolie randonnée à partir d'un petit village, retiré au milieu des collines, du nom de Kaapsehoop.
Construit en 1882 par des chercheurs d'or, en bordure d'une zone parsemée de roches de quartzite, ce lieu est aujourd'hui principalement occupé par des résidences secondaires.
Today, recommend by Nicole we drive to the little village Kaapschehoop. It is a peaceful bohemian style village with friendly coffee and restaurant places, in the middle of green hills.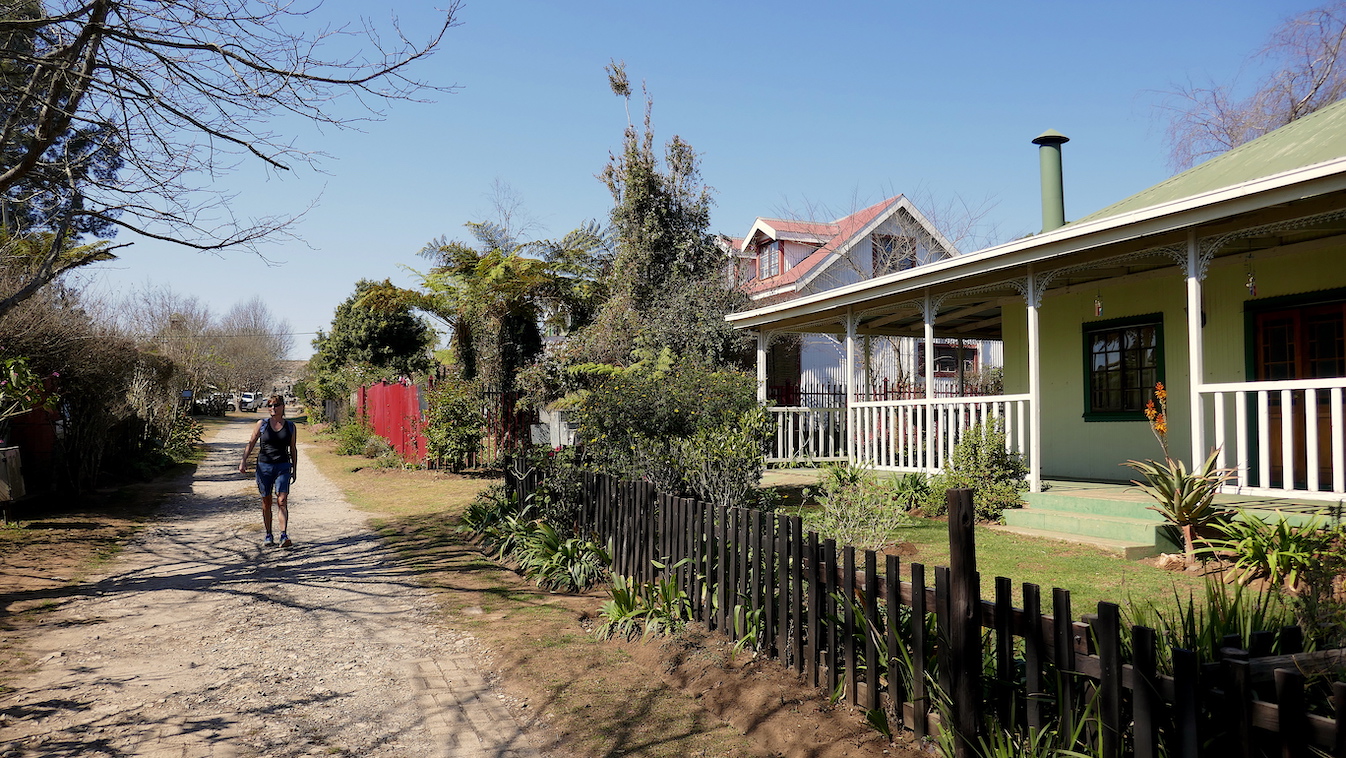 Ni une, ni deux, nous nous y rendons ce matin, et découvrons avec plaisir ce paysage très particulier, cheminant sur un parcours se faufilant à travers ces roches…..
From here we go on a hike with great views over the surrounding landscape.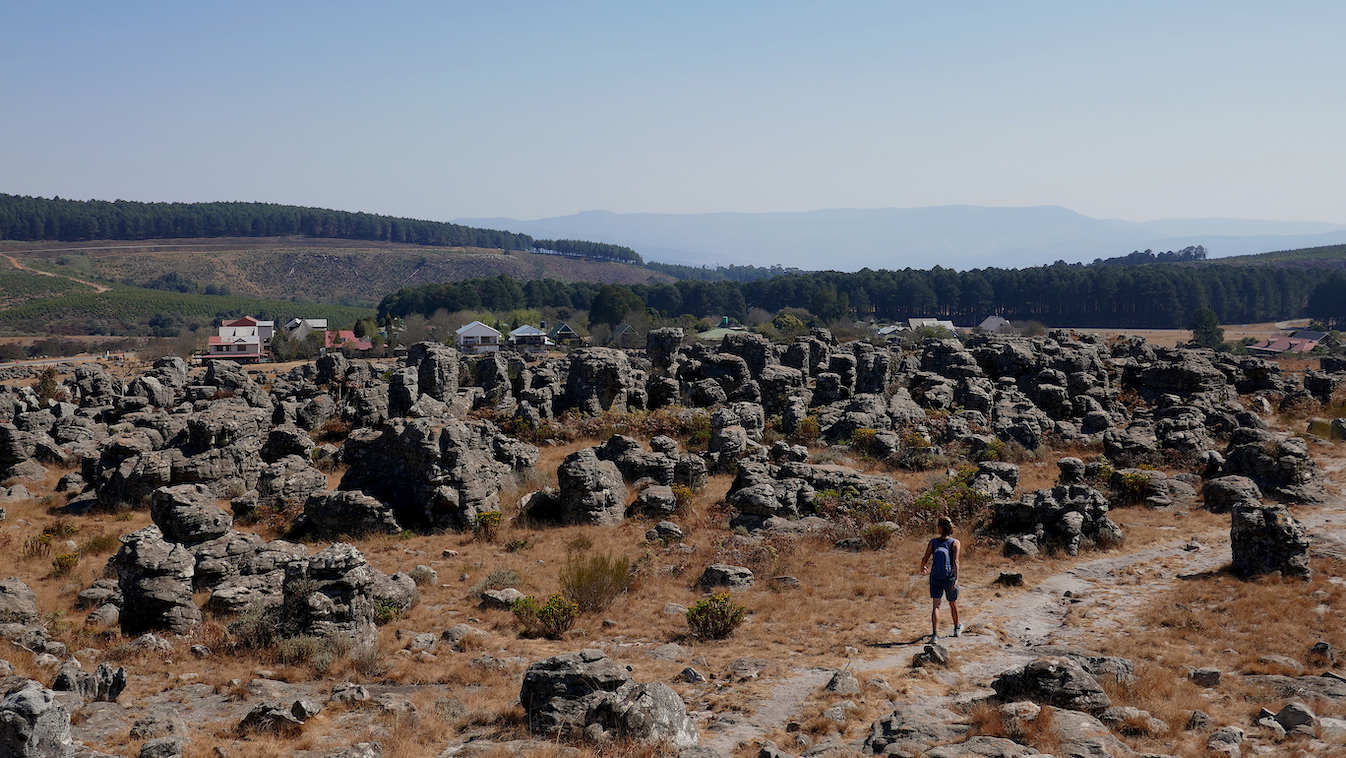 ……et menant au bord d'une falaise, d'où nous bénéficions d'une magnifique vue sur la vallée de Kaap, située 800 mètres plus bas et butant dans le lointain sur les brumes de l'Océan Indien.
Followed by …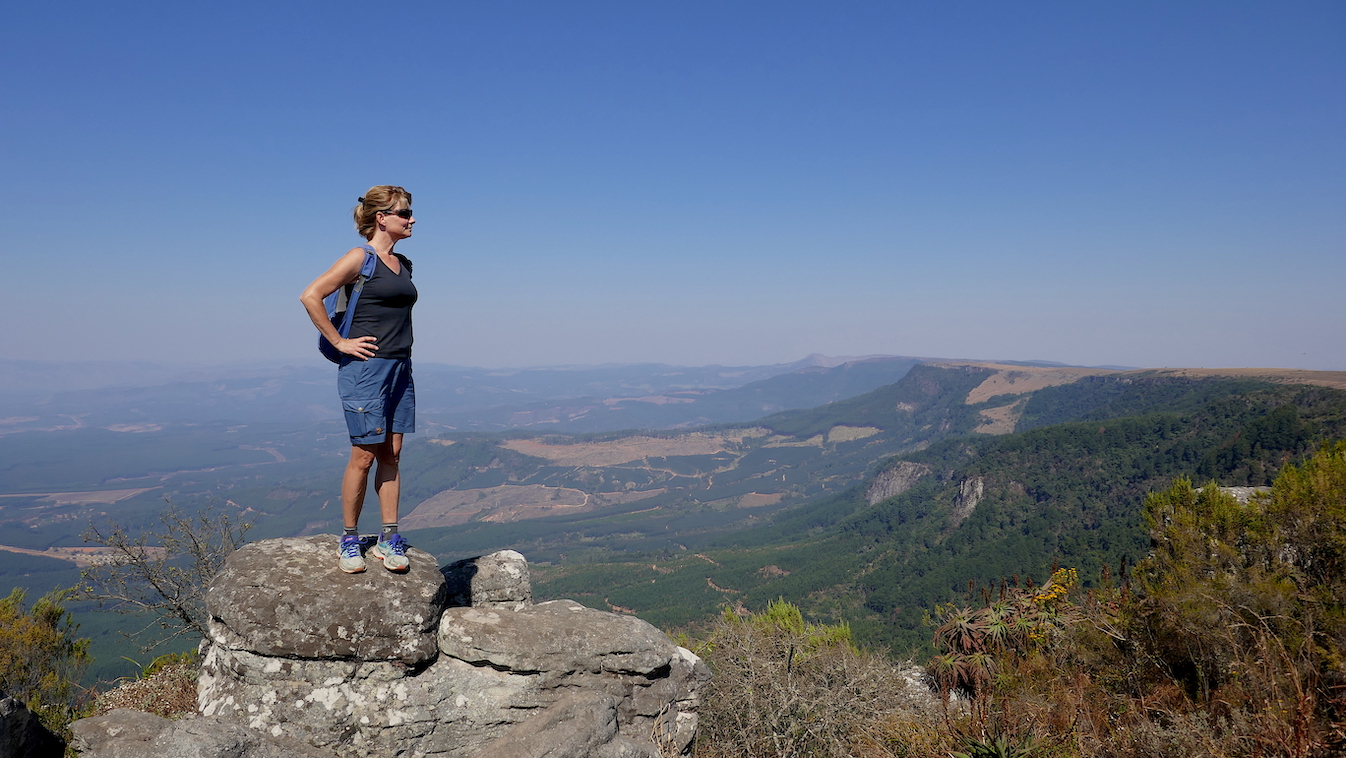 Après cette jolie balade, un milkshake fait le plus grand bien !!!
… a refreshing milkshake of course! 😆
Maintenant, direction  Mozambique.
Comme il est déjà 4 heures de l'après-midi, nous nous arrêtons à Komatipoort, village frontière, que nous passerons demain matin, frais et dispos et prêts à endurer les éventuelles tracasseries administratives.
Nous trouvons à nous loger au Kruger View Backpackers, dont la Nikky, la propriétaire nous autorise à occuper la cour intérieure pour y passer une nuit tranquille.
Later we drive the remaining couple of hours to the boarder of Mozambique. We get there at 4pm and knowing that the crossing will not be quick, we look for a place to stay for the night and will tackle the boarder procedures tomorrow morning.
The local community camp site is getting ready for a party with immense speakers. Showers and toilets are filthy and broken. Ok. this is not for us! So we ask the near by Bag Packers if we can camp in their protected car park.
Dimanche 4 août
09h00: C'est parti pour un nouveau passage de frontière !
La première étape consiste à s'arrêter à la dernière station d'essence avant la frontière afin d'y conclure une assurance RC obligatoire et aussi changer quelques US$ en Meticals, monnaie du Mozambique.
La douane sud-africaine ne pose pas de problème particulier une fois que l'on a trouvé les bâtiments où se trouvent les guichets.
En pleine action de recherche, nous sommes même invités par un fonctionnaire sympa à rejoindre le bureau pour VIP, ce qui accélère singulièrement la procédure.
Maintenant, on va voir ce qui va se passer pour entrer au Mozambique quelques centaines de mètres plus loin.
Le chaos ne se fait pas attendre !!!
Des dizaines de noirs, dont certains portent un accoutrement tentant de les faire ressembler à des  policiers ou à des douaniers, nous intiment de nous arrêter pour leur remettre le papier que nous avons reçu il y a une minute par un vrai douanier et qui sert de sauf conduit pour entrer dans le pays une fois les formalités effectuées, avec pour argument de nous aider à les accélérer.
Ils se mettent devant notre véhicule les bras en croix pour tenter de nous stoppe, mais se retirent quand même pour ne pas se faire écraser, vu que Michel, toutes fenêtres fermées, continue d'avancer au pas sans s'occuper d'eux.
Il faut dire que si l'on leur remettait ce fameux sauf-conduit, ils essayeraient de nous soutirer un maximum d'argent avant de nous rendre le précieux papier.
Nous retrouvons le calme devant le bâtiment de la douane et si ce n'est une attente de 30 minutes, nécessaires au fonctionnaire responsable des visas pour trouver une cartouche de toner pour son imprimante afin de pouvoir éditer les nôtres, tout se passe assez simplement.
Il nous a quand même fallu 3 heures pour passer d'Afrique du Sud au Mozambique.
Sunday 9am we buy the obligatory third party car insurance for Mozambique and change some money.
We proceed to the boarder where the South African formalities are relatively quickly done once we find the relevant buildings (signs are rare and rather confusing).
We drive the short distance to the Mozambican border and suddenly a crowd of roughly 15 people appears. Most of them have name tags or even wear a (fake) uniform. They all wave their hands and shout at us, asking for passports or telling us that we need their help to get through the custom procedures. One or two even step in front of the car and make big signs for us to stop. It is total chaos and even feels a little threatening 😲
Luckily we were pre-warned by the South African custom people, so we knew that they only want our money and that we should not talk to anyone outside the official buildings! 
We had already some of this at the Sambia boarder but not as aggressive as here! 😬
We ignore all of them and slowly drive on to the buildings. Only very few of them follow us there and now want to sell us SIM cards, Gigabytes or exchange money. 
By trying to find the immigrations office (no signes on the buildings) Michel ends up in an office for VIPs and diplomats. 
A big guy in a neat uniform and a very important facial expression invites Michel to take a seat inside his office and does the paperwork for the temporary import of the Azalaï. After a mix of Portuguese and Spanish conversation the two depart as best friends 😁
With his help we also find the immigrations office for the visa and passport check. The visa takes 40min including 30min waiting for the printer to be refilled with toner. The passport is quicker but still the officer needs some time to get the electronic photos and fingerprints (!) into the computer (looks like she doesn't know the program very well?).
Anyway, the whole took roughly 3 hours and we are slightly exhausted. 🥵
Michel says "I need a milkshake!" 😉
And I think: Europe and Schengen is great!!!
Quelques mots sur ce pays dont voici la carte:
A little introduction to Mozambique: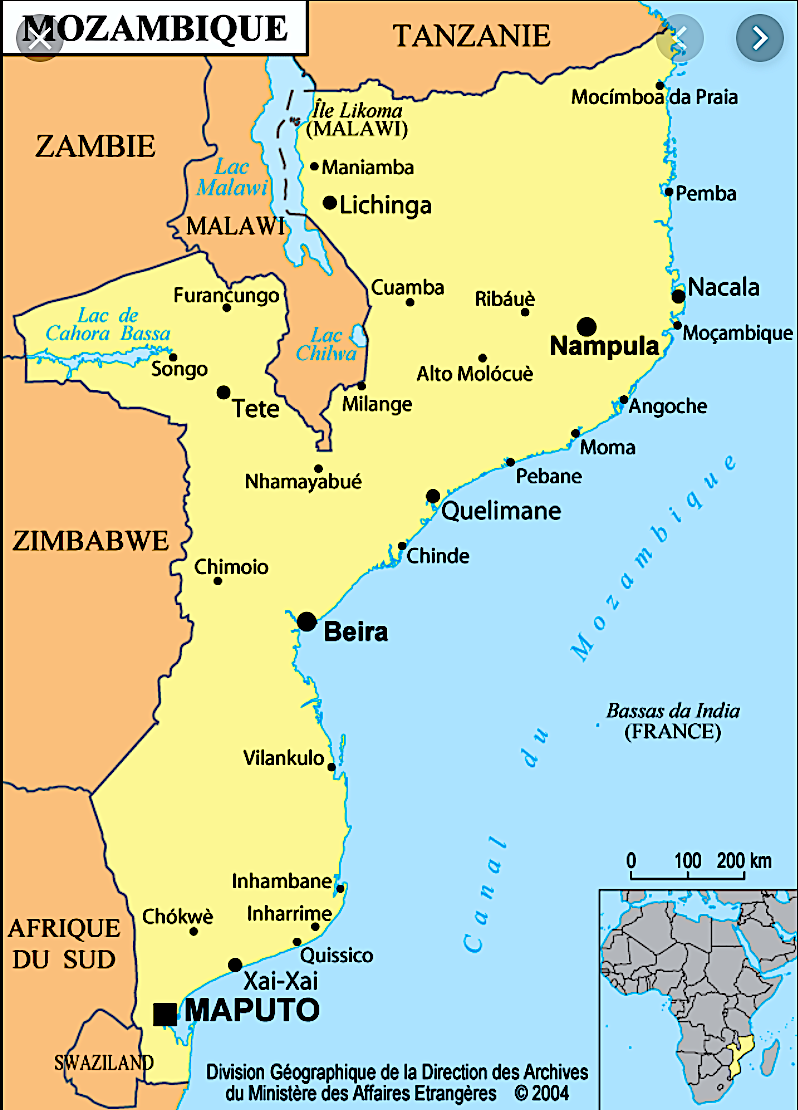 Le Mozambique est l'un des pays les plus pauvres du monde.
La moitié de sa population y vit sous le seul de pauvreté.
26 millions d'habitants se partagent un territoire grand comme 19 fois la Suisse.
Le manque d'infrastructure, la corruption et la forte prévalence du SIDA (qui a dramatiquement réduit l'espérance de vie), ainsi que la présence de conflits armés ou d'instabilités civiles à ses frontières, ou des troubles locaux subsistent encore de façon sporadique à la suite de la longue guerre civile, sont des freins au développement.
Toutefois, la découvertes en 2010 de gisement de gaz le long de la côte septentrionale du pays et le développement du tourisme font naître l'espoir d'une progressive amélioration de l'économie et de la condition de vie pour ses habitants.
Mozambique is 19 times the size of Switzerland with 29 million inhabitants. It lays in the very south east of Africa and its subtropical climate is strongly influenced by the warm Indian Ocean current that flows along its long coast line.
Portuguese is the only official language, which is spoke mostly as a second language by only about half the population.
After over four centuries of Portuguese rule and a 10 years independence war the country was liberated only in 1975. This was followed by 15 years of civil war.
Since a first elections in 1994 the country is politically relatively stable (apart from recent conflicts with Islamic extremists in the north). Its GDP is steadily growing. However, it is still one of the poorest and most underdeveloped countries in the world.
Sadly two violent hurricanes hit the centre and the north of the country earlier this year and destroyed much of the slowly growing economy. Only the south of the country was spared and profits today from a growing tourism along its pristine coast.
The latter is where we will focus on for our beach holidays 😁
C'est à Maputo, la capitale, que nous rejoignons par la nationale 4 en une petite heure, que nous allons passer nos deux premières nuits en dehors de l'Azalaï car nous avons trouvé plus pratique de dormir dans une Guest House pour visiter la ville.
Comme l'une des connaissances rencontrée précédemment  nous a recommandé la « Résidence Palmeiras » nous nous y rendons directement.
We start with the capital Maputo that lays right at the southern coast. We stay at Residence Palmeiras, a guest house near the city centre so we can tour the city without the car.
Hidden behind fence and wall the guest house is a very tranquil place and it is a nice change for us to stay in a spacious room with our own bathroom 😀
Outside the city is lively and colorful. A mix between new and old, well maintained and run down.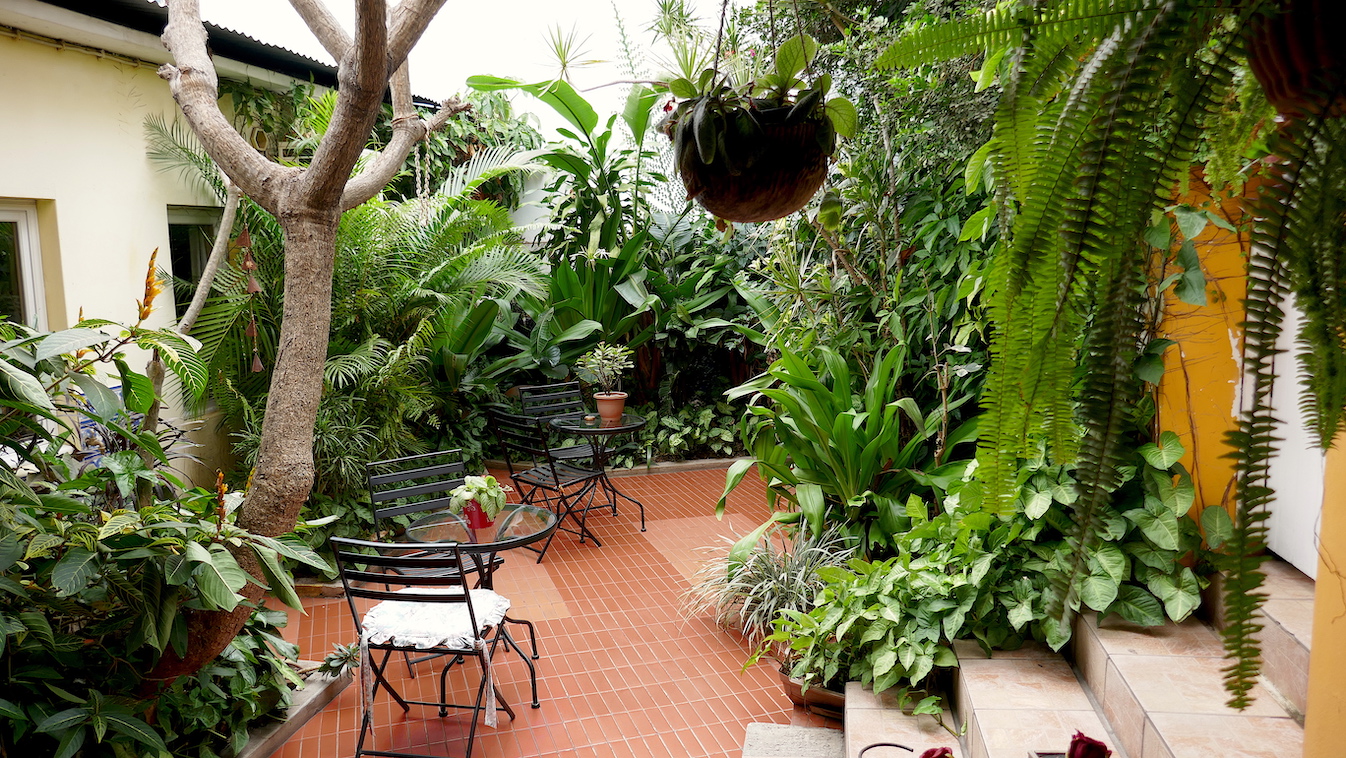 Filet de thon cru et Sauvignon Blanc pour notre repas au restaurant Zambi en bord de mer.
We decide to have fish for dinner at "Zambie" and the Asian style tuna fillet (mal passado) is delicious!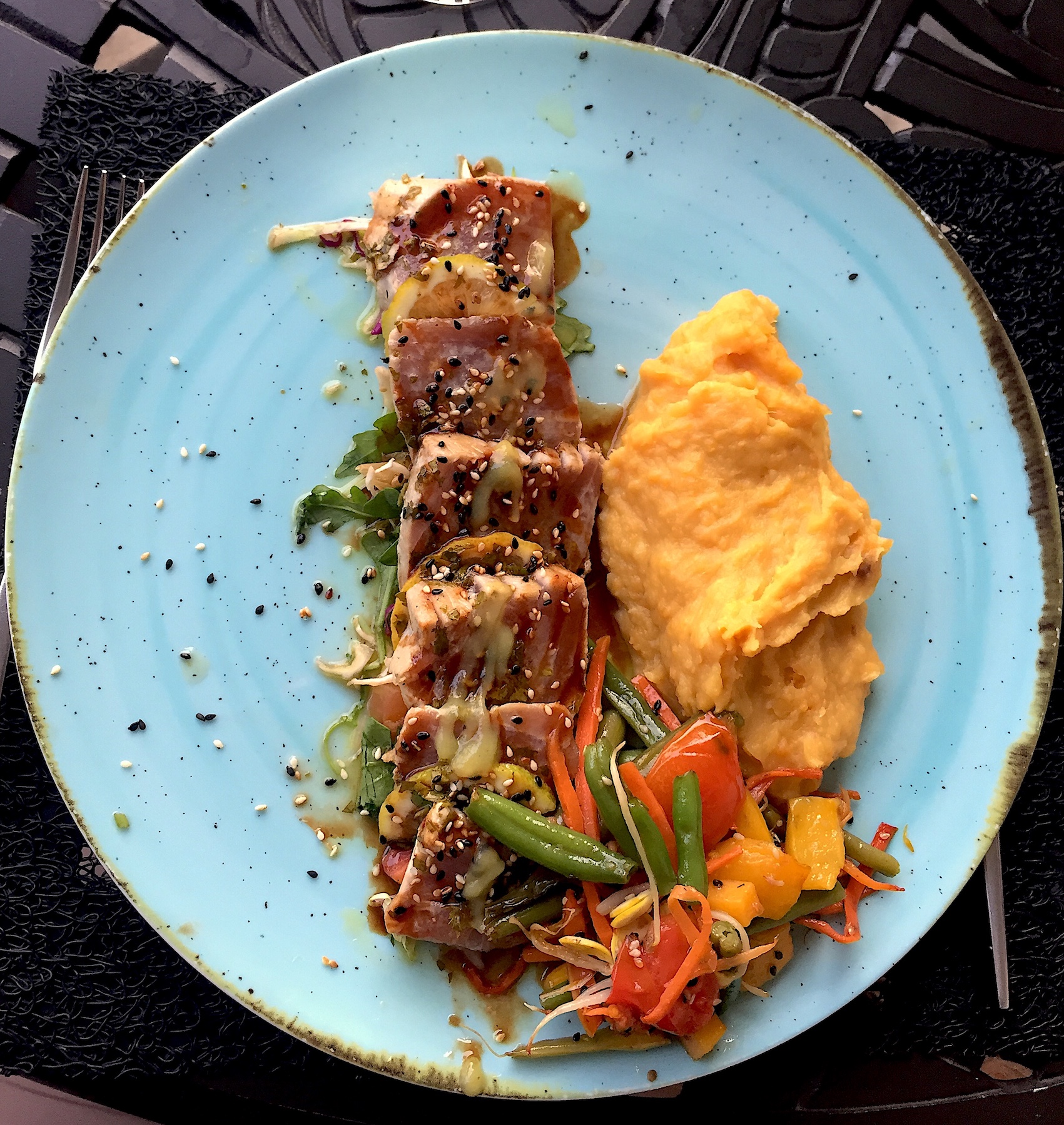 N'étant pas recommandé de se promener à pied dans les rues la nuit venue, et comme tous les taxis sont apparemment occupés, le personnel du restaurant nous met à disposition un garde du corps qui va nous accompagner à un hôtel proche, dont la réceptionniste s'occupera de nous faire venir un véhicule de type Uber, à partir d'une application sur son téléphone mobile, pour que nous puissions rejoindre notre résidence en toute sécurité.
Sympa !!!
We had walked to the restaurant since it was still daylight, but our guest house and the restaurant strongly recommended that we do not walk home at night. Since there is no taxi in sight one of the restaurants night guards accompanies us to a big hotel nearby where we dont find a taxi either. But the receptionist helps out with a Huber-style app and we are picked up by our taxi a few minutes later. A little complicated but we made it! 
Thank you everybody!
Lundi 5 août
Promenade visite de la ville de Maputo au programme aujourd'hui.
Maputo, anciennement « Lourenço Marques » à été fondée par les colons portugais  et rebaptisée par les autorités de la nouvelle indépendance en 1976.
La ville elle même compte 1 million d'habitants alors que 2,7 millions peuplent l'agglomération.
Le contraste entre les immeubles délabrés et les constructions luxueuses démontre une ville habitée par une population hétéroclite.
Maputo founded by the Portuguese has today roughly 1 million inhabitants. The suburbs count another 2.7 millions!
Today we walk through the inner city.
Rich and poor live close together and we see a mix of more or less renovated colonial buildings, run down multistory buildings and brand new skyscrapers. 
Le traditionnel côtoie le béton.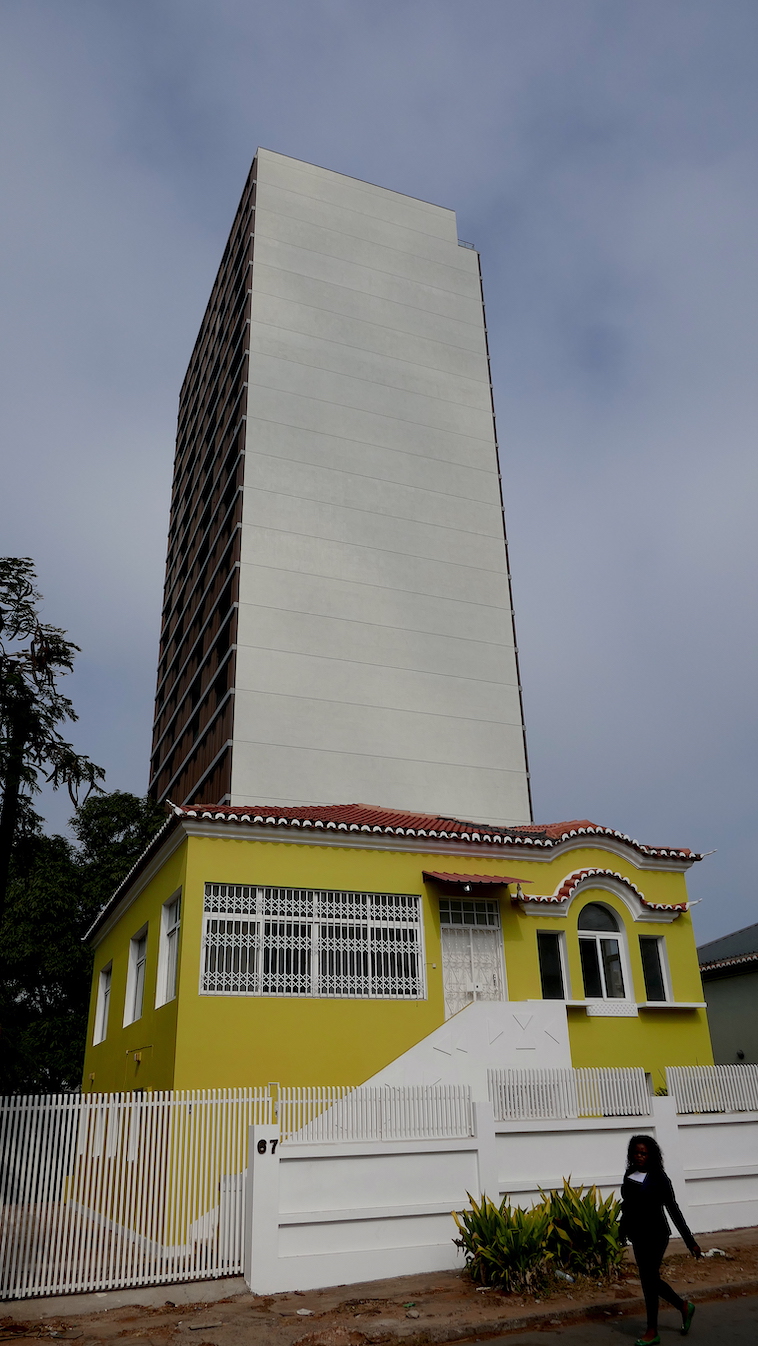 L'hôtel Polana Serena, le plus luxueux de la ville
The 5 star hotel Poland Serena from early 19 hundred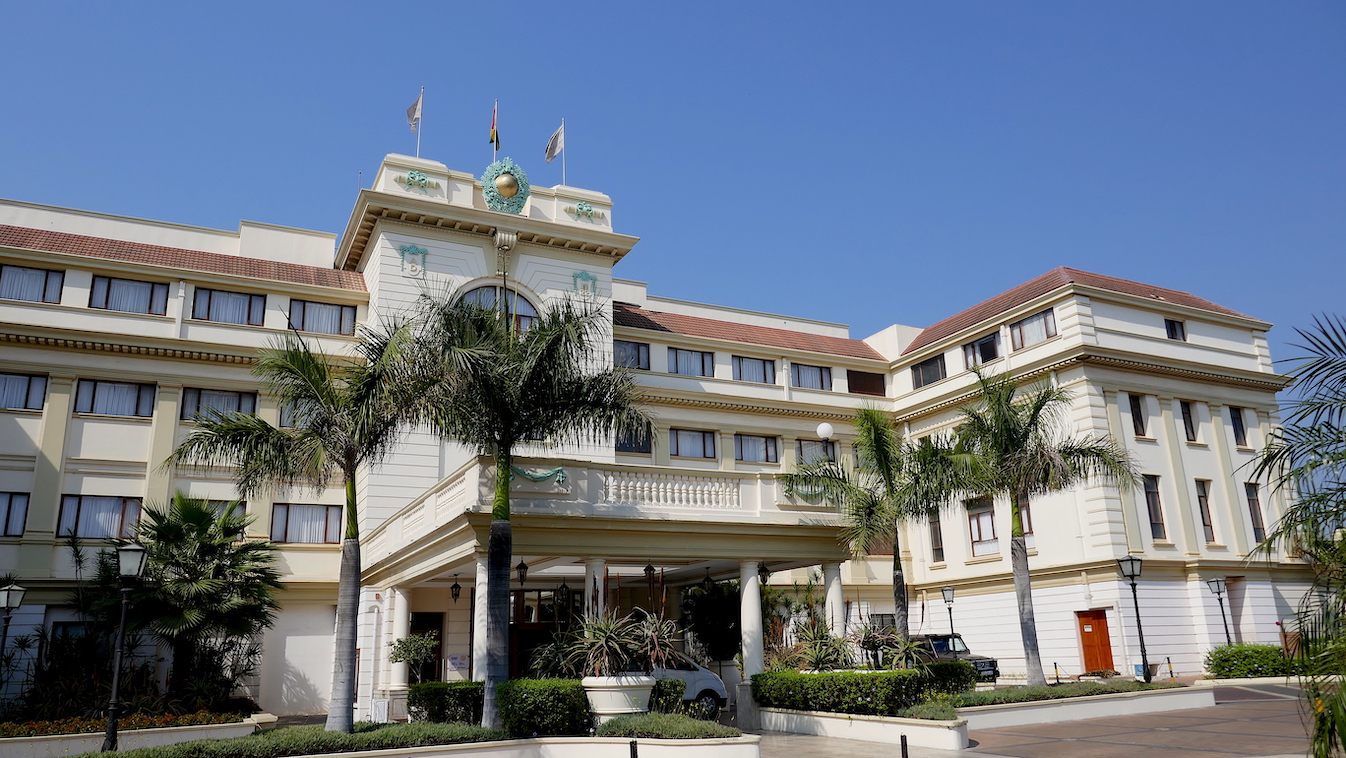 Le quartier de la gare
The old colonial downtown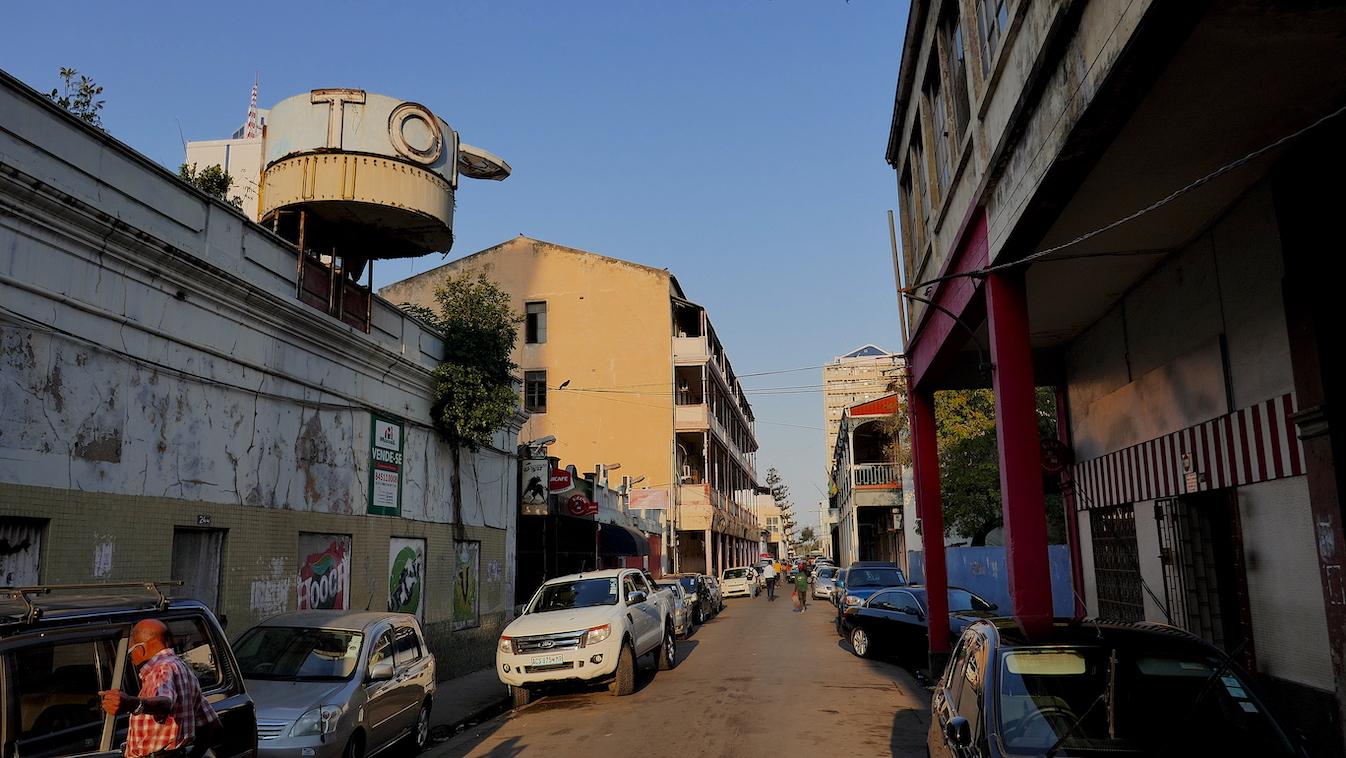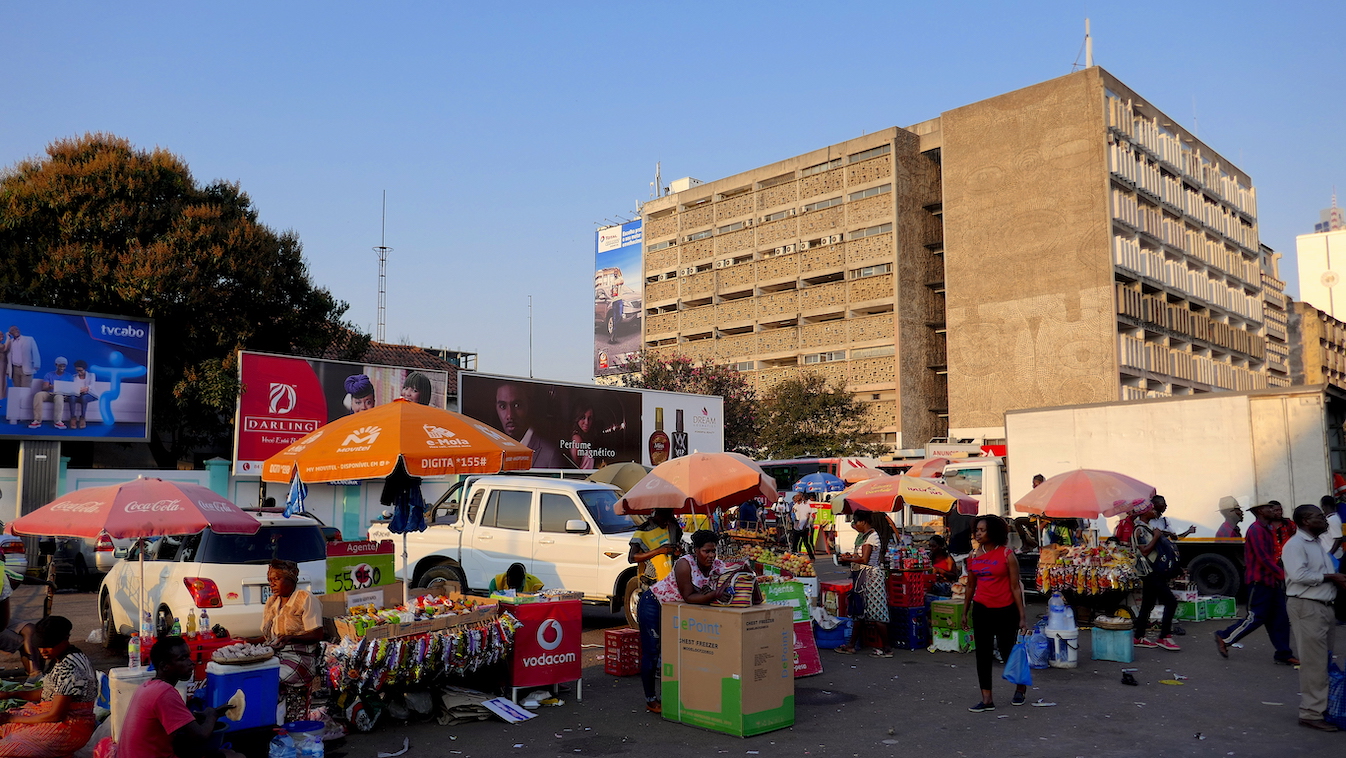 La gare de style victorien a été inaugurée en 1910 et a été construite selon les plans d'Alexandre Gustave Eiffel.
The Victorian style train station from 1910 designed by G. Eiffel.
La « maison de fer« , également conçue par Gustave Eiffel à la fin du XIXe siècle, était destinée au gouverneur général du Mozambique.
Une fois achevée, elle se révéla inadaptée à cause de la chaleur qui y régnait et ne fut jamais habitée.
The "Iron House" also designed by Eiffel and build as residence for the governor of Mosambik late 19th century. However du to the heat build-up inside it was never used as such. 😁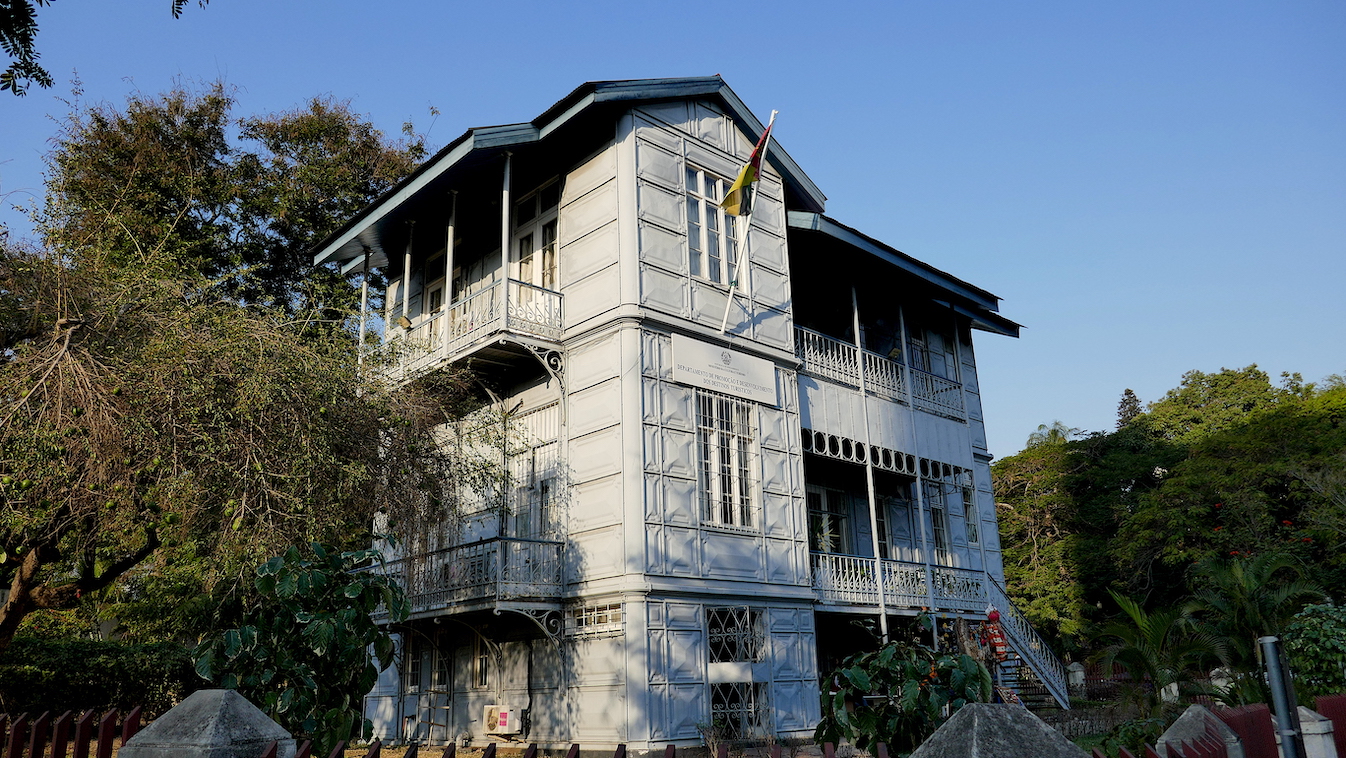 De temps à autre, de jolis parcs permettent de s'octroyer un moment de détente.
The Central Park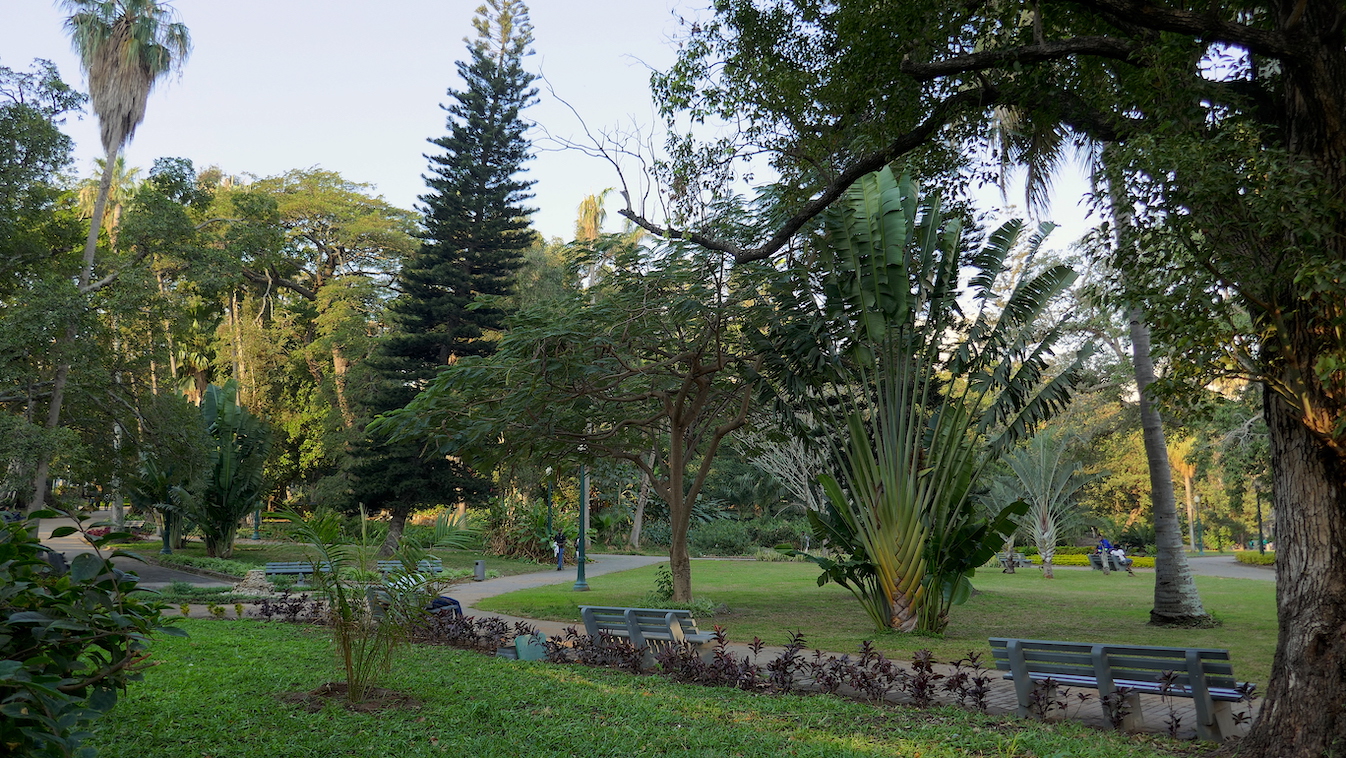 Chaque espace est occupé, ci ce n'est par les voitures c'est par la foule.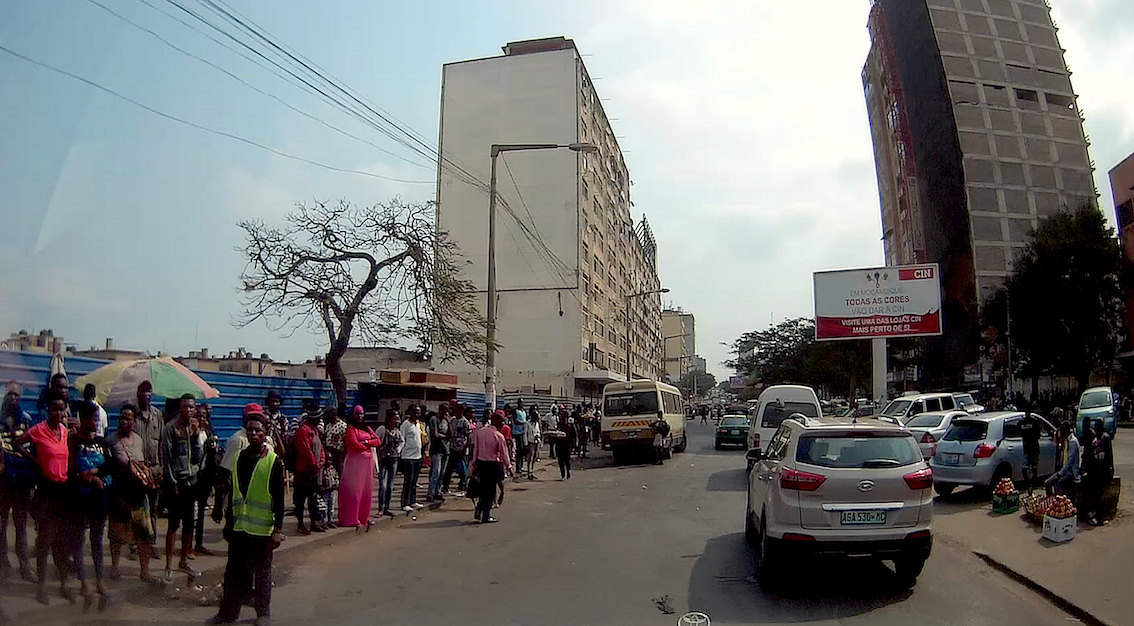 Un magnifique pont suspendu à pris le relais du ferry pour traverser la baie vers le sud.
A brand new toll bridge brings us to the south side of the bay where we will start our holidays at the beach 😍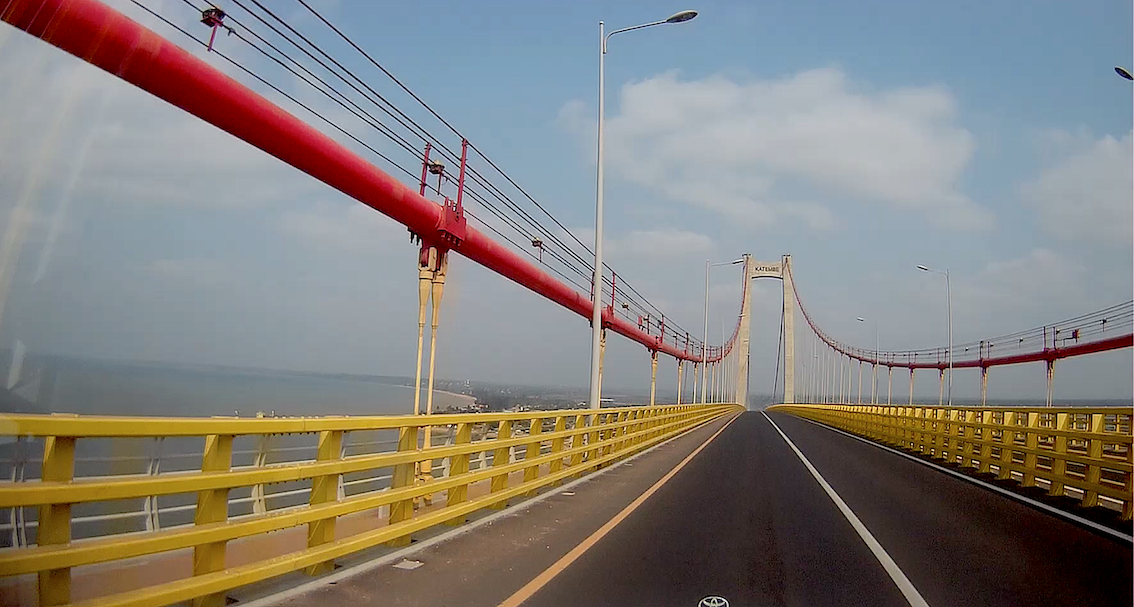 De là, une vue d'ensemble de la ville vaut un arrêt photo.
View from the bridge over Maputo.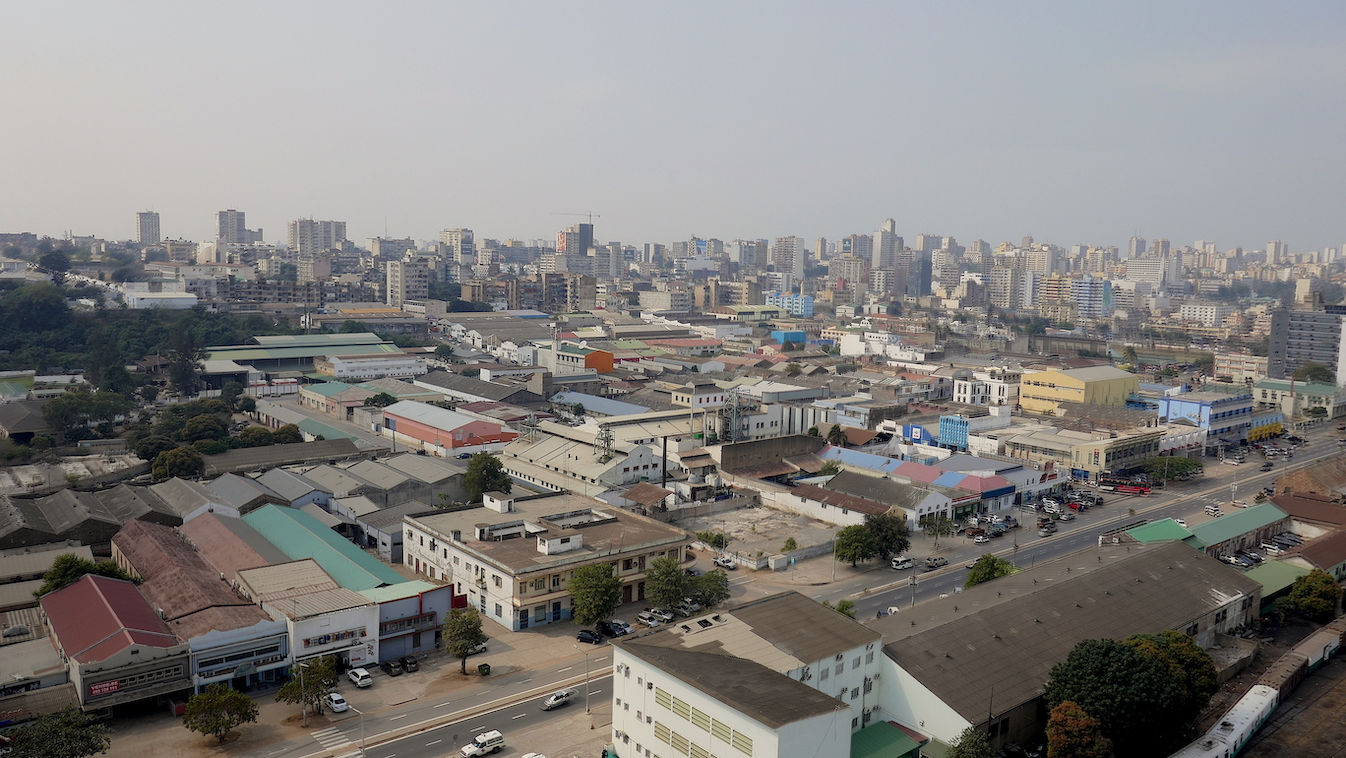 Mardi 6 août
Ces prochaines deux semaines, nous allons profiter du fait d'être ajusté bord de l'Océan lndien pour prendre un peu de vacances.
Tout au sud du pays, à quelques centaines de mètres de la frontière Sud-Africaine, un endroit nommé « Ponta do Ouro » se prête particulièrement bien pour une première étape le long de cette côte.
Our first beach Ponta de Ouro is as far south as you can go in Mozambique and literally only a few meters away from South Africa.
We stay 3 lazy days at a cool eco camp. Long Beach walks interrupted by drinks and seafood snacks at tropical beach bars are our strenuous program 😎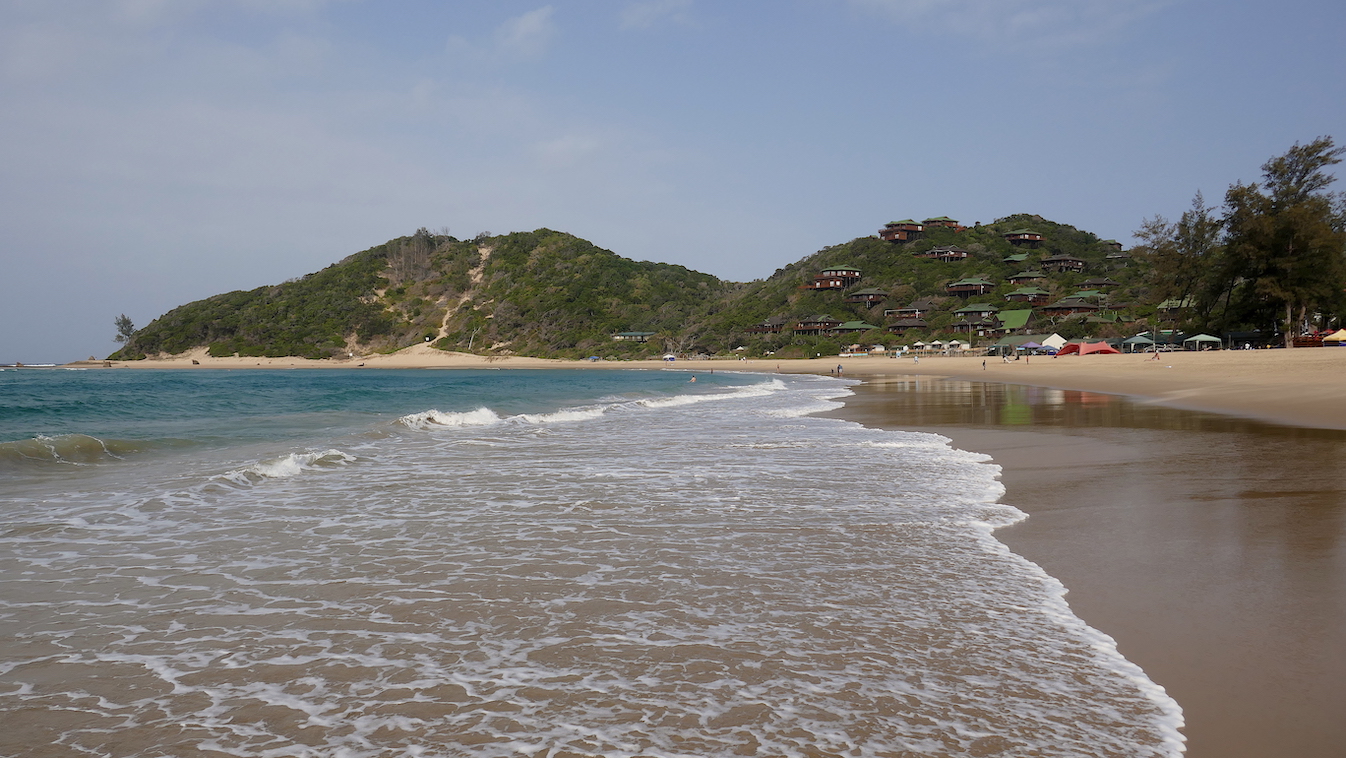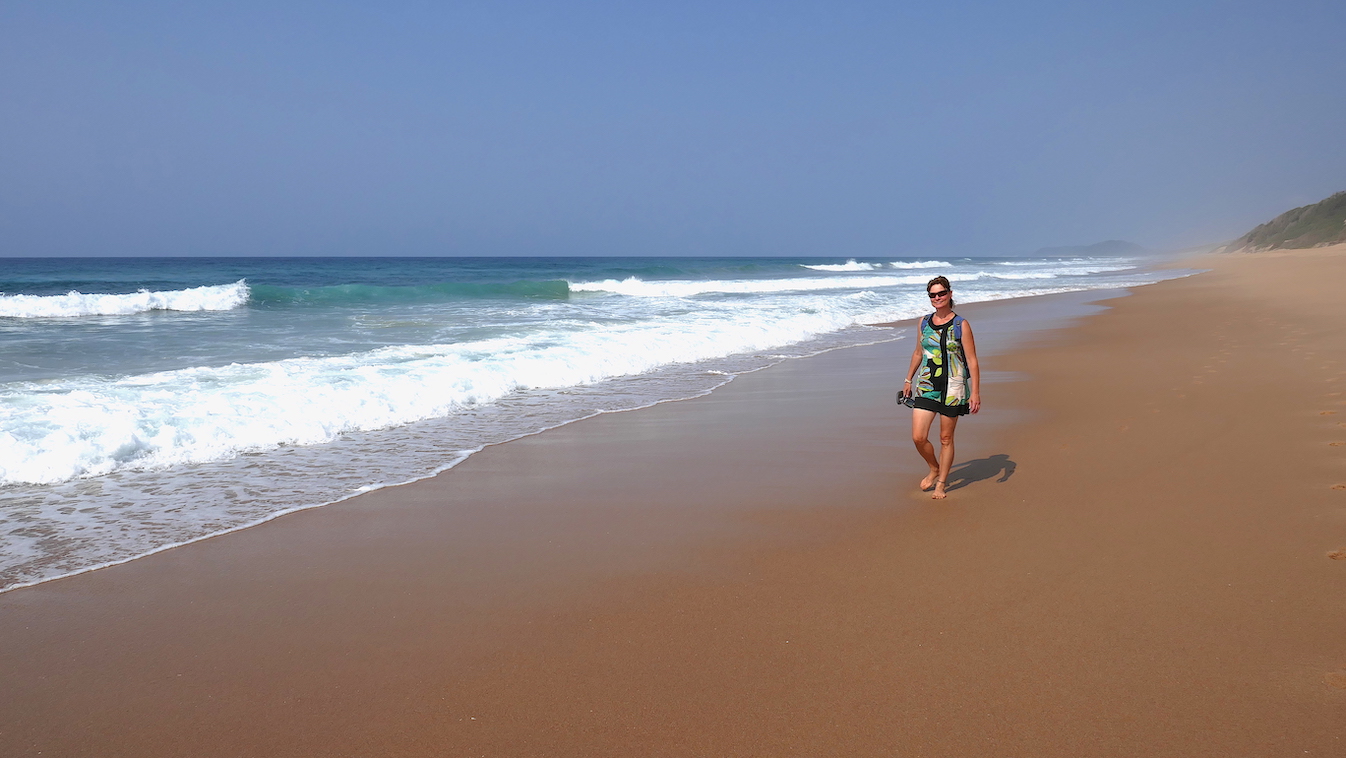 Après la plage, détente dans le jardin de « Gala Gala Eco Resort » qui va être notre refuge pour les 3 prochains jours.
Vendredi 9 août – Dimanche 11 août
Nous allons rejoindre aujourd'hui l'extrême pointe de la presqu'île abritant la Réserve Naturelle de Machangulo, juste en face de Maputo.
Il nous faudra  4 bonnes heures pour remonter les 70 derniers kilomètres de la presqu'île, sur une piste de sable creusée de profonds sillons.
A deux reprises, il a fallu utiliser toutes les options de l'Azalaï (4×4 + vitesses lentes + blocage des différentiels arrière et avant) pour se sortir du pétrin.
Il faut dire que le ciel, qui nous avait habitué à être vêtu de bleu et être parcouru d'un soleil radieux a, pour la première fois depuis notre arrivée en Afrique le 1er mai, revêtu sa robe grise et nous a arrosé d'une pluie fine tout au long de notre parcours.
La conséquence en est un sable collant, rendant certains passages assez acrobatiques.
Our next beach is on the peninsula opposite to Maputo. The only way to get there is a 1.5h boat ride from the city, or 70km (4 hours!) sandy 4×4 track trough the Nature Reserve Machangulo. No surprise we go for option 2.
The weather is cloudy today and half of the time it is raining (first time since we arrived in Africa on May 1!!). The sand becomes very heavy and sticky and driving is hard work. Twice we have to use all the car can give to not get stuck (I.e. 4×4, gear reduction and differential lock).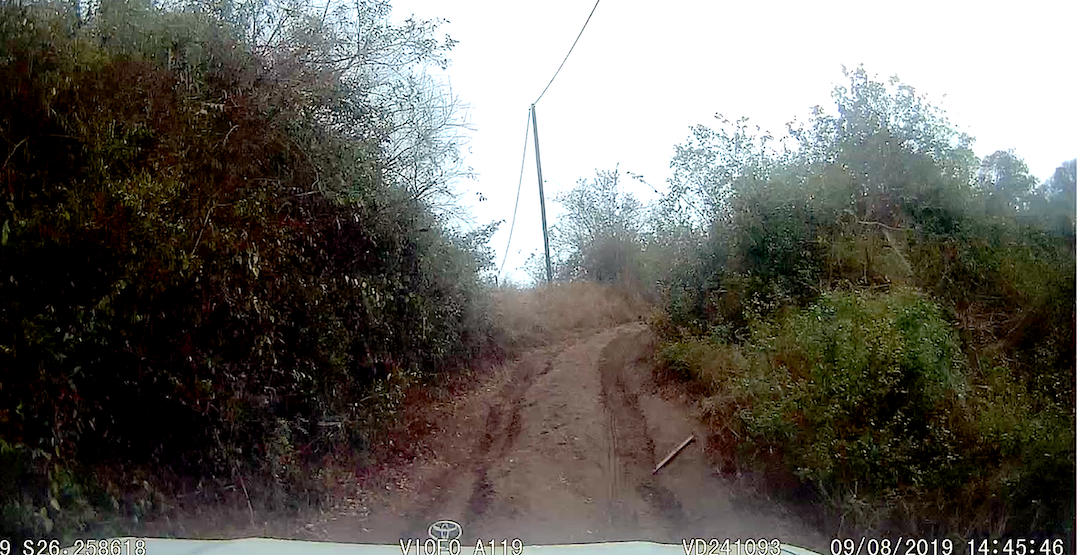 Doutant , après 4 heures de piste épuisantes d'être sur la bonne piste, nous débouchons soudain avec ravissement sur une superbe lodge qui s'offre même le luxe d'un restaurant fort chaleureux, que nous adoptons instantanément avec un plaisir non dissimulé.
4 hours later we are at Bemugi's Place, our camping right at the beach. We are tired and hungry and are very happy to see that the place has a wonderful restaurant!
Grilled fish, prawns, calamaries and a bottle of South African white wine is all we need before we go to bed!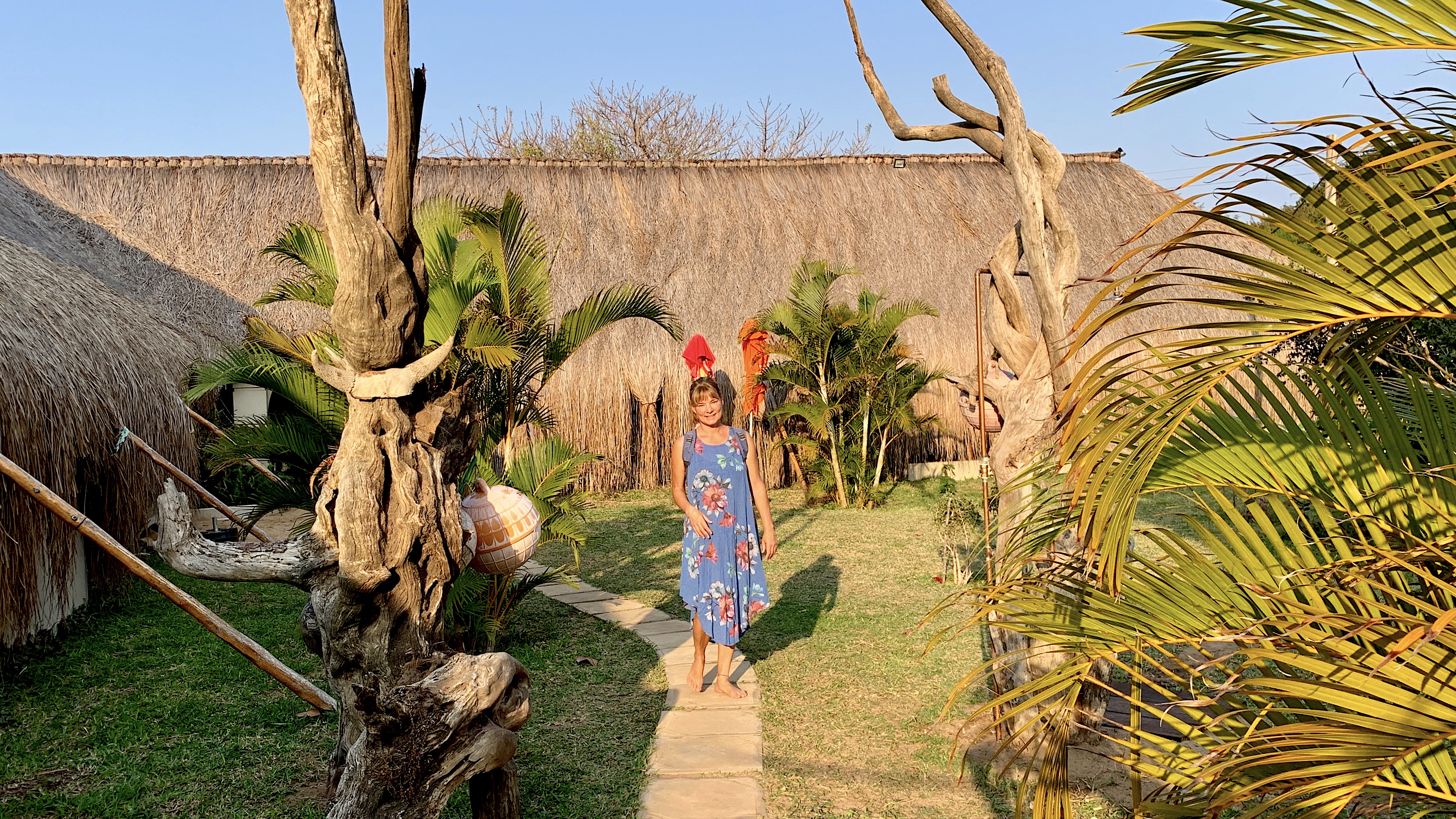 Là aussi, une plage magnifique invitant à la balade au petit matin alors que les nuages sont en train de se dissiper.
Early next morning we go for our first walk.

Le soleil ne tarde pas à nous arroser de ses rayons bienfaisants rendant toute sa beauté au mariage de la mer et du sable.
And discover a very beautiful coast.

La vie animale grouille de partout et ce crabe était très content de poser pour la photo.
With animals we know…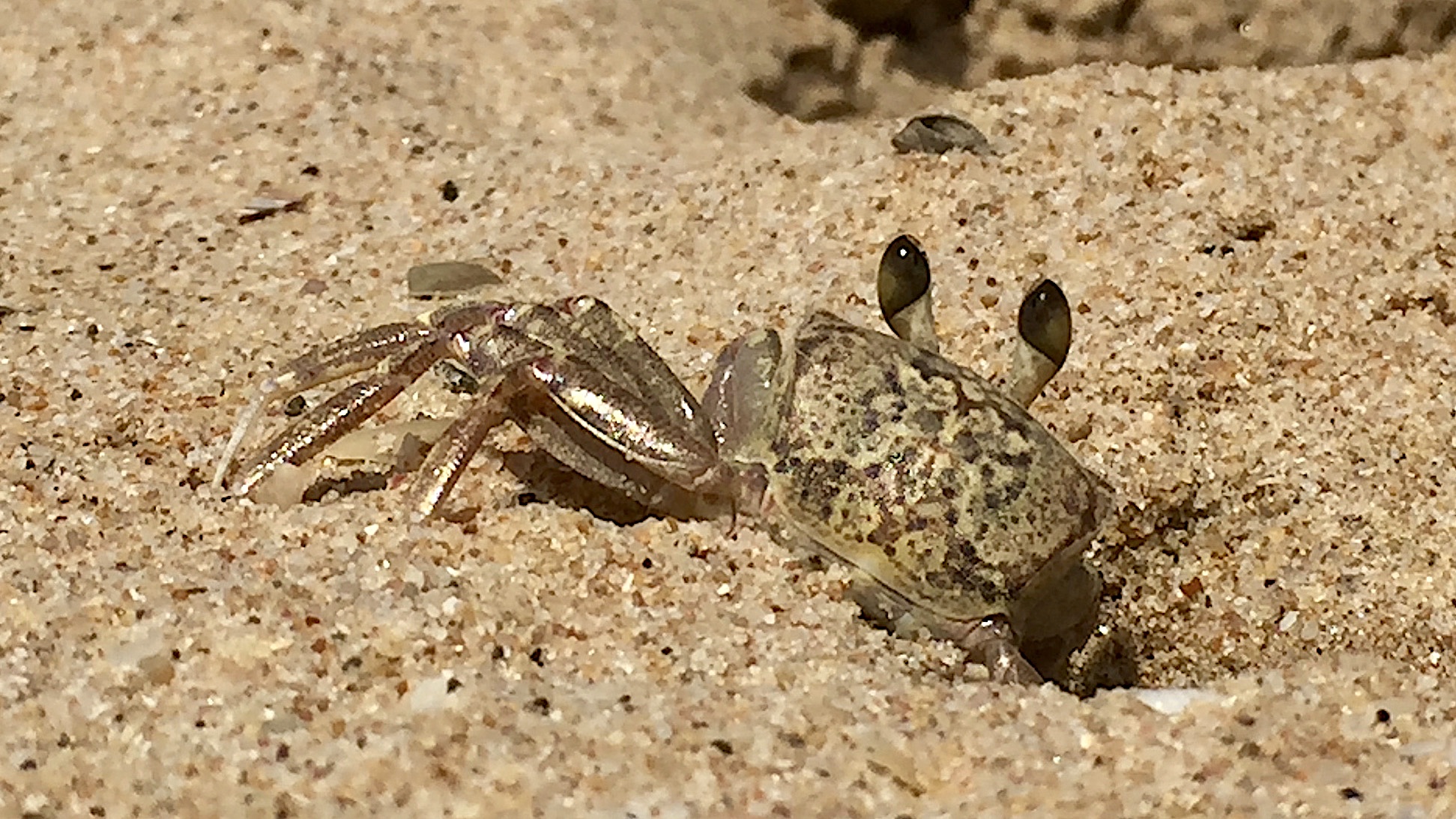 Etrange créature non identifiée d'une forme géométrique parfaite.
…and animals we dont know (anyone a guess?).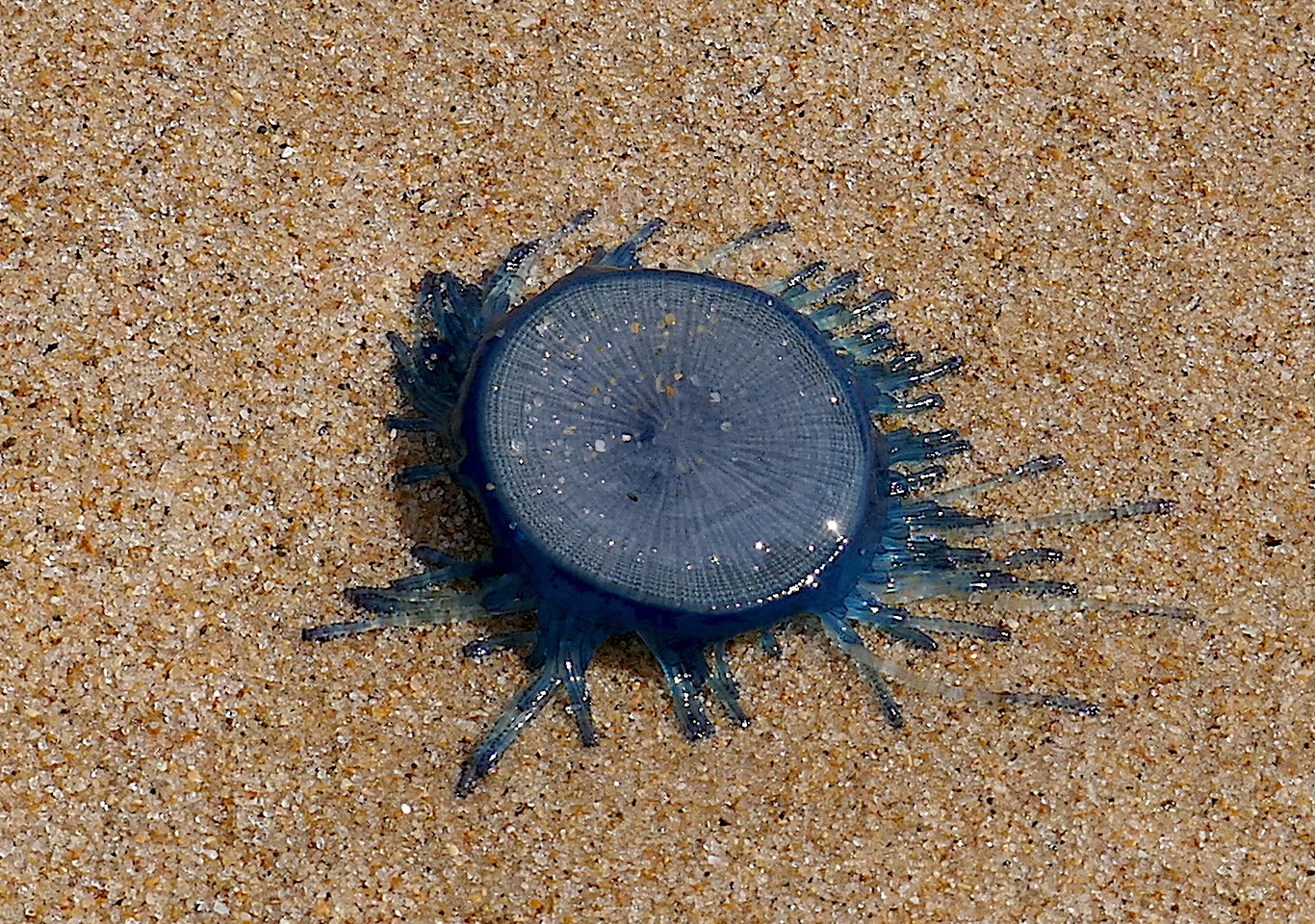 A marée basse, les roches laissent apparaître un tapis maritime joliment décoré.
Another Long Beach walk.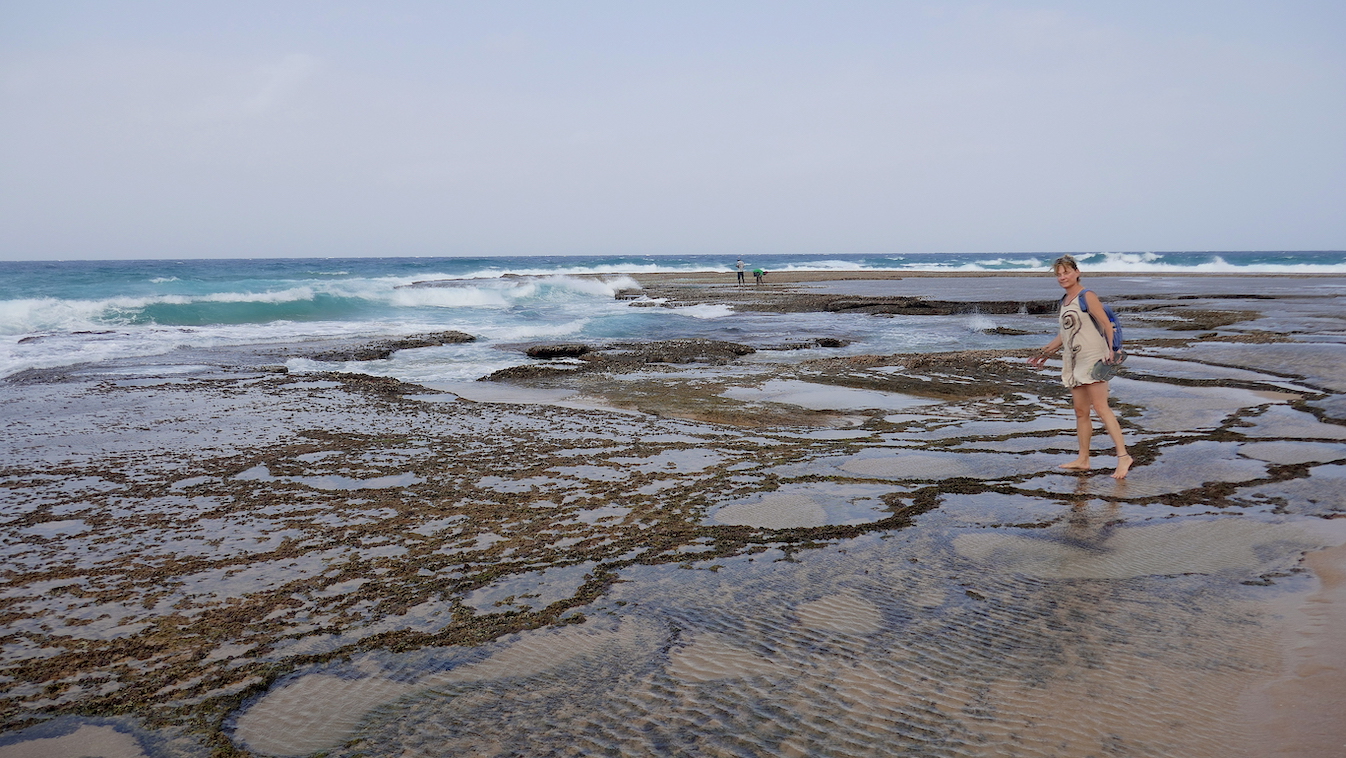 Certaines lodges occupent des positions de premier rang.
Hard to admit, but some lodges are better positioned than our campaign 😉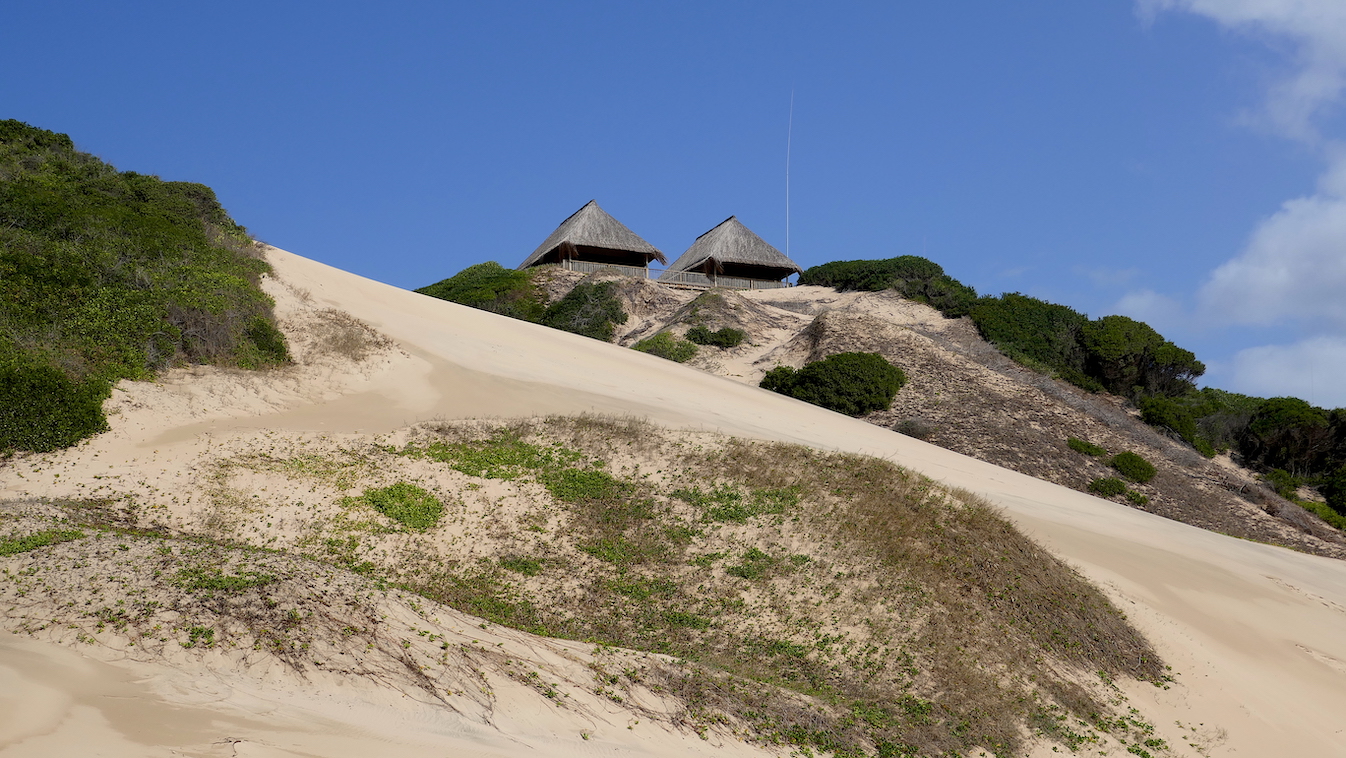 En fin d'après-midi, une partie de pétanque ensablée nous occupe un moment …
And finally we find the right environment for a Pétanque!
… or maybe not?
…..avant un passage au bar de la plage afin d'accompagner les derniers instants de cette chaude lumière dispensée par un soleil couchant.
And here the best spot for the sundowner!
Lundi 12 août
C'est le moment de quitter cet endroit paradisiaque pour aller en découvrir un autre toujours en remontant la côte.
Avant, il faut toutefois refaire en sens inverse les 70 kilomètres de piste de sable mou pour rejoindre la route goudronnée qui va nous ramener le long de la côte du Mozambique.
En chemin, les occupants d'un véhicule arrêté sur le bord de la route nous font signe qu'ils ont besoin d'aide.
Le démarreur refuse tout service, ce qui les voit immobilisés sans autre solution que de démarrer le véhicule en le tractant.
Ni une, ni deux, nous accrochons leur corde au pare-choc de l'Azalaï et très vite le véhicule récalcitrant reprend vie.
Really we could have stayed here for MUCH longer. But we wanted to see some of the coast further north. So we leave paradise after only 2 days.
First we have to return to the road via the 70km sandy track. This time no rain and lower tyre pressure make the trip easier and a little shorter. Close to the park exit we make two guys very happy by tow-starting their vehicle.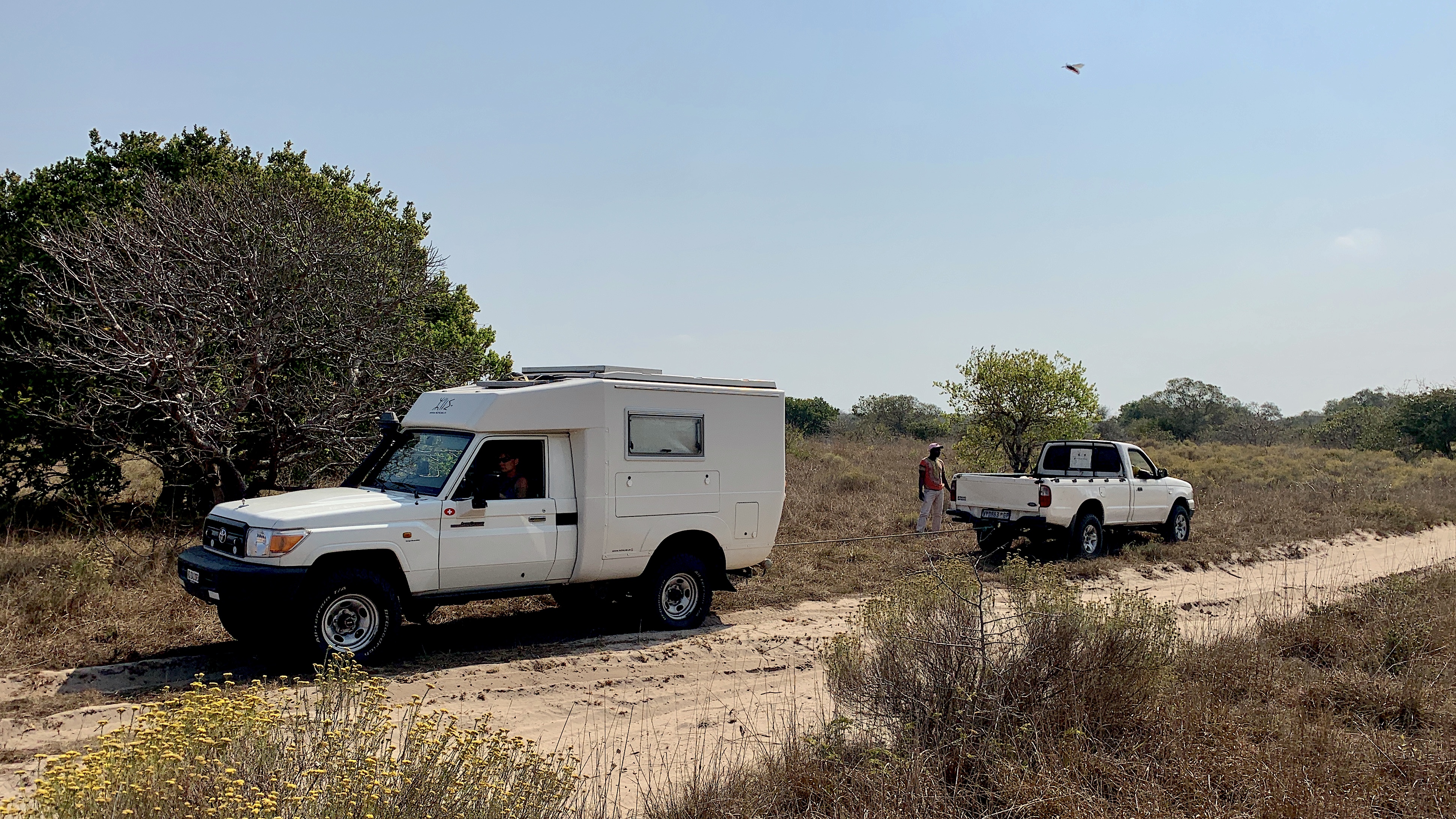 Nous quittons deux personne arborant un large sourire et heureux de pouvoir reprendre la route.
N'ayant pas encore de but fixé pour la journée, l'idée nous prend de repasser une nuit à la « Résidence Las Palmeiras » à Maputo, surtout pour refaire une visite au restaurant Zambi qui nous avait tant plu la dernière fois.
Rapidly thereafter we are once again in the area of Maputo.
To keep it simple we stay another night at the friendly guest house in the city and have dinner at the same place with the same delicious half raw Asian style tuna (I even suspect that Michel"s only motivation to spend one more night in Maputo was this very tuna 🤔).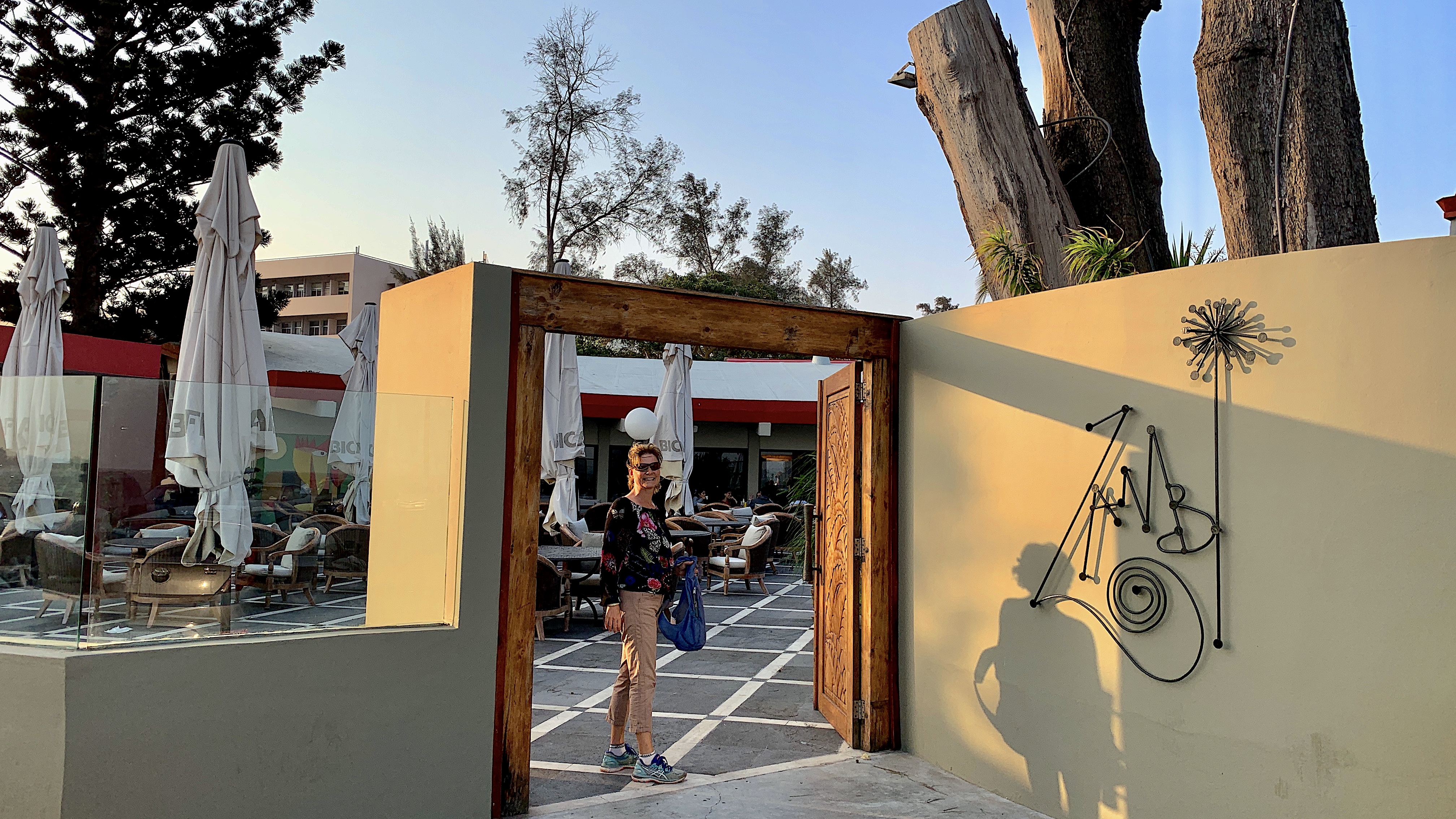 Mardi 13 août – Mercredi 14 août
On remonte la côte en traversant quelques villages typiques de ce pays.
We have another 450km direction north along the coast to get to our next destination. The road is not too bad but the traffic is very slow. So we plan two days for it.
A typical village on our way.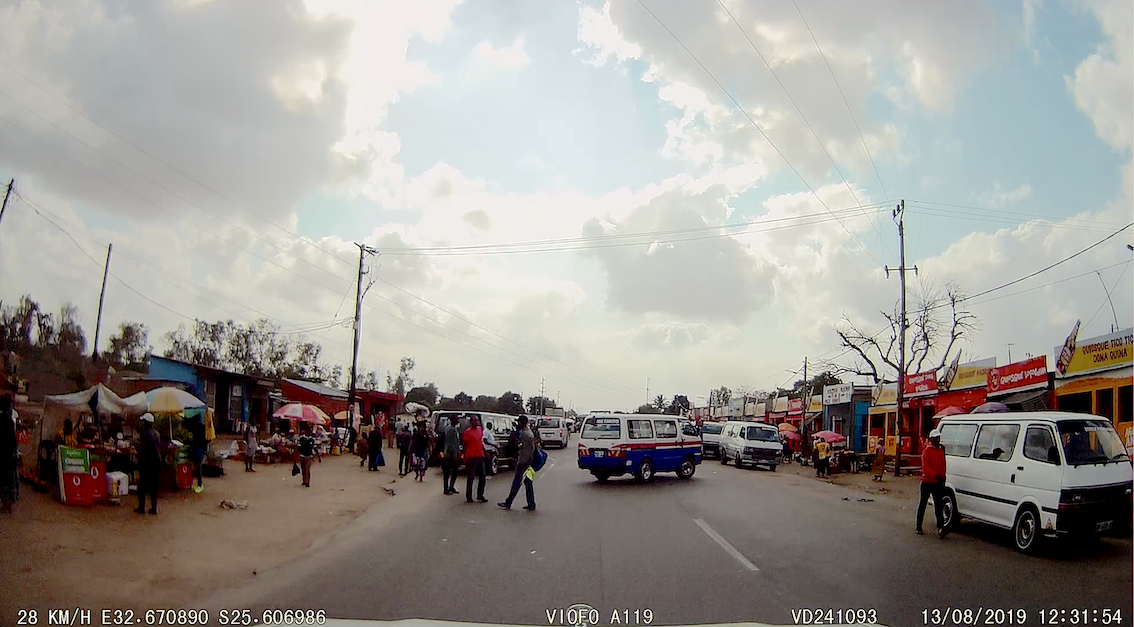 Ce qu'ils arrivent à charger sur leurs véhicules ou remorques nous étonne toujours.
A typical vehicle on the road 😉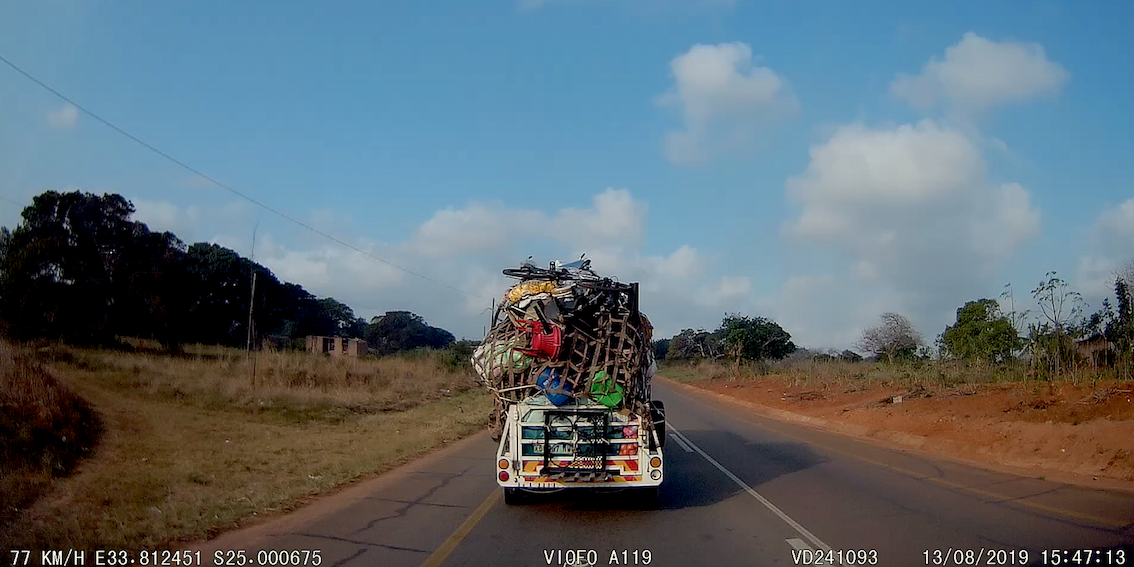 Après 4 heures de route, un contrôle de police tous les 5 kilomètres (heureusement pour nous, ils contrôlent en majorité les véhicules locaux) et 230 kilomètres parcourus, nous arrivons à « Sunset Beach Lodge » près de Chidenguele.
4 hours and 230 km later we have enough and stop at another lovely place.
Sunset Beach Lodge close to Chidenguele.
We are on our own at the campsite. Sundowner at the swimming pool and fresh see food platter for dinner with a bottle of Vinho Verde (imported from Portugal!). 😋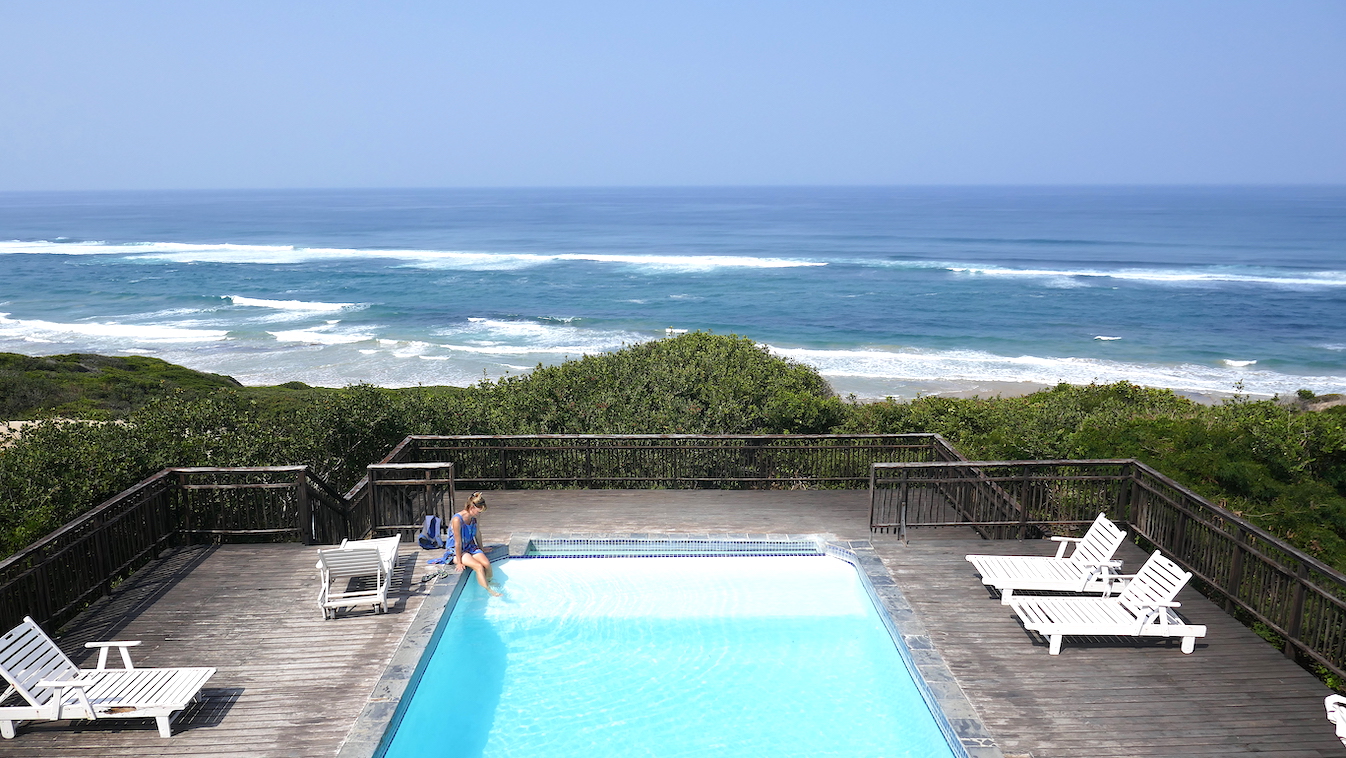 Soirée restaurant et nuit paisible car nous sommes les seuls dans le camping.
Jeudi 15 août
200 kilomètres plus au nord, toujours le long de la côte, en face d'Inhambane, se trouve un petit village du nom de Tofo.
Another 4 hours and 200km further we are at Tofo, a little fishing and holiday village close to Inhambane.
Relaxed atmosphere, a few cosy beach bars and restaurants, a colorful market, some diving operator posters and the endless white beach with breaking waves welcome us.
Il paraît qu'ici, on peut nager avec les requins baleines !!!
C'est encore une chose que l'on a jamais faite et tout de suite nous sommes très intéressés par l'idée.
Nous nous rendons à la « Turtle Cove Lodge« , située à 15 minutes à pied du centre du village pour y passer ces prochains jours.
A peine arrivés, nous partons à pied en vue de réserver notre sortie « nager avec les requins baleines ».
Nous trouvons notre bonheur à l'agence « Peri-Peri Divers » qui nous inscrit pour la sortie de demain matin, qui paraît idéale car peu ventée, ce qui apporte l'avantage d'une mer relativement calme.
We have read that this is one of the few spots around the world where you can swim with whale sharks. We are definitely interested!
We park the Azalaï at our new campground Turtle Cove, walk back to the waterfront and sign up for a so called "Ocean Safari" with Peri Peri Divers. 
No guarantee to actually see one of these wale sharks but the wind will drop for tomorrow which makes good conditions to snorkel in the open see (less waves and better visibility).
It is also the best season to see wales and maybe Manta rays .
We will see.
We wander through the village and along the beach and really, really, really feel on holidays. 
To complete the picture we sit down for a drink and a Japanese seafood dinner. The owner, a Japanese woman, tells us that she came here 8 years ago as a student to do some marine research and never left again. We understand.  And while we enjoy our absolutely delicious Japanese seafood we decide to eat here at least one more time 😊
La plage est encore une fois magnifique et les rues très animées.
Au détour d'une ruelle, un étrange véhicule vient à notre rencontre.
En y regardant de plus près, nous reconnaissons ce qu'il reste d'un « Toyota Land Cruiser » qui, malgré son état avancé de délabrement, récompense son propriétaire de ses bons et loyaux services.
A marimba player at the market makes everybody clap their hands and some dance. He is paid by fruit and veggie donations and some pence. 
Look at this Toyota Landcruiser. We knew they run forever 😁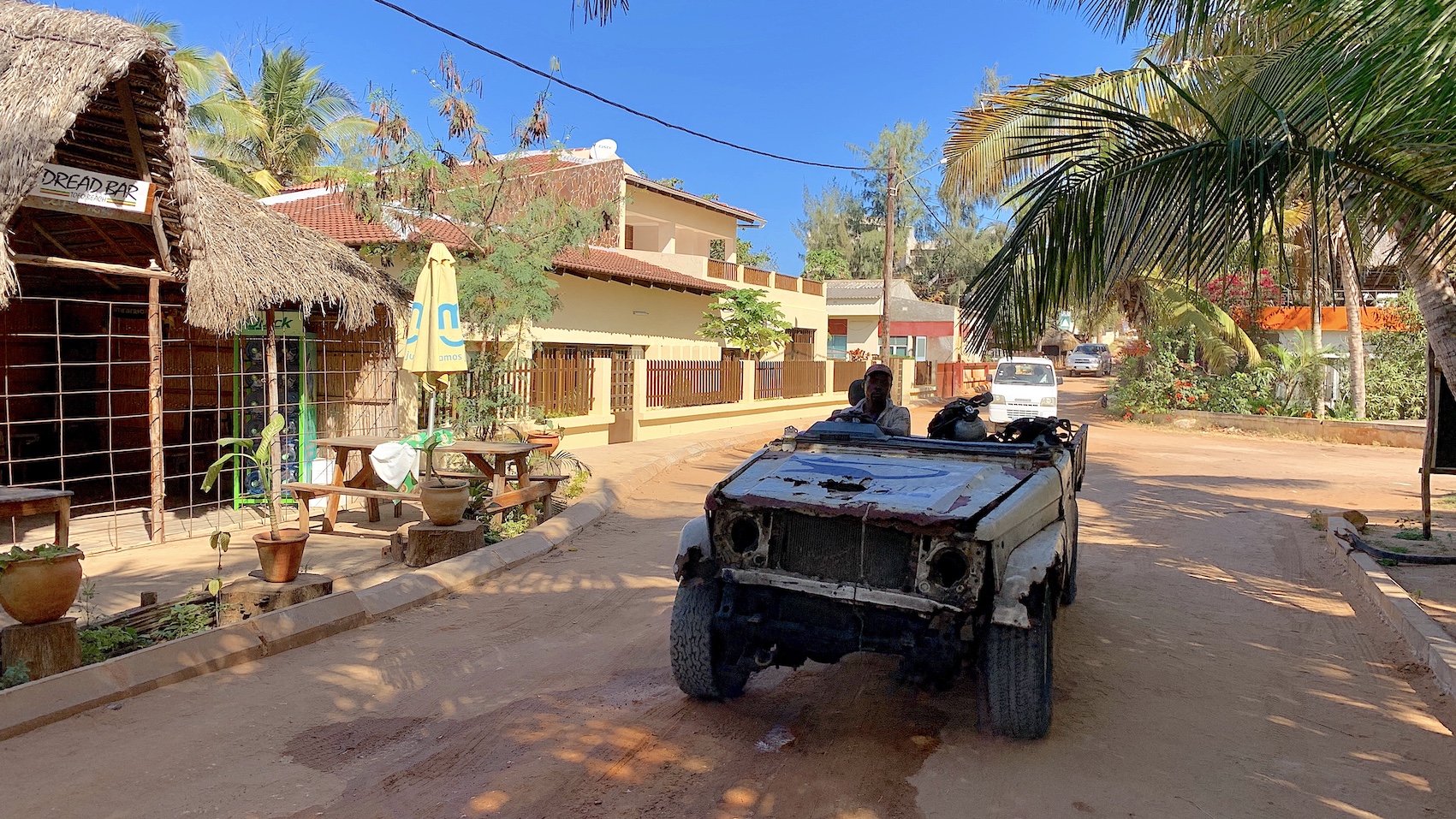 Peu après, sur la plage, un Land Rover Defender a aussi une longue vie derrière lui.
And a Landrover about the same age!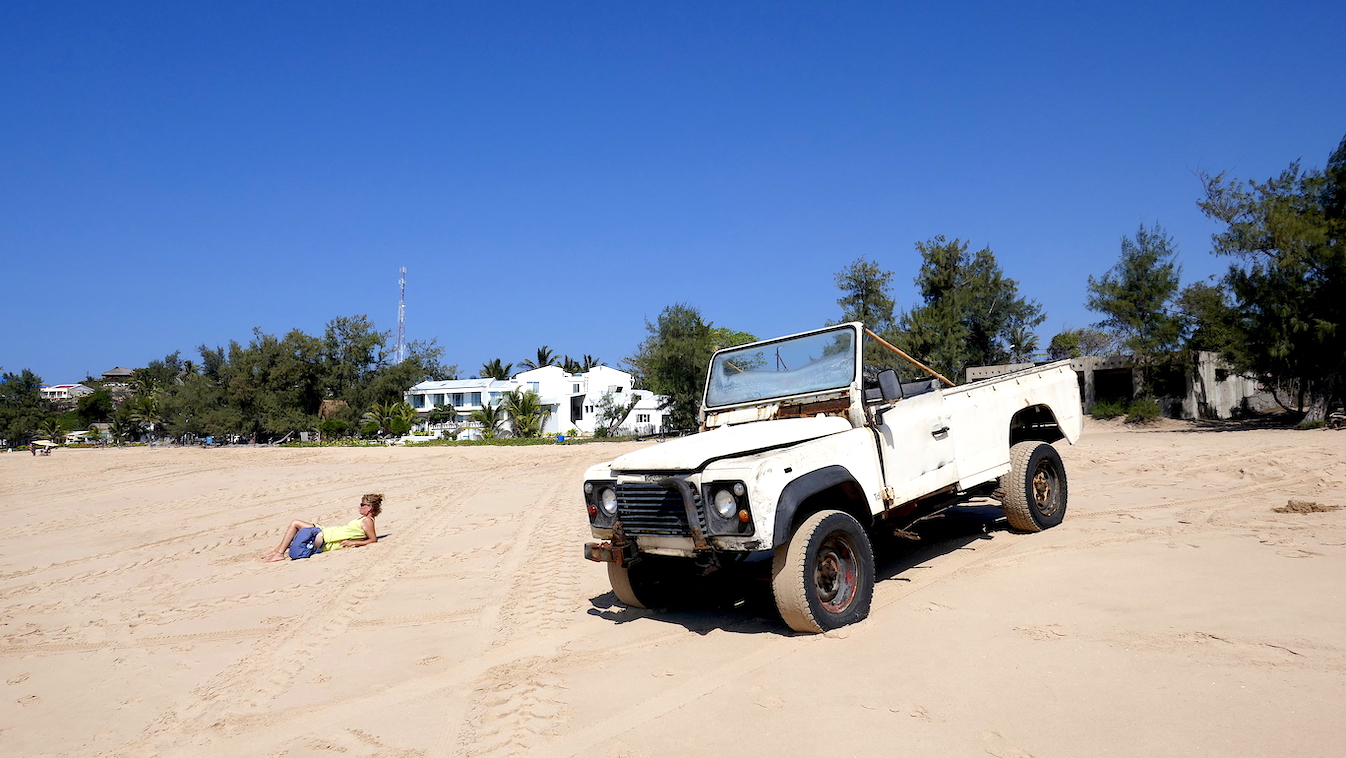 Vendredi 16 août
Nous avons rendez-vous à 10h00 pour cette sortie d'exception.
Après avoir été dûment  instruits du comportement à avoir envers ce plus grand  poissons des mers, nous rejoignons la plage et le bateau pneumatique qui va nous emmener dans cette aventure.
Here we are with Peri Peri Divers.
After an introduction on how to behave close to the biggest fish on earth and how to launch de boat from the beach we start our Ocean Safari.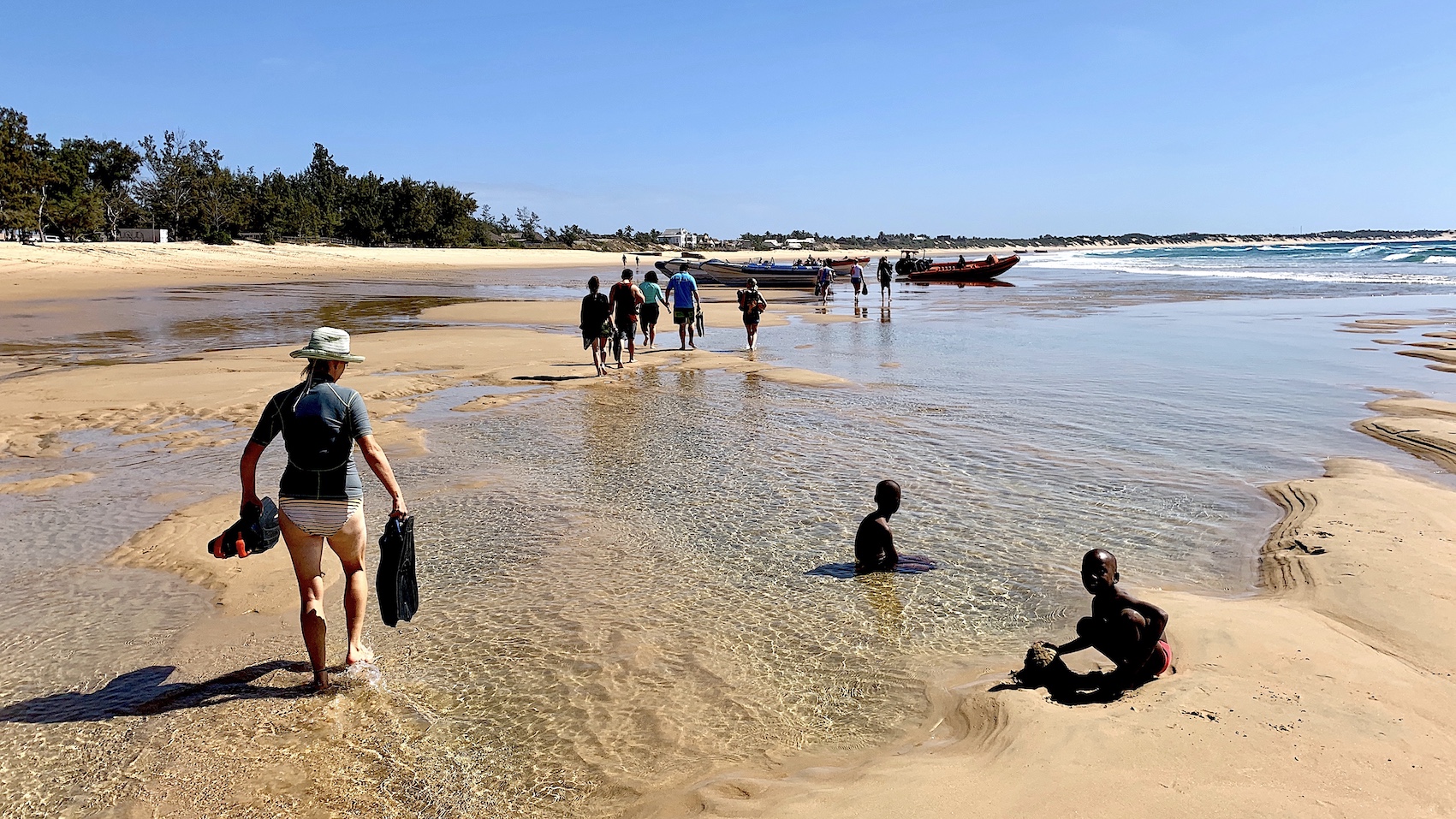 Cela commence très fort avec la mise à l'eau et le passage des 4 à 5 premières barres de vagues déferlantes.
Fermement agrippés aux lignes de vie qui courent le long de l'embarcation, nous subissons les ruades du dinghy propulsé par ses 180 chevaux, pointant son étrave  au ciel pour monter sur le rouleau et retombant derrière avec brutalité.
The beach launch of the boat is the first adventure. A tractor pushes to boat into the waves. We are in the water either side of the boat and push it a little further, just until the two 90 horse power engines propellors touch the water and hold the boat more or less straight into the waves. We are asked to now jump into the boat. Not an easy task with the waves and water up to the belly. But every body makes it more or less pulled by the crew. 😅
The helmsman gives full power and propels the boat in huge jumps over the breaking waves. We all cling to the life line as told during the introduction. We then wiz over the water in full speed.
Up to now the trip is a little more sporty than we had imagined 😉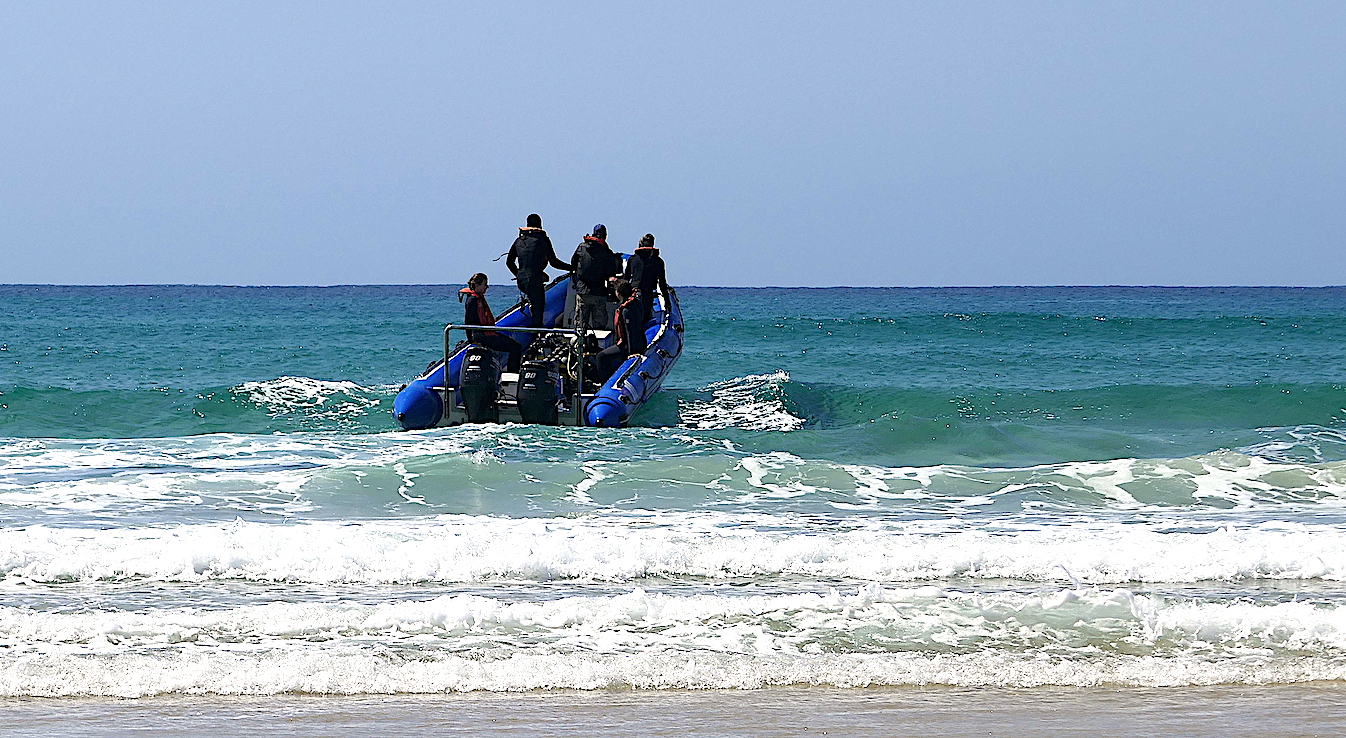 Dix minutes s'écoulent à peine après avoir rejoint des eaux plus calmes que le pilote nous crie:
Requin baleine droit devant! Préparez vous à vous mettre à l'eau!
En moins de 30 secondes, tout le monde met ses palmes, son masque et son tuba et se laisse glisser doucement dans l'eau comme nous l'avons appris afin de ne pas effrayer l'animal.
Notre regard se portant vers les profondeurs, nous apercevons alors, directement en dessous de nous, ce majestueux poisson pouvant atteindre jusqu'à 20 mètres de longueur pour un poids de 34 tonnes.
Le nôtre, d'une longueur estimée de 4 à 5 mètres, évolue avec lenteur à quelque 7 ou 8 mètres sous la surface, nous laissant tout le loisir de détailler ce corps à large tête et à la robe joliment tachetée.
N'ayant pas de caméra étanche, cette image a été empruntée à internet mais représente assez fidèlement ce que nous avons vu,
At a slightly lower speed we get ready with tuba and palms. The idea is to get into the water as quickly as possible (but still smoothly) when the crew tells us to.
Only 10min later comes the call "wale shark!" and "get ready!" and then "Go!"
The 8 passengers on board all glide into the water more or less smoothly. The idea is not too frighten the animal but the boat is a actually quite high over the water and the swell moves the boat around. So the first time we get into the water we improvise a bit …
We are lucky and immediately see the spotted giant! 🤩😍😄
She is roughly 4 meters long and advances relatively slow. Without the palms we would not be able to follow through.
Later we get back on board (another exercise that needs some practice 😅) the marine expert that is with us explains that she is probably 10 years old and that fully grown wale sharks can be up to 20 meters an weigh up to 34t.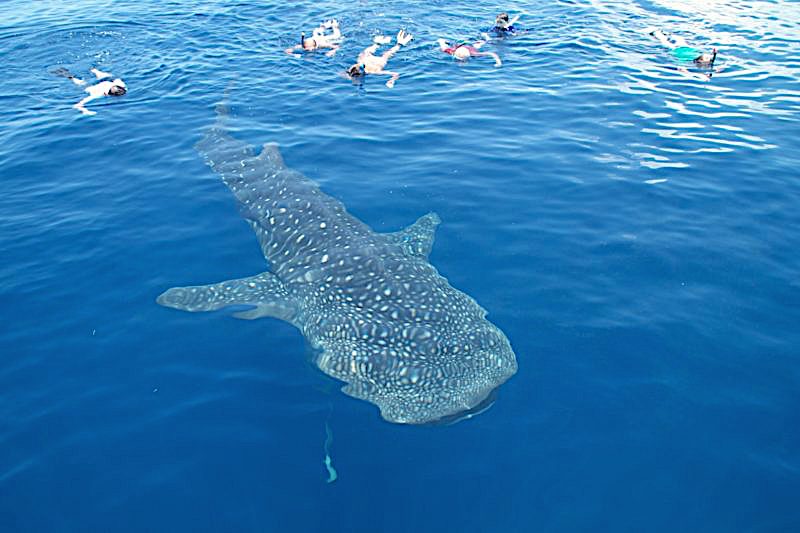 Nous aurons encore le loisir de faire 3 sorties supplémentaires avant de lui dire au-revoir et de nous diriger un peu plus vers le large pour y voir cette fois, non pas un poisson mais un mammifère marin qui croise dans les parages.
C'est ainsi que nous avons la chance de côtoyer et d'accompagner 4 baleines à bosse durant cette même sortie.
FANTASTIQUE !!! C'est ce que tout le monde se dit après avoir vécu ces moments d'exception.
Après être resté 2 bonnes heures sur l'eau, il faut maintenant rejoindre la plage et repasser les fameux rouleaux dans l'autre sens.
Cette opération se fait avec beaucoup plus de douceur car le pilote laisse le bateau surfer sur la vague avant de mettre plein gaz à quelques mètre du rivage  et de propulser l'étrave droit sur la plage jusqu'à s'échouer tranquillement, freinés par le sable.
Two more times we get into the water to snorkel with her (gettin off and on board becomes significantly smoother and more elegant too 😉).
Our guide then decides to move on.
WOW!!! SOO COOL!!! 🤩😎😍 
We are all super excited about our luck!!! 
While we still cheer about it the boat wizzes along until the call: Wales!
Over the next 30min or so we see 4 different wales quite close and quite BIG compared to our suddenly rather small boat! (No snorkeling with wales).
The final excitement is the full speed arrival at the beach. The helmsman advances the boat a little faster than the waves and lifts the big motors out of the water only at the very last second and we slide surprisingly softly over the sand. 
Uff, the man knows what he is doing 😅
What an experience! We loved it!
Le bateau est ensuite pris en remorque par un tracteur, pour l'amener hors d'atteinte de la marée montante.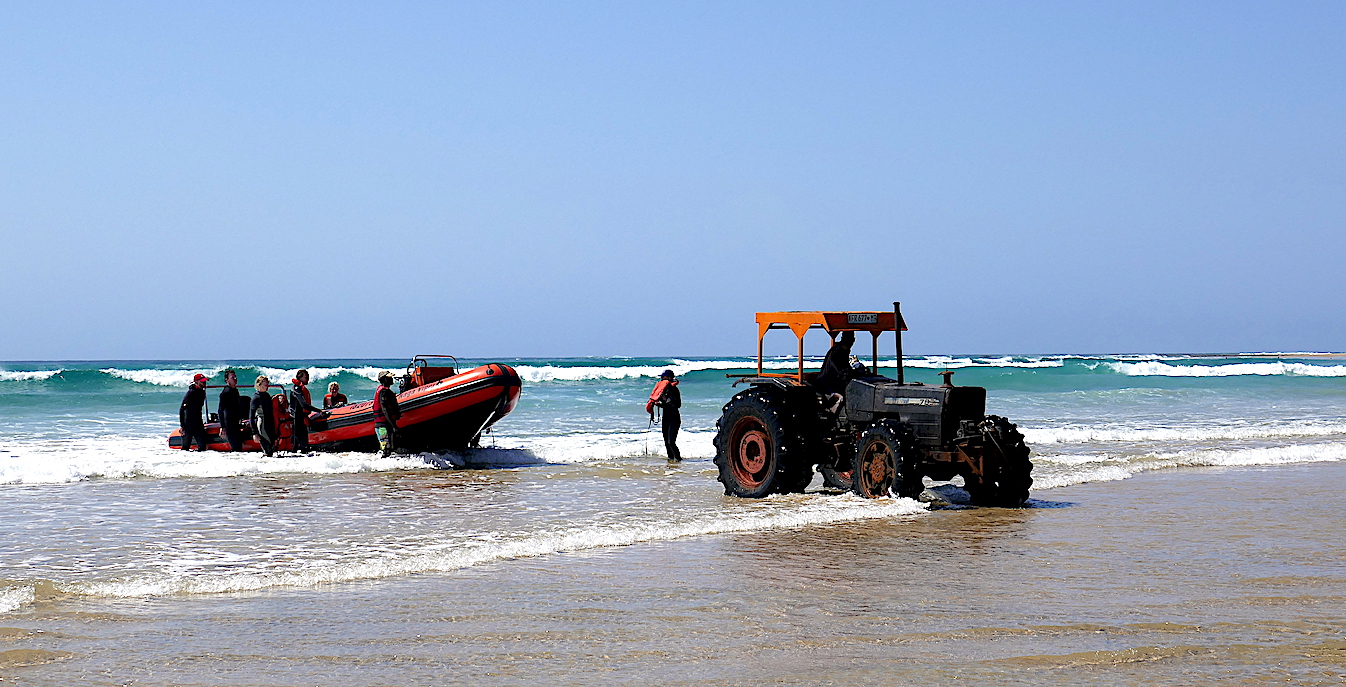 Samedi 17 août
Journée tranquille que nous passons à nous balader le long de cette plage sans fin avec en prime une petite trempette dans cette eau limpide d'une température fort agréable de 24°C.
Next day: "fare niente" at the beach.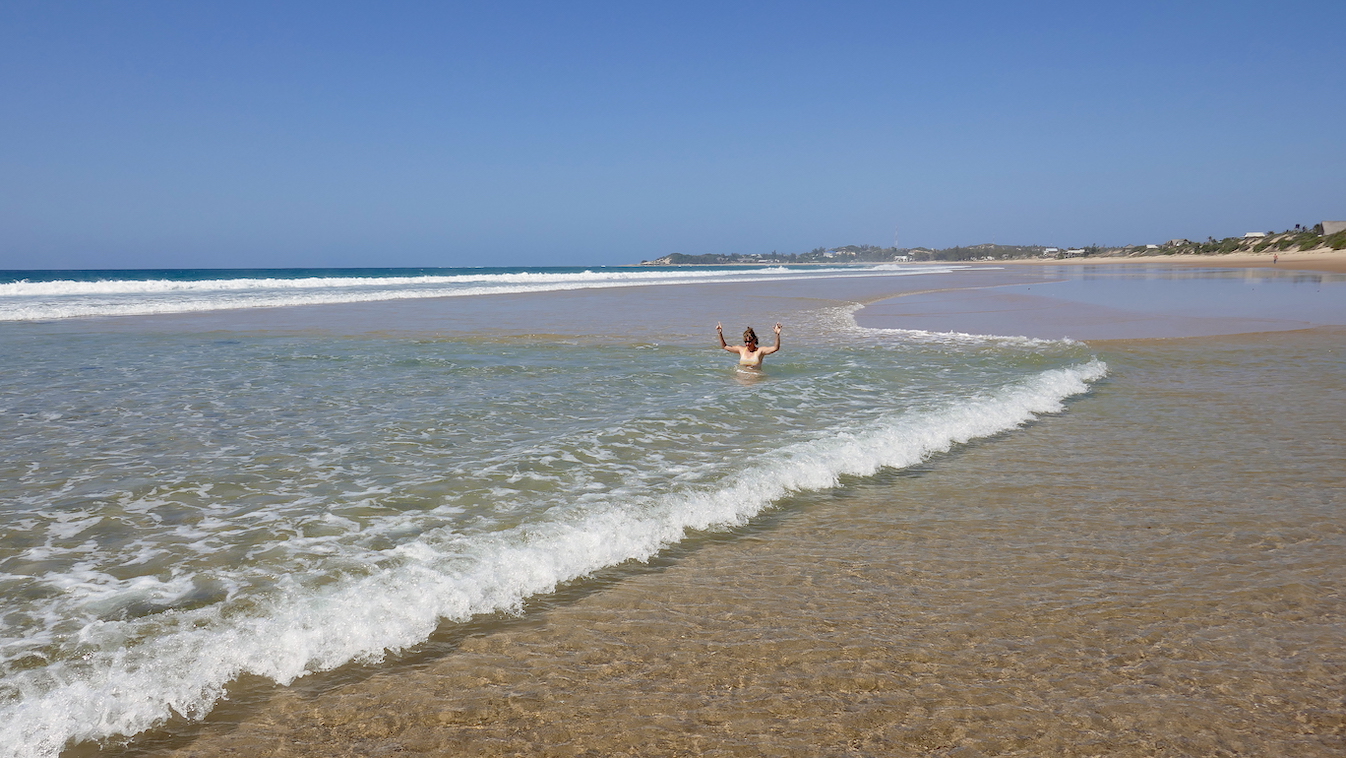 En remontant à notre camping, nous longeons la partie du village habité par les locaux.
The traditional part of Tofo where most of the locals live.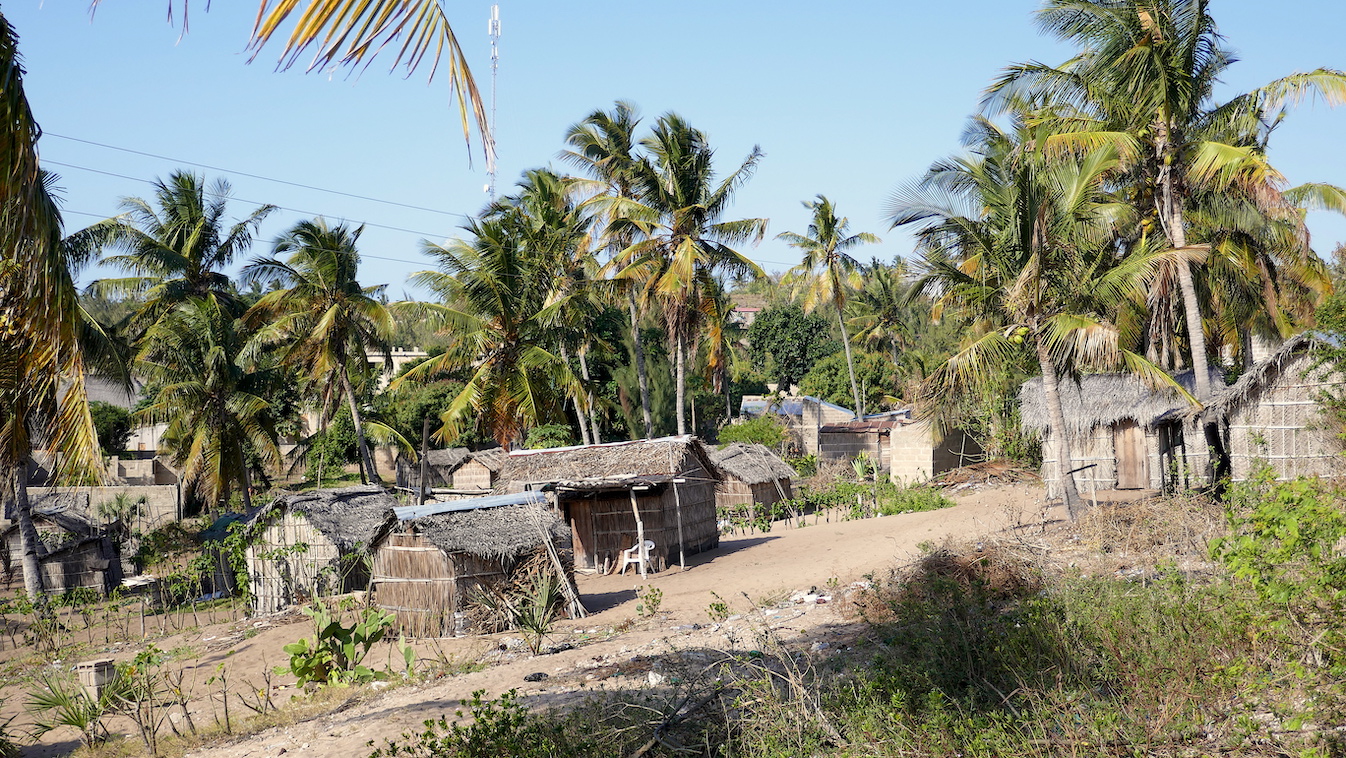 Dimanche 18 août
On hésite entre rester là un jour de plus ou monter jusqu'à la Pointe de Barra,
une vingtaine de kilomètres plus au nord, pour cette avant dernière journée sur cette côte du Mozambique.
Finalement, on décide de s'y déplacer, avec pour objectif de se baigner dans la lagune à l'abri du vent.
Une fois de plus, le destin va se charger de nous fournir une activité encore plus intéressante.
Arrivés au petit village de Praia da Barra, nous nous arrêtons pour acheter de l'accès à internet.
Ce faisant, nous faisons la connaissance d'Hakuna matata et de Rasta, son cousin.
Au cours de la discussion, plutôt que d'aller juste nous baigner, ils nous proposent d'aller faire du snorkeling sur un récif, seulement accessible en bateau.
C'est avec plaisir que nous acceptons l'offre malgré un timing un peu serré car c'est uniquement  faisable à marée basse, ce qui va être le cas dans une petite heure.
Hakuna matata prend son téléphone et appelle son frère qui possède un boutre (bateau à voile arabe) qu'il utilise pour la pêche, et lui demande s'il pourrait nous prendre à son bord pour nous amener sur le site du snorkeling.
La réponse parait positive car nous nous rendons directement au bord de la lagune, emportant les deux compères sur les marche pieds de l'Azalaï.
For our last day at the beautiful Mozambican coast we hesitate to stay another day at Tofo beach or go to visit the Punta do Barra 20km further north where we can swim in the wind protected lagoon.
We decide for the latter.
At the entrance of the village Praia de Barra we buy one of the big, delicious Papayas and some tomatoes that the women sell at the roadside. Michel also buys a few more Mb Internet access for the Mozambican chip we got for his phone.
While doing so we meet Hakuna-Matata and his cousin Rasta and accept their offer to takes us snorkeling at a reef in the middle of the lagoon. It is too far to swim there so the idea is to take us there with one of the traditional wooden sailboats the fishermen use here.
Sounds great!
The tight is ideal right now so we leave immediately direction lagoon with both of them standing on the footboard either side of the Azalaï.
On the way Hakuna-Matata calls his brother to join us with his boat. (last minute organisation).
Parqués sur le sable et entourés de palmiers……
We leave the Azalaï right at the beach.
….Rasta scrute l'horizon en vue d'apercevoir notre boutre.
and wait…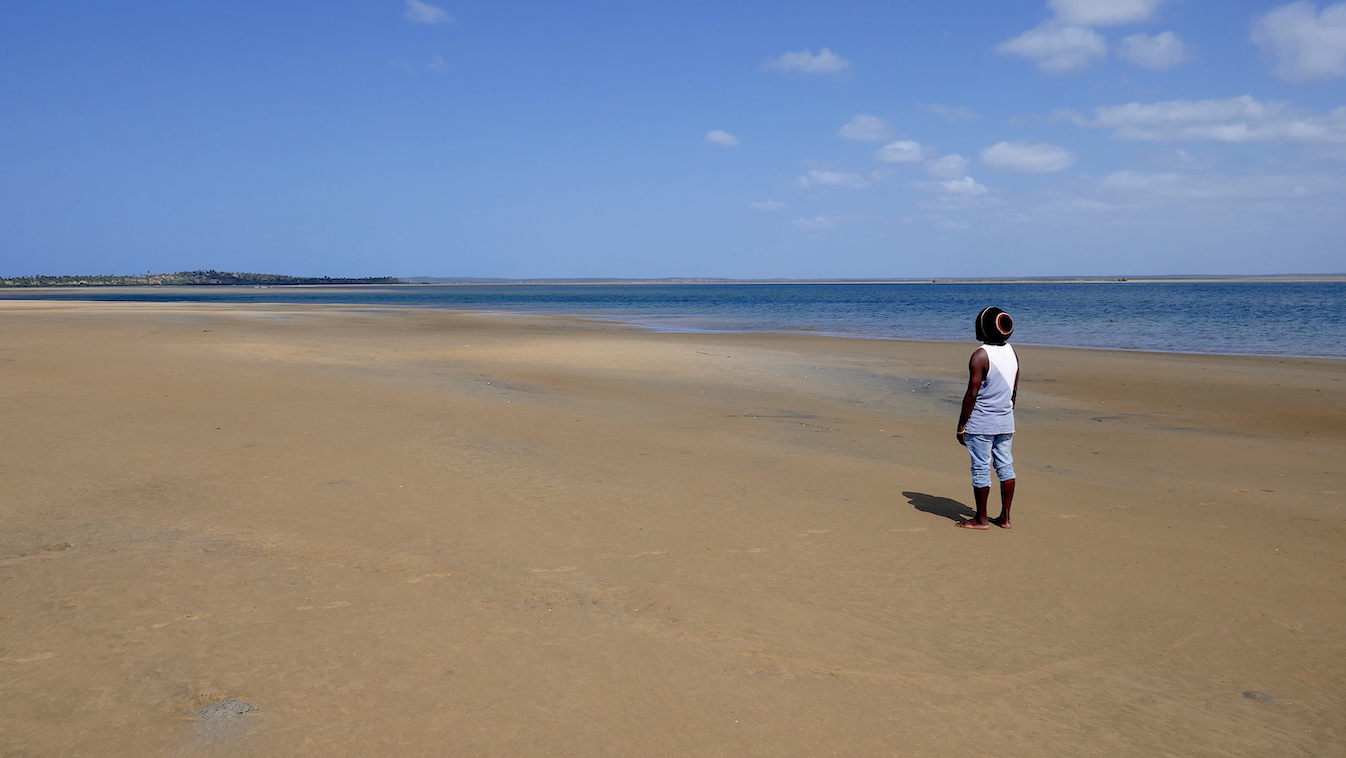 Pendant que Sylke attend tranquillement à l'ombre d'un palmier.
and wait…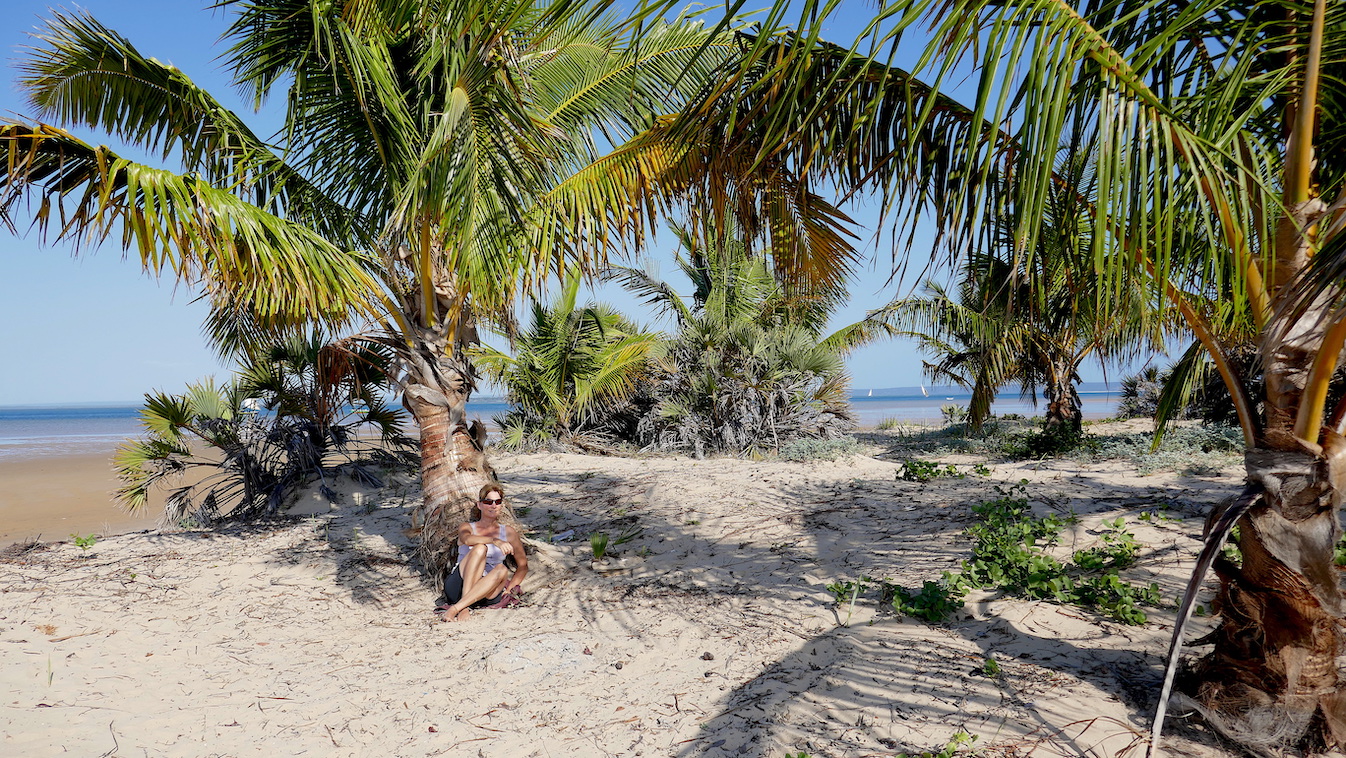 Quelques minutes plus tard, propulsé par sa voile arabe, le voilà qui arrive.
Here it comes!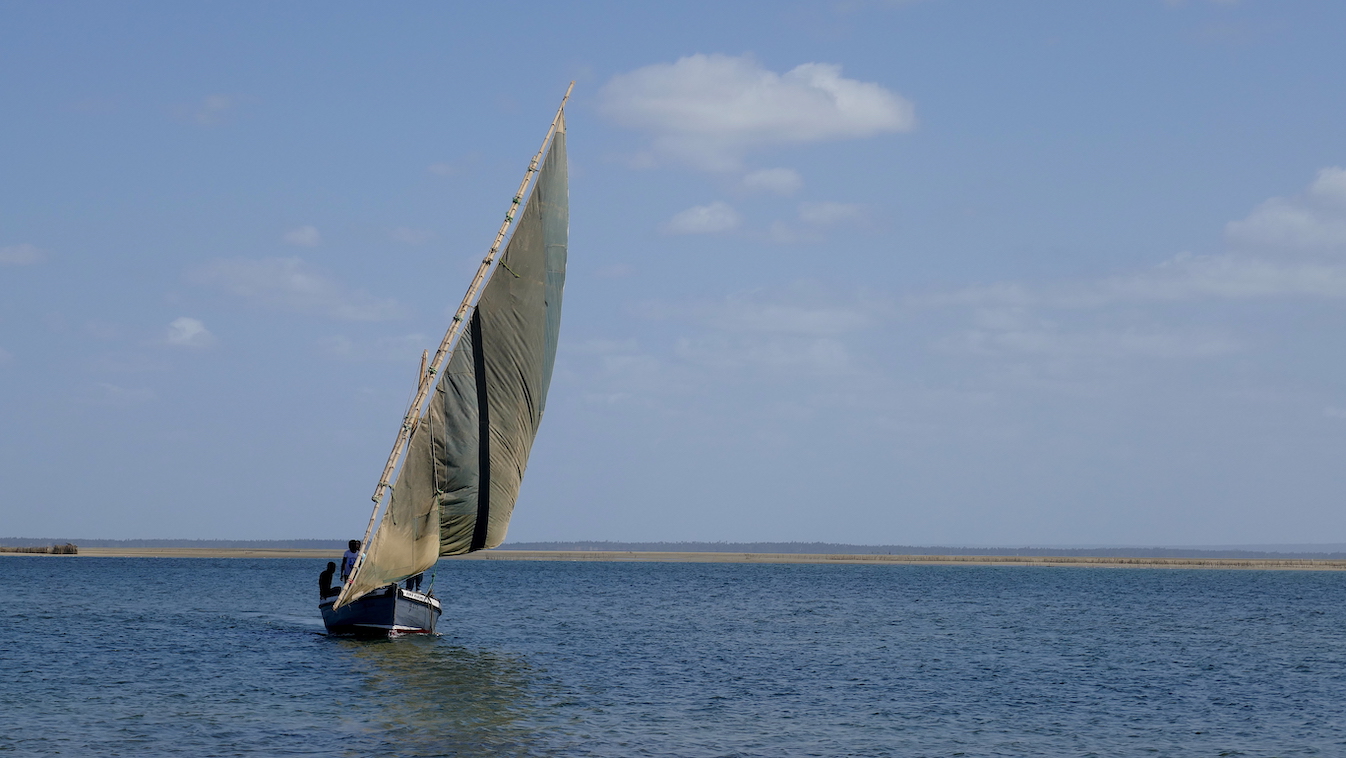 Embarquement immédiat….
And off we go!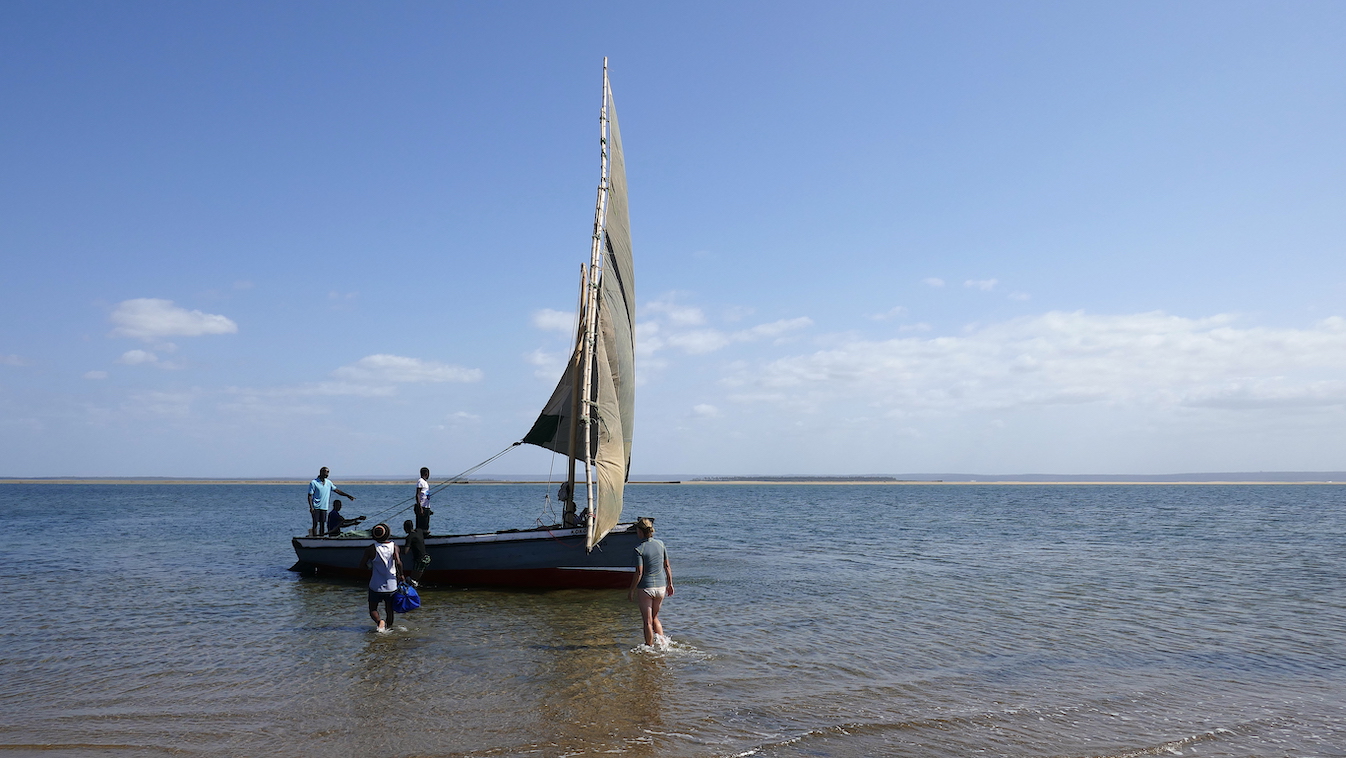 …. et nous voilà en route pour rejoindre le récif, près de Survival island.
It is low tight, the best time for snorkeling here, and the boat has to slalom around various sandbanks. Luckily the brother knows the lagoon well and steers the boat nicely.
It is a beautiful boat. There are no waves and the wind moves the boat swiftly along. We really enjoy the ride!
The boat is entirely made from natural material. To the question how old such a boat can get the owner says: these boats never die you just exchange the broken parts.
Very environmentally friendly, no!! 
(So why did we ever develop things where this does not apply? E.g. a new mobile phone every 2 years 😉).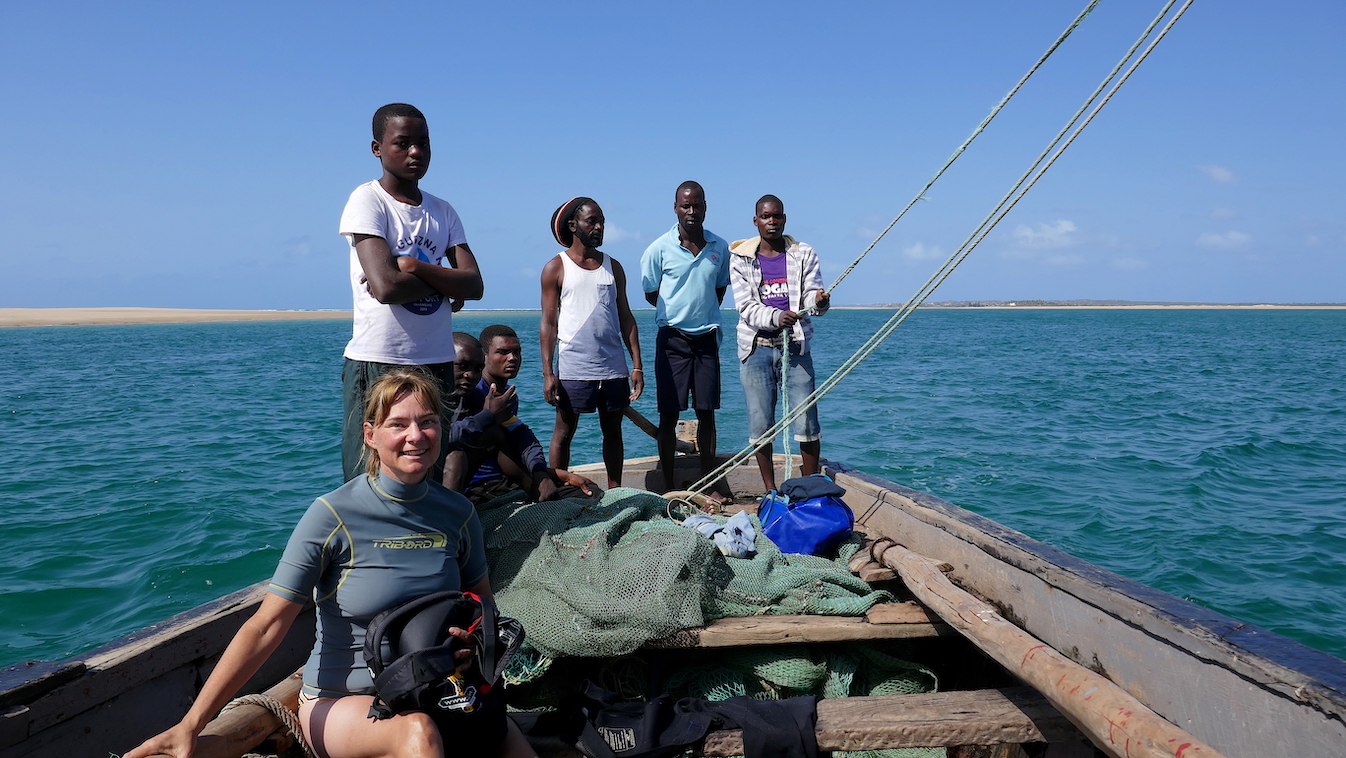 Après une bonne demie heure de snorkeling, les yeux pleins de poissons de récif colorés à souhait, nous remontons à bord du boutre qui va nous ramener à notre point de départ se faufilant entre les hauts fonds à coup de virements de bord.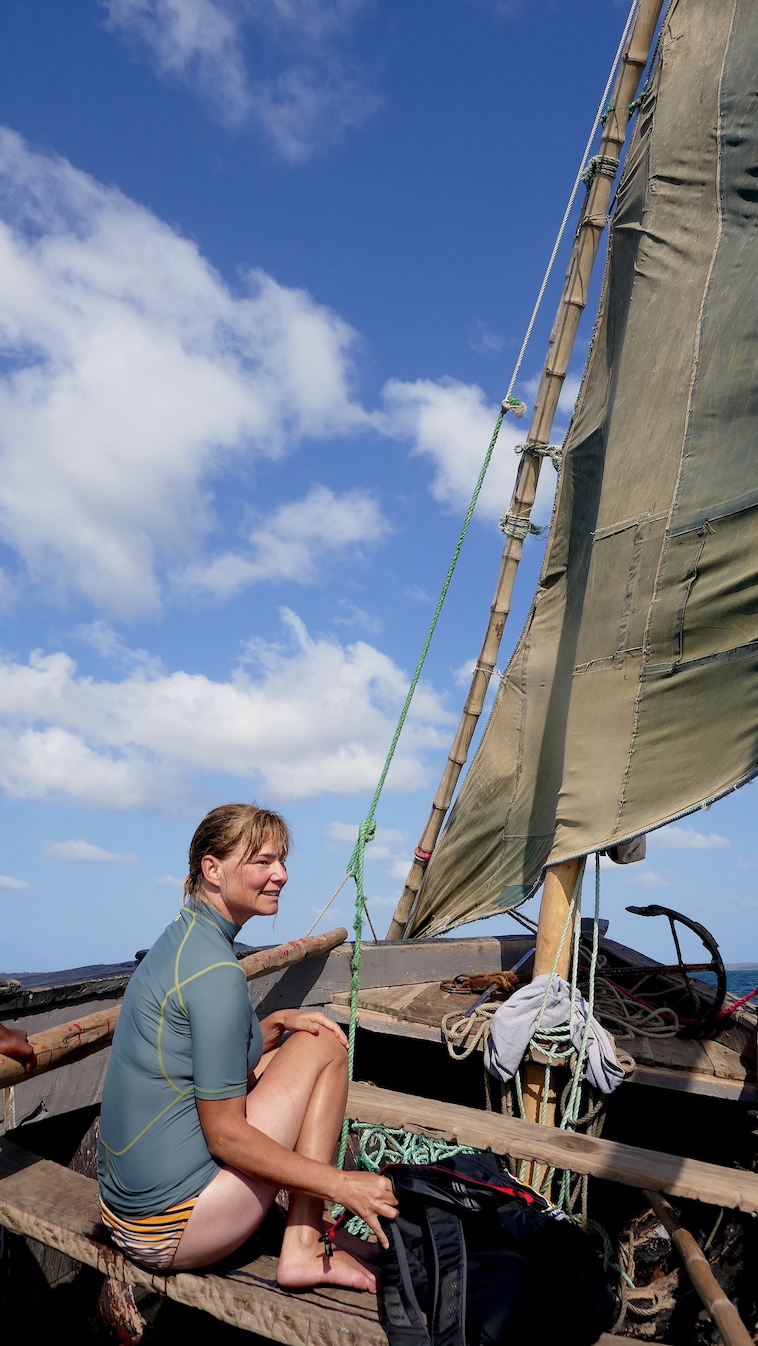 Quelle belle journée !!!
The reef for snorkeling turns out to be rather small but with surprisingly many many colorful fishes and one long yellow moray 😃
What a great outing! 🤩😀
Lundi 19 août
Des bruits de voix attirent notre attention près de notre emplacement.
Nous allons voir de quoi il retourne et voyons toute une équipe de travailleurs affairés à couvrir la charpente du toit d'une hutte en construction.
Il est 08h30.
Our camping is situated in the middle between the lagoon and the Indian Ocean. There is only sand and palm trees. The ultimate getaway and we are the only guests today. We are (again) in paradise 😊
Had we not booked for the Krüger park we would stay a few more days. 
However, since there is alway something that spoils paradise: 
In the morning Michel's legs and arms are full of sandfly bites 😱.
Ouch! This will itch really badly for a week! So finally we are not unhappy to leave. 🥴
The campground also has hatched chalets and their roofs are being redone. We see a group of  people start to work on one roof at around 8:30 in morning.
The first layer is made of weaved palm leaves. This is to give the roof some structure and also for the appearance of the ceiling. Then two layer of reed are added.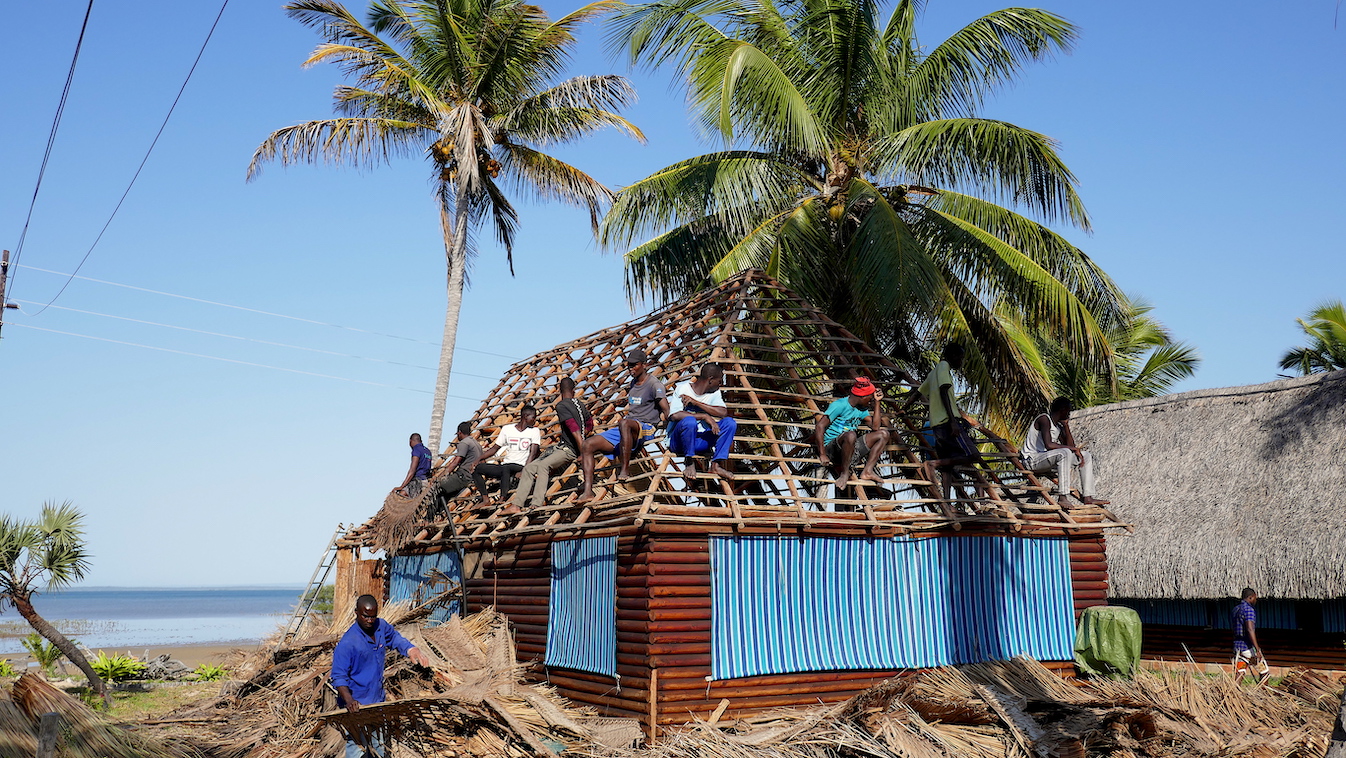 Une demie heure plus tard.
30min later: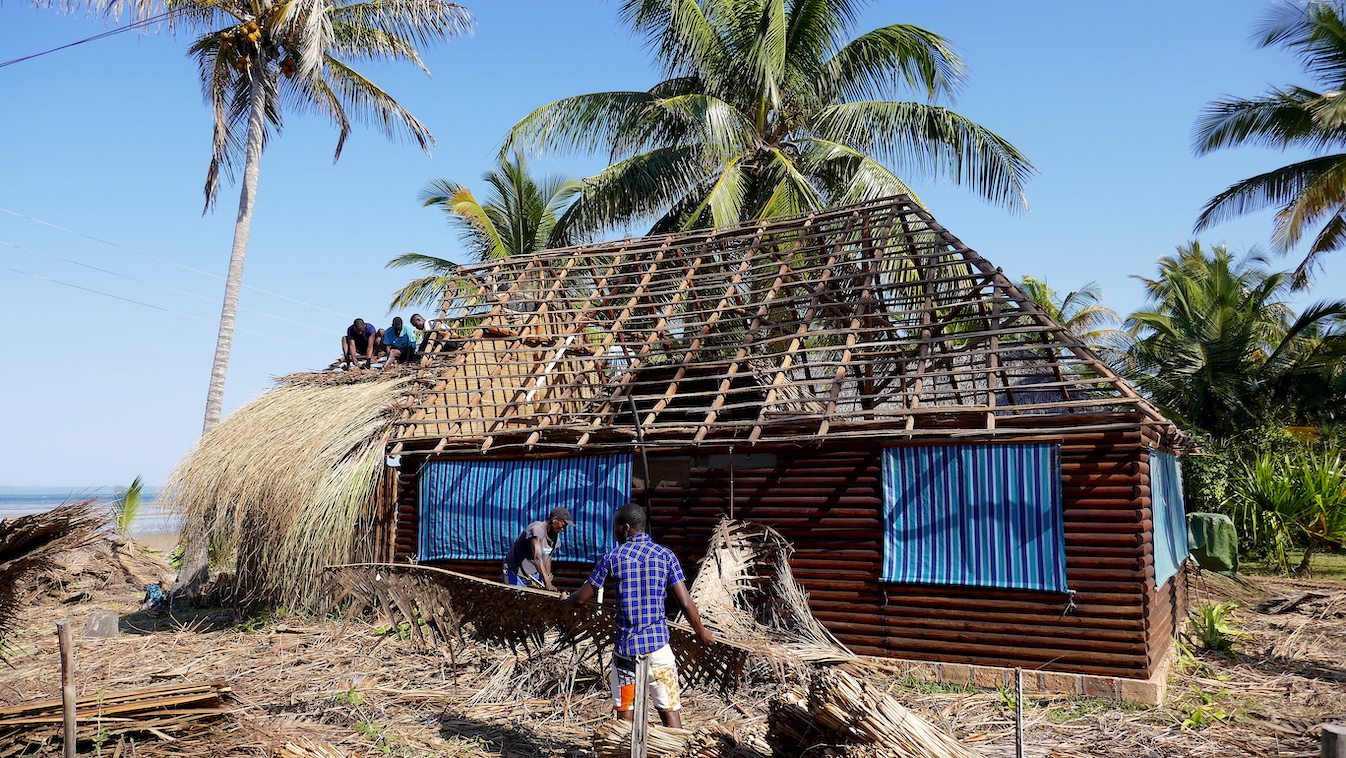 Midi, le toit est couvert d'une couche de feuilles de cocotiers tressées sur laquelle on va fixer à l'aide de ficelle végétale deux couches de roseaux.
This is how it looks at 12pm. Not bad! Now the reed will be cut into shape and the edges will be braided. A roof like this is totally waterproof and can keep up to 20 years!  Unless there is a hurricane like the one that has damaged this roof earlier this year.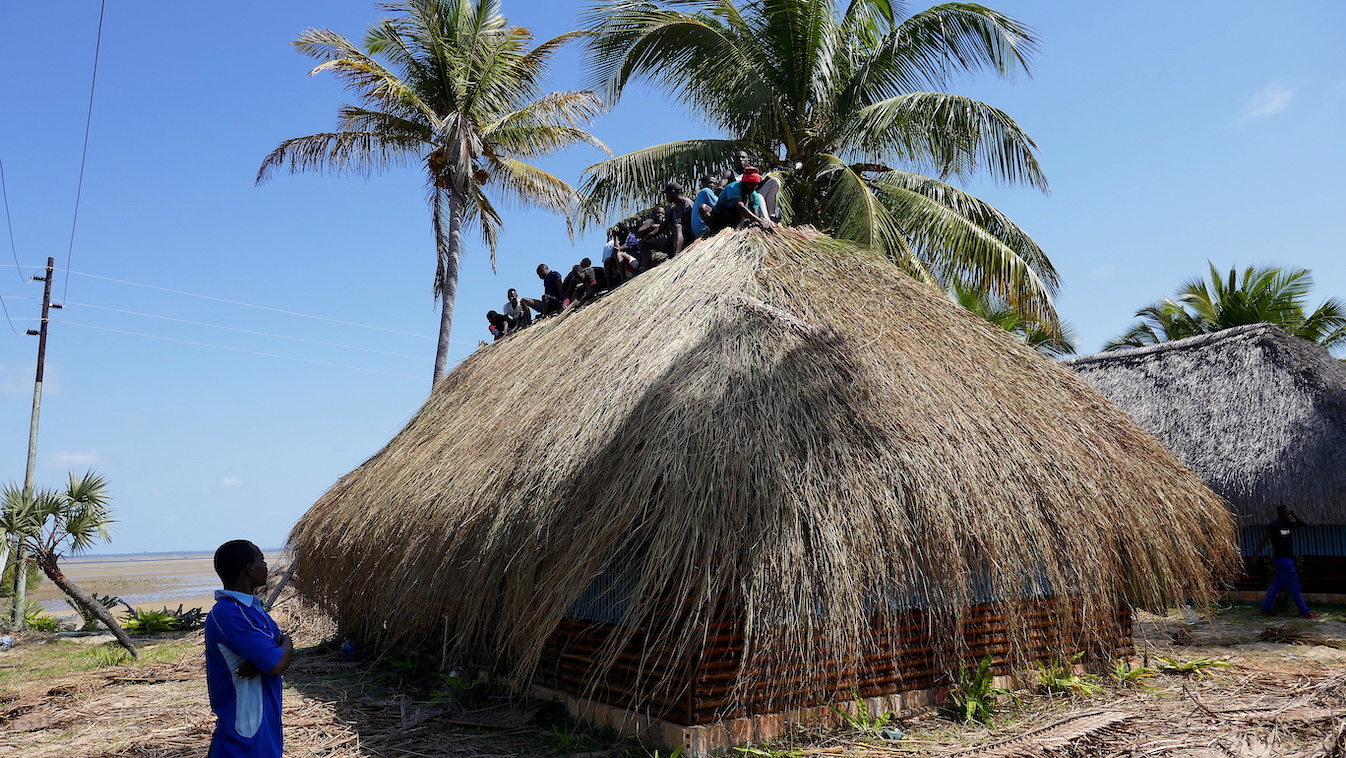 Avant de quitter cet endroit enchanteur, nous faisons une dernière promenade le long de la lagune.
A last walk along the lagoon.
And then we say Goodbye beach holidays😥! …
only to say hello Krüger Park 🤗!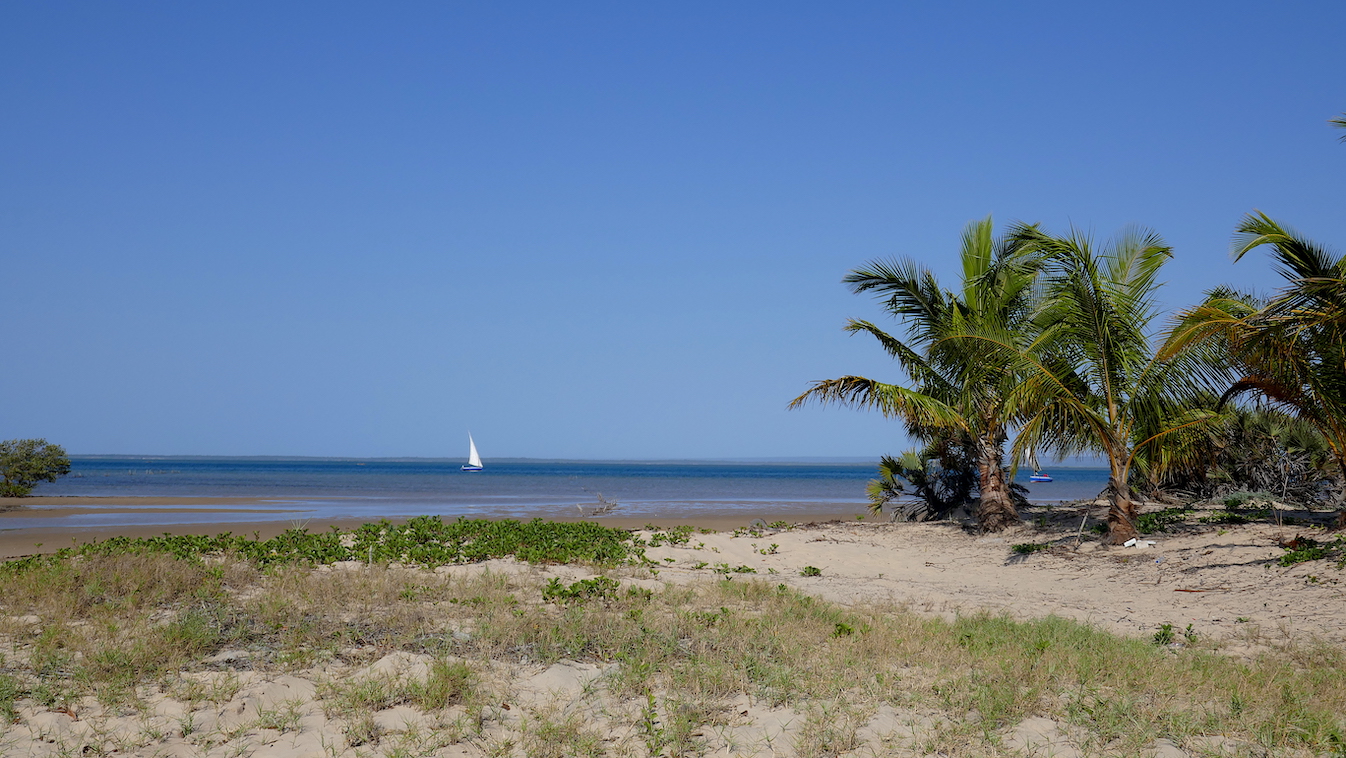 Mardi 20 août
Adieu les belles plages, adieu la côte mozambicaine, nos vacances balnéaires touchent à leur fin !
Noua allons retrouver la savane en remontant vers le Parc Krüger, en passant toutefois d'abord par le lac de barrage Massingir, et en traversant le Parc National du Limpopo.
Des étendues de plantations de légumes et de bananes jalonnent le parcours, et aussi, en alternance, des zones envahies par les termitières.
The Krüger Park sits in the north-east of South Africa along the border of Mosambique. By going north-west we will cross the boarder where the Mozambican Limpopo National Park connects to the Krüger Park.
We leave the coast and drive through a very green agricultural area. Cabbage, maize and tomato feels as well as bananas, papaya an Mango trees are plentiful along the river.. further away the landscape is dryer with lots of termite mounds and the villages look dustier and poorer.
Ici, pas besoin de supermarché pour faire provision de fruits et légumes, il suffit de s'arrêter au bord de la route et les marchandes viennent en nombre proposer leur récolte.
We buy lots of bananas and a big papaya along the road.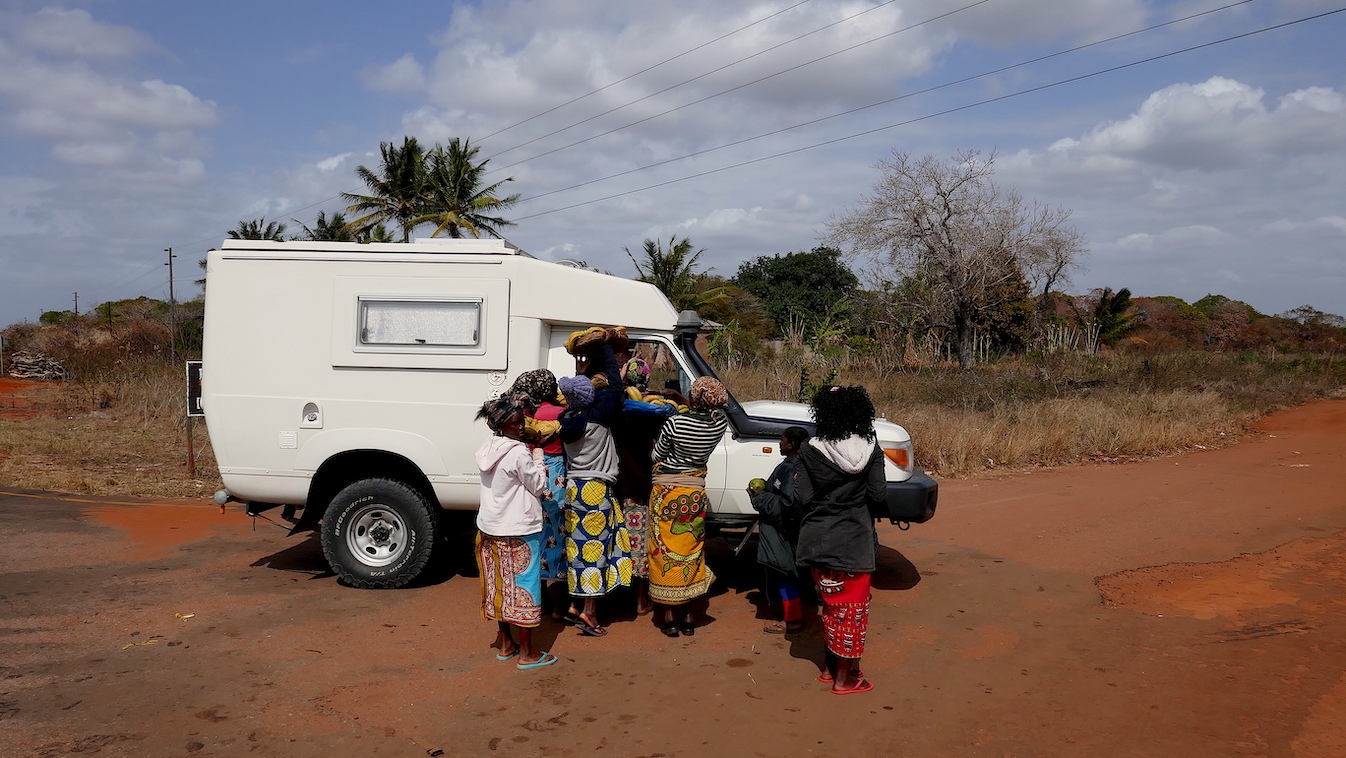 Juste après l'entrée du Parc National, le Campismo Albufeira nous sert de refuge pour la nuit.
Mercredi 21 août
Voilà un passage de frontière comme on les aime!
The Giriondo border post is a big gate and a small office building in the middle of nowhere.
The paperwork is very quickly done on both sides. Our car is very briefly inspected for weapons and then the officer leaves us alone happily munching away on the handful of nuts Michel has offered to him 😉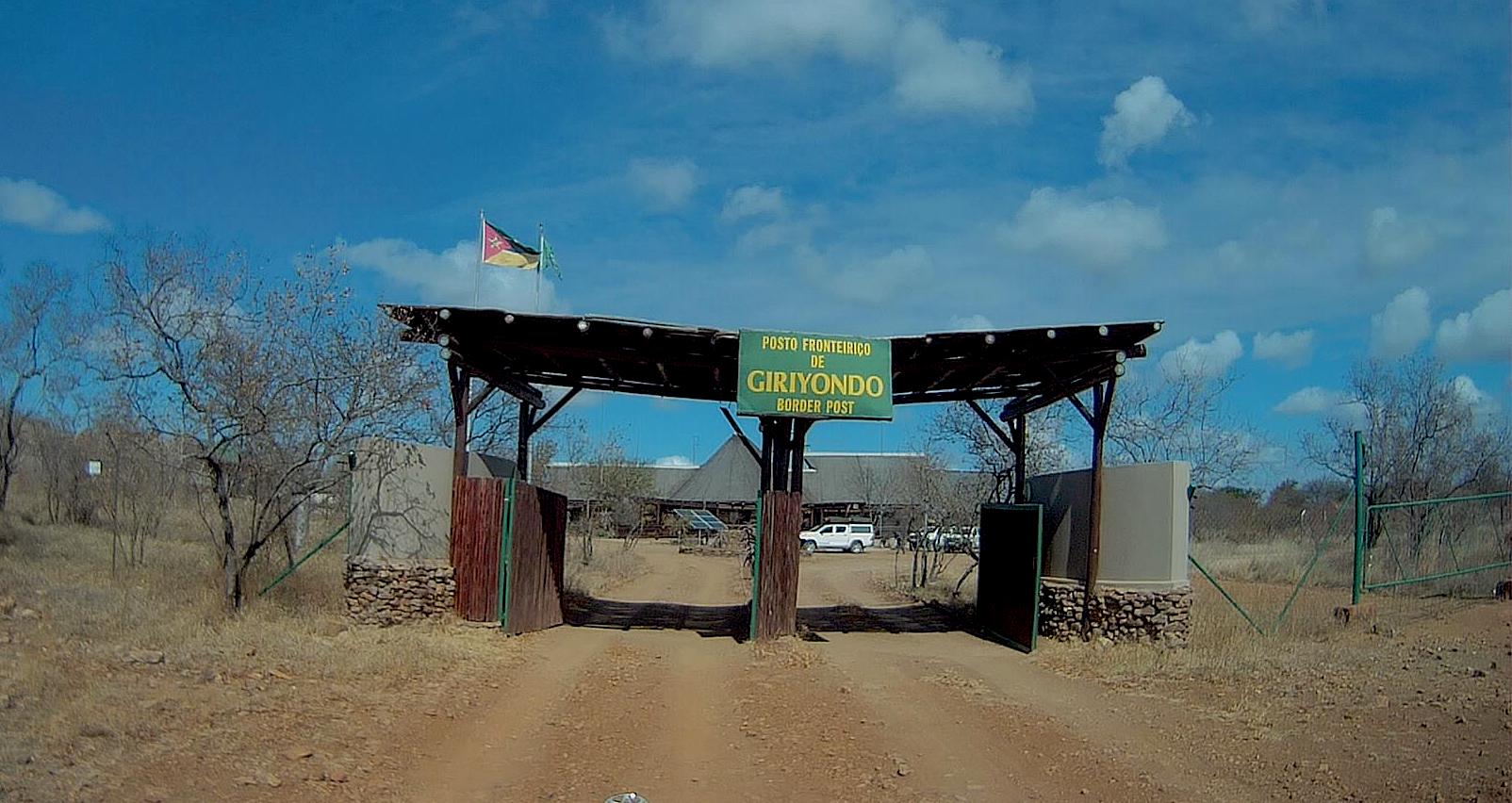 Nous sommes les seuls à ce moment à nous présenter et tout se déroule dans la bonne humeur.
C'est ainsi, que l'on passe du Mozambique en Afrique du Sud, en quittant le Parc National du Limpopo pour entrer dans celui du Krüger.
N'ayant pas trouvé d'emplacement libre à l'intérieur du parc pour aujourd'hui, car c'est la haute saison et tout est complet du sud au nord, nous optons pour la petite ville de Phalaborwa, située juste de l'autre côté du parc pour y passer la nuit.
Michel en profite d'ailleurs pour prendre rendez-vous chez un dentiste, car la même dent à couronne, qui a déjà nécessité une intervention en septembre de l'année dernière, alors que nous étions à Robertson, s'est remise à bouger de manière anormale.
Soirée restaurant à l'excellent « Buffalo Grill & Bistro » ou l'on nous sert à chacun un succulent filet de boeuf saignant de 300g, fait au grill, avec garniture de frites maison et légumes, accompagné d'une bouteille de Shiraz et terminé par un café espresso pour une facture finale équivalente à 41 CHF.
By entering South Africa we also enter the Krüger Park. But only to travers to Phalaborwa for today since all the campsite in the park were full for tonight.
Michel uses the opportunity to fix an appointment with a dentist, we do some food shopping and find a good stake house in TripAdvisor. The name "Buffalo Grill and Bistro doesn't sound very exciting but the 300g (!) fillet stakes we order with home made fries and veggies are exceptionally tender and tasty. Together with a bottle of excellent red wine, coffee and desert we pay 41CHF!
Jeudi 22 août
Nous avons finalement trouvé à nous loger à l'intérieur du Parc national Krüger pour les deux nuits suivantes au Satara Rest Camp.
Ce camp a une capacité de 100 places de camping et de 173 chalets et la seule possibilité disponible pour 2 nuits qui s'est offerte à nous a été un chalet.
On commence avec ça et on verra pour la suite !
En 1898, Paul Krüger, alors président du Transvaal créa un première réserve dans la zone du parc, la « Sabie Game Reserve » afin de commencer à mettre fin à l'élimination progressive de la faune par les chasseurs.
S'ensuivirent d'autres réserves au fil du temps, qui ont finalement toutes été rassemblées en un grand parc en 1926, Le Parc national Krüger.
Aujourd'hui, d'une superficie de la moitié de la Suisse, il voit affluer chaque année plus de 1,3 millions de visiteurs.
On y dénombre entre autres, 147 espèces de mammifères, dont bien sûr les fameux « Big Five » qui sont le lion (1500), le léopard (1000), l'éléphant d'Afrique (17'000), le rhinocéros (5000 blancs, 350 noirs), et le buffle d'Afrique (25'150).
Le terme de Big Five (les cinq grands) a été utilisé pour la première fois en 1936 par Ernest Hemingway dans sa célèbre nouvelle « Les neiges du Kilimanjaro », définissant les cinq animaux les plus recherchés à l'époque par les chasseurs de trophée.
Ce sont aussi les cinq animaux considérés comme les plus difficiles à chasser à pied.
Les agences touristiques ont repris le terme pour l'appliquer cette fois à la chasse photographique.
Chaque touriste vient ici avec l'idée d'immortaliser le plus possible de ces 5 animaux, ce qui fait que vous en avez certainement déjà vu tout plein.
Nous avons donc préféré, pour cet article, donner la faveur à une partie des autres animateurs de ce fabuleux endroit.
For the next two nights we finally find a self catering chalet in the Satara Rest Camp that is well positioned in the middle of the park. Quite a big camp with 100 cmp sites and 173 chalets! Never the less we are very happy to have found something and the camp turns it to be very well laid out and does not feel crowded at all. Our little chalet is cosy and very well equipped with a little kitchen on a covered terrace.
We will improvise for the next days.
The Krüger Park is one of the largest game reserves is Africa. It covers an area of half of the size of Switzerland in northeastern South Africa and extends 360km from north to south and 65km from east to west. A smaller park was initially created, under the initiative of the former president Paul Krüger in 1898, to control hunting and to protect the diminishing number of animals in the area. It then became South Africa's first National Park in 1926.
Today 1.3 million people visit the park every year. We are here in peak season but it doesn't feel crowded at all and further in the north you hardly see anybody. 
147 species of mammalians are present in the park. Included are of cause the Big Five which are the lion, the leopard, the rhinoceros, the elephant and the buffalo.
The term was coined by big-game hunters, and refers to the five most difficult animals in Africa to hunt on foot. In literature this term was first mentioned by Hemingway in his famous novel "The Snow of Kilimanjaro".
The tour operators have adopted the term and now each tourist hunts for a photo of each of the Big Five and you have probably seen plenty of them on face book.
So we decided to show more of the other animals for a change 😉
Tout au long des 120 kilomètres séparant Phalaborwa de Satara, nous faisons nos premières rencontres animales.
Comme ce Héron Goliath faisant sa révérence.
On our first day in the park we start to learn how to spot the often well camouflaged animals.
Here a relaxed Goliath Heron (practicing yoga or meditation?).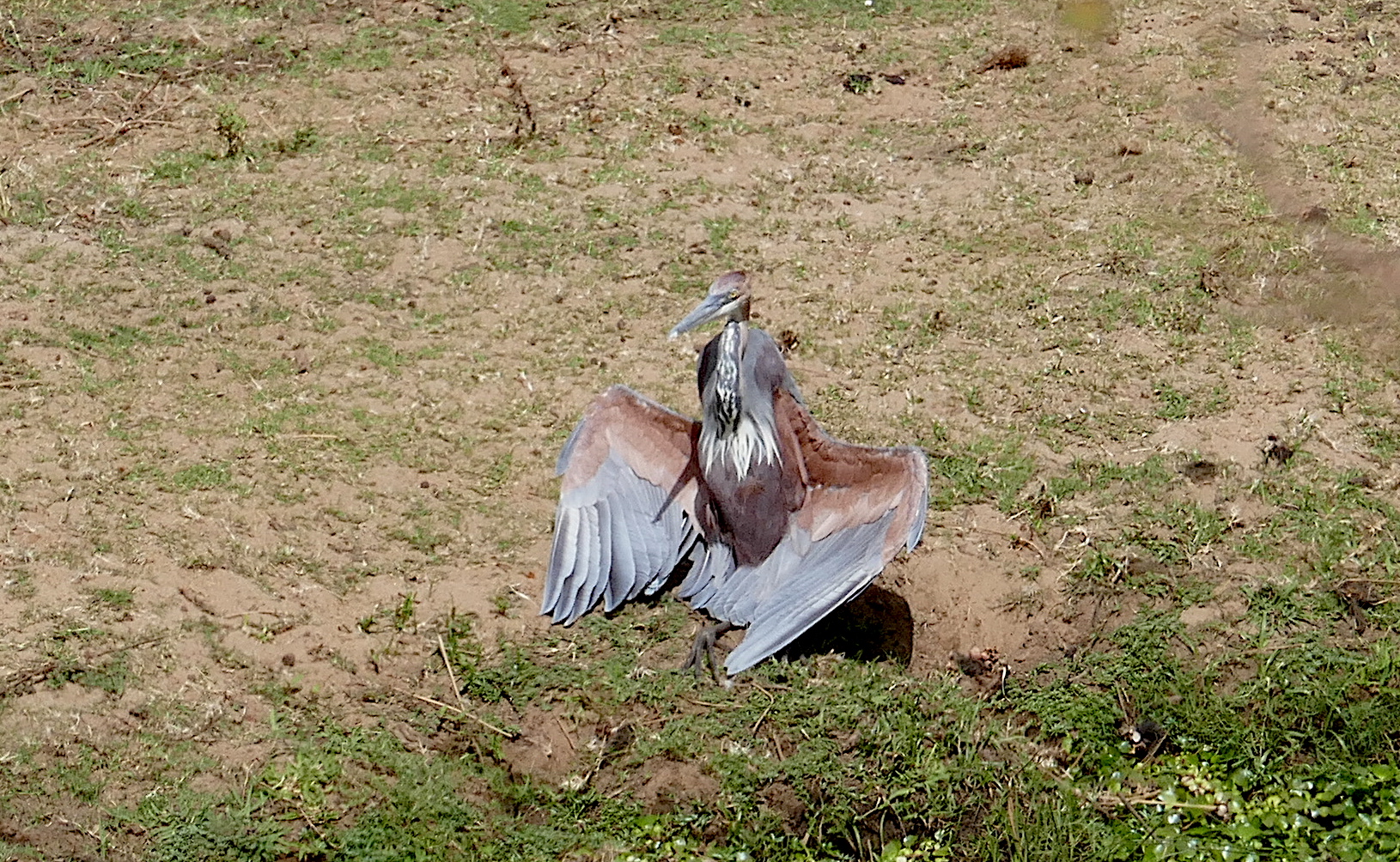 Ce gnou zébré pose juste au bord de la route.
A beautiful striped wildebeest.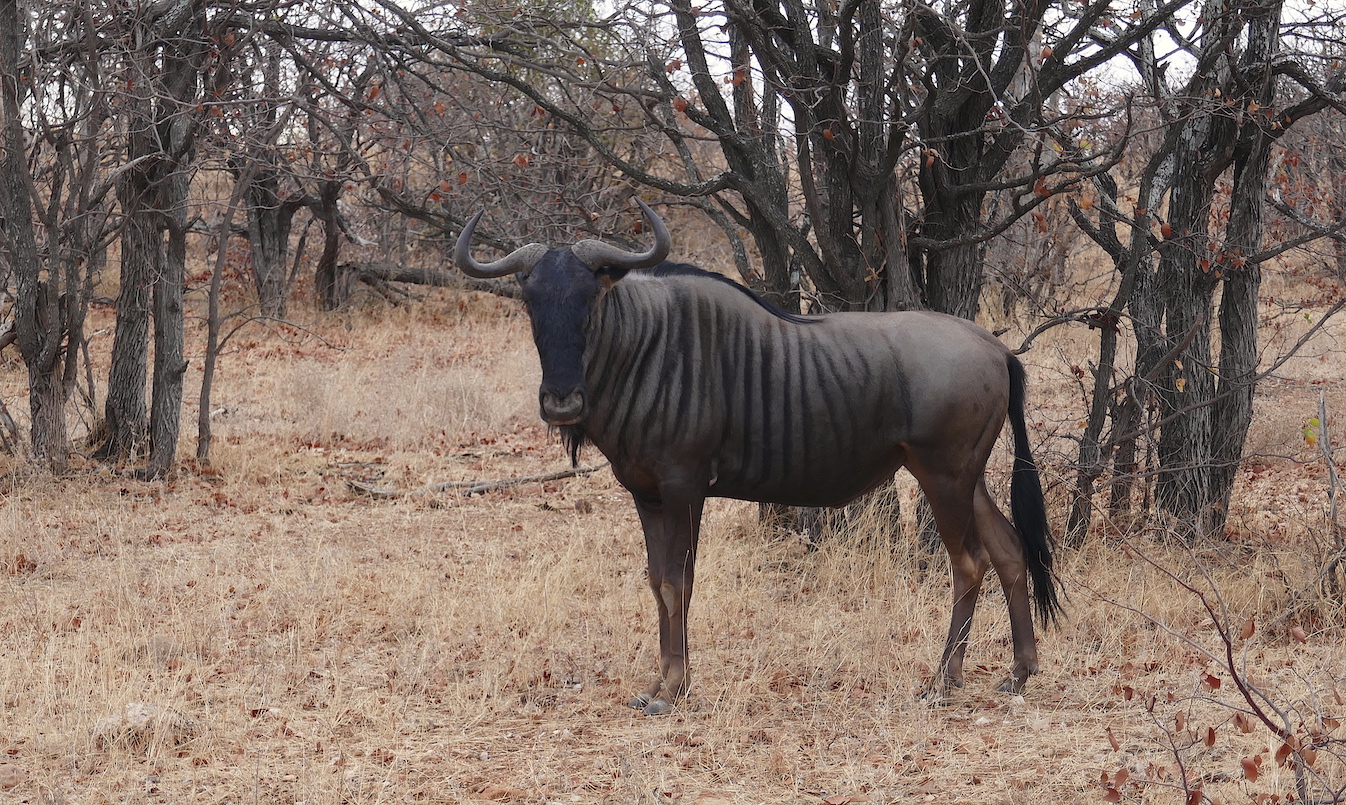 Assez drôles ces hippopotames avec leur bikini de lentilles d'eau.
Smiling flower-power hippos 😄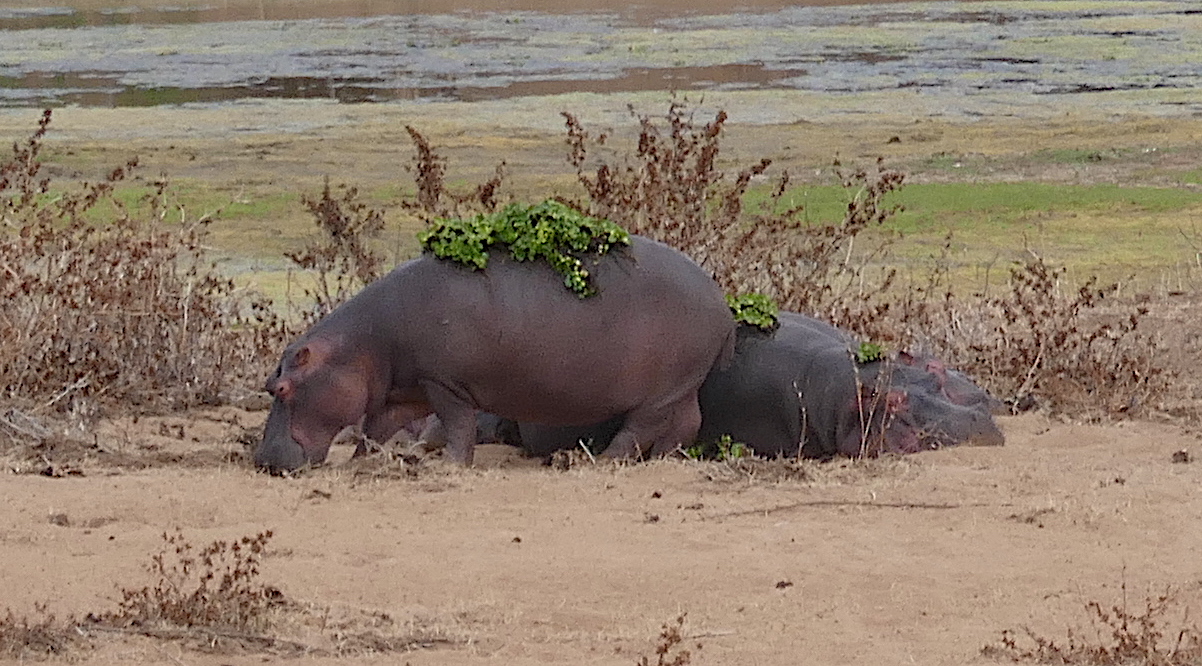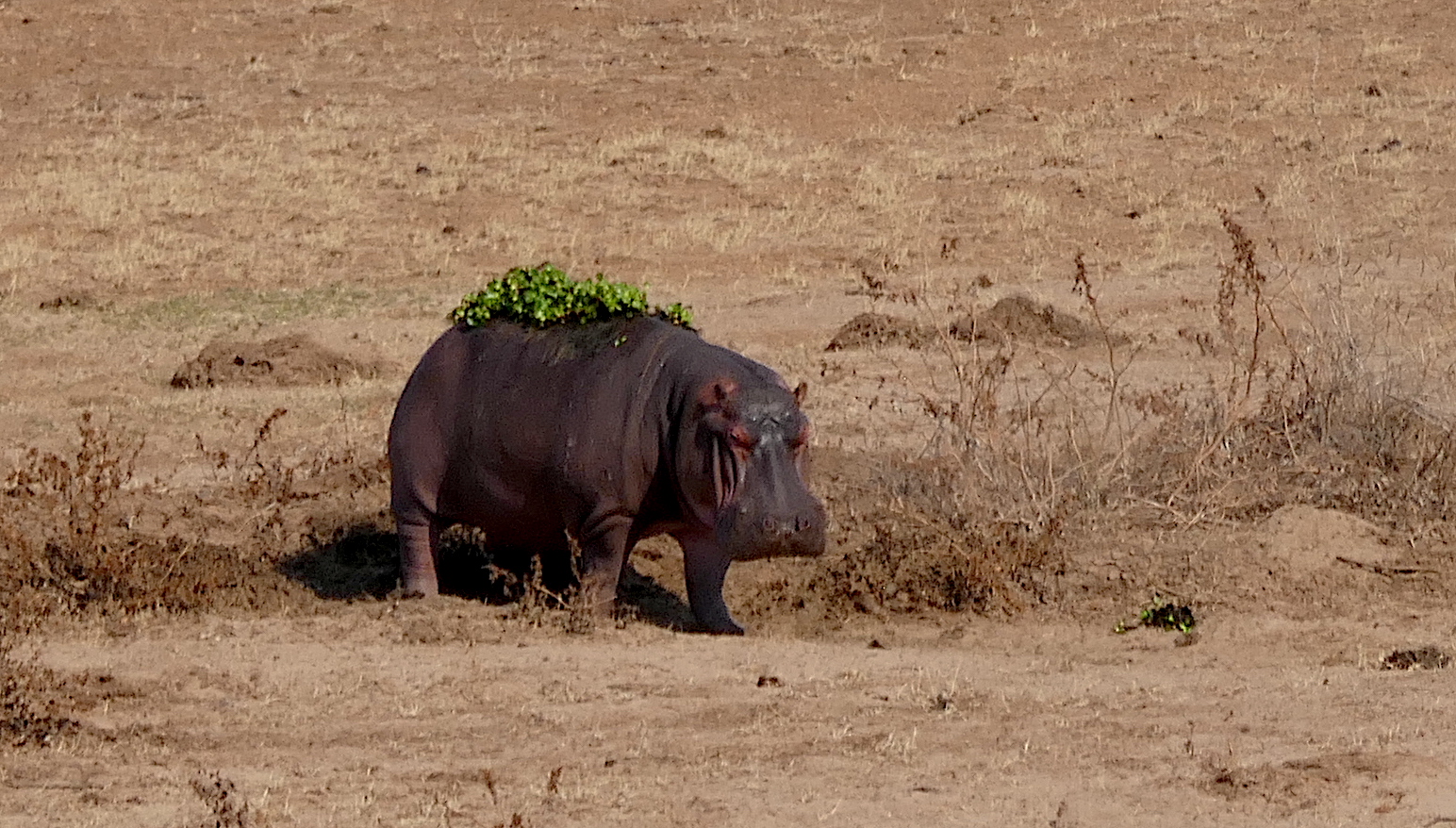 Et plein d'autres encore…..
Nous allons rester une bonne semaine dans le parc et chaque jour nous donnera l'occasion d'assister à des scènes magnifiques improvisées par les occupants de cette nature sauvage.
Les étourneaux métalliques sont partout et s'intéressent particulièrement à notre petit déjeuner.
We stay a good week in the park and each day we discover something new 😀
Breakfast company:
A great Blue-Eared Starling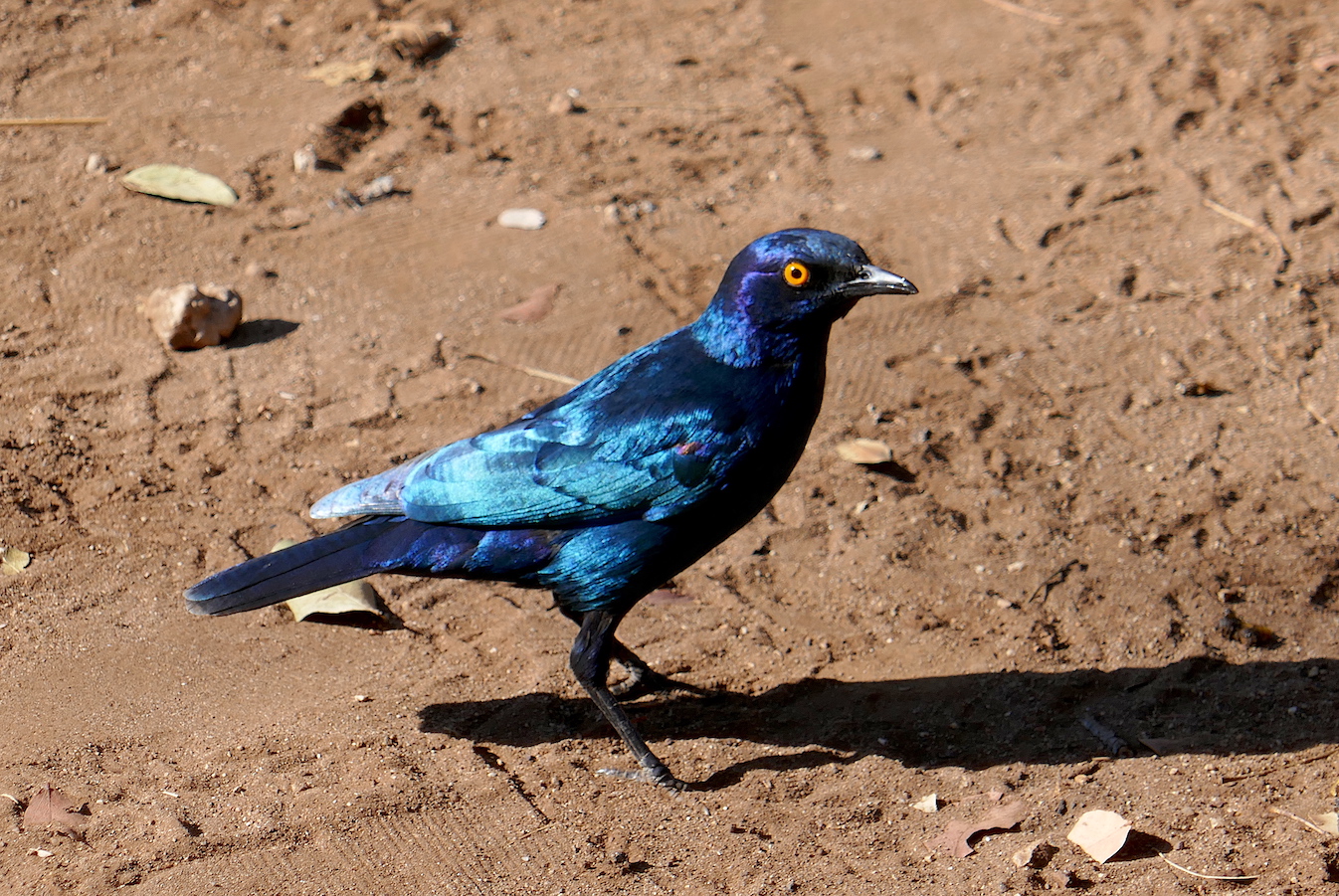 Comme d'ailleurs ce tout bariolé Barbican promépic. 
And a Crested Barbet
Celui qui a eu le plus de succès aujourd'hui c'est ce singe Vervet qui est carrément venu se servir sur la table avec une rapidité et une agilité qui nous a laissés sans réaction.
Et en plus, il se permet de nous tirer la langue, comme pour dire:
Je vous ai bien eu !!!
A Vervet Monkey that steals a banana right from our table 😲
Les vautours sont en attente d'une carcasse à nettoyer.
Vultures…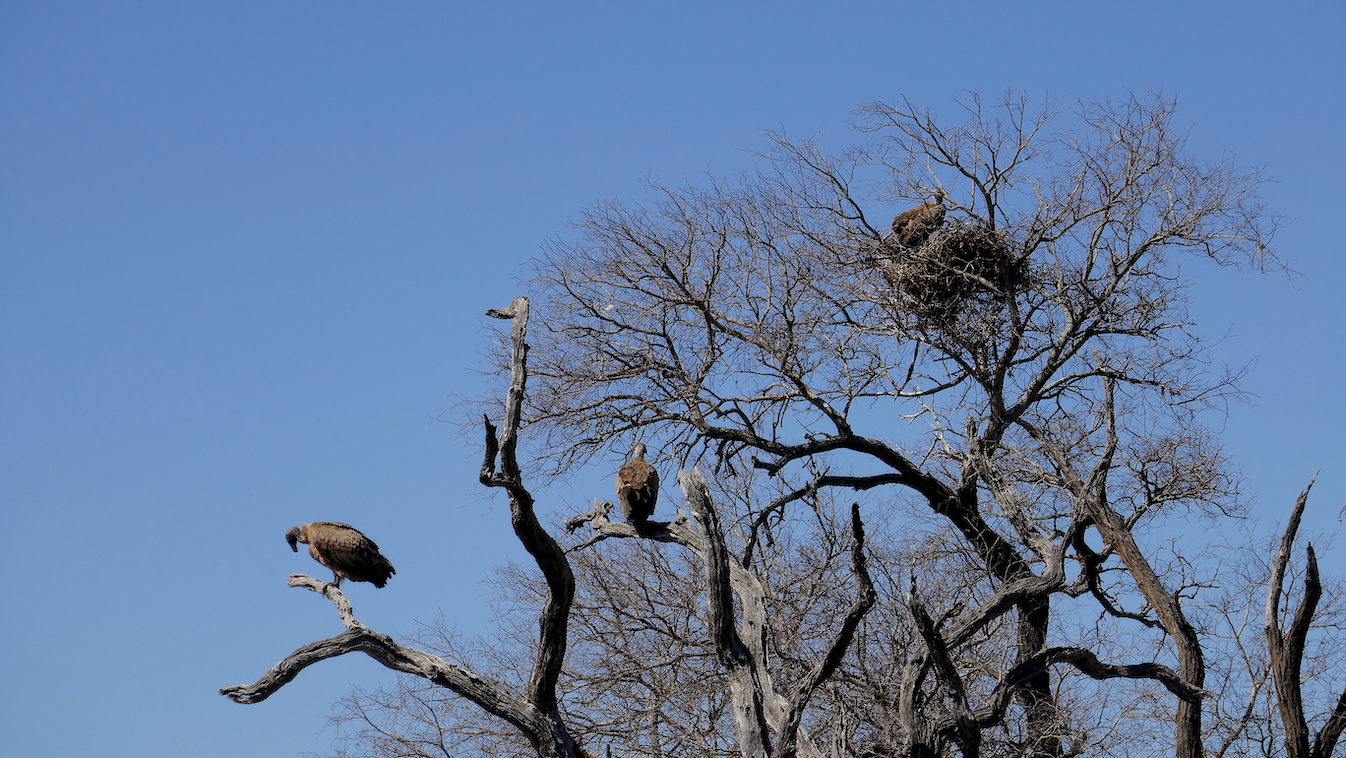 Après le festin, c'est l'heure du bain….
… Taking a bath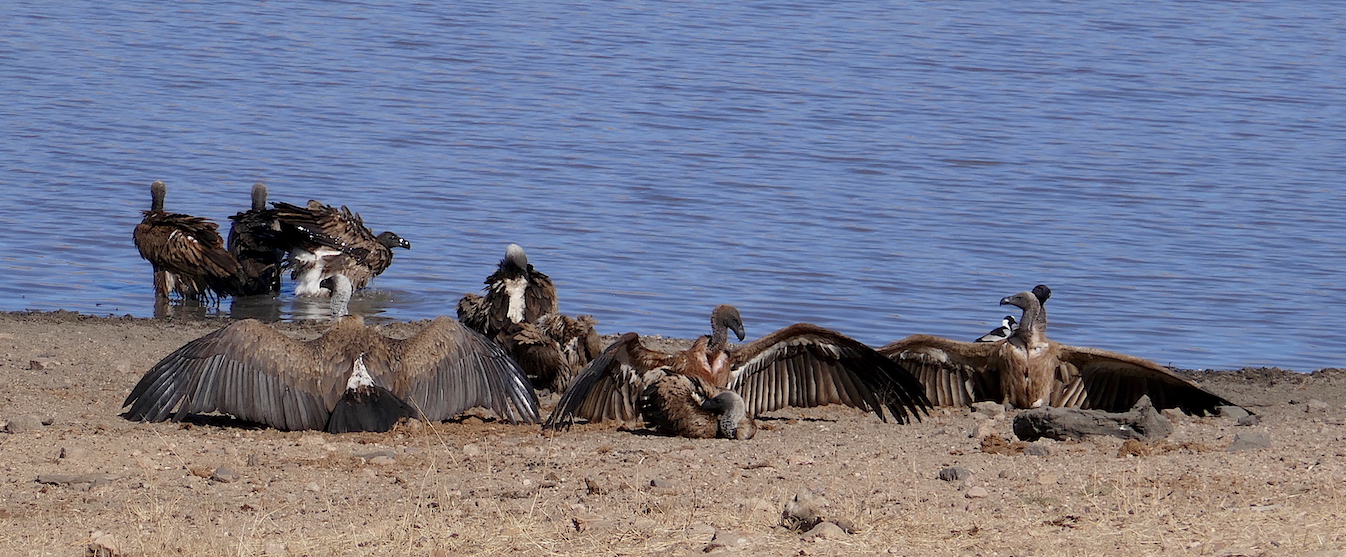 ….et de la phase séchage des ailes.
A défaut de rocher, un dos d'hippopotame fera bien l'affaire pour ces deux tortues.
Two turtles that take a hippo for a rock.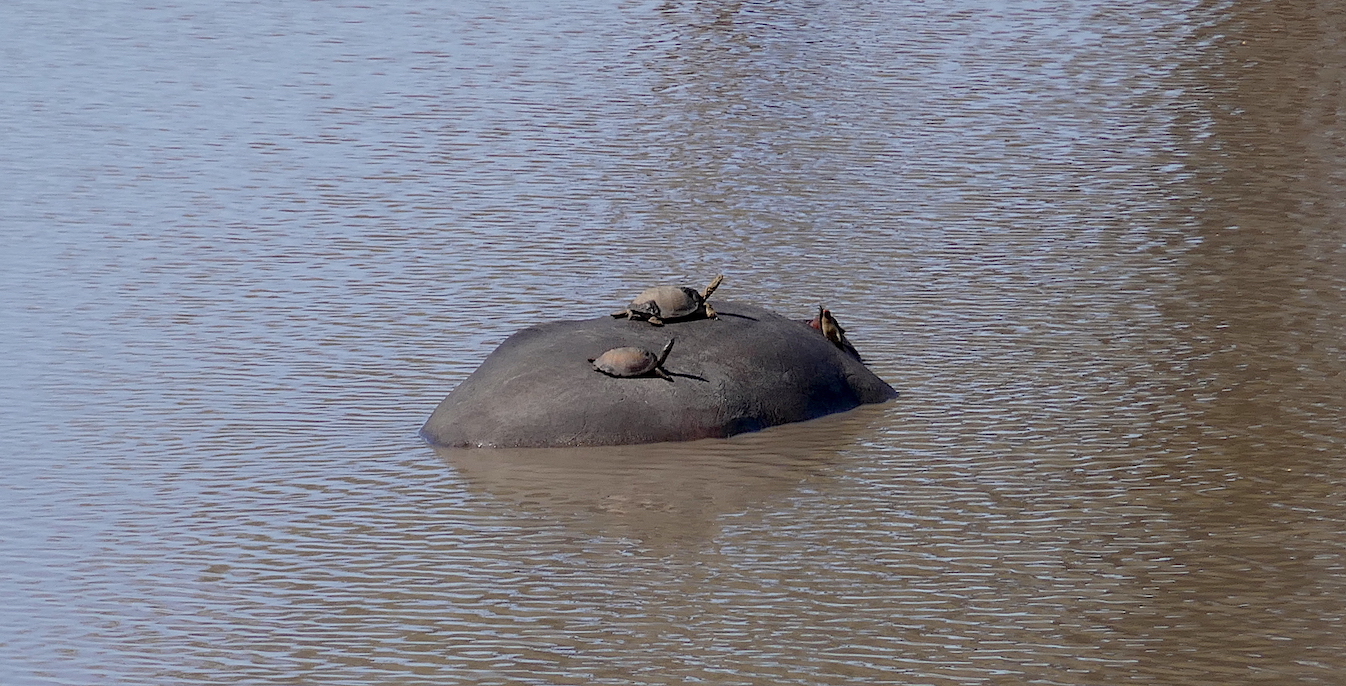 La rivière Letaba offre une abondante nourriture pour les antilopes de tous genres.
The river Letaba. One of the very few rivers here that still carries water at this time of the year.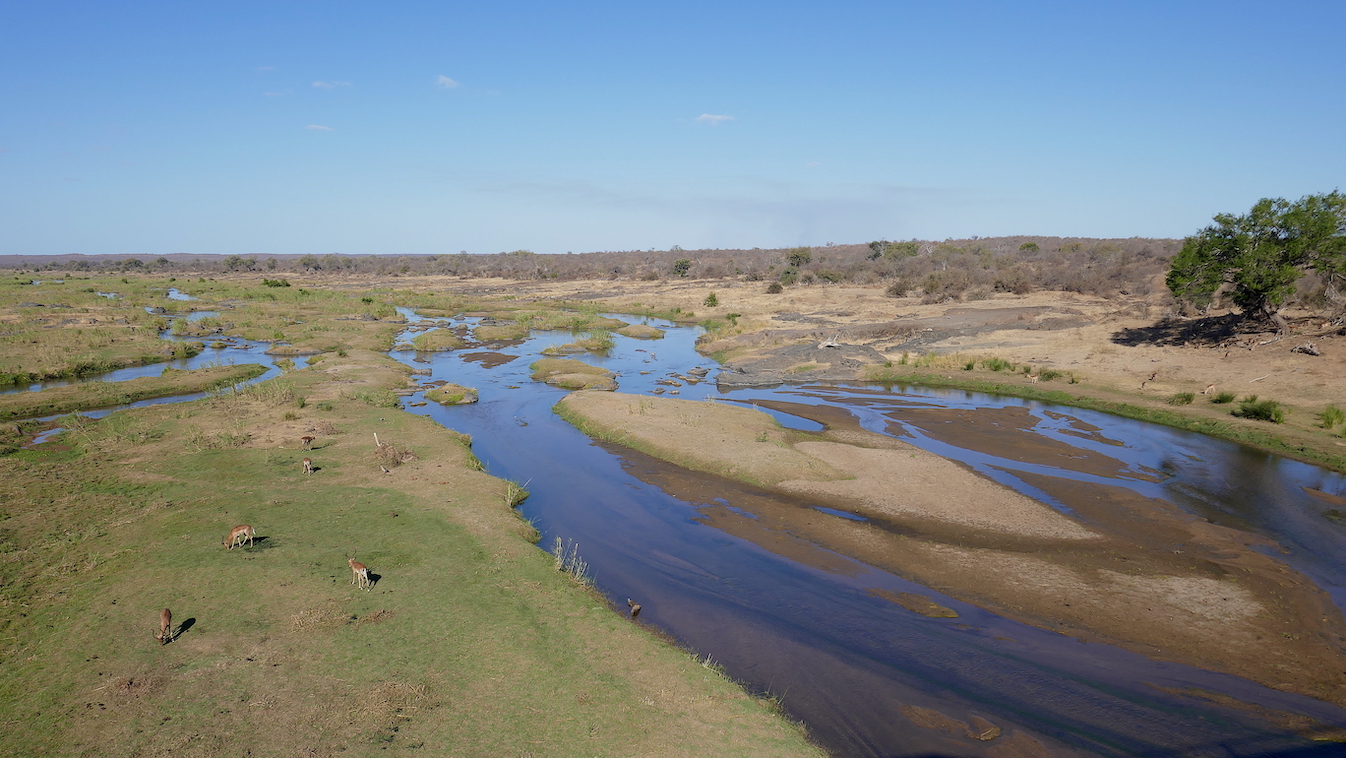 De nombreux crocodiles sont à l'affut d'un faux pas.
Crocodiles trying different types camouflage.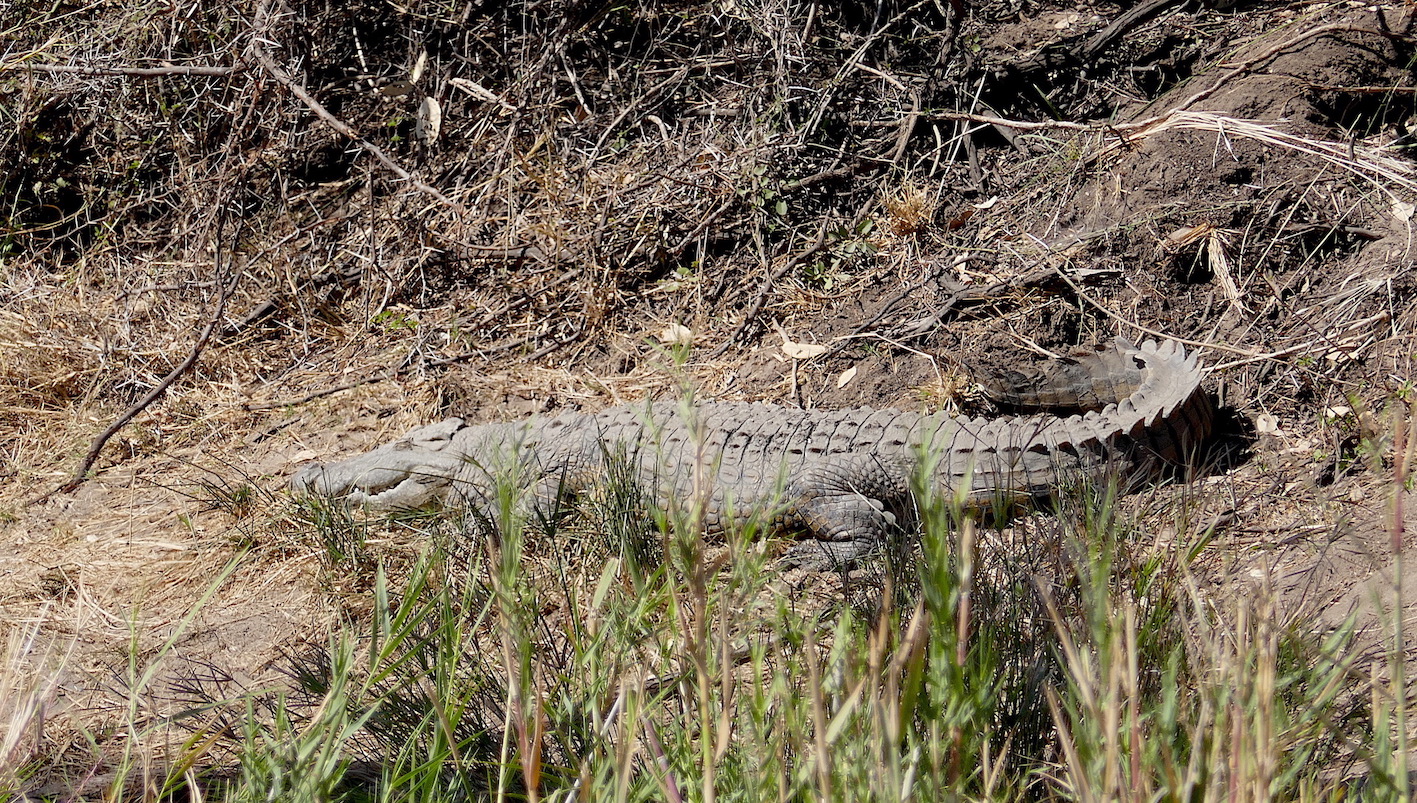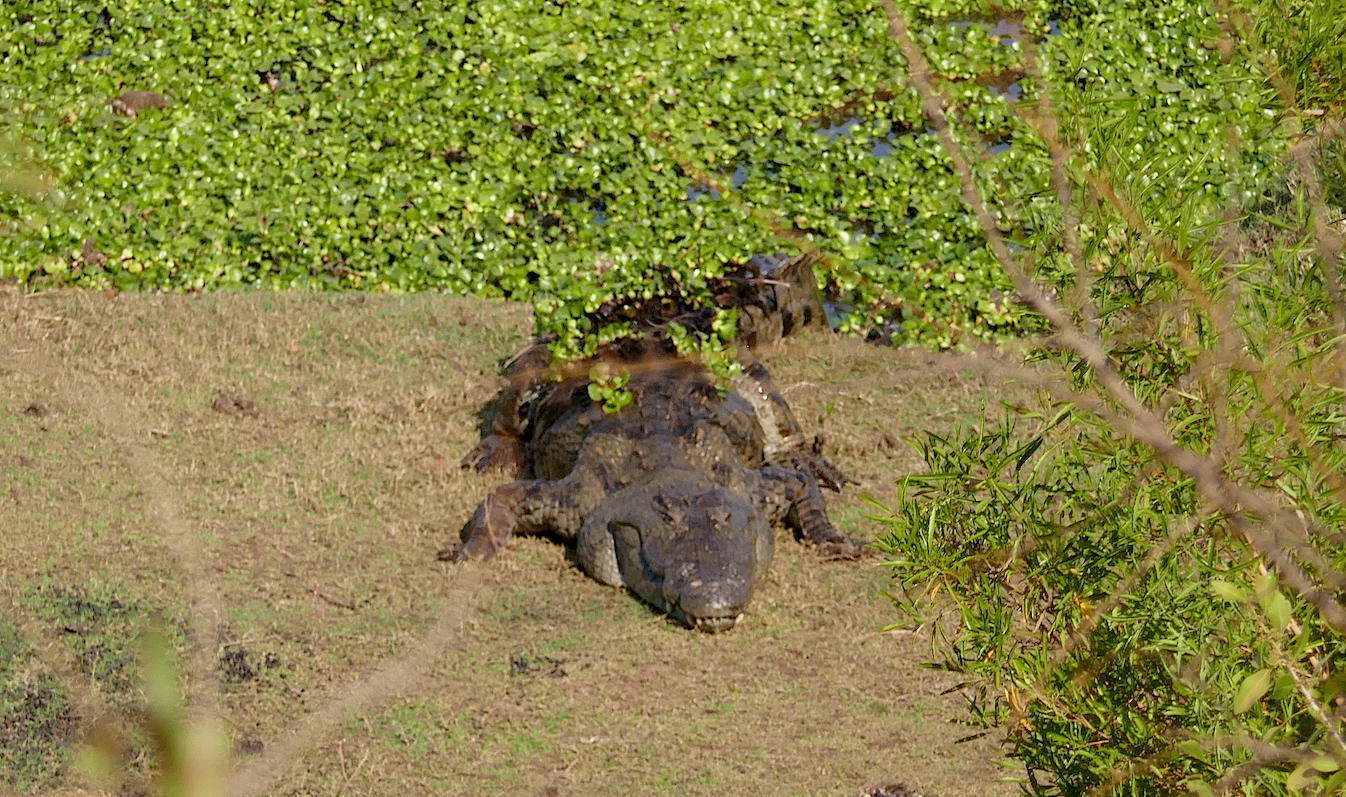 Concentration de girafes au petit matin.
How many giraffes do you count?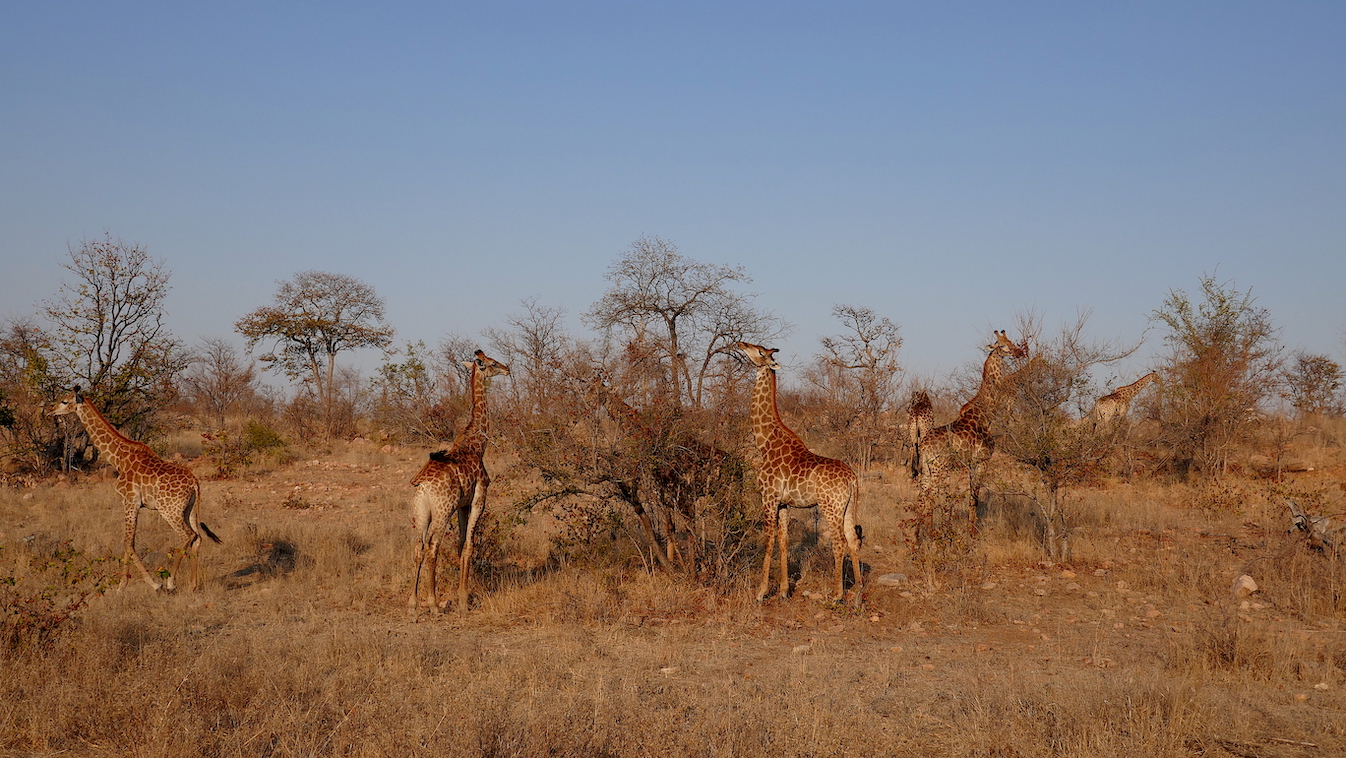 Papa hyène se fait les dents sur un reste de buffle sous le regard intéressé de quelques vautours.
Not much left of the buffalo…
… Is probably what the vultures think.
Lui, aussi attend son tour.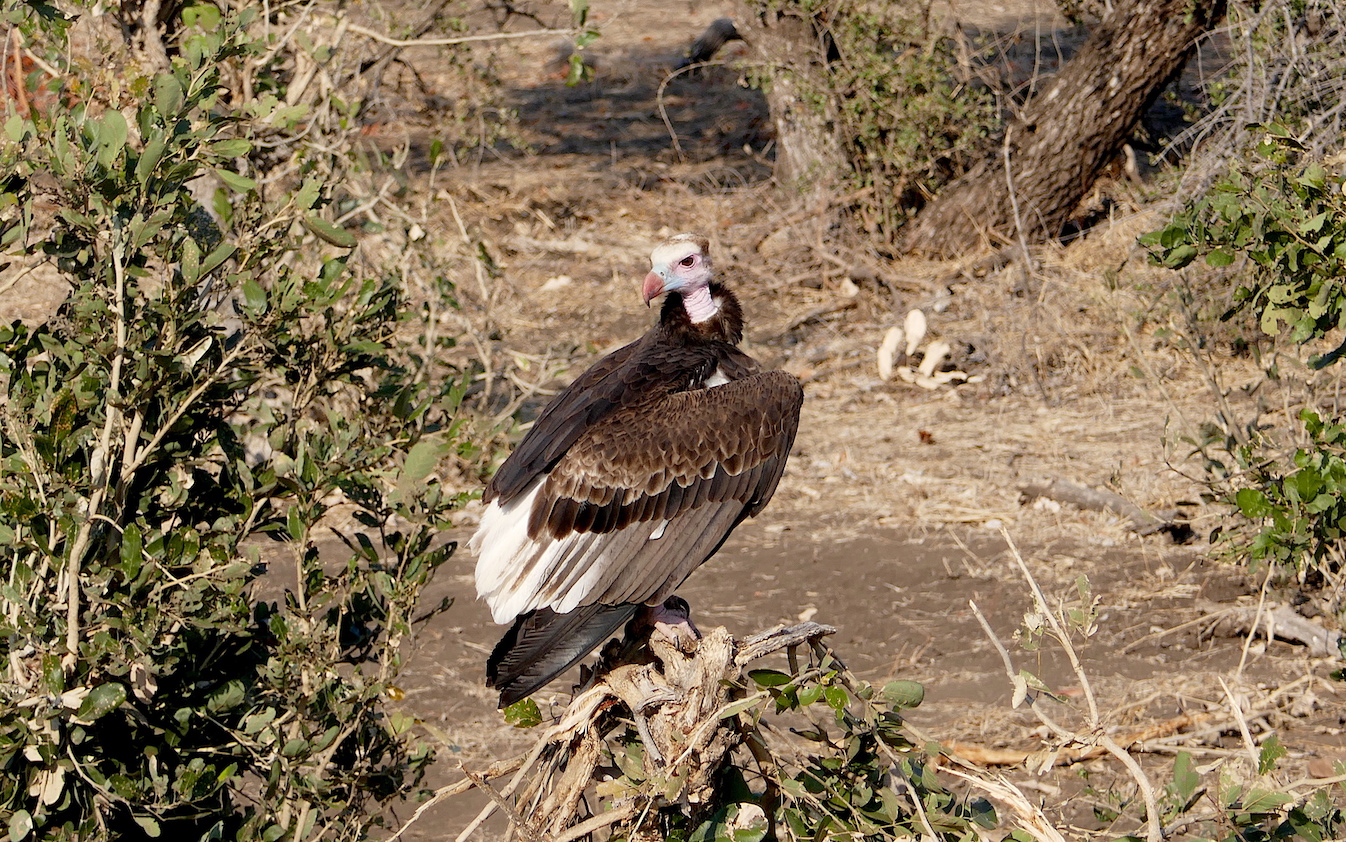 Maman hyène quand à elle fait la discipline….
And at home there is also an order to respect for food. First the small ones (in black), then the older ones (already light brown and speckled).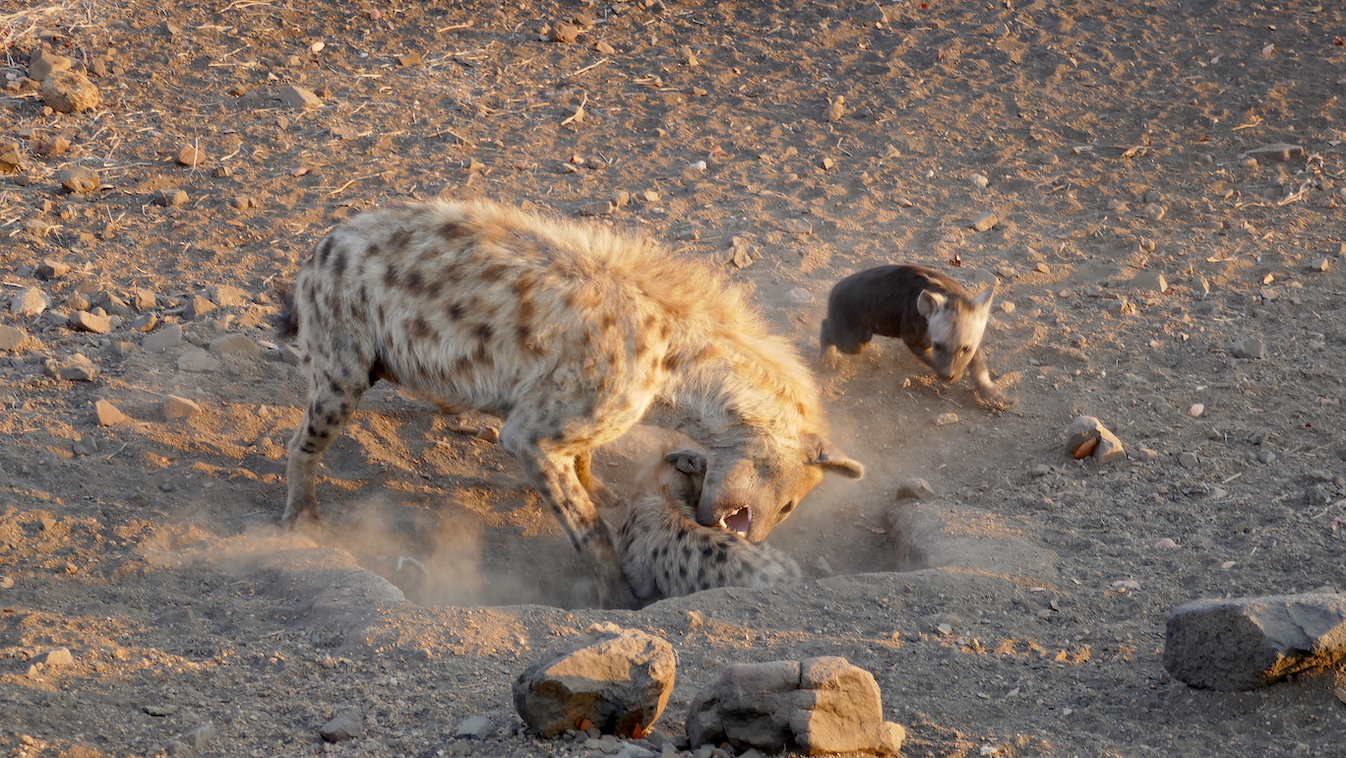 ……et allaite ensuite sa progéniture.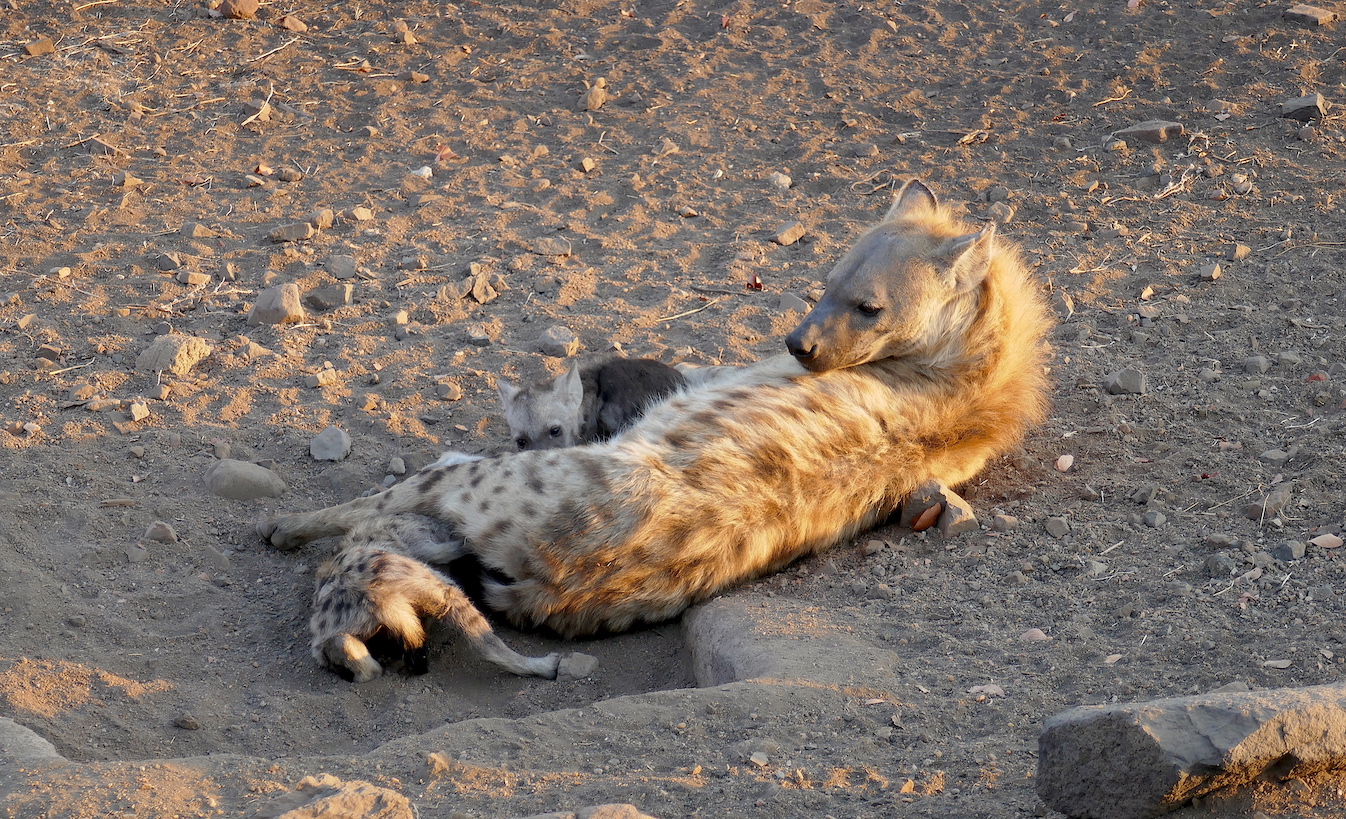 Un Water Buck dont la légende dit que l'un de ses ancêtres à voulu s'essayer sur des toilettes humaines sans se rendre compte qu'elles venaient d'être fraichement peintes.
A beautiful Water Buck with the typical white marking on the bottom. (Looks like he sat on a freshly painted toilet seat 😂).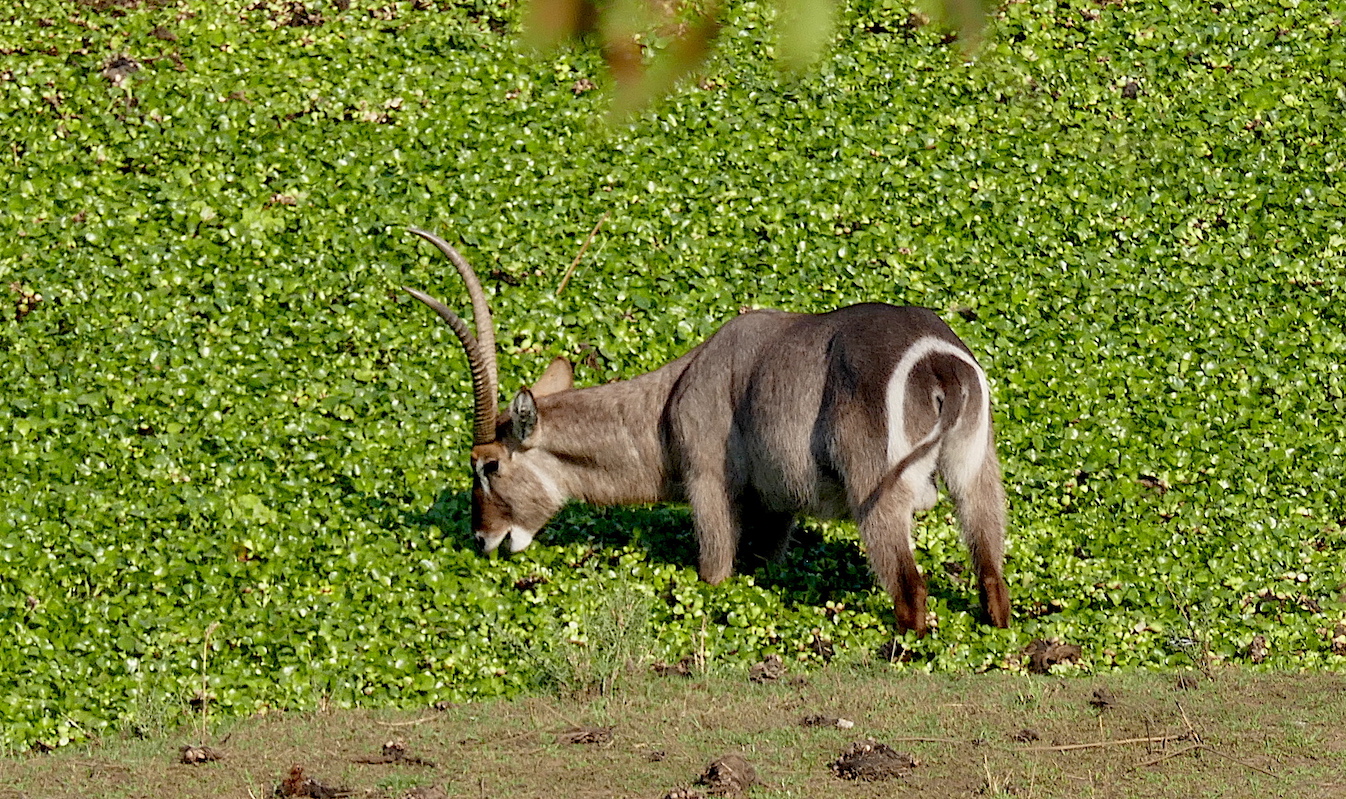 Un Kudu mâle accompagné de son oiseau antiparasites.
An elegant Kudu with his "anti parasite" bird.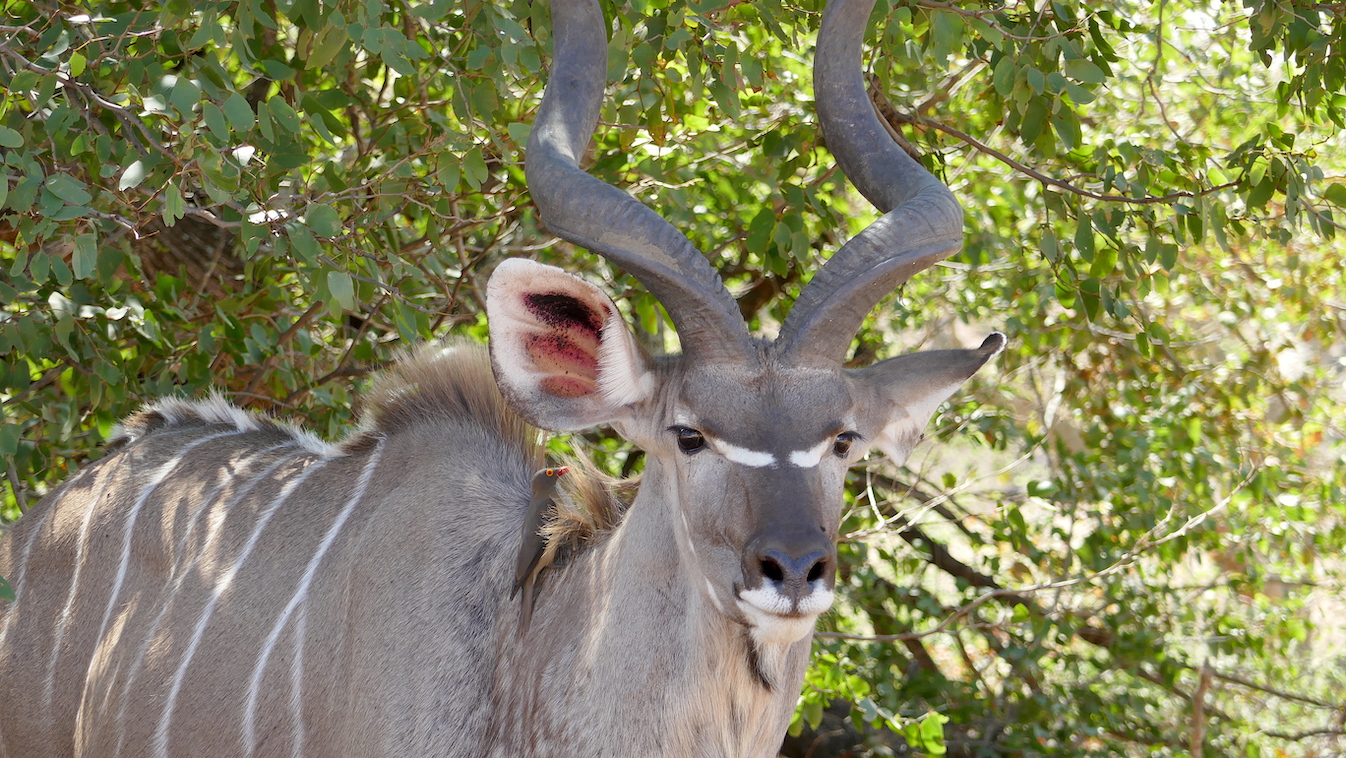 Et encore le « Njala« , assez proche du Kudu mais facile à différencier avec ses pattes toutes beiges.
And finally a Nyala with similar face paintings but much smaller, darker in color, and horns are not twisted.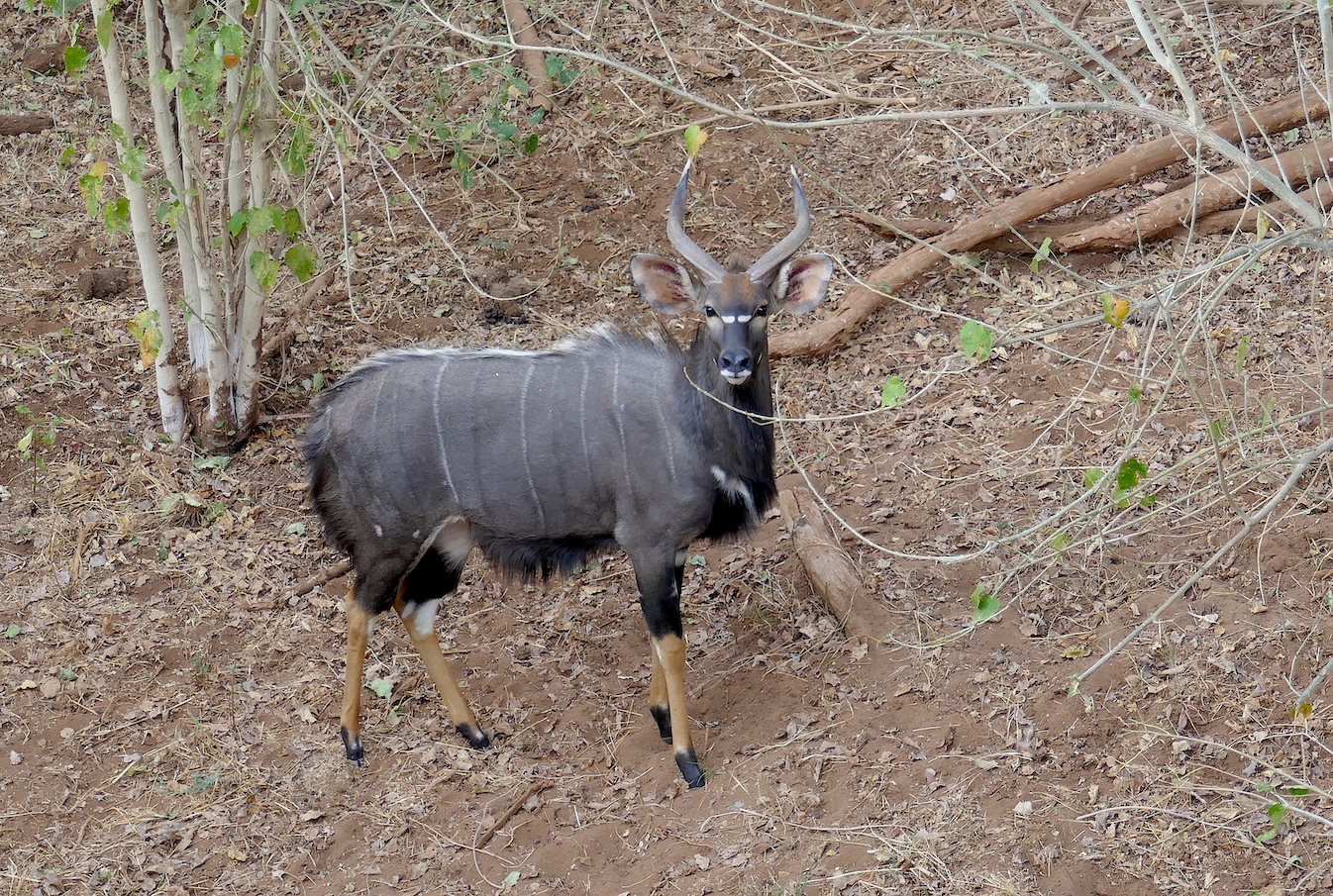 Dernier soir, dernier coucher de soleil éléphantesque.
Our last sunset in the park.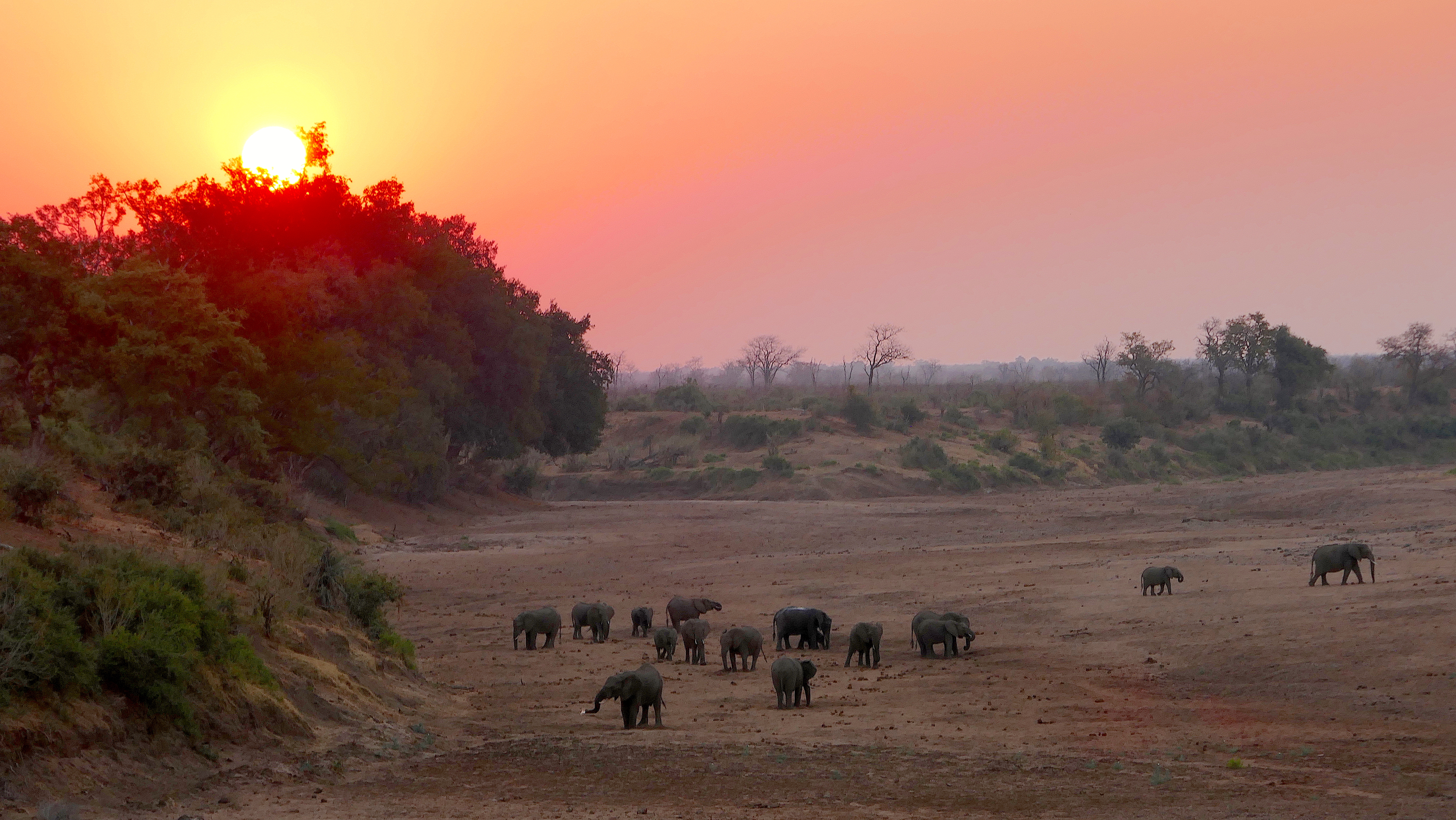 Mercredi 28  et jeudi 29 août
C'est par la porte Pafuri, la plus au nord, que nous quittons le parc Krüger.
Peu après la sortie, Nthakeni Lodge est l'endroit idéal pour un jour de repos, sans passer 4 heures par jour dans l'Azalaï à traquer la vie sauvage.
We leave Krüger at the most northern gate Parfuri gate and spend the next day at Ntakeni lodge literally in the middle of nowhere. No electricity, no telephone, no internet. Super friendly owners, beautiful arranged grounds and facilities!
Very relaxing.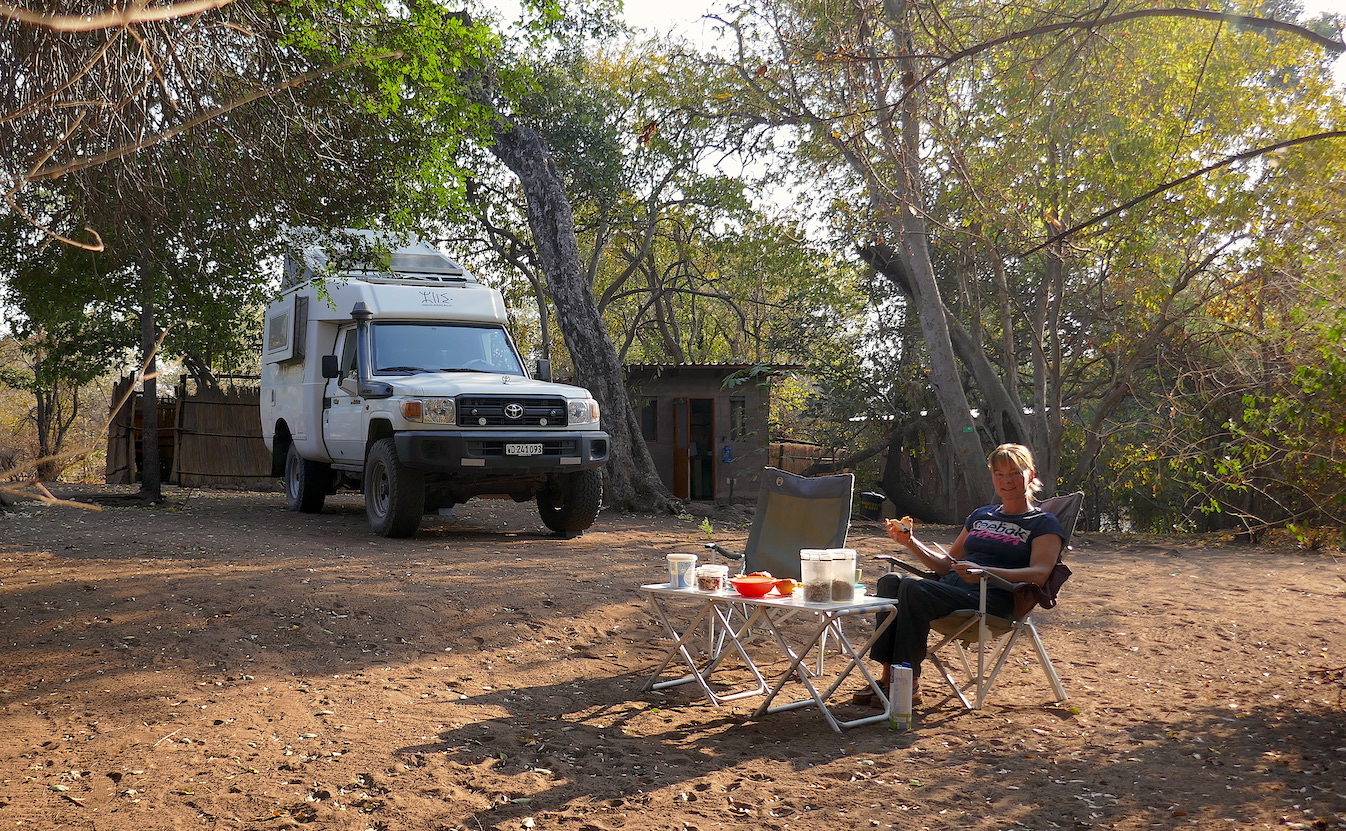 for a change we go for a hike instead of contemplating animals from the inside of a car 😉.
Definitely another place where we could spend many more days!
Vendredi 30 août
Première étape aujourd'hui jusqu'à Mopane Bush Lodge……
Une petite sieste après l'apéro.
A one night stop now on our way to Botswana at Mopane Bush Lodge.
After a light lunch and a drink at the pool, Michel needs a nap. 😴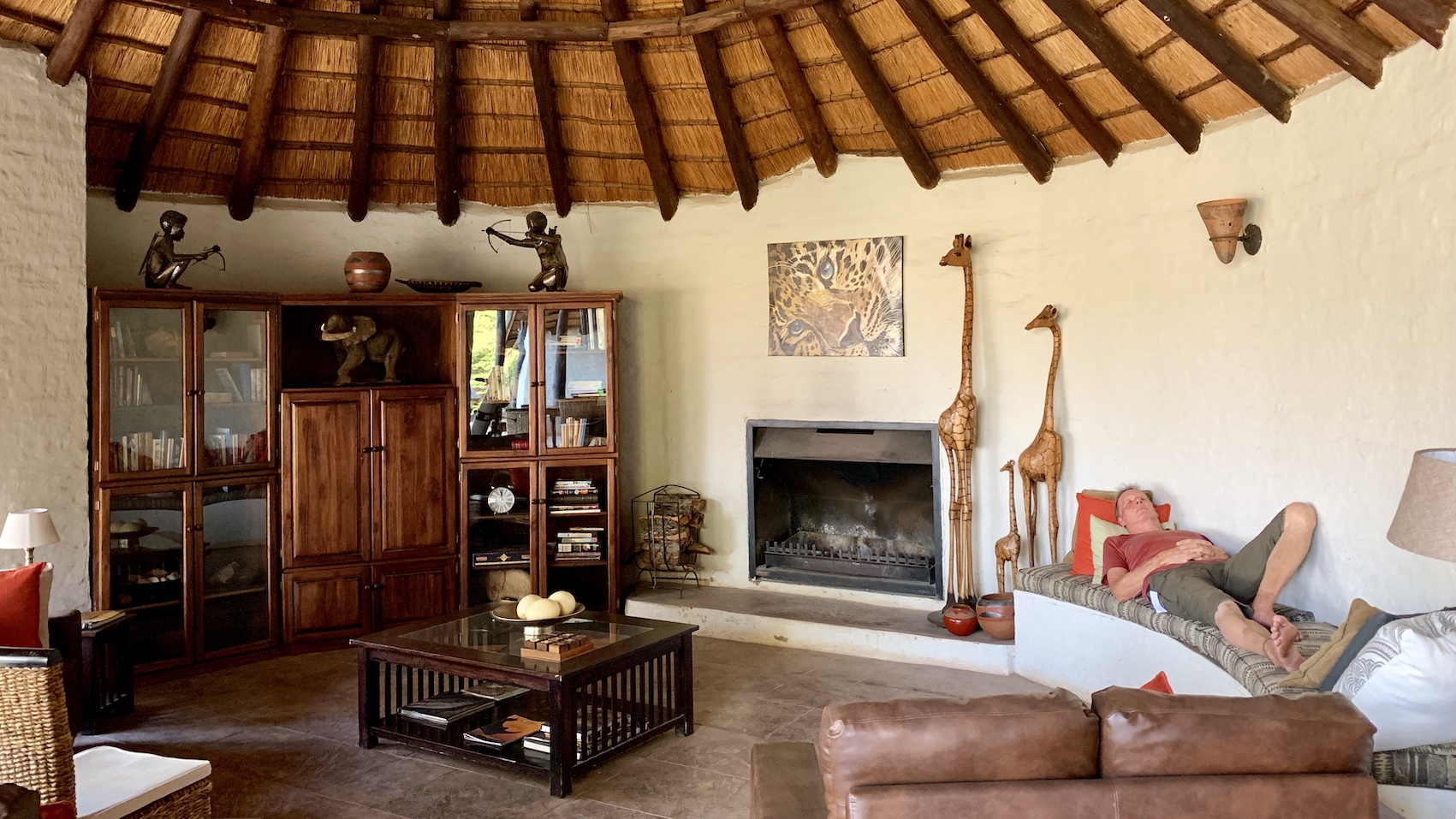 C'est sous ce magnifique baobab que nous passons notre dernière nuit en Afrique du Sud.
The campground is built around a mighty Baobab tree. 😲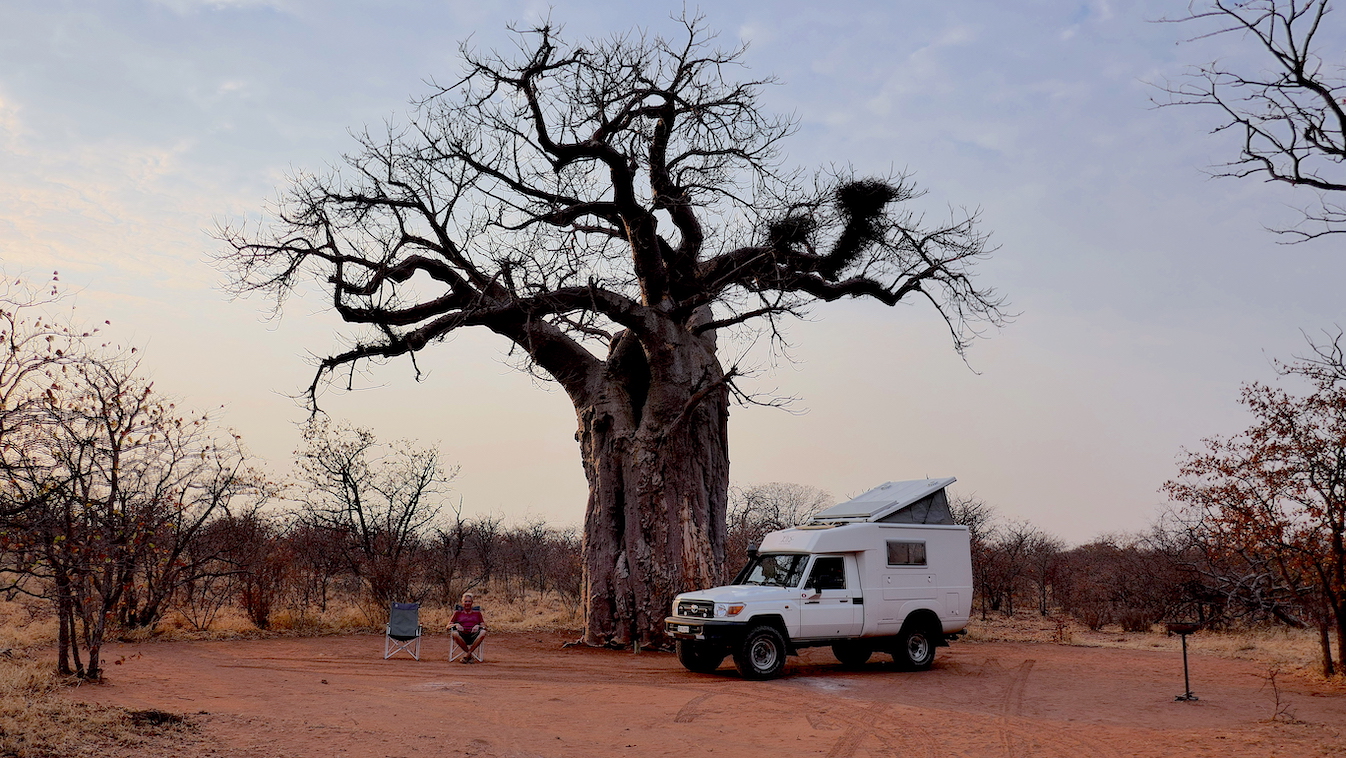 Samedi 31 août
Nous rejoignons le passage frontière de Pont Drift qui va nous permettre de passer d'Afrique du Sud au Botswana et ainsi entreprendre la dernière étape de ce périple africain de 5 mois, en nous conduisant à la découverte de ce pays durant les 5 semaines à venir.
C'est ici que se termine cet épisode, que nous espérons vous a fait plaisir à suivre, et nous nous retrouvons fin septembre pour une aventure botswanaise.
Boarder crossing at Pont Drift: We simply drive through the big but dry Limpopo river bed to get to Botswana. In the rainy season this boarder is closed for cars since the river is too big then. There is only a small cable cabin for pedestrians that can be pulled across then. 😃
Botswana we are told is the best of all countries for African wildlife. We have 5 weeks to see if this holds true 😃
Before returning to Switzerland mid October.
Amitiés de Milke