Dans ce deuxième article de notre périple 2017, nous vous faisons découvrir ce que nous avons vécu de mi-juin => mi-juillet.
Tout d'abord quelques informations sur la Suède:
Ce pays, dont la superficie est 11 fois celle de la Suisse compte à peine plus d'habitants que celle-ci, 10 millions contre 8,5 millions.
85% de ceux-ci se répartissent dans les 3 grandes villes que sont Stockholm, Gothembourg et Malmö, ce qui laisse pas mal de place pour les autres !
Côté énergie, 49% des besoins sont couverts par le nucléaire, 31% par la biomasse, 16% par l'hydroélectrique et les 4% restants par l'éolien et le solaire.
In this years Second article we finally start our visit to Sweden with a little detour to Kopenhagen (remember, we already wanted to do part of Sweden last year but got stuck with the nice weather in Denmark) . We begin with the popular Swedish west coast and then move further inland to explore huge foresty areas that enclose hundreds of lakes ideal for canoeing (and swimming if you can face 15C water temperature ).
As introduction some figures: Sweden has 10mio inhabitants of which 85% live in Stockholm, Malmø and Gøteborg. The countries surface is 11times larger than CH (8.5mio inhabitants). So let's say roughly 2.5 mio people live on a surface 10times larger than CH… (ok some of the area is quite cold most of the year).
Since Denmark, Norway and Iceland are all close to 100% green energy, here also some remarkable energy facts from Sweden: Sweden has no fossil resource power stations. Today it produces 31% of it energy from biomass as a « by product » to its big forestry business (51% of the land is covered by wood), 49% comes from nuclear power, 16% from hydro electric and the remaining 4% come from wind, sun and geothermal energy.
Après avoir quitté Annette et Niels et rejoint le terminal du ferry, nous avons quitté Bornholm pour rallier Ystad, au sud de la Suède.
June 10.
Our ferry from Bornholm arrives in Ystad at the south coast of Sweden.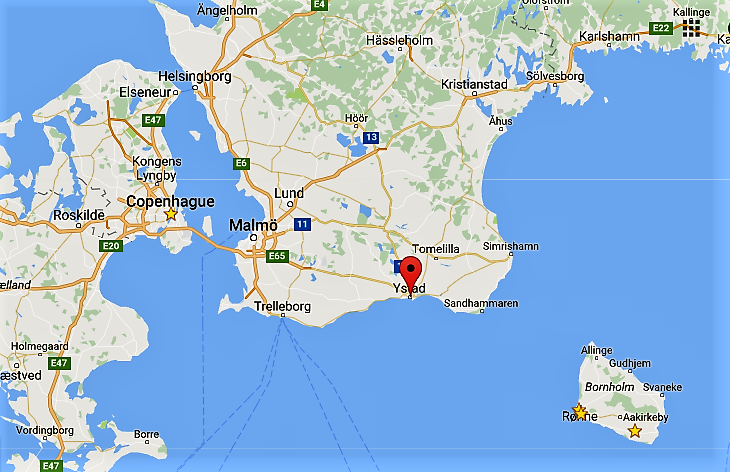 Ystad fait partie des plus vieilles villes de Scanie, son histoire remontant au XIIe-XIIIe siècle, à l'époque où la région était danoise.
La ville prospéra grâce au commerce du hareng, en particulier avec l'Allemagne et la ligue hanséatique. De nos jours, Ystad n'est plus qu'une petite ville, mais son patrimoine historique est encore visible dans ses vieilles rues et ses nombreuses maisons à colombages qui font de la ville un attraction touristique de premier ordre. Elle compte environ 18'000 habitants.
Ystad exists since the 12th century when the area belonged to Denmark. The Town grew mainly due to important trading of herring with the German Hanseatic league. Today the town has 18'000 inhabitants and is an important tourist attraction with its many medieval houses.
Mardi 13 juin
D'Ystad, nous remontons vers Malmö pour prendre le plus long du monde, construit en 2000 et qui s'étend sur 16 kilomètres.
Baptisé Oresundsbron, il relie la ville de Malmö en Suède à l'île de Peberholm au Danemark, sur laquelle se situe Copenhague, avec deux parcours. Un premier sous-sol et un second hors-sol. Il est donc à la fois, un pont et un tunnel.
From here we go fairly straight to Kopenhagen. An easy piece of cake since a 16km!! bridge and tunnel connect Malmö and the Swedish mainland with the island Peberholm where Kopenhagen lays. Constructed in 2000 this is today worldwide the longest of its kind.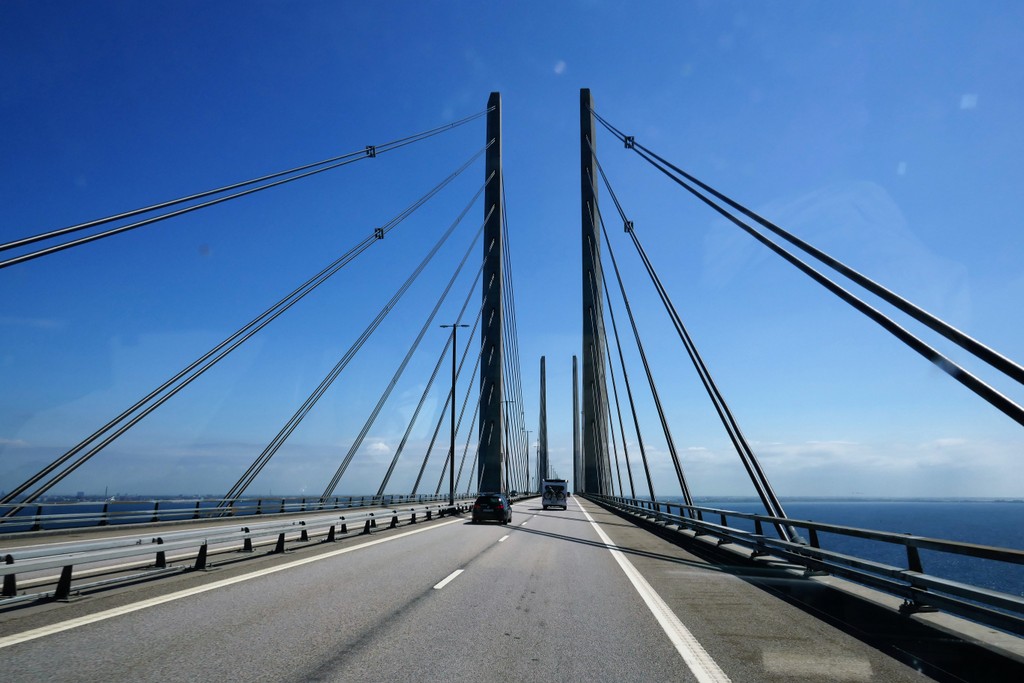 Nous contournons Copenhague  pour nous rendre à Hillerød, une trentaine de kilomètres plus au nord.
Nous allons passer là les 4 jours à venir dans un joli camping.
De là, nous prenons le train qui nous amène au centre de Copenhague en 38 minutes.
Dès notre arrivée au camping, nous réservons une sortie sur le « Den Lille Faerge« qui va nous faire découvrir les dessous de l'histoire du château de Frederiksborg.
Ce petit ferry, dont le capitaine de 80 ans nous raconte l'histoire, a été financé par les 350 membres d'une association créé à cet effet.
De mai à fin septembre, il sillonne le lac au quotidien, 7 jours sur 7, piloté à tour de rôle par 35 bénévoles.
During 4 days we will stay at a lovely campground in Hillerød from where we will take the train direction south to the town centre of Kopenhagen. 
In Hillerød lays Frederiksbrg one of the biggest castles of Denmark.
following the recommendation of the friendly camp sits owner we take a boat tour on the little castle lake. The captain is an 80 year old retired pilot. He explains us that the little boat was bought by a club of 350 volunteers to ensure its continued service after the retirement of the initial captain. Now 30 of them take their turns in navigating and entertaining tourists around the lake, 7 days a week during the summer. What a nice story! 
Mercredi 14 juin
Nous faisons un tour du lac Slotsø qui entoure Frederiksborg Ce château a été construit au début du XVIIe siècle par le roi Christian IV pour agrandir son pouvoir et c'est un exemple unique de la Renaissance danoise.
Le château a été reconstruit après un incendie dans la moitié du XIX siècle et depuis 1878 il accueille le Musée d'Histoire Nationale.
The castle was build in early 17th century by the King Christian IV to demonstrate his wealth and power. It is a unique example of Danish Renaissance.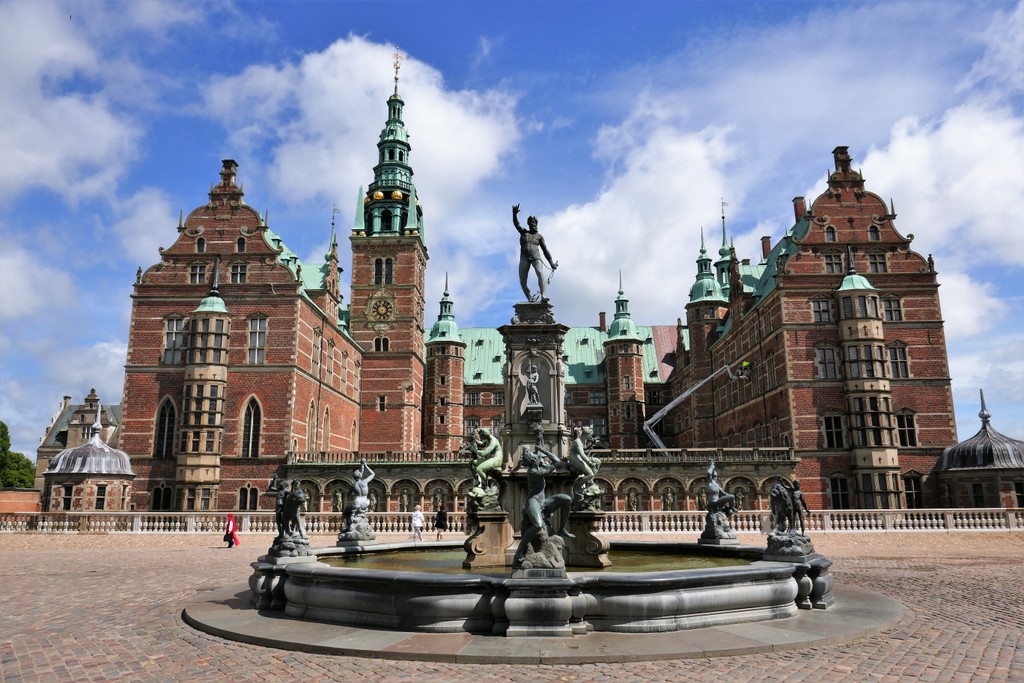 La famille royale n'a depuis lors plus accès au chateau mais comme elle aime bien venir là pour y pratiquer la chasse, un plus petit a été construit un peu plus haut dans le parc.
Pas mal non plus !
En milieu d'après-midi, nous prenons le train pour une visite de Copenhague.
Elle est la capitale et la plus grande ville du Danemark et compte 1'300'000 habitants.
Nous parcourons rapidement le chemin entre la gare et le quartier de Nyvathn car nous avons rendez-vous avec notre ami James pour passer la soirée ensemble.
In the afternoon we start our first visit to Kopenhagen. With 1.3 mio inhabitants it is by far the biggest city of Denmark (the whole country has 5.7 moi inhabitants).
Today we will meet our friend James for Dinner. He lives in CH and works in Kopenhagen, not a bad set-up we find after we see how great this city is!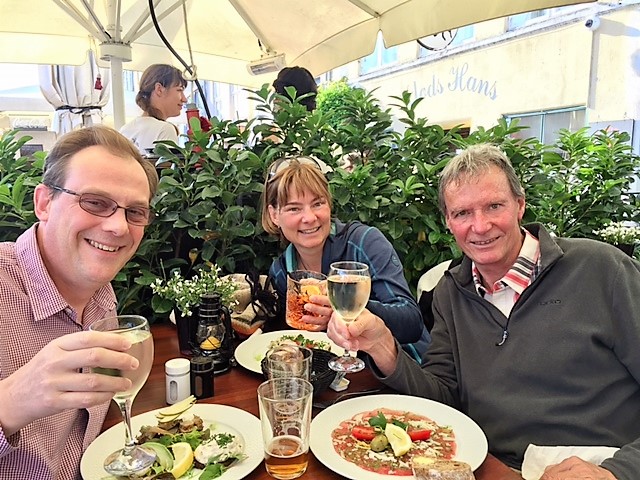 A la fin du repas, James nous guide à travers la partie de la ville située en bord de mer.
After dinner James gives us a tour along the water front. With the long daylight hours and the sunny weather this becomes a very pleasant stroll.
We see Nyvatn with its numerous charming restaurants and lovely vintage boats.

Le quartier de Nyvathn.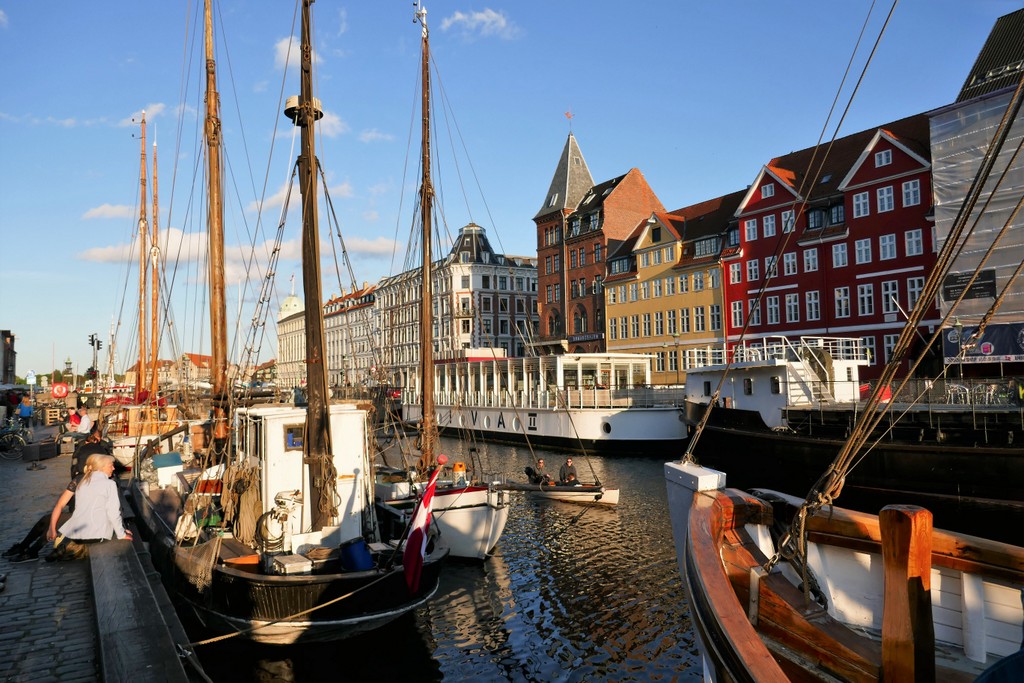 La maison de l'Opéra.
The Opera house.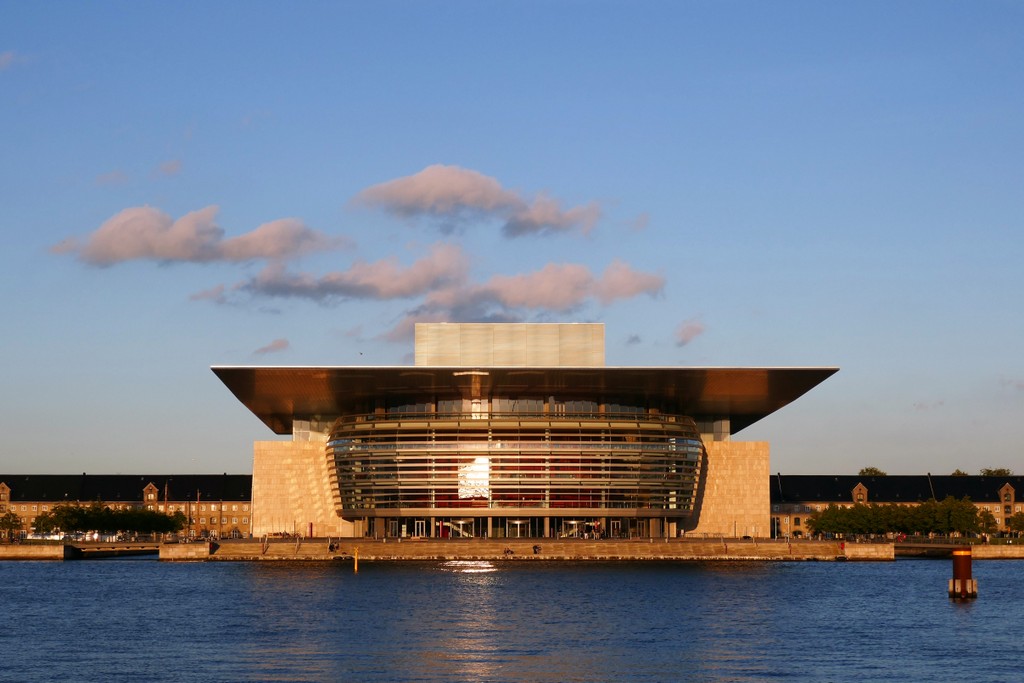 La plus grande fontaine de la capitale danoise.
Construite en 1908 par Anders Bungaard, elle est dédiée à la déesse Gefion.
La légende raconte que le roi Gylfe de Suède avait promis à la déesse de lui offrir autant de terres qu'elle pourrait en labourer en une nuit.
Le prenant au mot, elle transforma ses quatre fils en bœufs, les harnacha à une charrue et effectua la tâche herculéenne dans le temps imparti, avant le lever du soleil.
Après avoir labouré la terre, elle la souleva et la jeta au milieu de l'océan, faisant ainsi naître l'île danoise de Zélande, celle-là même où se trouve aujourd'hui Copenhague, face à la Suède dont elle est séparée par le détroit de Sund.
La zone où la terre fut arrachée est devenue un lac intérieur, appelé actuellement le lac Mälaren.
The biggest fountain in town that is dedicated to the creation of Kopenhagen: The Swedish king Gulfe promised to the goddess Gefion the amount of land she was able to plough over night. Gefion transformed her 4 sons into bulls and let them pull the plough all night. The gained land she pulled apart from Sweden and threw it into the see to create the Danish island Zelande where Kopenhagen is today.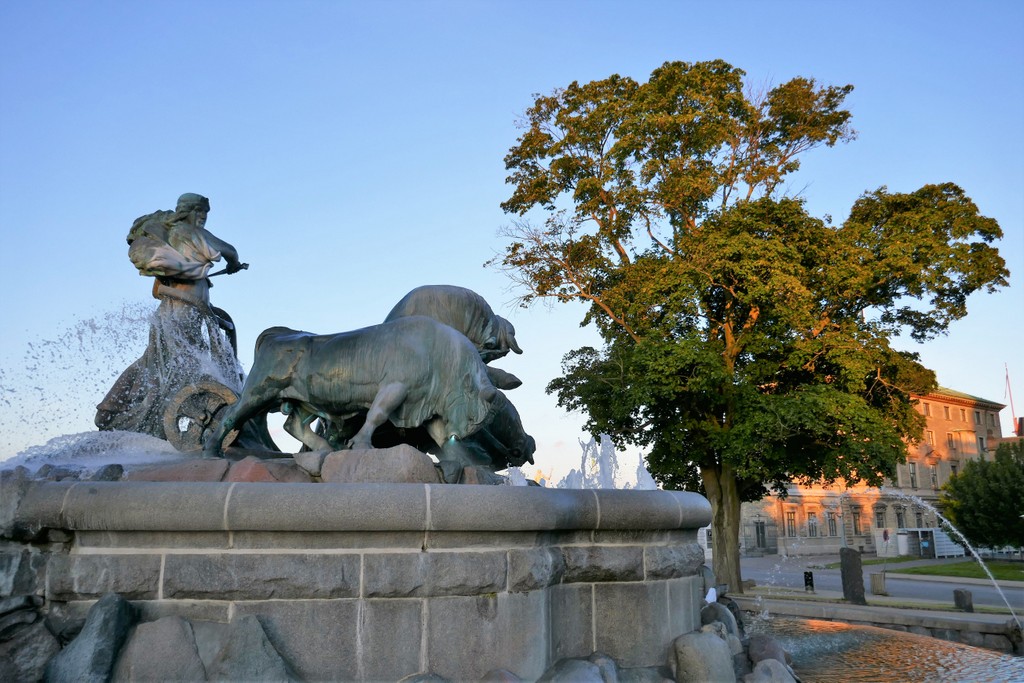 Et bien-sûr la célèbre « petite sirène ».
Depuis 1913, elle accueille les voyageurs au port de Copenhague.
La statue en bronze renvoie au protagoniste du célèbre conte de fées, écrit en 1887, par l'écrivain danois Hans Christian Andersen: l'histoire de la sirène malheureuse qui rêve de pouvoir marcher sur la terre ferme pour rejoindre son amoureux, en sacrifiant ainsi sa vie dans la mer.
Pour sa réalisation, le sculpteur Edvard Eriksen s'est inspiré de la danseuse Ellen Price, qui en 1909 a été danseuse étoile au Royal Theatre de Copenhague dans le ballet « La Petite Sirène« .
And of cause the beautiful Little Mermaid from Hans Christian Anderson. She is so famous that apparently her head was already ripped of twice and lately she was all painted in red by some not so funny people…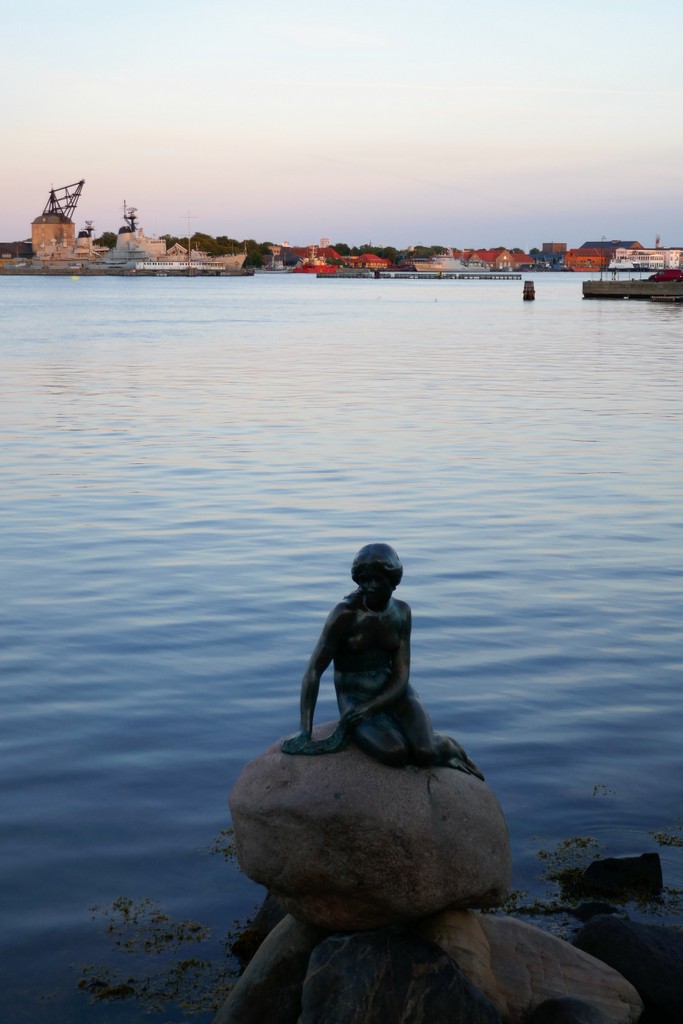 Jeudi 15 juin
Retour à Copenhague pour la suite de la visite.
Nous dirigeons nos pas vers le Palais royal où s'effectue la relève de la garde à l'instant où nous y arrivons.
June 15. Second day in Kopenhagen.
Totally accidentally we see a guard change at the impressive royal palace.
It is a really hot day and the new shift (probably not the correct military word…) comes with little hats rather the big furry bonnets (am sure they have a name… ). The whole changeover is done with such seriousness that it is almost funny. Why don't the just shake hands and exchange?
C'est ensuite le tour du quartier de Papirøen « Copenhagen Street Food », le nouvel 'empire' de la cuisine de rue, à bon prix.
Pour y accéder, il faut passer l'estuaire par un pont basculant et là, nous nous rendons vraiment compte que cette ville est la reine de la bicyclette.
There are many canals and consequently many bridges in Kopenhagen. Most of them can open to let ships trough.
You can see that there are almost more bicycles than pedestrians in town and while car drivers are very respectful with pedestrians, bicycle riders are not! So we better don't walk on a bike path or we risk to get knocked over (experience made).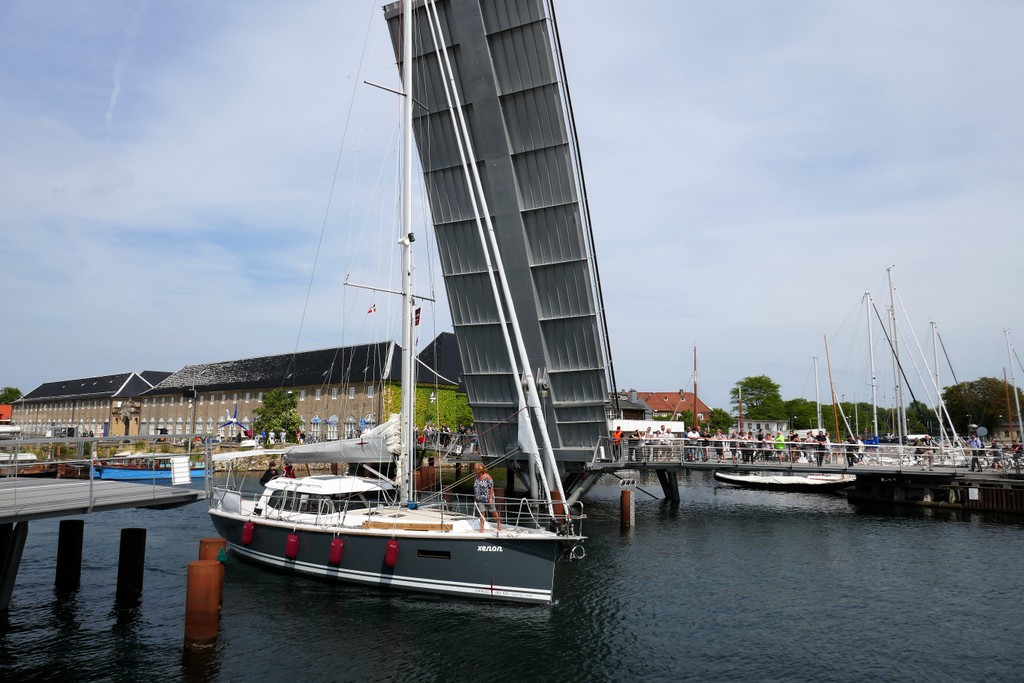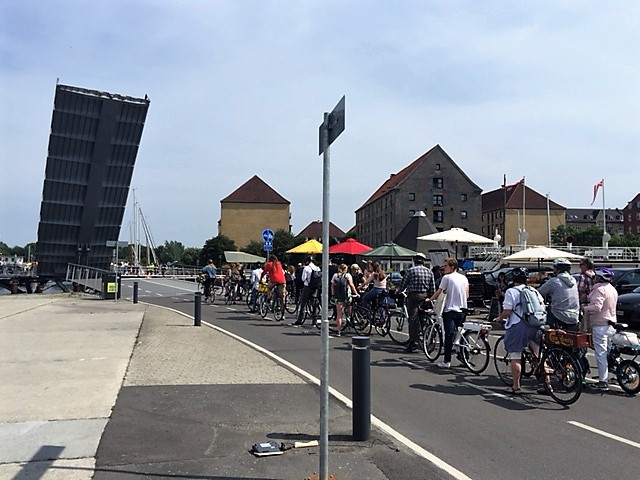 Pour ceux qui ont de la peine à trouver un logement à prix raisonnable, la solution passe par la Houseboat.
Housing shortage in Kopenhagen, or remainder from the 7ties?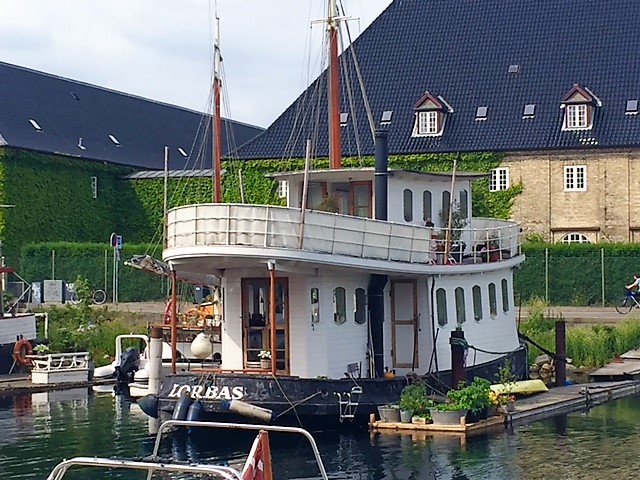 Papirøen « Copenhagen Street Food »,
From there we go to the Papirøen, a big hall full of mouth watering international Street Food stands and Food tracks. There is also a big terrace right at the waterfront where you can sit and eat what you have chosen.
Nous nous intéressons ensuite au quartier « Freetown Christiania ».
Cet endroit, autoproclamé « ville libre de Christiania », fonctionne comme une communauté autogérée.
Fondée en septembre 1971, sur le terrain d'une ancienne caserne, par un groupe de squatters, de chômeurs et de hippies, la cité compte près de 1 000 habitants, dont 200 enfants.
Elle s'étend sur 34 hectares, possède sa propre monnaie et toutes sortes d'activités culturelles et sportives, ainsi qu'un vaste espace agricole.
La marijuana est bien-sûr en vente libre.
We continue to the self proclaimed « Freetown Christiani« . Definitely a unique place and just adjacent to town center!
The « town » was created in 1971 by squatters and hippies on an old military area. Today the place counts 1000 inhabitants including 200 children. The town has its own currency organizes frequent cultural and sports activities. It has a large agricultural area and marijuana is (of cause) legalized.
We discover two distinct quarters. The southern part is more rock and punk style but still has a friendly atmosphere. There are old partly renovated and painted industry buildings. Lots of people sit around drink beer, chat and play Musik. 
The northern part looks like a leap back into the 7ties Flower Power  movement. Colorful little houses in pretty, green gardens, very quiet, children play in the small streets.
What a contrast to Kopenhagen's next door touristy town Centre!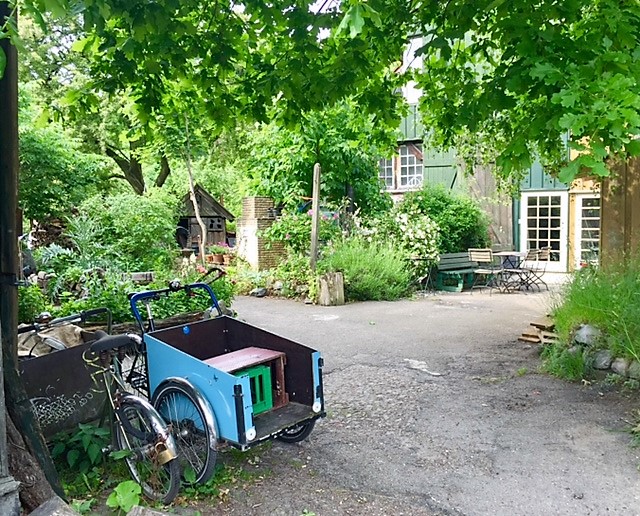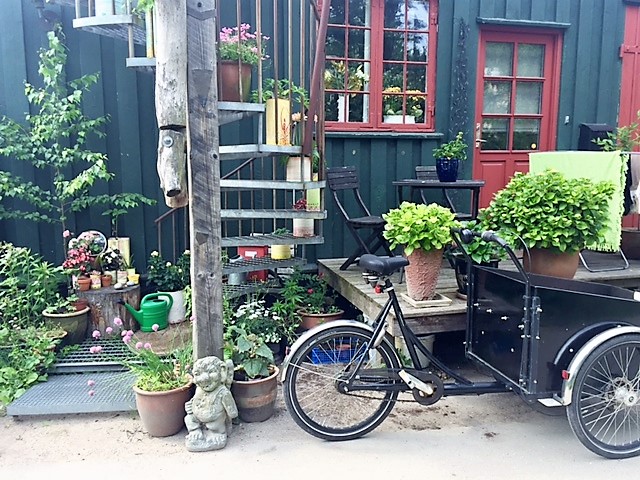 Nous rejoignons ensuite « Tivoli » pour retrouver à nouveau James et passer une deuxième soirée en sa compagnie.
Tivoli est l'endroit préféré de beaucoup de gens depuis son ouverture en 1843. C'est l'un des parcs d'attractions les plus vieux au monde, et le parc saisonnier le plus visité. Il est composé de manèges de toutes sortes, d'attractions, de concerts, d'événements et plein de restaurants. C'est dans l'un de ceux-ci que nous allons manger ensemble.
In the evening we meet James again. This time in « Tivoli » a fun park that is installed in the middle of Kopenhagen since 1843!
It is a very popular place for locals and of cause tourists. We have dinner in one of the restaurants that exists since the beginning of the park and Michel and James have « Labskaus » a local specialty that looks a little like Cornish pie. It is made from mashed potatoes and beef, comes with a glas (or more) of strong alcohol and was apparently very popular with fishermen in the countries around the Baltic Sea. Traditional recipes can also include marinated herring (in addition to beef or corned beef) and beat root mixed all together. No wonder they needed alcohol to get it down .
In any case Michel and James confirm that it is very filling AND tasty!
Samedi 17 juin
Nous quittons le Danemark et commençons notre visite de la Suède.
Voisine de Copenhague, la ville de Malmö est la première sur la liste.
Avec ses 560'000 habitants, elle est la troisième ville de Suède après Stockholm et Gothembourg.
Pour différentes raisons, dont sa situation géographique, Malmö est devenue au fil des ans la ville la plus multiculturelle de Suède avec un grand nombre d'immigrants.
Environ 30 % de ses habitants sont nés à l'étranger.
June 17,
We leave Denmark, cross over to Malmö and start our visit of the Swedish west coast.
Malmö is after Stockholm and Gothenburg Swedens 3rd biggest city with 560'000 inhabitants (1/3 foreigners). With the opening of the bridge to Kopenhagen in 2000 a lot of commuters moved in which greatly increased size, wealth and cultural variety of the town. We really like the resulting mix of old and new. Together with the Swedish style to create many inviting public areas this is a very attractive town we find!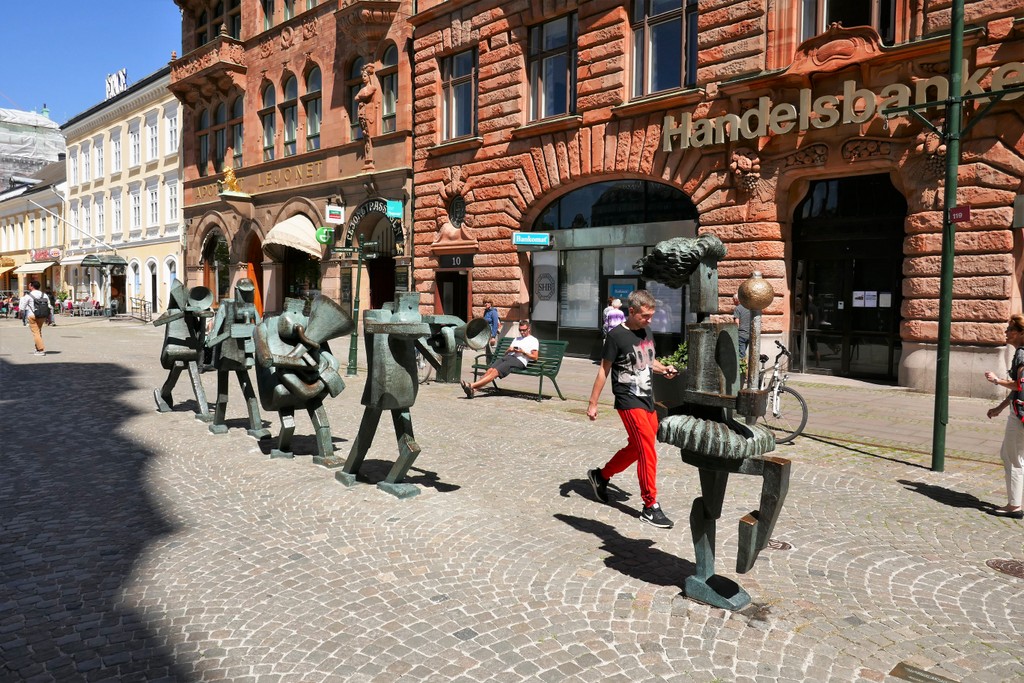 Nous consacrons l'après-midi à la visite de la ville qui nous charme par les grands espaces de détente mis à disposition de la population.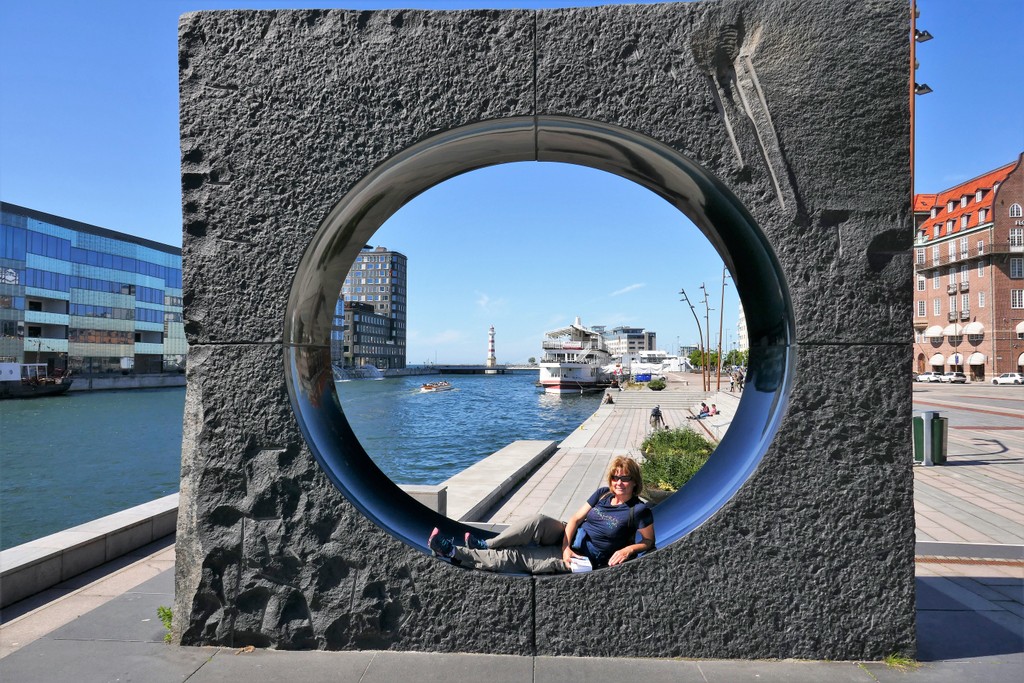 La tour torsadée représente la principale curiosité de la ville.
Conçue par l'architecte espagnol Santiago Calatrava, d'une hauteur de 190mètres elle effectue une vrille de 90°.
Elle représente l'une des tours résidentielles les plus hautes d'Europe.
Terminée en 2005, les 54 étages se répartissent en trois catégories : les 12 premiers consistent en bureaux, les deux derniers sont des salles de conférences alors que les 40 du milieu sont des appartements.
The Centre piece of the new west-harbor quarter is the Turning Torso. It is one of the tallest residential buildings in Europe. The building is 190m high and twists 90 degrees from base to top. Finished in 2005, it is considered one of the worlds most prominent skyscrapers and has won many international awards.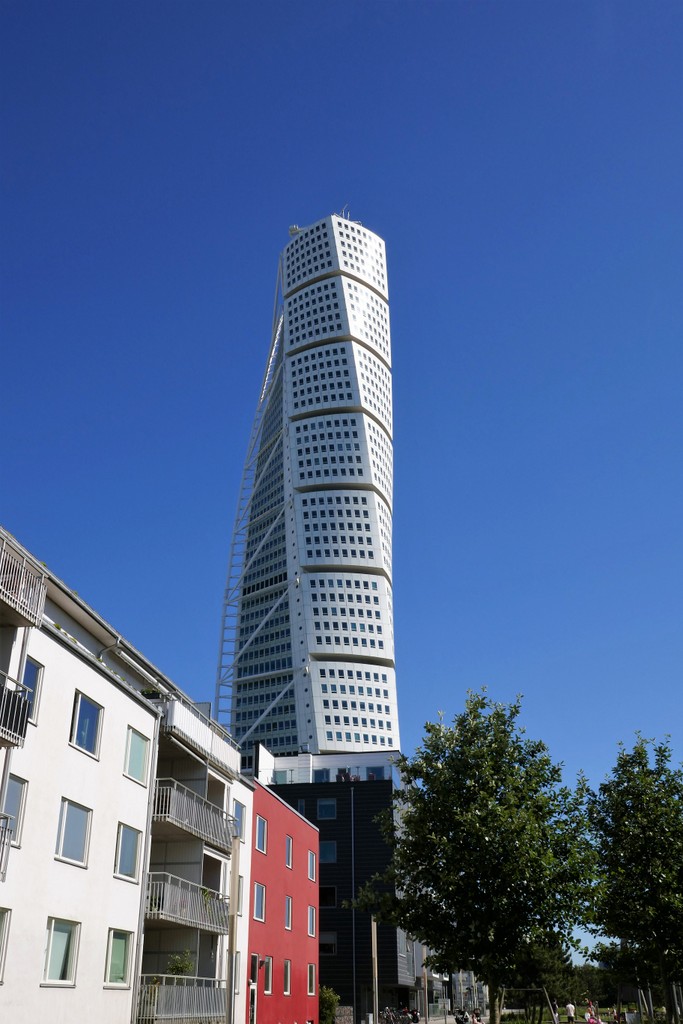 Le musée maritime.
The old and new Maritime museum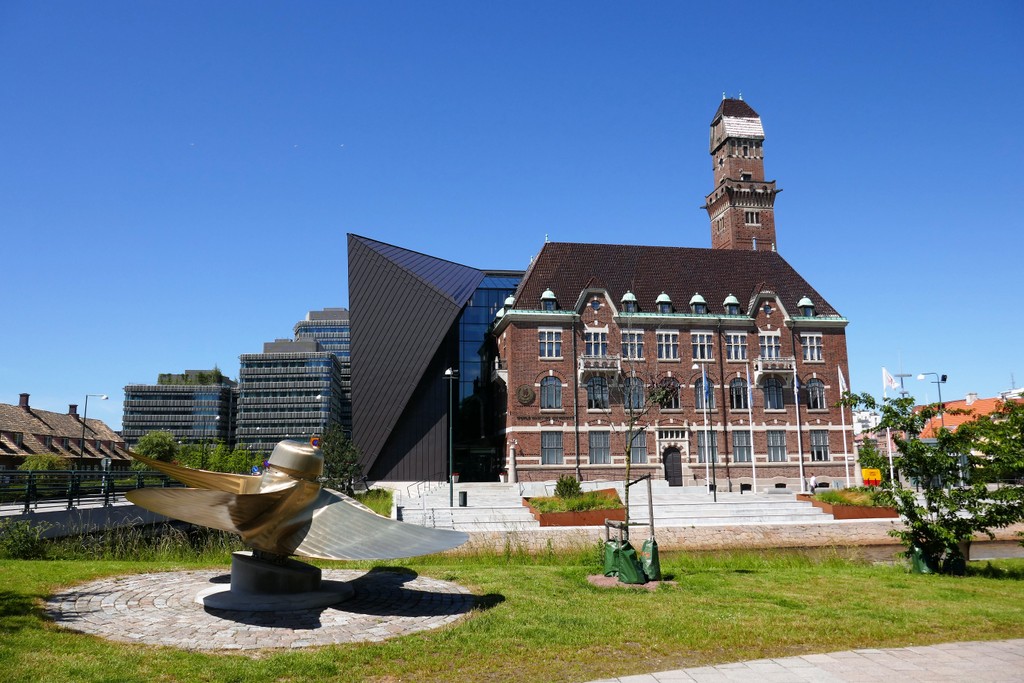 Le symbole de la non-violence.
The symbol of nonviolence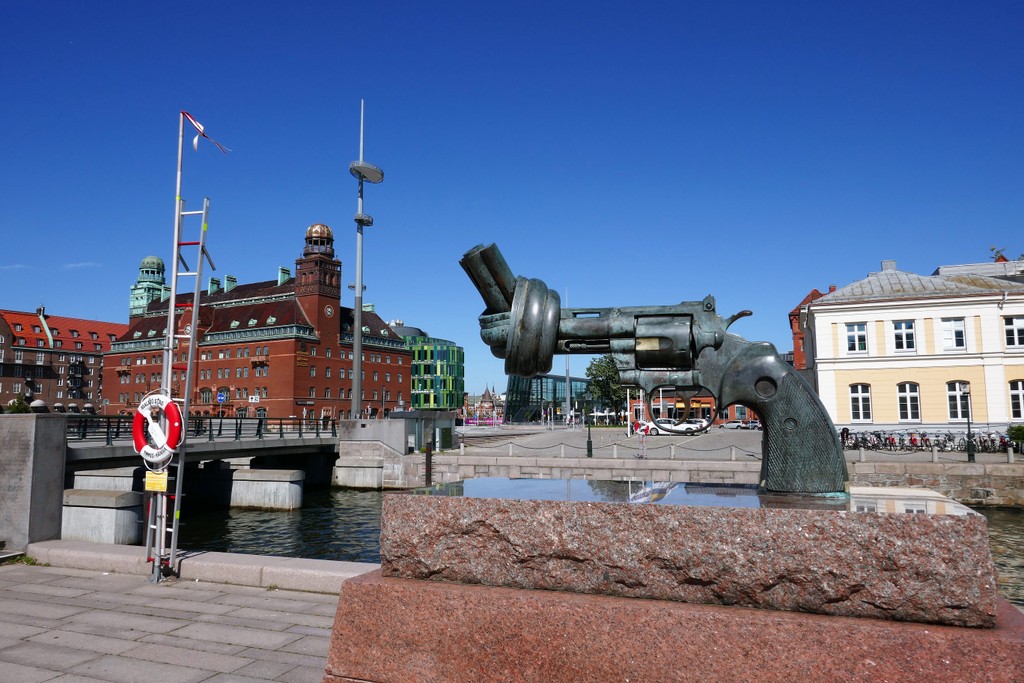 La citadelle.
The Citadel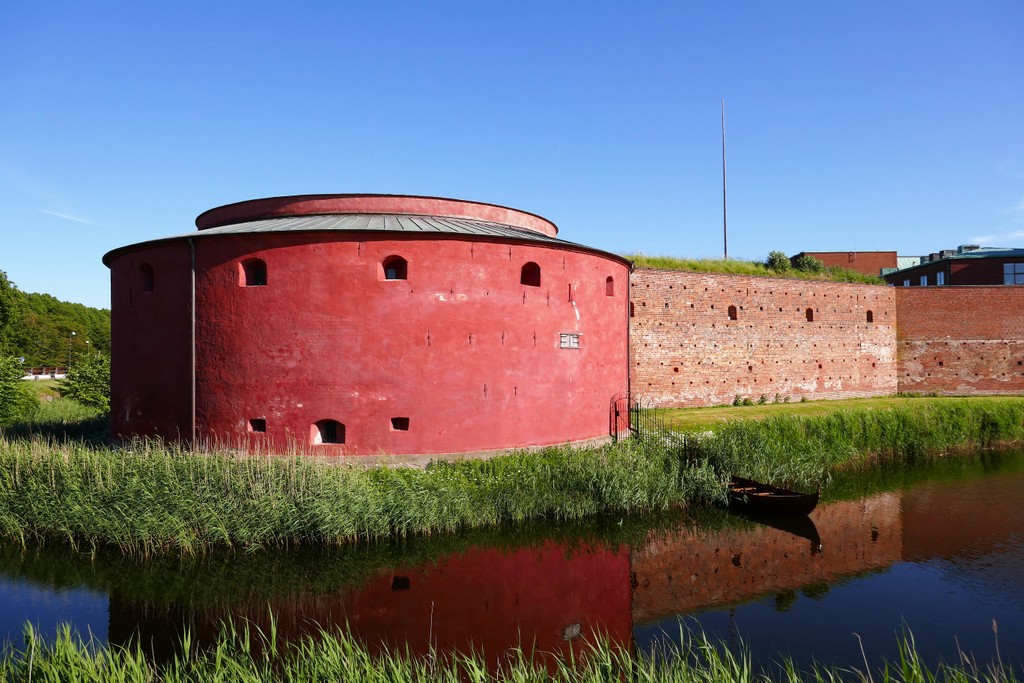 L'une des marinas.
One of West-Harbors attractive marinas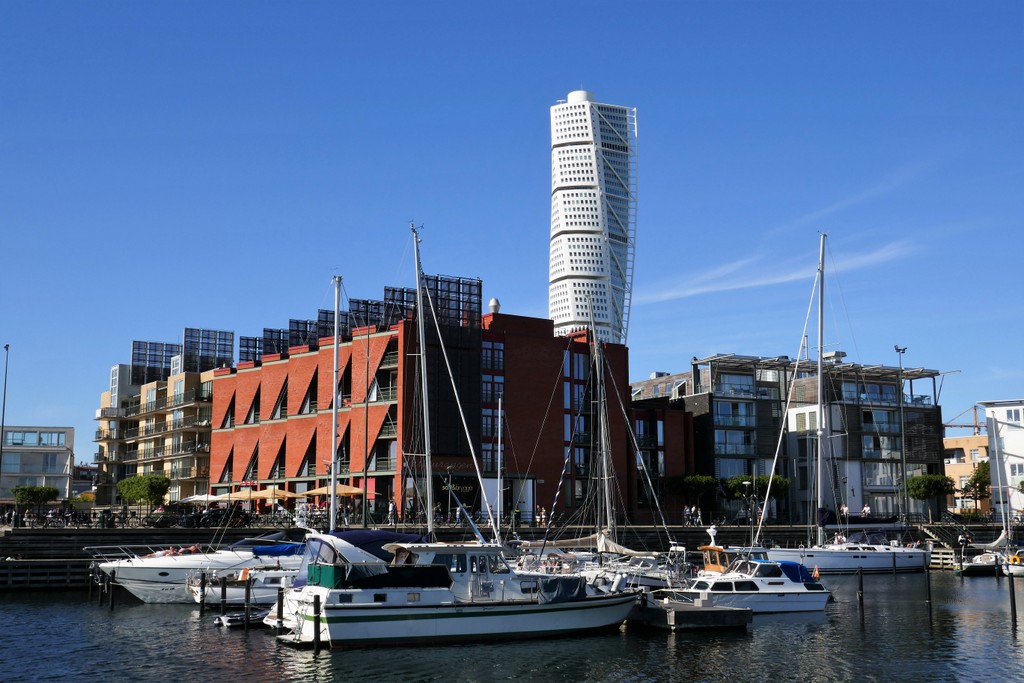 La place Lilla Torg.
The square Lille Torga in the old town center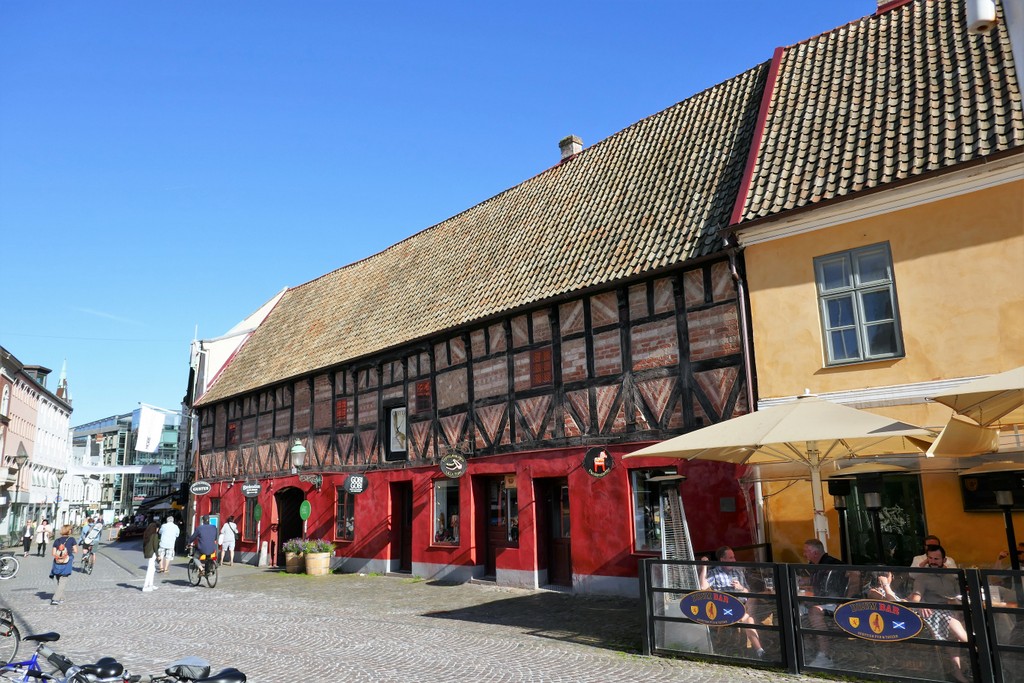 Après la visite de la ville, nous remontons la côte ouest jusqu'au village de Torekov, distant d'une petite centaine de kilomètres.
Quelques kilomètres plus loin, nous trouvons une jolie place en bord de mer pour y passer la nuit, seuls au milieu de la nature.
Next stop is the little fishing village Torekov roughly 100km further north, where we spend the night.
Dimanche 18 juin
Promenade en bord de mer jusqu'à Torekov pour commencer la journée.
June 18. 
We start the day with a sunny stroll along the shore before we continue our trip along the coast direction north. 
On poursuit notre montée le long de la côte ouest en direction de Göteborg.
Arrêt à Båstad pour admirer les jolies maisons toutes ornées de rosiers en fleurs….
A stop in Båstad
……puis à Tylösand pour passer un moment sur la plage…..
And Tylösand
Lundi 19 juin
Près de Gothembourg, nous faisons le tour du lac Delsjön à pied avant de rejoindre le camping Liseberg, dans lequel nous allons passer quelques jours, pendant que nous visitons la ville.
And then Gothenburg/Göteburg.
Mardi 20 juin
Visite de Gothembourg.
Forte de 500'000 habitants, on ne peut pas la considérer comme une jolie ville. Elle présente toutefois quelques points intéressants, comme le quartier du port ou celui de Haga, avec ses petits bistrots.
Lorsque l'on se balade dans la ville, on a toujours l'impression que l'on va se faire écraser par un vélo, un tram, un bus ou une voiture. Il faut vraiment avoir l'œil partout !
Lilla Bommen, le plus haut bâtiment de la ville avec ses 23 étages.
Il est aussi nommé « Le bâton de rouge à lèvres« .
With 500'000 inhabitants Gothenburg/Göteburg has some good spot to visit like the authentic 18 century quarter Haga, the « Lipstick » and the fish church. But overall it does not match Malmö.
Lilla Bommel also called Lipstick, is the highest building in town with 23 levels. The view from the top level is supposed to be stunning, but it is closed the morning we get there .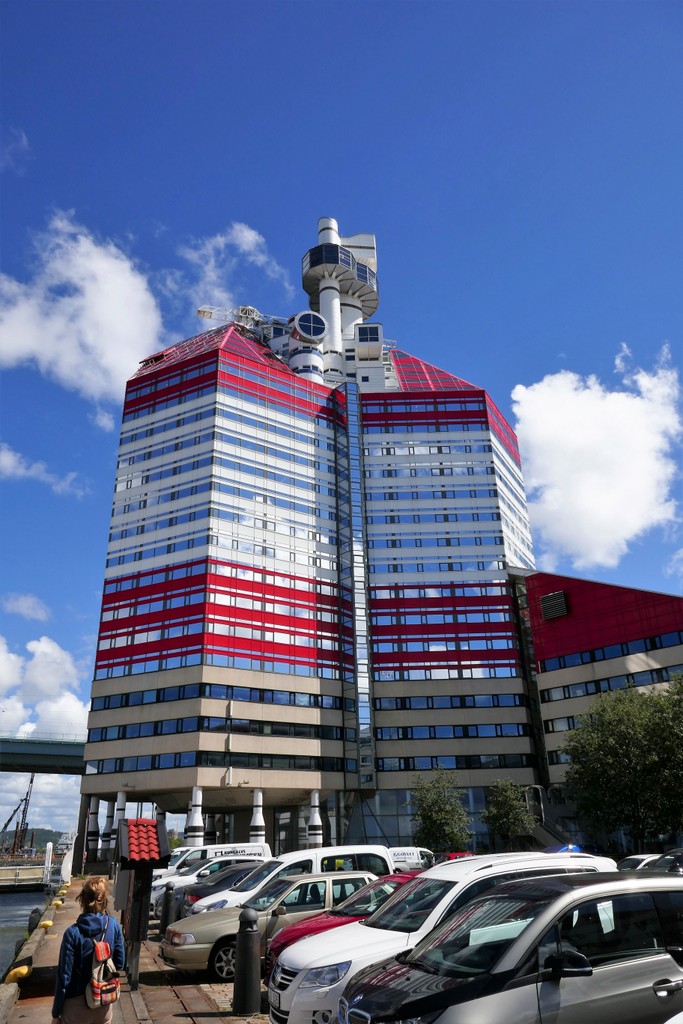 Vue d'une partie du port.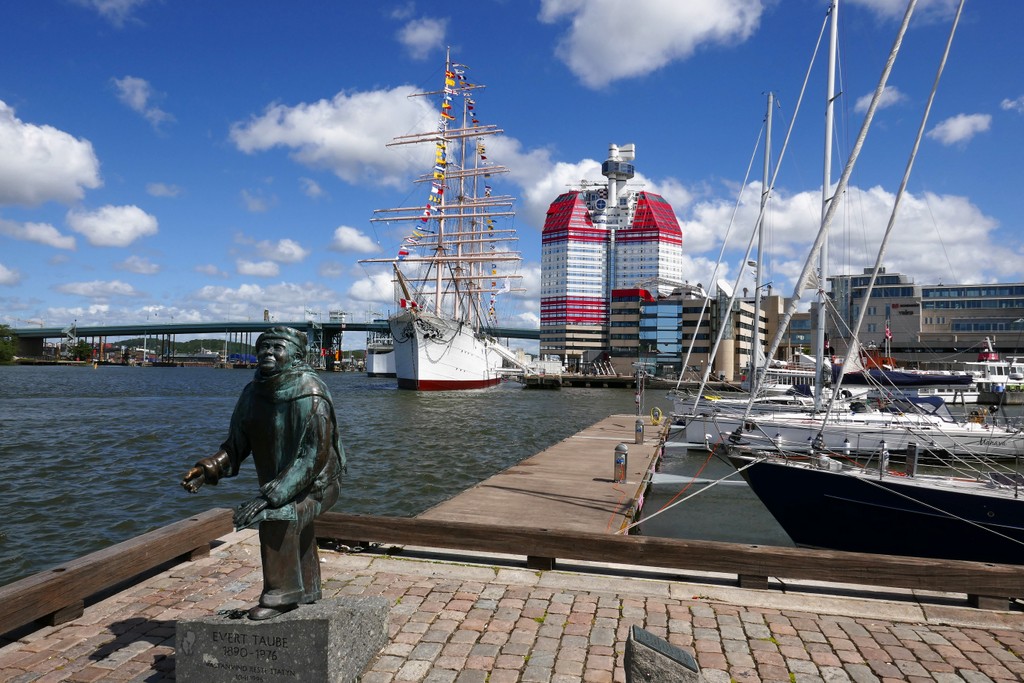 L'église des pêcheurs.
The Fish church's only looks like a church. It is really a fish market!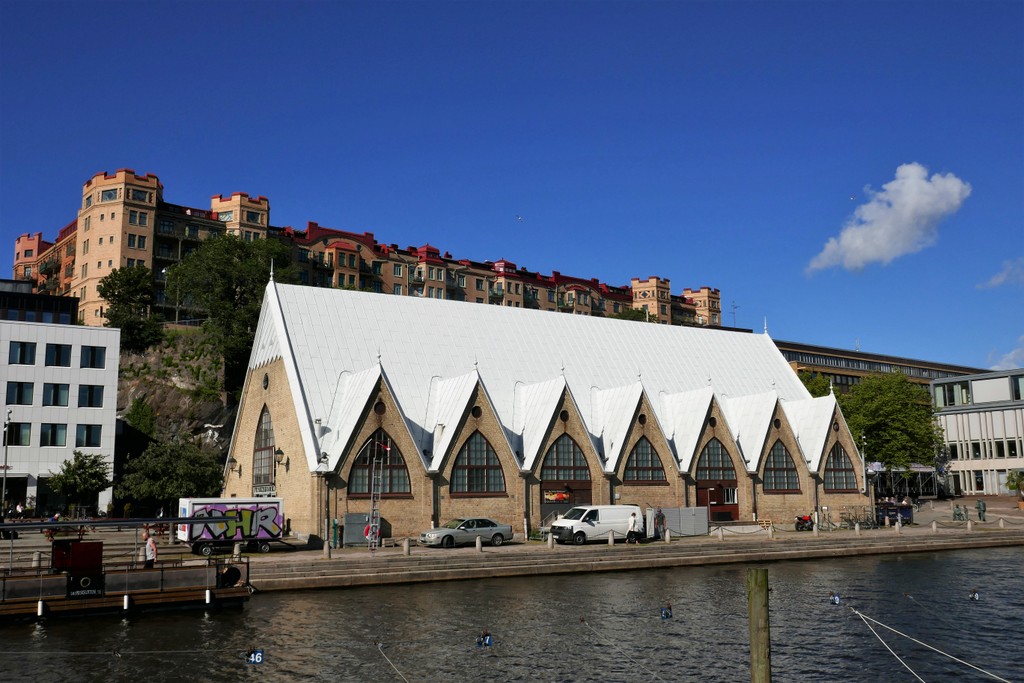 C'est en fait un marché au poisson dans lequel on trouve également un excellent restaurant.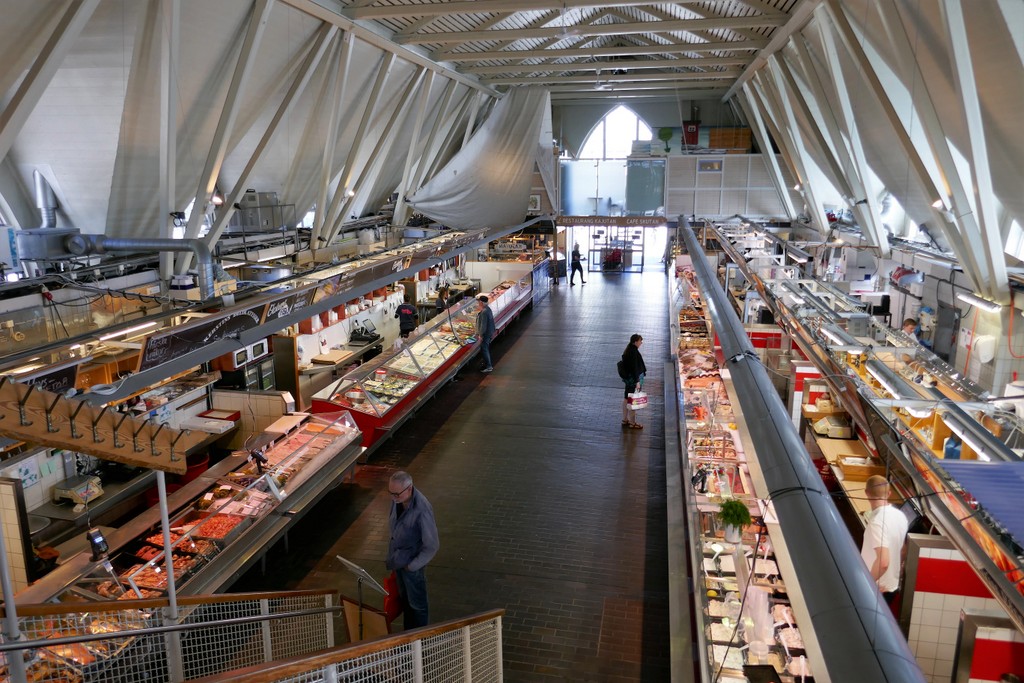 Une vue de la ville.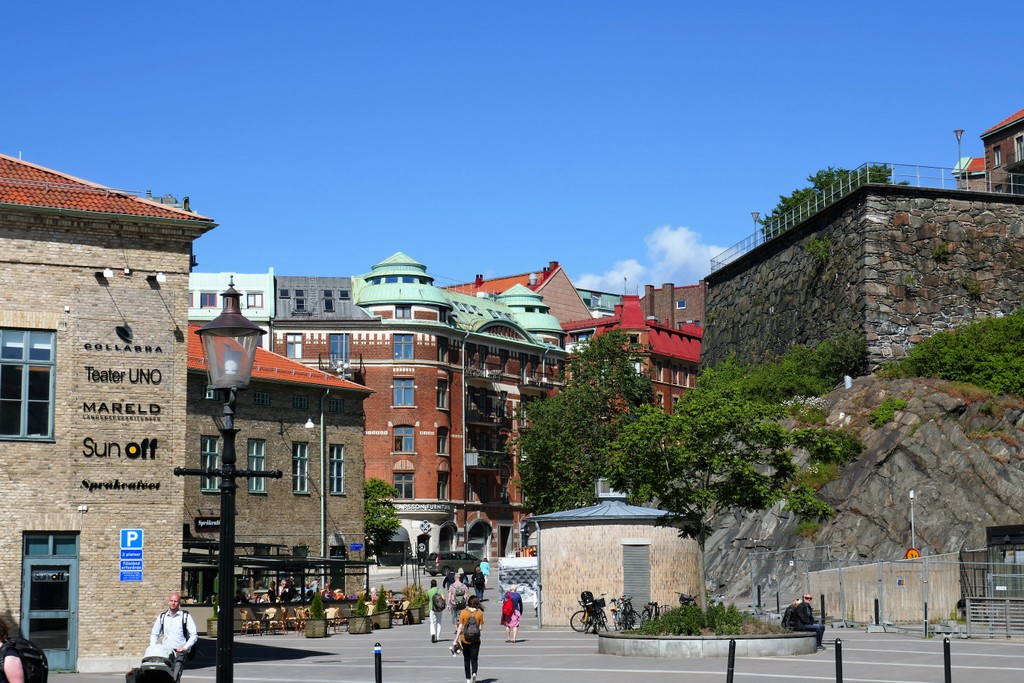 Une chocolaterie artisanale.
A chocolate chop where we buy two big pieces of homemade chocolate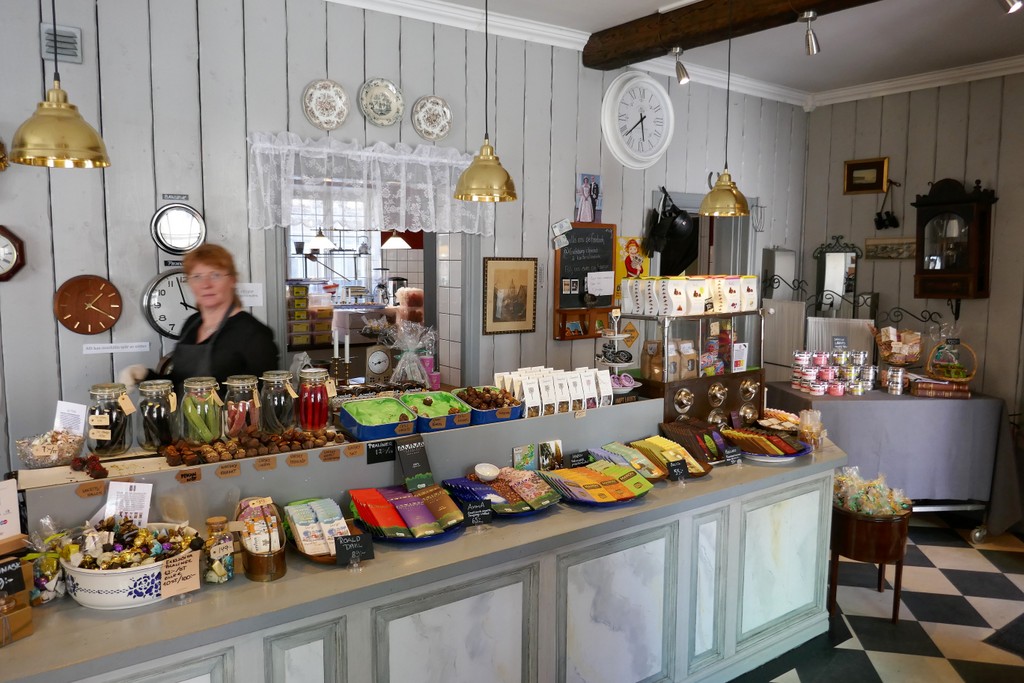 Jeudi 22 juin
Nous avons lu dans notre guide de voyage  « Reise know-how » que peu avant d'arriver à Marstrand, existait un joli café nommé «  Café Zanzibar » qui valait la peine de s'y arrêter.
C'est ce que nous faisons, et la propriétaire, Annelie Utter nous accueille très chaleureusement et nous fait découvrir l'endroit qui en plus d'être un café dispose également d'une installation de fumage de poissons et crevettes.
June 22
From Gothenburg further north there are many little islands often connected with bridges. The rugged coastline together with the islands has created many sheltered areas ideal for little fishing villages and lovely beaches. The area resembles a little the south of Norway with the red fishing sheds and the rocky shore.
We would love to visit all the villages but prefer to be selective; visit less but with more time.
So we select Marstrand as our next destination. On the way we stop for a coffee at a place called Zanzibar recommended by our travel guide book. It is one of those places you walk in a and you feel at home. Annelie the owner is also a professional photographer and organizes photo tours in Africa and Latin America. She shares her experiences with us and we admire her great photos!
There is a smoke house in the large garden and we buy cold and hot smoked salmon (absolutely delicious!!!). And also the local speciality: smoked prawns! Very tasty as well as we find out in the evening 😋 only drawback is the time it takes to get to the edible parts and at the end you have a huge heap of waste and your fingers smell smoky for hours. We will probably stick with the salmon for the future…
Annelie est également photographe et organisatrice de safaris à travers le monde et nous sommes fascinés par ses récits et photos qu'elle a la gentillesse de nous faire partager.
Nous quittons le café Zanzibar en fin d'après-midi pour une visite de Marstrand…….
After this very pleasant break we visit Marstrand with its big citadel…
…….et revenons ensuite un peu en arrière pour nous arrêter pour la nuit sur une place près d'une petite cabane au bord de l'eau d'où nous bénéficions d'une superbe vue sur la baie.
and then find a place to spend the night.
Vendredi 23 juin
En repassant devant chez Annelie, nous décidons de nous y arrêter et de passer un moment pour boire un café et papoter encore un peu.
Là, nous entamons la discussion avec un couple suédois venu pour acheter du poisson fumé.
Ils nous font plein de recommandations sur les endroits à visiter absolument sur l'île voisine de Tjörn.
Rönnäng, Klädesholmen, Ängeviken sont les endroits que nous visitons, malheureusement sous un ciel gris qui va nous amener la pluie en milieu d'après-midi et interrompre ainsi nos visites pour la journée.
Sur le parking du site des sculptures « Pilane », après avoir été avertis par le gardien qu'il était interdit d'y camper, une famille en vélo ayant assisté à la discussion nous indique un endroit tranquille et bien situé pour passer la nuit tranquillement. Sympa !!!
The next mornings we go for another coffee and a chat to Zanzibar. Excellent idea since a Swedish couple that buys lots of smoked fish from Annelie gives us a heap of recommendations for what to visit on the next island called Tjörn.
Under a very cloudy sky and some rain we visit the charming villages of Rönnäng, Klädesholmen and Ängeviken but decide to postpone the visit of the outdoors sculpture park Pilane to the next day since by now the rain poures down heavily.
Samedi 24 juin
Retour sur le site de Pilane sous un ciel redevenu limpide, pour admirer les diverses sculptures géantes implantées sur un endroit déjà habité 6000 ans av JC, sur lequel les archéologues ont retrouvé plusieurs tombes formées de grands cercles de pierre avec une pierre tombale en son centre datant de cette époque.
Depuis 2007 ce site est utilisé pour présenter une exposition de sculptures renouvelées périodiquement.
June 24
We wake up to a bright blue sky. Perfect for our visit!
Pilane is a sculptor park on a field of ancient graves and stone circles dating back up to 6000 years BC. The sculptures are build from international artists from different materials. The exhibition is renewed every year.
The big size sculptures with the intense northern sun lite embedded in the landscape are a spectacular sight!
Only drawback, it is Midsummer weekend (the longest day of the year is a very important and merry family celebration) and every single person in Sweden moves to the little cottages on the coast or at a lake. So the park is quite crowded…
SYRIAN HORSE, SLEEPING FEET and INTROSPECTIVE made from different types of wire.
ANNA made from fiberglass and marble dust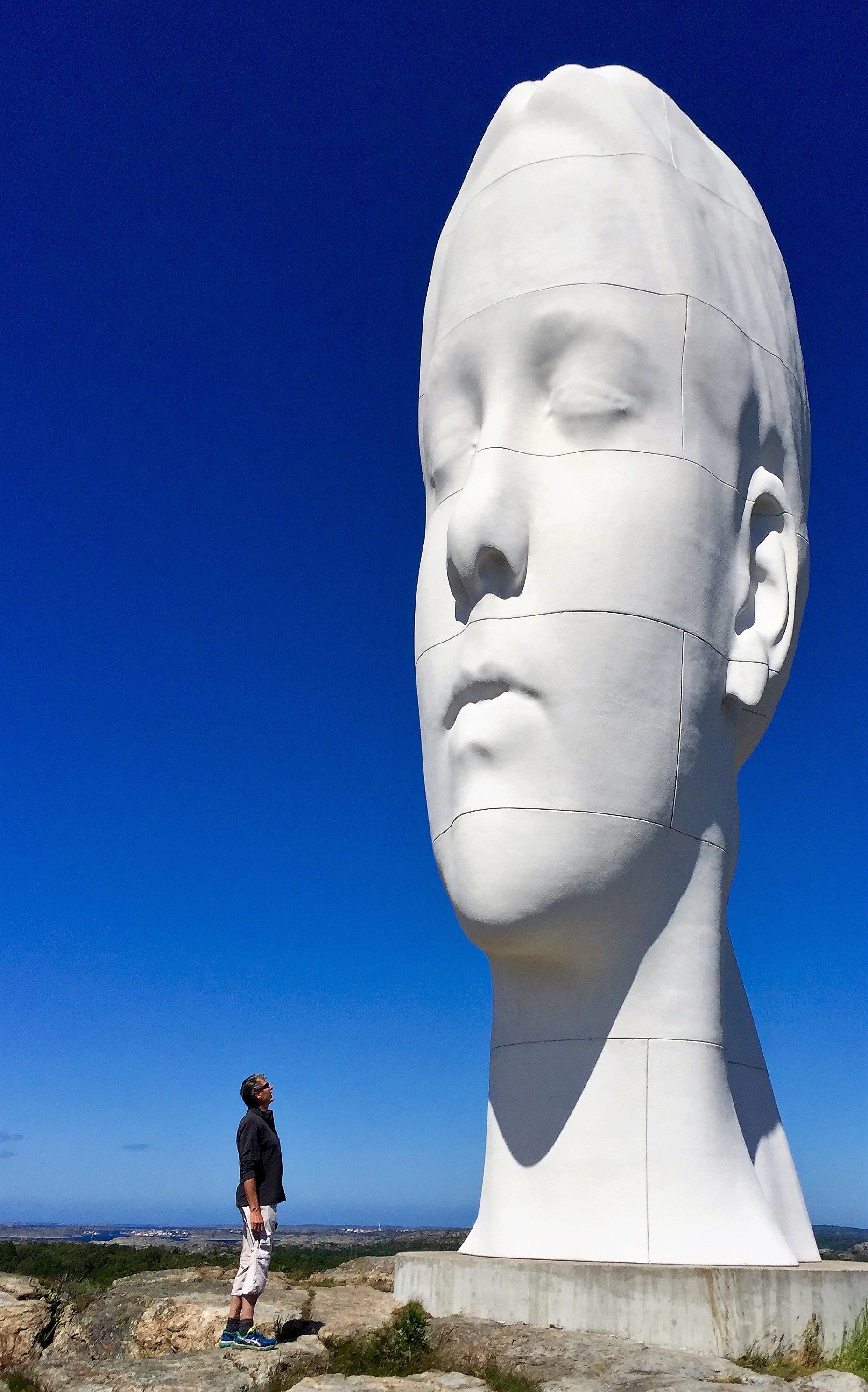 Après ça, nous nous rendons à Uddevalla pour une randonnée en bord de mer dont la particularité est un pont suspendu en bois soutenu par des piliers arrimés dans la paroi au-dessus de celui-ci.
From here we return to mainland and get to Uddevalla a town that lays on a long « sund » (Swedish word for bay). We follow a hike along the waterfront and enjoy the great views. A part of the wooden plank path is suspended from the rocks above it. Quite an exception construction!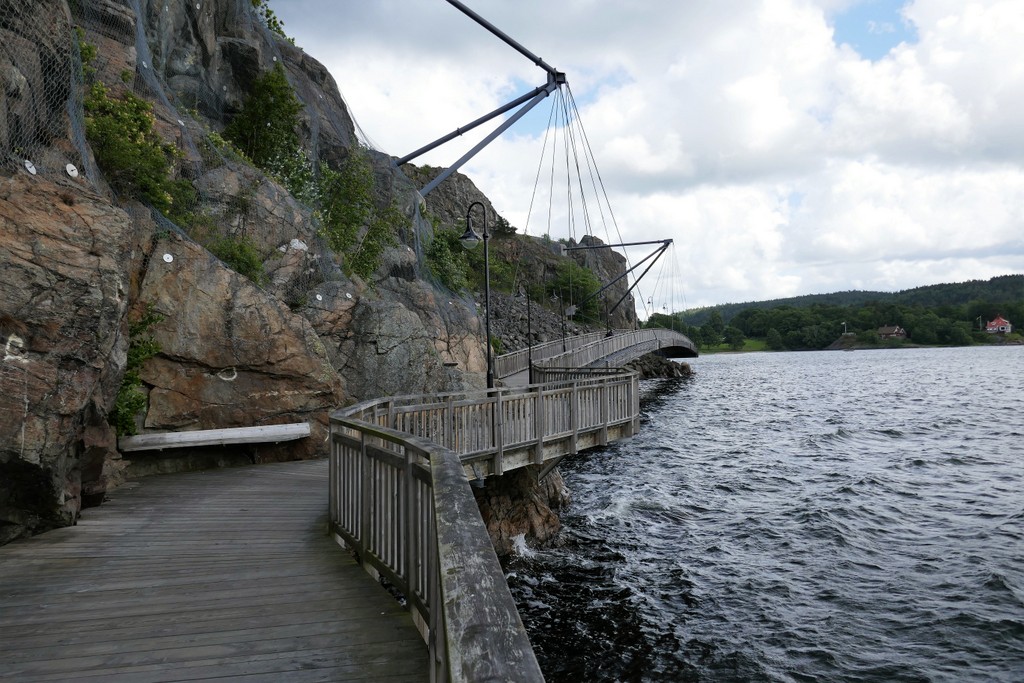 La balade se termine vers une marina que nous trouvons idéale pour y passer la nuit.
C'est donc là que nous revenons avec l'Azalaï après la balade.
L'endroit s'appelle Lindesnäs et c'est avec un joli coucher de soleil que nous finissons cette belle journée.
Dimanche 25 juin
Smögen sera l'étape du jour.
Magnifique village de pêcheurs, réputé le plus fréquenté de cette côte.
Une concentration impressionnante de yachts, voile et moteur se pressent sur le ponton long de 600 mètres, bordé de jolies maisons de pêcheurs.
Smögen is a tiny island a little further up the coast. Its shape allows for several excellently sheltered little harbors for fisherman. Today the numerous painted little boat sheds are all converted into holiday homes with the possibility to attach your boat right in front. It is quite a touristy place but has kept most of its original architecture and charm. With all the islands and protected waters in between, sailing must be fantastic here which is certainly confirmed by the incredible number of sailing boats here!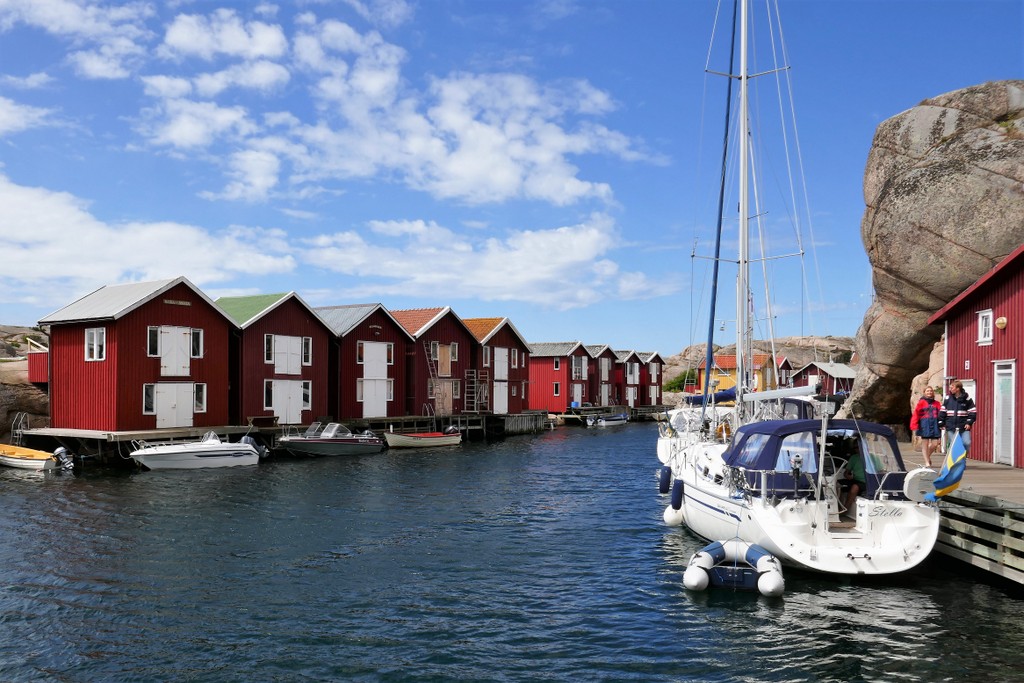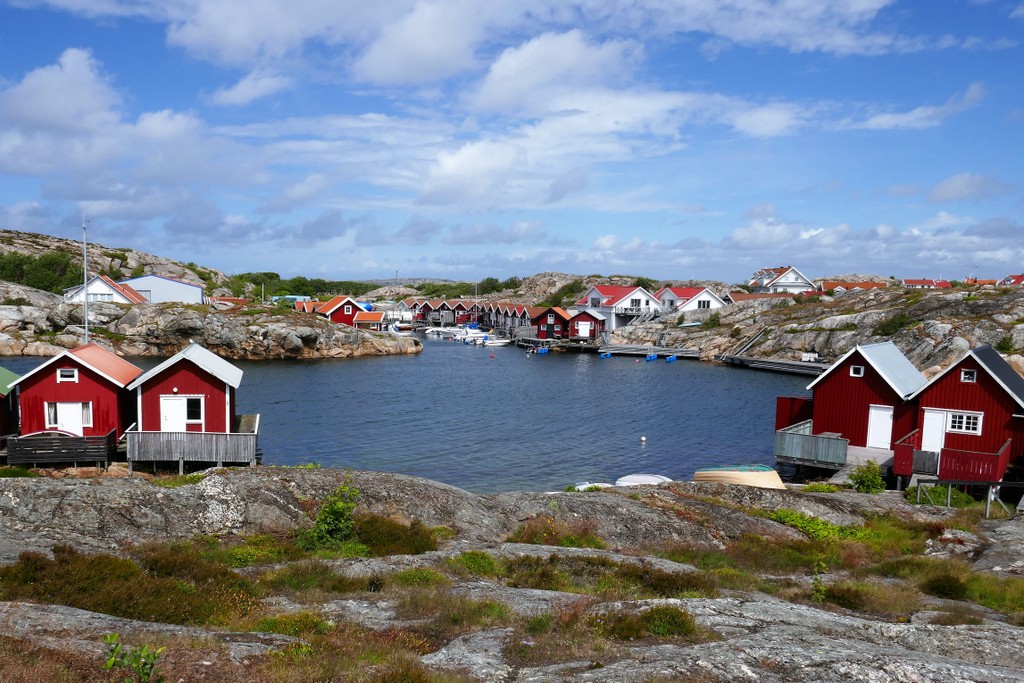 Nuit dans un camping proche, juste au bord de l'eau avec jolie vue depuis l'Azalaï.
Not a difficult task to find a good spot for the night here!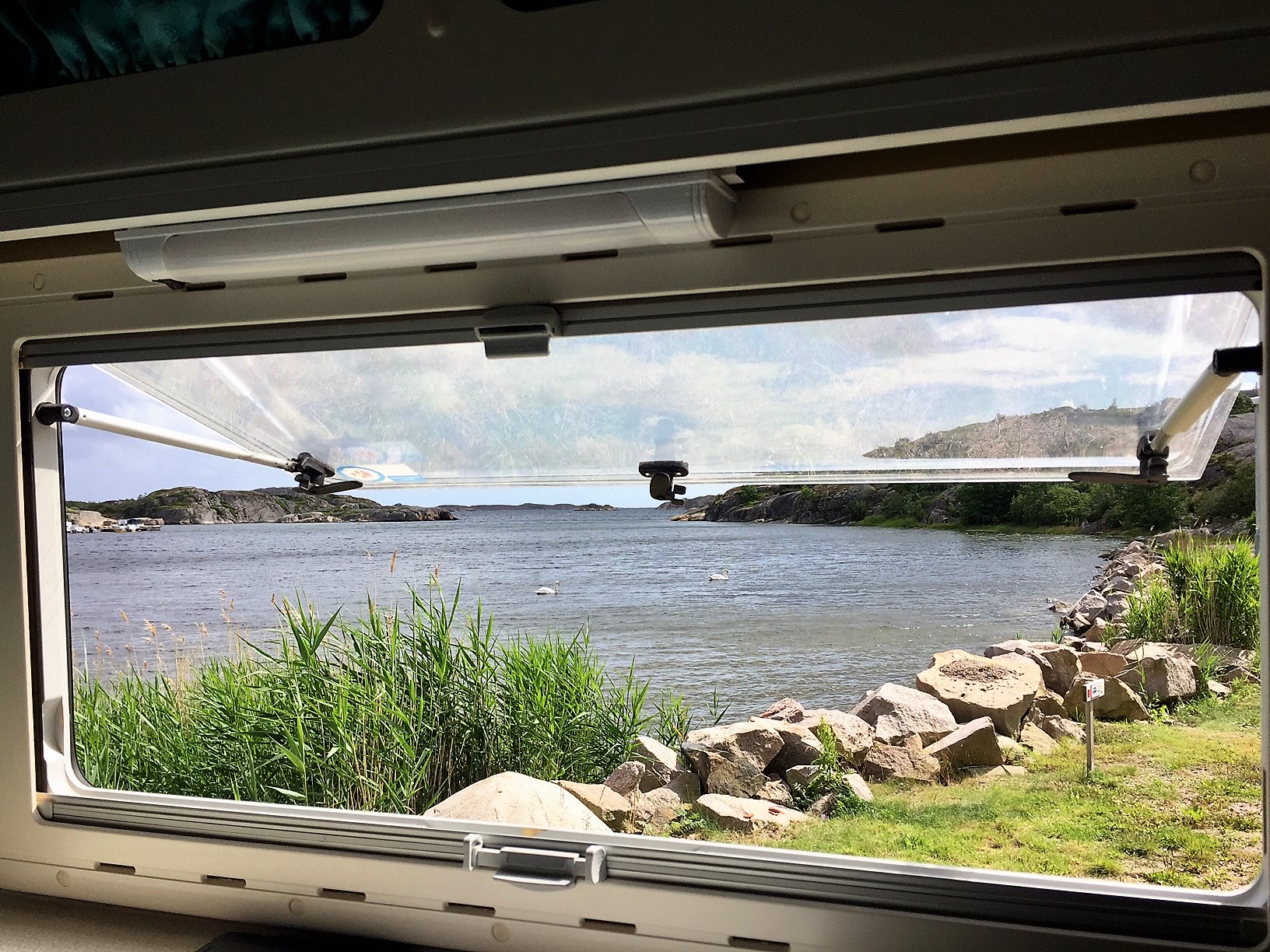 Lundi 26 juin
A quelques kilomètres de là a été créé un parc animalier (Nordens Ark) dédié à la sauvegarde des espèces en voie de disparition en vue de leur réinsertion.
Un circuit de 7 km presque entièrement dans la forêt nous permet de découvrir une huitantaine d'animaux, allant du léopard de neiges, en passant par les suricates et autres gloutons.
June 26
Little addition to our program: we will visit a zoo!
Nordens Arc holds roughly 80 animals in very spacious enclosures. It is dedicated to breeding and reinsertion of endangered animals from all around the world. 
A 7km long path leads through the mainly forest area and we see a mix of amphibians, birds and predators like tigers, snow leopards (never seen this one before!), wolverines and also cute suricates. The wolverine was very common in Sweden but is very rare today.
Nous recollons ensuite à la côte pour une visite des villages de pêcheurs de Hamburgsund puis Fjällbacka.
We briefly stop at Hamburgsund and then continue to Fjälbacka.
Mardi 27 juin
C'est par une balade sur la falaise surplombant Fjällbacka que nous commençons cette journée qui s'annonce magnifique.
A great place for a long hike and some ice cream in the small village that is connected via a long wooden stare case with the top of the cliff.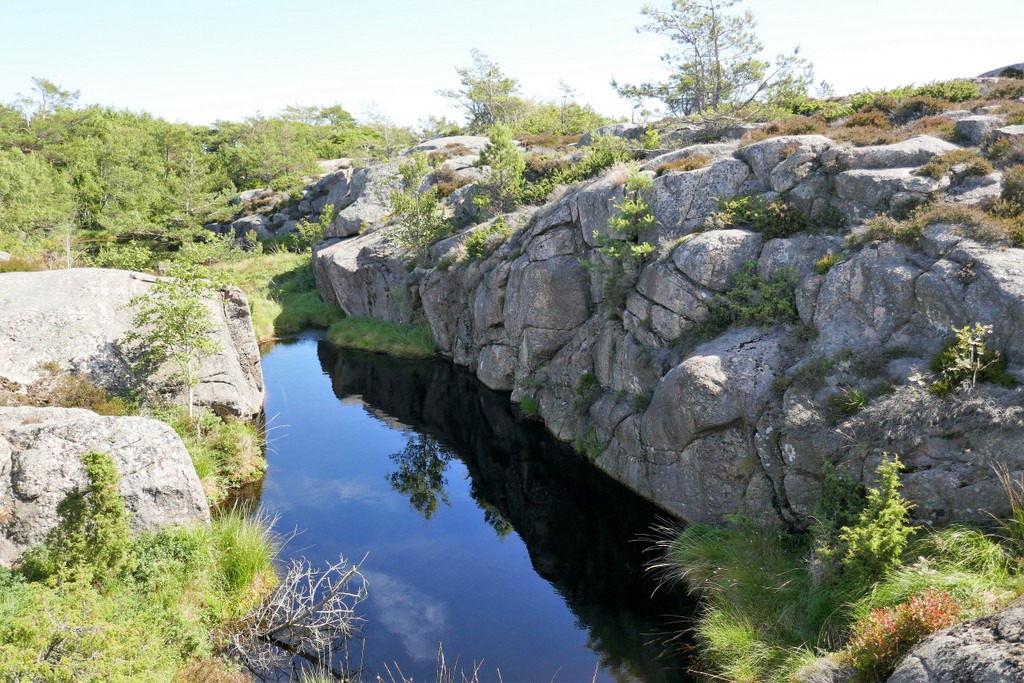 Une très jolie vue du village et de la côte toute en récifs s'offre à nous depuis ce promontoire.
Nice view!
Le site d'art rupestre de Bohuslän à Tanum est l'objet de notre prochaine escale lors de cette remontée de la côte ouest de la Suède.
Cette région a été très peuplée dès l'âge de Bronze (1800-500 AC) et la plupart des gravures ont été taillées durant cette période.
Nous avons la chance d'avoir à notre disposition un archéologue qui nous accompagne sur place et nous fournit plein d'intéressantes explications sur l'origine et la signification de ces dessins.
We learn from the guide book that at in the area of Tanum there are 500 individuals stone carving sites from the Bronze Age (1800 a 500 BC). The four biggest ones are made accessible and we visit Vielecke with a big stone full of carvings.
You can see many boats, hunters, fishers, warriors, animals, Thor the weather good and many more.
We are lucky and get a tour from an archeologist who explains us today's interpretations of the carvings. Super interesting and the free museum that is close by is really well done (we are not much into museums but do spend quite some time in this one…).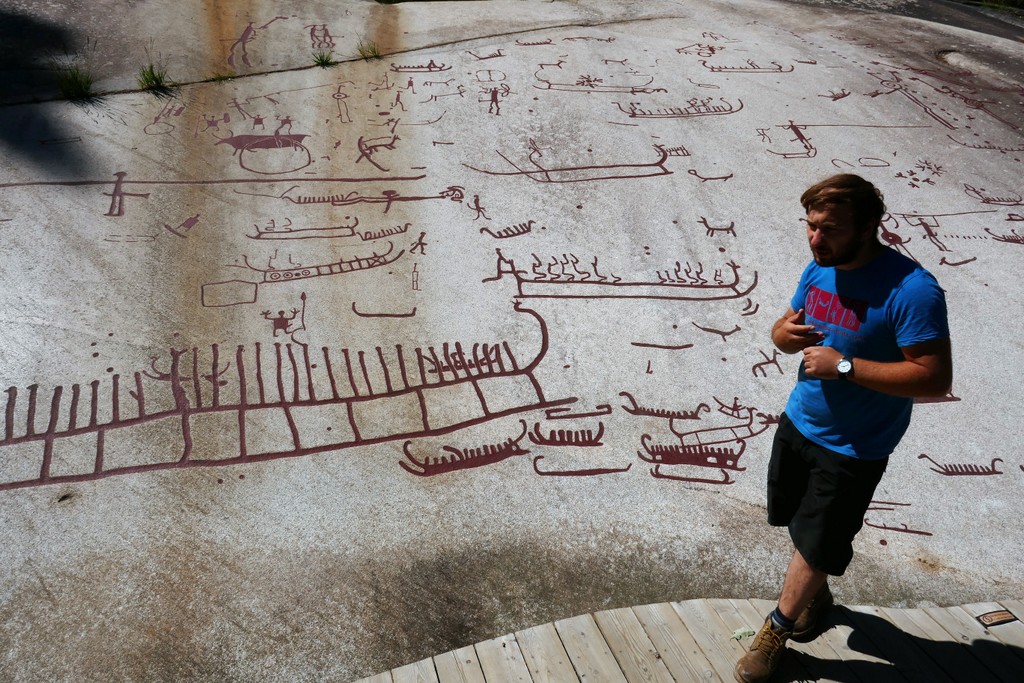 Mercredi 28 juin
Nous quittons maintenant la côte ouest et rejoignons l'intérieur des terres pour nous rendre dans la région des lacs.
Au bord du grand lac Vänern, dans la localité de Håverud, un ingénieux aqueduc a été construit en 1864 pour relier le canal Dalsland au lac en question.
A l'origine, une rivière, au fond d'une profonde et étroite gorge s'écoulait entre ces deux points et rendait le passage impossible.
Nils Ericson, l'ingénieur en charge du projet décida de construire un aqueduc en plaques d'acier posées sur des pylônes de béton reliant 4 écluses pour ajuster les niveaux.
Un pont ferroviaire basculant traverse l'aqueduc ainsi qu'un pont routier. Tout ceci offre un spectacle très prisé par les touristes de passage qui s'arrêtent nombreux pour admirer cette œuvre.
June 28
We now leave the costal area and head inland direction big forests and thousands of lakes (hopefully not thousands of moskitos or similar biting insects like everybody tells us to watch out for 😐).
In Håverud at the big lake Väneren in 1864 needed to find a solution for how to connect the lake to the Dalsland canal. The issue was a deep gorge that run perpendicular to the canal and thus blocked its continuation.
Nils Erickson the chief engineer at this time decided to construct an aqueduct for the Canal and have it cross the gorge. 4 consecutive locks were needed to overcome the difference in height.
Later on a train bridge that can open to let high boats pass and a road bridge were added. All together a great demonstration of public transport development in the 18 hundreds!
Nous remontons maintenant en direction de Bengtsfors où le hasard ou plutôt le gps nous fait passer à un moment donné par un chemin forestier qui longe la toute extrémité du lac Lelång. L'endroit est magique et nous nous y arrêtons pour une baignade et nous profitons aussi de nous dorer un peu au soleil et décidons que nous y serons très bien pour passer la nuit.
From here we leave direction Bengtsfors, an ideal spot to hire a canoe and explore a bit of the 1000 lakes by boat.
One the way we stop at a lovely spot for a swim and finally decide to stay here for the night.
Vers les 10heures du soir, un superbe coucher de soleil s'installe sur le lac et, l'avantage sous ces latitudes est que le phénomène dure près de 2 heures.
The place is ideal for tonight's colorful sunset that thanks to the high latitude lasts for 2 hours…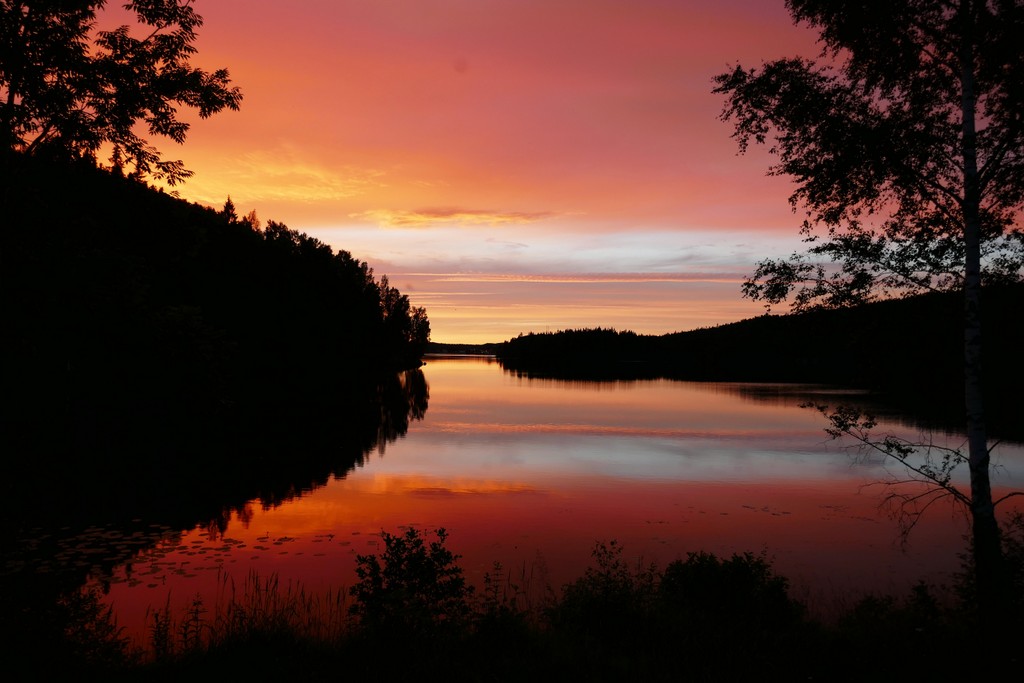 Samedi 1er juillet
Partis assez tôt ce matin (09h00) pour parcourir les quelques 20km qui nous séparent de « Silver Lake », un camp dédié à la pratique du canoë.
La location effectuée, nous partons à la découverte de ce lac qui s'étend devant notre étrave et dont nous longeons la côte tout en découvrant çà et là une île qui nous invite à effectuer un petit arrêt et même une baignade. Magnifique journée !
The next day we arrive at Silver Lake camp where we hire a canoe and get started.
The weather is perfect and we spend all day canoeing interrupted only by a pic-nick and a swim on a little island with a church. It is Sunday and right during our little break  a wedding starts and the whole party walks passt us. Everybody nicely dressed and we in our bathing cloths… so funny (not sure they would agree 😊).
Dimanche 2 juillet
Nous allons maintenant passer 3 jours dans la réserve naturelle de Glaskogen, toujours en plein milieu de la région des lacs.
Afin de préserver la beauté de cette région, le gouvernement local a décidé en 1970 de créé cette réserve d'une superficie de 28'000 hectares.
Nous passons nos journées à nous promener le long des nombreux sentiers balisés qui la jalonnent et qui nous font découvrir une nature d'une grande beauté.
July 2
We have moved on to Glaskogen Nature Reserve still in the lake and wood area.
To protect this beautiful place, the Swedish government created this park in 1970 with a surface of 280 km2.
We spend our time hiking through woods and along the stunning lakes. A very peaceful environment. No swimming tough the weather is too cold even for Michel!
Pour les véhicules, le camping sauvage est interdit et nous en choisissons par conséquent un officiel qui se situe en plein milieu de la réserve et qui offre des places éparpillées dans une forêt de pins et séparées par un pan de nature.
Tout ça, directement au bord de l'eau.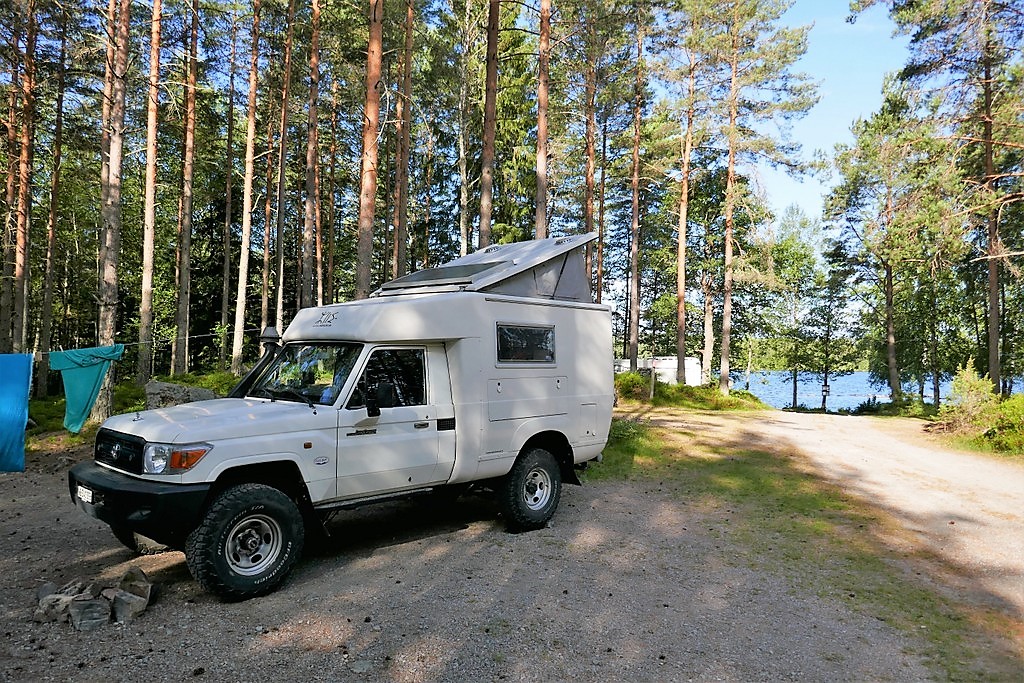 Mardi 4 juillet
Encore une balade dans la réserve naturelle avant de nous mettre en route vers Dammarna, un peu plus au sud de la même réserve, toujours au bord du même lac.
Beate, une amie rencontrée en Patagonie en 2014 et avec qui nous avons gardé contact nous fait savoir par messenger qu'elle n'est pas loin et demande si elle peut nous rejoindre pour passer 2 jours avec nous. Aussitôt dit, aussitôt fait !
Nous passons la soirée ensemble et elle nous raconte son périple à Svalbard (Spitzberg) d'où elle est en train de redescendre avec son camping-car.
On the last day Beate a friend we met in South America joins us.
She is on her way back from an expedition from Spitzberg/Svalbard and explains us all about her trip through the pack ice and shows us the stunning pictures she was able to make. 
Mercredi 5 juillet
Quelques kilomètres de balade dans la réserve naturelle…..
July 5
One more beautiful hike together in Glaskogen.
…….. avant de reprendre la route pour nous rendre à Kristinehamn. Petit tour de ville avant de nous rendre dans un restaurant pour passer la soirée ensemble autour d'un bon plat.
And we continue to Kristineham where we take a tour of the little town and finish the day with a tasty dinner.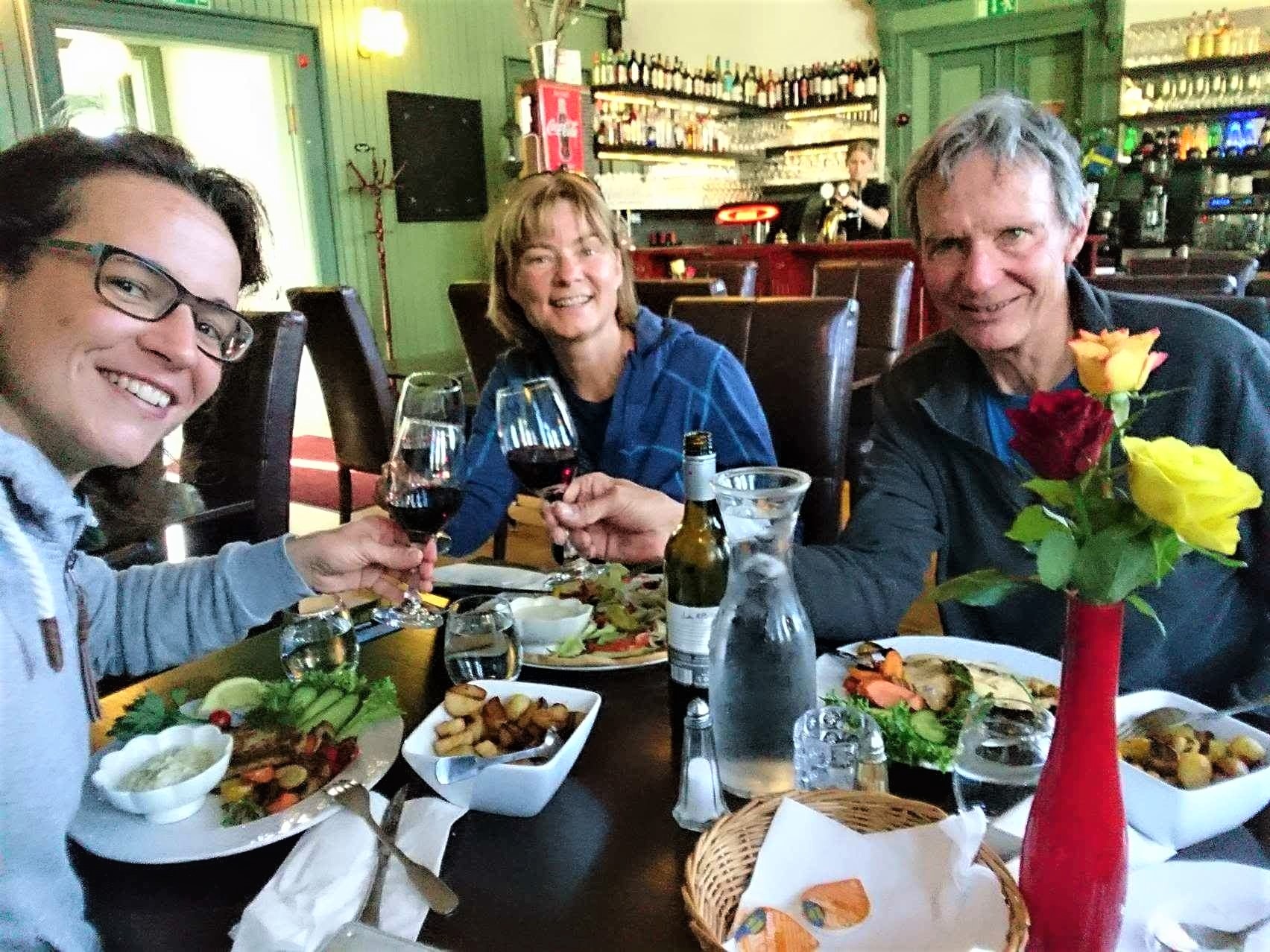 Jeudi 6 juillet
Visite de la sculpture de Picasso.
En 1950, Picasso peignait « Les dames de Mougins » et rêvait d'en faire des sculptures géantes.
Bengt Olson, artiste peintre suédois natif de Kristinehamn eut vent de ce projet et proposa à sa commune de prendre contact avec Picasso pour qu'il soit réalisé à cet endroit.
L'artiste hispano-français accepta l'offre et c'est ainsi que cette sculpture de 15 mètres de haut pour une envergure de 6×4 m et dont le pied mesure 1,65 m de diamètre a vu le jour. Elle a été inaugurée en 1965 et représente le pôle d'attraction principal de la région.
The curiosity in Kristineham and the reason for our visit is a huge Picasso statue.
Originally destined to the Norwegen home town of one of Picassos friends, the statue was finally built here since the Norwegian town refused the offer (today a big regret I am sure!). 
The sculpture is the ralisation of his painting « Les Dammes de Mougins » and was inaugurated in 1965.
Vendredi 7 juillet
Baignade matinale au lac et achat d'une truite arc-en-ciel de 800 grammes, fraîchement sortie de son milieu par un jeune pêcheur qui propose même sa canne à Michel afin de s'essayer à son tour. Malheureusement sans succès.
July 7
After a morning swim Michel buys a rainbow trout from a boy that fishes very successfully right next to us. (He had offered Michel to use his fishing rod but Michel tries in vain, so we end up buying 🙁).
Dinner is ensured 😁

Le soir même elle finit en papillote et nous offre un excellent repas.
Nous quittons là Beate qui continue sa route vers l'Allemagne alors que nous montons encore un peu plus au Nord jusqu'à Tällberg, au bord du Siljansee.
Later on Beate continues south and we north, who knows where we will meet again…
La journée de demain s'annonce légèrement pluvieuse et nous décidons de nous mettre dans un camping pour passer une journée tranquille.
La haute saison a maintenant commencé pour les suédois et les campings commencent à se remplir sérieusement, à tel point que le premier que nous visitons est complet.
Plus de chance avec le deuxième qui a encore pas mal de disponibilités.
C'est donc à Rättvik que nous faisons finalement halte.
De notre place nous apercevons une longue, très longue estacade s'enfonçant dans le lac.
Curieux d'en savoir plus, nous nous y rendons et obtenons les renseignements souhaités.
La toute première a été réalisée en 1890 pour permettre aux touristes d'accéder à des bains protégés, offrant une profondeur d'eau suffisante.
Ces bains ont été détruits à la fin des années 1930 et l'estacade laissée dans l'état.
En 1989 un comité a lancé une collecte pour en réaliser une nouvelle, également toute en bois et a réussi à réunir ainsi les 300'000 CHF nécessaires à sa construction.
Chacune des 2638 planches nécessaires à la réalisation de son plancher portent le nom d'un donneur.
Longue de 628 mètres, elle est probablement la plus longue estacade lacustre au monde et la plus longue réalisée entièrement en bois.
Elle a été inaugurée en 1992.
Our next stop is at lake Siljanse. The area is called Dalarna and is often compare with Switzerland. The atmosphere is indeed a little pre-alpine, very green with lots of flours in the meadows, beautiful little wooden houses, gentle valleys. We love it!
And so do lots of Swedish and Germans! The campground we have chosen in Tällberg is full! This is a first for this years trip. But then again we are in July…
Never mind we continue to Rättvik. The camp site here is much bigger and we find a place no problem.
Here we discover the probably world longest completely wooden pier: 628m! (Anything better in the UK or US?). 
Constructed in 1890 the ice in winter takes its toll every winter and mid 1900 a substantial renovation is needed. As we have seen many times in Scandinavia for similar cases funds are raised to maintain the publically well appreciated installation. 
The new pier is finally inaugurated in 1992 and in each of the 2368 planes a donators name is engraved. Nice isn't it?
Lundi 10 juillet
Visite de Tällberg, petit village de Dalécarlie, au nord de Leksand, au bord du lac Siljan.
Ce village de 200 habitants a le caractère d'un musée avec ses anciennes maisons de bois entourées de barrières à la suédoise.
De petit village de paysans en 1900 il a maintenant 8 hôtels et est devenu l'un des endroits les plus visités de Suède.
July 10
Tällberg at lake Siljan is one of the most visited village in Sweden. It has 200 inhabitants and it is kept like a museum. The houses are 1900 style all in wood. Some very simple other mor elaborated.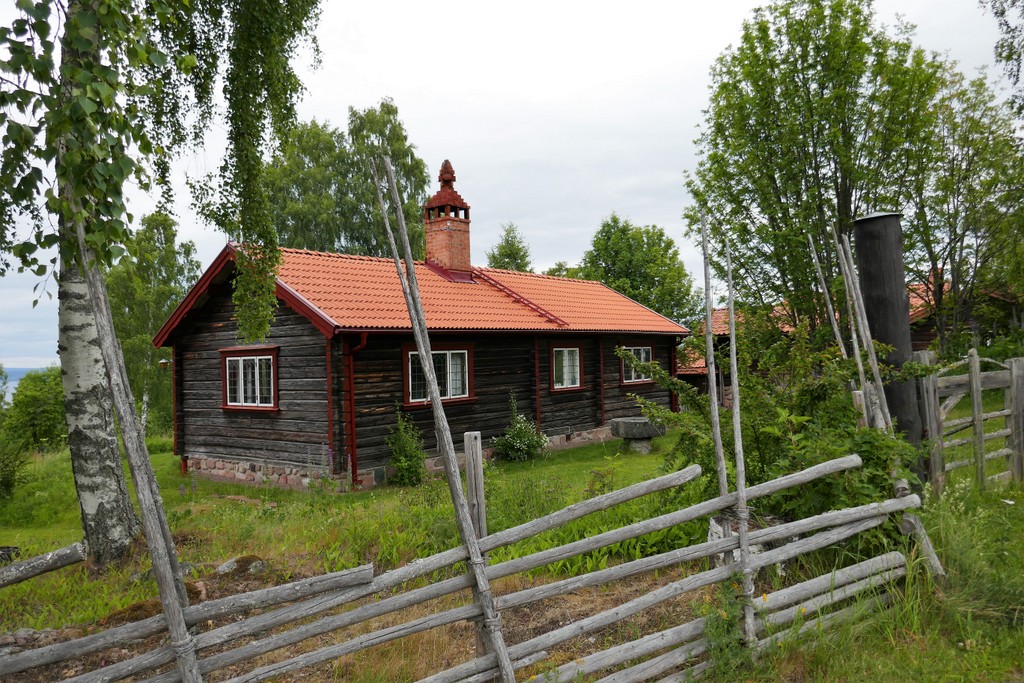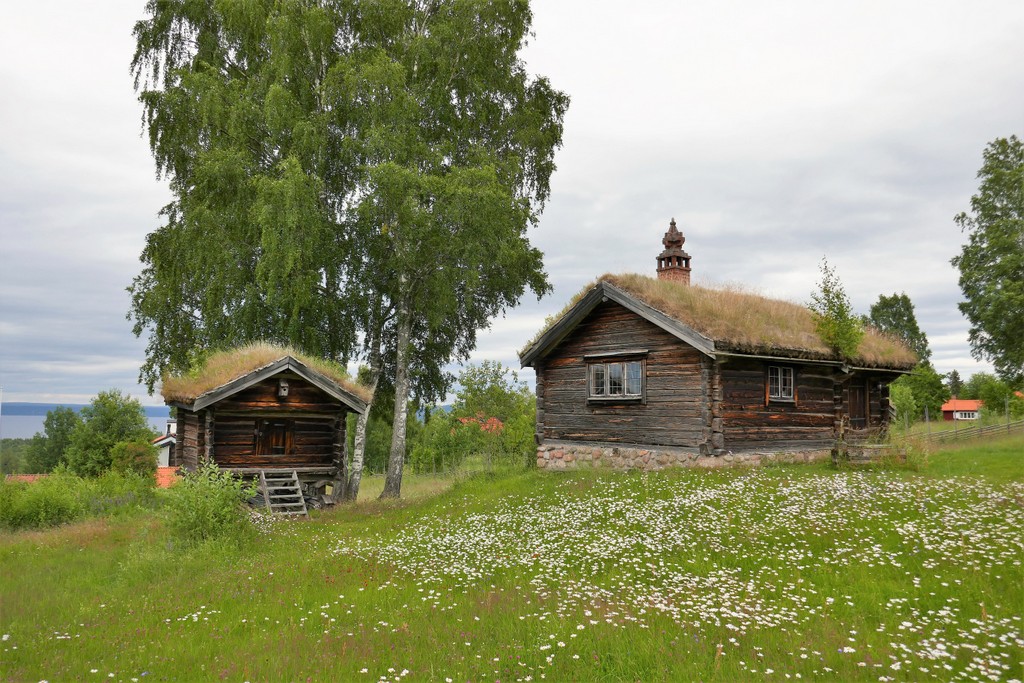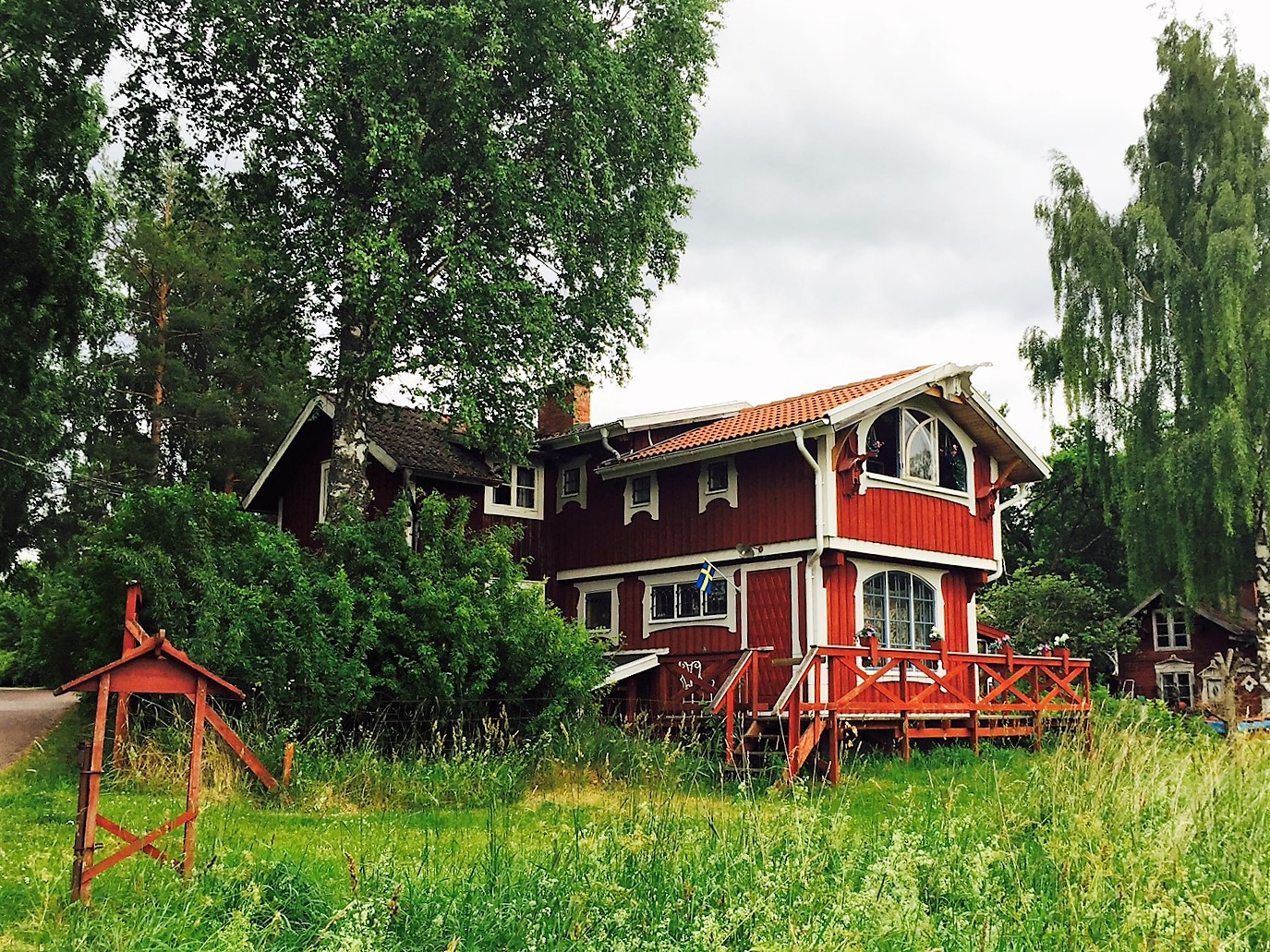 Nous effectuons une balade d'une dizaine de kilomètres autour du village et rencontrons l'un des nombreux refuges qui attendent les randonneurs à pied ou en canoë à travers tout le pays.
Ces refuges sont ouverts et offrent souvent la possibilité d'y dormir sur un plancher à l'abri des intempéries.
Ils sont toujours fournis de bois de feu en quantité.
We follow a 10km tour through and around the village and stop at one of the typical shelters available everywhere in nature parks. There is always wood and a fire place and often there is space for a mat and a sleeping bag.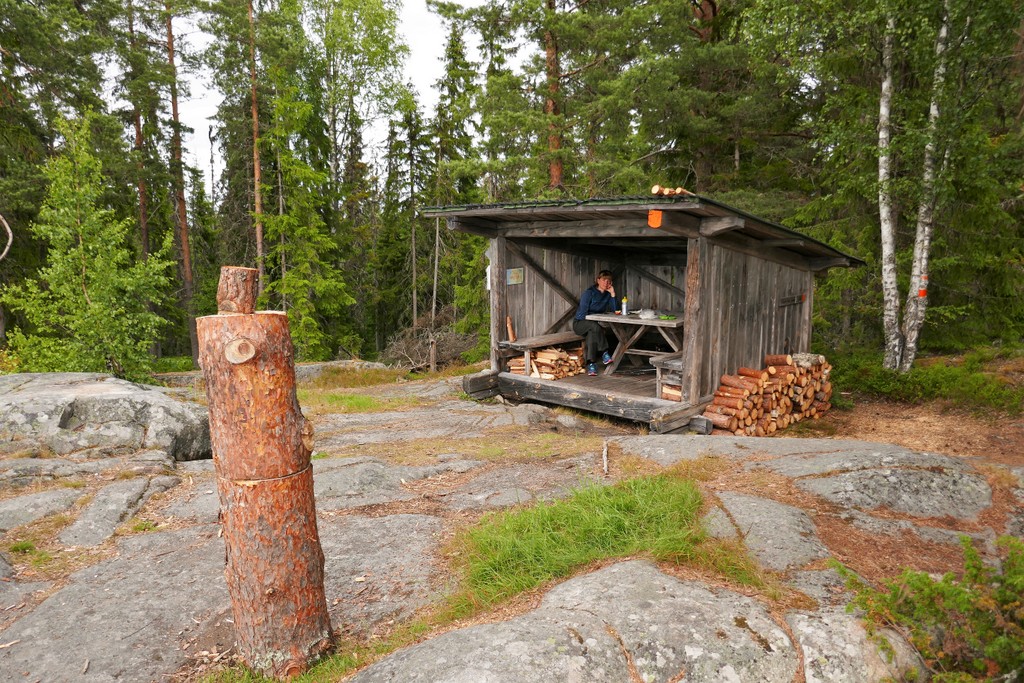 Juste avant de revenir à l'Azalaï, notre regard est attiré par une descente de chenaux d'un type assez original.
Worth a photo! 🙂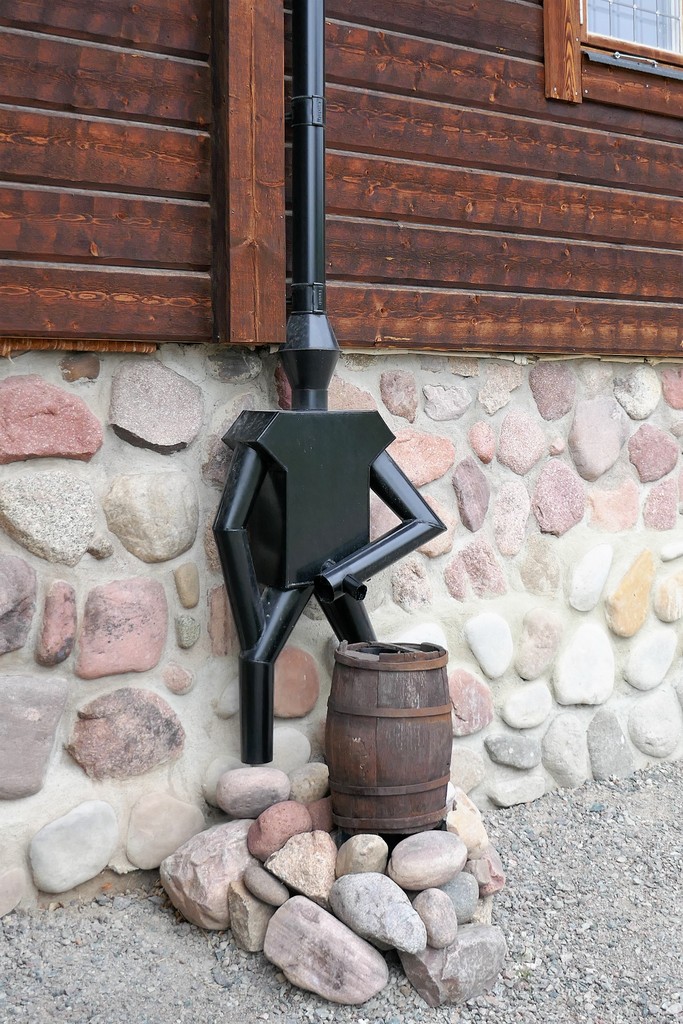 C'est devant une tasse de café et une friandise typiquement suédoise ( Finka) que nous terminons et postons cet article.
The weather has turned rainy. Perfect moment for us to finish and post the blog over a « Finka » which is the Swedish tradition to take a filter coffee and cake in the afternoon.  
Difficult to chose from all the cakes and Danish pastry. Suppose we have to change from our daily ice cream to daily Finka 🙂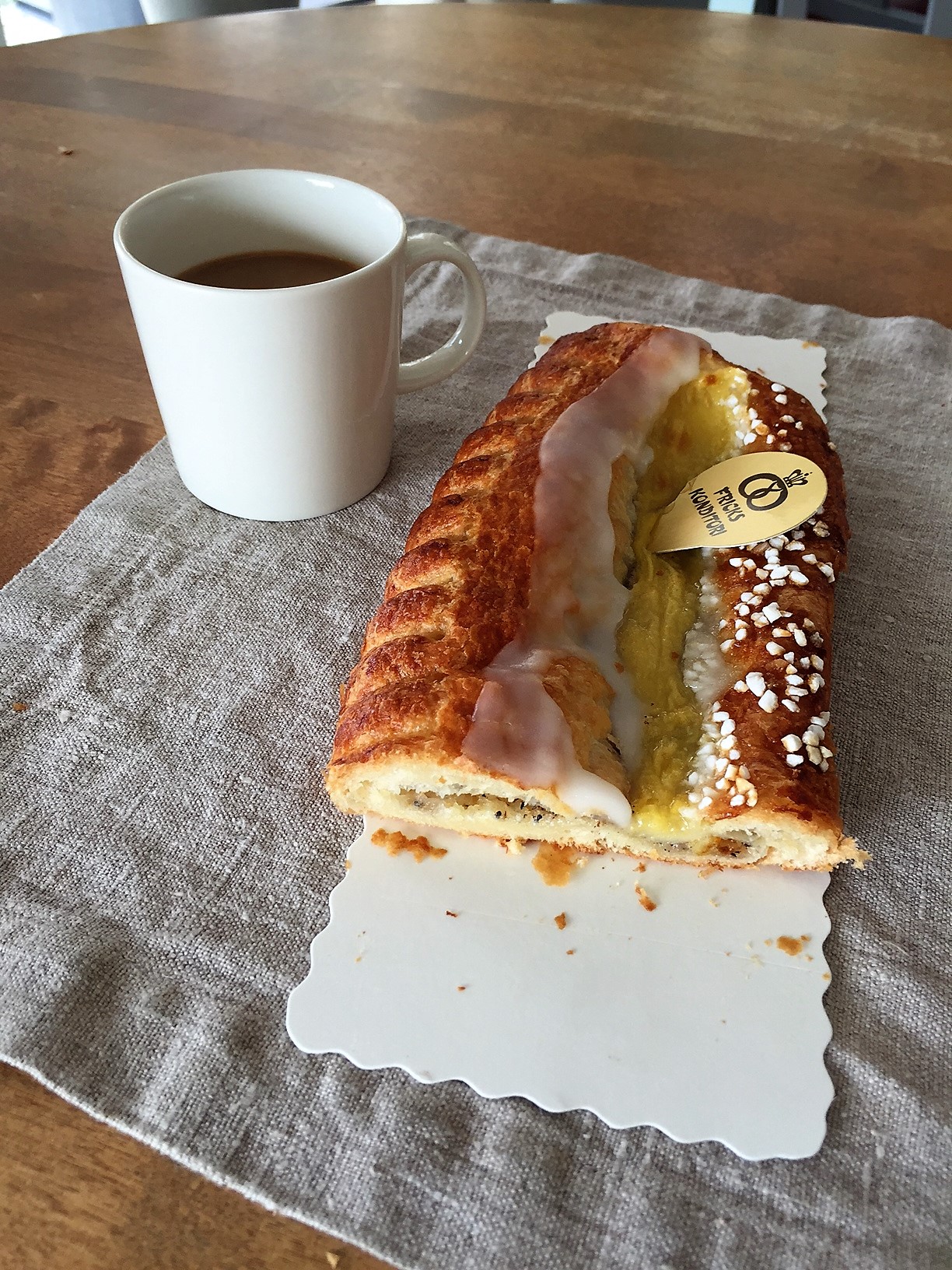 Voici encore une image du parcours effectué depuis Bornholm.
And here our tour since we left the Danish island Bornholm.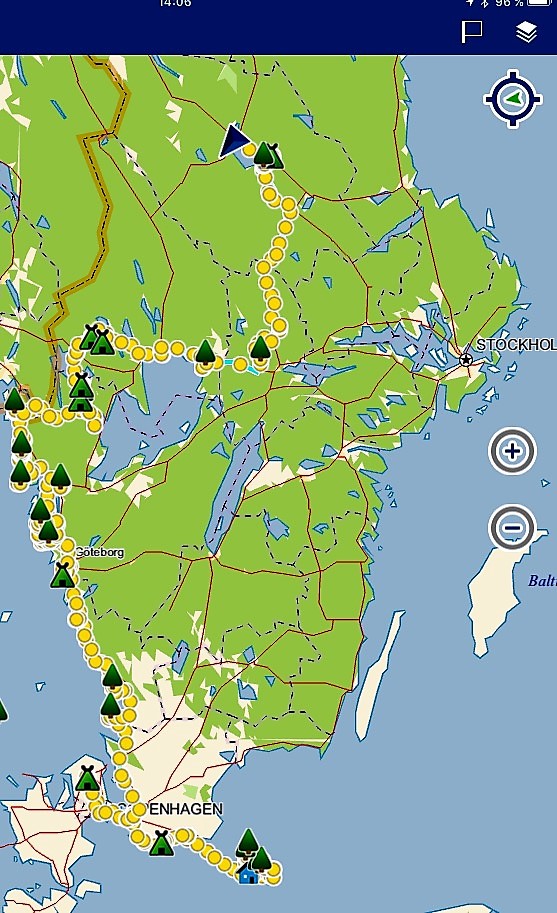 Nous continuons maintenant notre périple vers le nord, plus particulièrement vers la partie montagneuse, à l'Ouest de la Suède, avant de rejoindre la côte Est que nous longerons pour redescendre vers Stockholm.
A bientôt pour la suite…….
We are now at 61°North (no heat waves for us here…) and will go just a little further up into the Swedish Mountains before joining the east coast and turn south again direction Stockholm.
Enjoy the summer….
Milke